Every single game released for the N64, written by Chris Scullion? I'll take it. The N64 Encyclopedia - The Finger Guns Review;
I've spent many a year dreaming of an N64 Mini. The idea that I could revisit some of my all time favourite video games once again with a tiny little N64 fills up my little nerd heart with a fair amount of joy. Whilst this looks unlikely to happen for the foreseeable future (and the N64 games added to Nintendo Switch Online appear to confirm this even more), what I can take comfort in is knowing my favourite console of all time and its entire library has been immortalised by one Chris Scullion. Yep, I'm reviewing another Chris Scullion video game encyclopedia. This is a beastly one though, I wasn't going to miss this one out.
If you're at all familiar with Scullion's books – and if you're an avid reader of Finger Guns, you probably should be at this point – you'll feel instantly at home with the layout. As ever, each game is presented either half page or, if you're a particularly special game – a full page write-up. It's clear which games Chris holds dear to his heart (shout out to the infamously godawful Superman 64 getting a full page layout right next to the original Super Smash Bros, though this could be down to the consoles smaller library overall).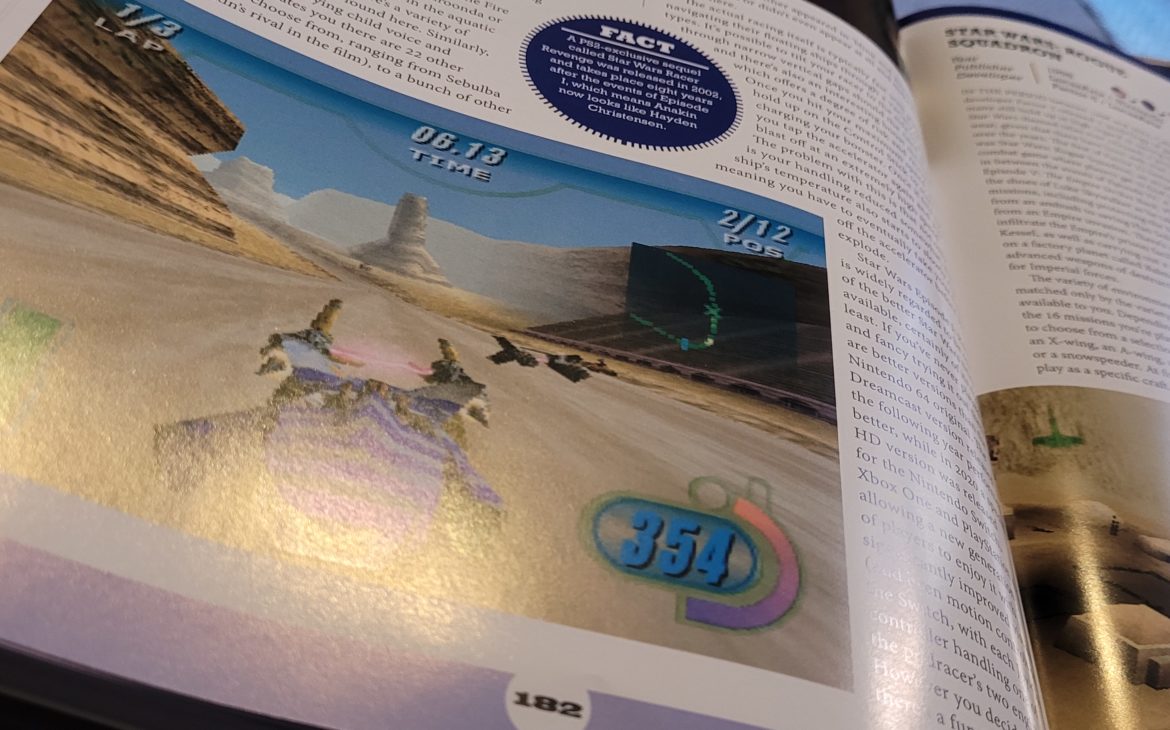 Something I've certainly taken from reading this one is how it reminded me of flicking through the brilliant N64 Magazine way back when. There are still tons of games I never played on the N64, but I always wanted to and did my best thanks to the local Blockbuster Video allowing me to rent games every weekend. Turning the pages in this book is like unlocking a memory I didn't know I still had buried away. I remember having a wonderful time with the likes of Mystical Ninja starring Goemon, a game the N64 Magazine claimed would be a 'Zelda beater'. It absolutely wasn't, but that weekend came flooding back to me. My Dad coming in and sitting next to me watching me play. 'Is it as good as Zelda?', he asked me. 'No way', I replied, sternly and seriously.
The look on his face when I took out the cartridge and stuck in Wave Race 64 and watching his brain try to calculate how the still fantastic water physics worked and then both of us trying to wrap our heads around Mission: Impossible, a game I loved playing so much during the rental period Dad did the heroic thing and went to buy it for me the following day. He says it was because he wanted to see how it ended. I did too, but perhaps he was just being incredibly nice.
I had forgotten about moments like this until I started reading Scullion's latest opus. Much like the NES, SNES and Mega Drive books before it, it's an absolute nostalgia chest of goodies, full of Chris' obvious enthusiasm for the system itself, along with the now standard trivia extras for all the games. It boggles the mind where he finds the time to finish these books at such a high standard as a full-time writer and father, but I'm glad he does. If I can't have my little N64 jam packed with a hard drive stacked with all of the memories to unlock, this is a pretty solid alternative.
As the book continues it just keeps getting better. Lest we forget, the N64 housed arguably the pinnacle of Rare's output. The golden age of GoldenEye 007, Blast Corps, Diddy Kong Racing, Donkey Kong 64, Jet Force fucking Gemini, Banjo, Perfect Dark…the list goes on and every single one is an essential play. Whilst we may never return to those heady days of such masterpieces (and one could argue Nintendo's biggest mistake was allowing them to fall from their grasp), the Encyclopedia could have been simply a Rare Enycylopedia and taken up a good portion of this book on its own. That this era is celebrated in such a way here is delightful, as I personally remember it so fondly.
It was the N64 Magazine that taught me about developers and publishers. How it wasn't just Nintendo that made all these games. The golden era of platformers was born because of the power of the N64. Joanna Dark came to life in perhaps the best semi-sequel-to-a-game-after-the-license-disappears ever and well, we can probably forget FIFA 64 but it got better. Road to World Cup 98′ is still one of my favourite football games of all time. The soundtrack playing a huge part in that of course.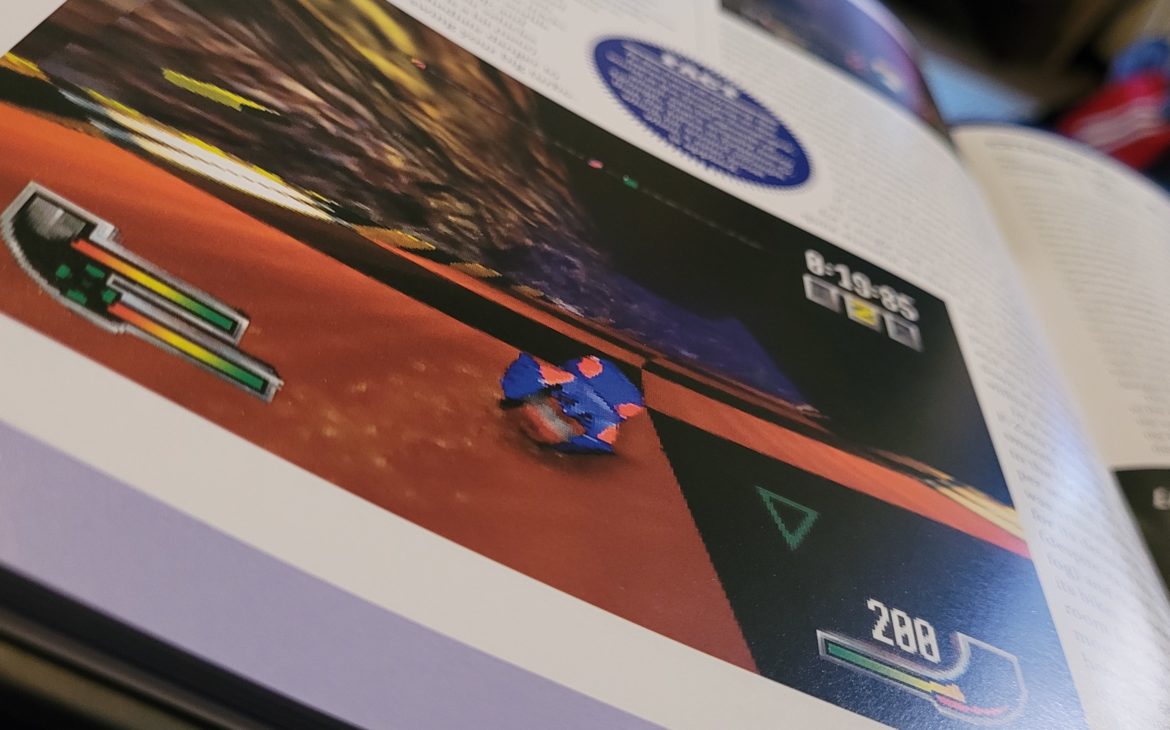 The N64 was perhaps way ahead of its time, and clearly demonstrated Nintendo's ambition to be the leader in the gaming industry. If they remain there now is a question for another day, but the N64 was the last time they released an industry-leading system, and for that it has to be commended.
Will the next Nintendo console live up to those incredible adverts we saw way back when? 'N64. The fastest most powerful games console on earth'. At the time, it was. The Nintendo of today perhaps will not have the Switch 2 be a world-beater and make the PS5 look like a cassette player but their innovation remains in different ways. We all know we'd love to see a new Odyssey, a new Mario Kart or Smash Bros. (though how they follow up the latter after Ultimate is completely beyond me at this point). The N64 was the beginning of Smash Bros., the beginning of 3D Mario and 3D Mario Kart (even if those sprites now look very strange if you jump into it via the Switch Online Expansion Pack.
What we take for granted today began right here and nobody gets that better than Chris Scullion. Even if I had to reminded of Cruisin' World to ensure we remain perfectly balanced.
Of course this being a Scullion joint it's not just the N64 covered here. Yer Man has also included every single release for the ill-fated 64DD disk add-on and every Japanese game that never quite made it over here to these shores – did you know Smash Bros. was never intended to have a Western release and was only greenlit for release here after a massive outcry from fans? You hold the power, friends. Whilst I never owned a 64DD myself I certainly remember reading about it, and how cool the idea sounded, wanting to play the likes of Mario Artist and Doshin the Giant (no, I haven't played the GameCube version either). The system didn't last all that long and housed very few number of games, but it's fascinating reading up about them here and what became of that idea. Man I loved Nintendo back then.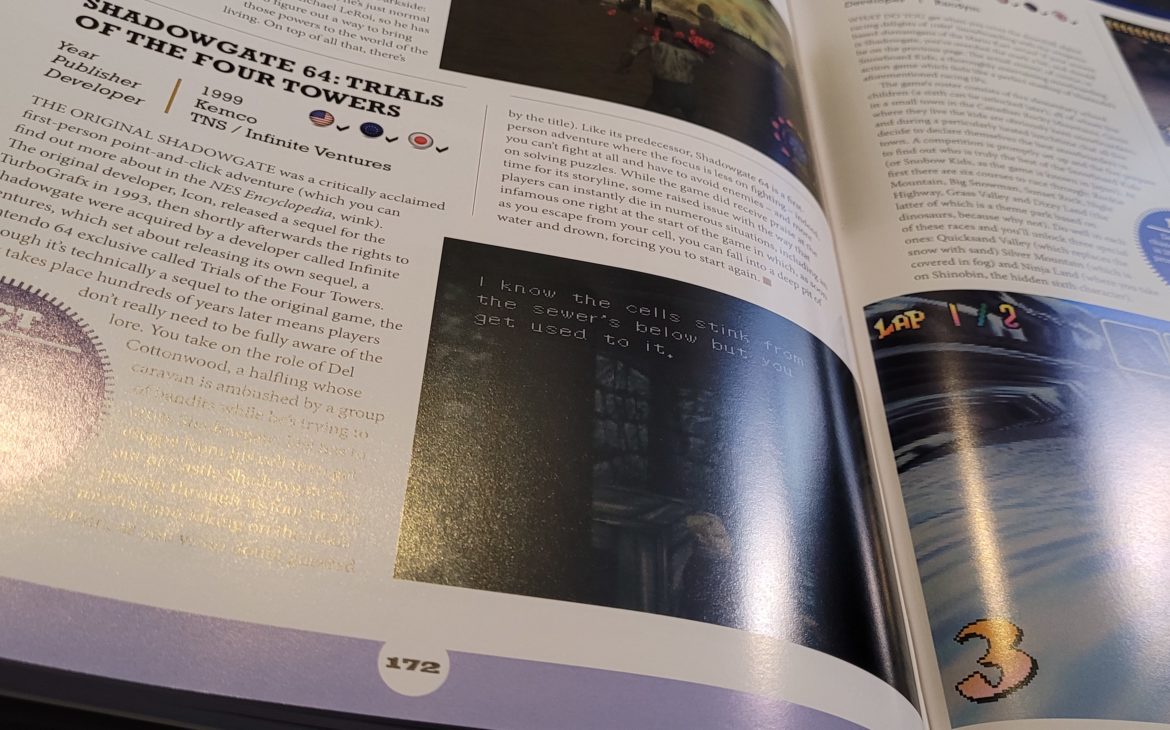 So it's another storming Encyclopedia from the Chris Scullion and yes I'm gonna say it again- we have a good relationship with Chris and he's appeared on our podcast, so take this review with a pinch of salt if you want. As ever, if this book was absolute tosh I would say so, but it's literally exactly what it says on the cover and there's no getting around the fact it's a brilliantly entertaining read, particularly if you were in the trenches for the N64 back in the day when Sony was beginning to heavily arm itself to take everything down in its path.
If nothing else, it's a reminder that once Nintendo took risks and didn't play it safe. They took the industry to task and showed them what could be possible with a bit of spark and imagination. The N64 will always be my favourite console because of this.
That, and Hybrid Heaven is an absolute masterpiece.
---
Chris Scullion returns with another eye-wateringly packed Enycylopedia all about Nintendo's wonderous N64. If you're a fan of the series of books by this point you know what to expect and there's little deviation from the overall formula, but there doesn't necessarily need to be. This one is about the games, those brilliant, wonderful, ground-breaking games that changed the industry forever.

The N64 Encyclopedia by Chris Scullion is out now on Amazon and PenandSword.co.uk.
Writer: Chris Scullion
Publisher: Pen and Sword
Disclaimer: In order to complete this review, we were provided with a promotional copy of the Encyclopedia from Pen and Sword. For our full review policy, please go here.
If you enjoyed this article or any more of our content, please consider our Patreon.
Make sure to follow Finger Guns on our social channels –Twitter, Facebook, Twitch, Spotify or Apple Podcasts – to keep up to date on our news, reviews and features.