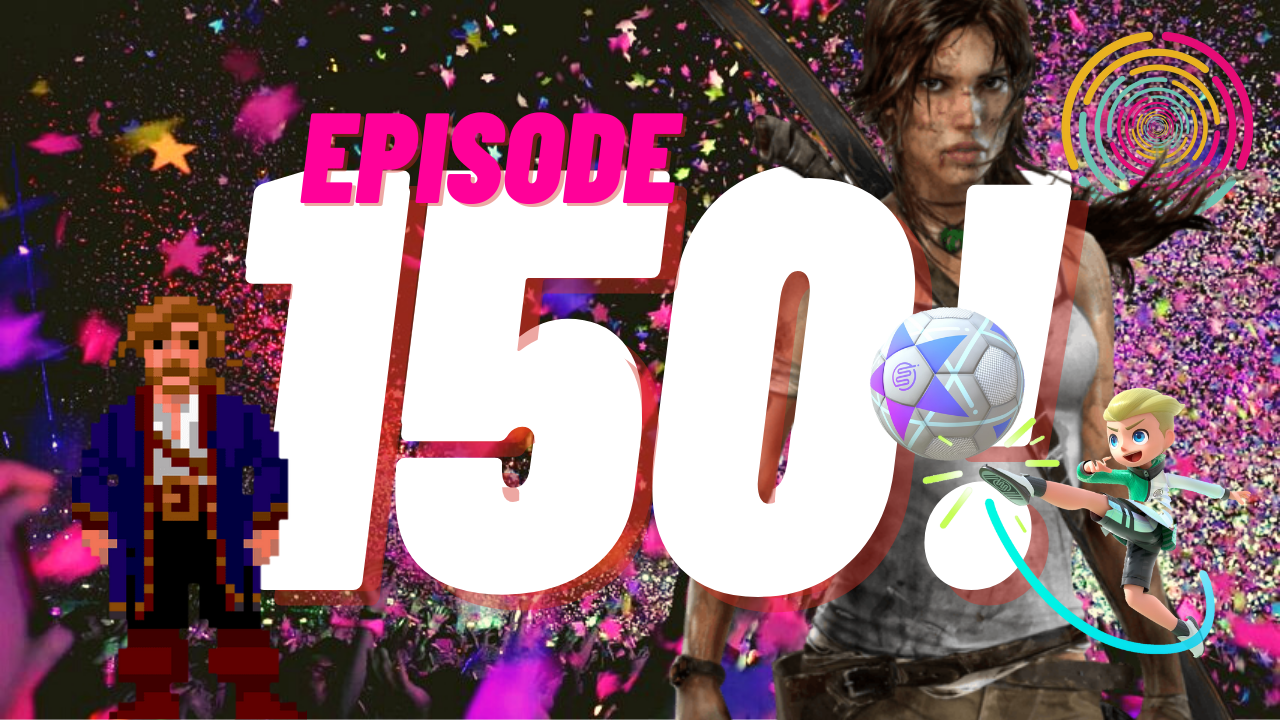 'Finger Guns. Finger Guns. 150. LET'S GO!'
Well, we've made it. On this landmark 150th episode of The Finger Guns Podcast, Rossko, Greg, Miles and Kat are joined by After Life and Bad Education star (also massive gamer) Ethan Lawrence and the almighty Chris Scullion, writer of the NES, SNES, Mega Drive and the upcoming N64 Encyclopedias, Official Nintendo Magazine legend and all round nice to celebrate this enormous milestone.

On the pod we get into week's news including the announcement of Kingdom Hearts IV, the Unreal Engine 5 Tomb Raider reveal, the return of Monkey Island in erm, The Return of Monkey Island and Xbox's Mentoring Programme, which sounds great until you actually dig a little deeper and then, well…
We of course have our Game of the Week (where Chris shares some exciting tidbits about his time with Nintendo Switch Sports), a *very special* edition of Kat's Quiz and just have a general good time talking all about video games past and present whilst we quiz Chris on just how he puts together his insanely detailed console books.
It's one hell of an episode, and if you've been along for the ride for every single episode or if you've just joined us recently, thank you so much for allowing us to reach this milestone.

We've had a blast, and we hope you have too.
To episode 200!
To download the MP3, right-click here.
| ALL THE PLACES WE ARE: https://linktr.ee/fingerguns
Follow Chris Scullion on Twitter
Follow Ethan Lawrence on Twitter
Xbox Mentorship Programme Link.
Donate to Sunflower of Peace to support humanitarian efforts in Ukraine: http://www.sunflowerofpeace.com
Theme Music – De Jongens Met de Zwarte Schoenen by RoccoW & xyce. | Edited and produced by Ross Keniston | Published by Podbean.
Team: @FNGRGNS / Rossko – @RosskoKeniston / Paul – @ThePaulCollett / Greg – @GregatonBomb / Sean – @Omac_Brother / Toby – @toby_andersen / Andy – @PsychTyson / Kat – @RainbowDropx | Facebook: FingerGunsUK / Twitch: twitch.tv/fingergunsdotnet / The Official Finger Guns Discord Discord