Another bunch of promising indie games you should most definitely pop on your wishlist, this time taking a look at the upcoming FMV games.
Another bunch of promising indie games you should most definitely pop on your wishlist, this time taking a look at the upcoming FMV games.
I knew this was going to happen. As soon as I clicked 'publish' on that first list, I was made aware of a few point and click indie games that definitely should have been on that list. It's the nature of the beast. Having already started a draft list on another of my favourite genres (FMV games), It made sense to amalgamate the two. Thus, we arrive at 'Points, Clicks and Interactive Flicks'.
If you missed the first of our Indie Hot List articles (which you can read by clicking here) then allow me to explain what this is. This is an irregular feature focusing on indie games we're excited about. The monthly indie game lists just weren't cutting it for us (you can read February's here), so we decided to create these lists to shine the spotlight on indie games that have got us all fizzy with anticipation. As previously mentioned, you'll find some point and click games on this list but for the most part, this list is dedicated to FMV indie games. The FMV genre is having a real renaissance these days. Branching out from the spooky thrillers that made this genre famous, we've now got comedy dating games, battle royale reality TV experiences and a few unreleased classics finally getting their day in the sun. 2022 looks like it's going to be a brilliant year for FMV indie games and we think you should add these to your wishlist and have them on your radar.
Who Pressed Mute on Uncle Marcus? – March 18th, 2022
Good Gate Media's partnership with Wales Interactive has managed to create probably the most prolific portfolio of great FMV games of all time. It all began with with the release of 'The Complex' in 2020 and since then, the collaboration has seen the release of the chilling 'Night Book', the exciting 'Bloodshore' and the hilarious 'Five Dates'. Their next project – Who Pressed Mute on Uncle Marcus? – feels like a combination of the strengths of all of these games, featuring a murder mystery and family feuds with more than a tinge of quirky comedy. The game revolves around a quiz night which happens every year on Abby's mum's birthday. Being held online this year, the quiz is about to begin when Uncle Marcus tells Abby that one of the family members has poisoned him and he's dying. It's up to Abby to figure out who the murderer is before it is too late. Another inventive product of the COVID-19 lockdown's, WPMOUM? features a talented cast including Andy Buckley (The Office, Jurassic World) and Abigail Hardingham (Nina Forever, The Missing). Who Pressed Mute on Uncle Marcus? Well, we'll be able to find out on March 18th, 2022 when the game launches on PC & Mac (via Steam), iOS, Android, Switch, PS4/5, Xbox One and Xbox Series consoles.
The Gallery – April 2022
Paul Raschid's work with Good Gate Media and 'Interactive Movies' certainly helped put FMV's back on the map. He wrote and directed The Complex and Five Dates and the first of his upcoming games (the second is a little further down this list) is certain to cement his legacy in restoring this genre once considered dead. The Gallery, the first of a series of 'INTERACTIVISIONS' planned by Aviary Studios, is a nuanced story set across 2 time periods, 1981 and 2021. Despite the 40 year gap, the political, social and cultural difficulties faced in these periods are oddly similar. The Gallery explores those aspects of life via 150 decision points as they navigate a story full of mystery and intrigue. Starring a talented cast including George Blagden (Versailles and Vikings), Anna Popplewell (The Chronicles of Narnia), Kara Tointon (Mr. Selfridge and Eastenders) and Richard Fleeshman (The Sandman and Coronation Street), The Gallery is launching on PC, Nintendo Switch, Xbox and PlayStation consoles, iOS and Android platforms and will receive a UK theatrical release this April.
The Night Is Grey – 2022
Those point and click indie adventure games I failed to include on my first list? Well, The Night Is Grey [Steam] was the most obvious omission. A personal, intimate point and click adventure, this game tells the story of Graham who is alone in a forest filled with strange wolves. He stumbles across a lost girl in an abandoned lodge. Fearing for their safety, the pair team up in a game "filled with puzzles, engaging dialogue and innovative storyline". If the trailer filled you with intrigue (I mean, why wouldn't it – I need to know more), there's a demo for this game you can play on Steam right now. I advise you do. It's really freaking good. There's a really high quality to everything in this game, from the visuals to the animation, the music to the overall presentation. Make sure The Night Is Gray is on you wishlist before the game releases later in 2022.
Murderous Muses – 2022
D'Avekki Studios are another indie studio that has been on an absolute tear making FMV games. Having released the excellent trio of The Infectious Madness of Doctor Dekker, The Shapeshifting Detective and Dark Nights with Poe and Munro, this studio knows how to make a good FMV game. With their next title though – Murderous Muses [Steam] – they're trying something a little different. While all of their previous titles have been presented like interactive movies, this new game will also feature a "procedurally-generated 3D gallery with shifting rooms and unexpected twists". In Murderous Muses, you play as a night watchmen who's looking after an art gallery featuring a new exhibit. It has been a year since controversial artist Mordechai Grey was murdered. Hanging in the gallery are six portraits, each one depicting a potential suspect in his murder. Using the 'Eyes of Mordechai' to bring the portraits to life, you'll be uncovering clues and using powers of deduction to find the killer. It's a fascinating concept that's got a whole lot of potential. Based on D'Avekki Studios' previous output, I have no doubt they'll knock it out of the park when it launches sometime in 2022 on PC via Steam.
Deathtrap Dungeon: The Golden Room – 2022
I thought my days of being haunted by spectacular failures in the Deathtrap Dungeon were over. I was wrong. The second game on this list from Wales Interactive, Good Gate Media and Paul Raschid, Deathtrap Dungeon: The Golden Room [Steam] is an FMV game based on Ian Livingstone's multi-million selling classic gamebook. Using the same CGI Virtual Set technology that was used in The Mandalorian, this game has a really beautiful look that was evident when I managed to play a demo of this game last year. I was impressed to say the least. The demo even inspired me to get into gamebook with my Dad. In Deathtrap Dungeon: The Golden Room we'll be guiding the adventurer down branching paths with our choices to several different endings and likely many deaths along the way. We'll be able to set out on this adventure at some point in 2022 on PC and consoles.
Another Tomorrow – February 12th, 2022
The second point and click adventure that I really should have included in the previous Indie Hot List is Another Tomorrow [Steam]. It's quite an oddity as it combines first person point and click action with interactive digital dioramas which form thought provoking puzzles. The game focuses on the memories and thoughts of the protagonist as they explore their own mind to answer the question of who you are, where are you and how did you get there. Before I'd been convinced by the premise and game play (I got a chance to play the demo and it's really convincing), I was wowed by the visuals. There's a delightfully foreboding to some scenes while others feel twee and intimate. Based on the demo, Glitch Games have made a quality game here which we'll be able to play on February 12th, 2022. Add it to your wishlist on Steam and make sure to check it out at launch.
Lost Lies – To Be Confirmed
Sometimes it takes just a trailer to get you excited about a game. That's good because other than a synopsis for the game, the above trailer is all we've got to go on for the interactive thriller Lost Lies. From Polish developers Madnetic Games (Photography Simulator), this FMV indie game puts you in the shows of a detective attempting to solve a cold case from the 1980's. The detective that was on the verge of cracking the case has gone missing and you're picking up from where they left off. To do that you'll be "Analysing documents, finding clues and interrogating suspects on your way to solve the case". The trailer above gives off a very cool vibe that I'm certainly looking forward to coming to fruition sometime in the future. Wishlist Lost Lies on Steam now.
Immortality – 2022
For some of you, the following sentence will be more than enough to get you excited about this game: 'Immortality' is the next game from Sam Barlow. If you're thinking "Who? What? Why?" then I implore you to play both Telling Lies (currently on Xbox Game Pass) and Her Story, the previous titles from Sam Barlow. Both of these titles are among the most inventive FMV games of the past decade and are certainly worthy of your time. So what's Immortality? A collaboration with writers Allan Scott (Queens Gambit), Amelia Grey (Mr Robot) and Barry Gifford (Wild At Heart), this game centres on the 'film star' Marissa Marcel. The actor had starred in 3 films, none of which ever saw the light of day, before she disappeared. The movies were thought to be lost or destroyed. In 2022, we'll discover the truth behind these films. It's a fascinating premise that we'll certainly be hearing more about as the year progresses. Make sure you wishlist Immortality on Steam to stay up to date with the game's progress.
AIDA – To Be Announced
According to Steam, AIDA was scheduled to release in 2021. Obviously, that didn't happen but I do hope that this game is still scheduled to release in the future as it feels like it has plenty of potential. This FMV indie game focuses on the lead character called, funnily enough, Aida. You'll guide her decisions as she attempts to escape the ghetto and reach "the mythical E continent". It looks gritty, violent and of so tense. AIDA is co-produced by the co-creatives of the Oscar-nominated "Corpus Christi" in conjunction with Punch Punk Games (This Is The Zodiac Speaking, Apocalipsis) and is part funded by the Create Europe Media Fund. While we wait for news of the release of AIDA, make sure to wishlist the game on Steam.
Once, in Times of Chaos – To Be Announced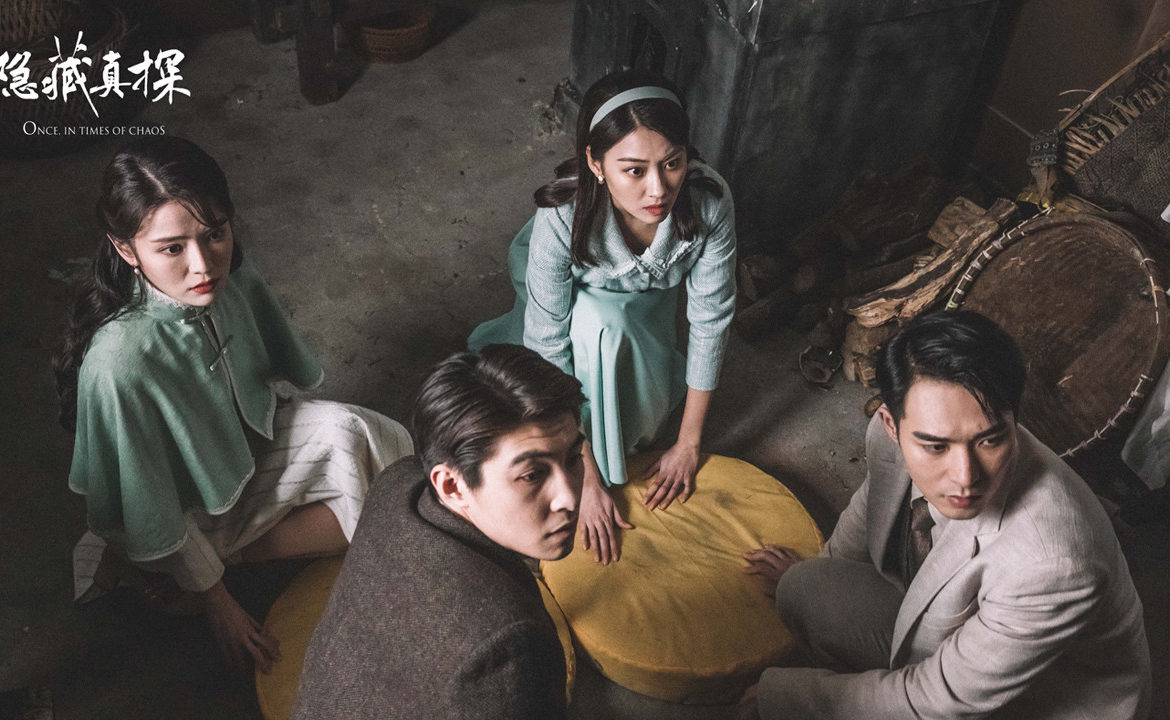 Over the past few years, the FMV genre has started to have a real resurgence in China. Games like the episodic detective game Visitor and the action thriller Deapsea have capitalised on the the popularity of the jubensha (or "script murder") escape room games in the region to capture the cultural zeitgeist in video game form. The next big hitter for the genre is 'Once,in Times of Chaos' from Great Fish Interactive. In this game, set in the late 1910's, you guide the fates of Hu Yang, a man who was on his way to Shanghai when he suffers from memory loss and is imprisoned. After being rescued by his supposed siblings, Yang is told he was on his way to complete a secret mission before he was waylaid. Now struggling with his memory loss, he attempts to complete this mission while uncovering a conspiracy that might be the root of his amnesia. The setting and synopsis both sound really entertaining but there's also the possibility that Once,in Times of Chaos might be educational too – within the game is a "Republic of China Encyclopedia" which looks to enlighten players about this point in time. This title is hitting Steam in the future. Go wishlist it.
---
Previous Indie Hot Lists:
---
Know of any other cool indie games? Want to feature your game in our next list? You can reach us at hello@fingerguns.net or head to the comments section and sound off.
---
If you enjoyed this indie games article or any more of our content, please consider our Patreon.
Make sure to follow Finger Guns on our social channels – Twitter, Facebook, Twitch, Spotify or Apple Podcasts – to keep up to date on our news, reviews and features.