A new month and a new crop of indie games to enjoy in September. Check out the extensive list across all genres below:
The indie games of August really did live up to the hype in terms of good-quality indie and we reviewed a bunch. From Blasphemous 2, Shadow Gambit: The Cursed Crew, The Cosmic Wheel Sisterhood and Mediterranea Inferno, all of them were massive highlights last month.
September isn't looking to pump the brakes just yet though, as we have an eclectic list for people to enjoy. Old school FPSs, dazzling puzzlers and even a game to potentially overthrow Duolingo, September has all the indie games and here are 20 to be excited about:
SPRAWL by MAETH – August 23rd 2023
One we missed from August's list, SPRAWL describes itself as a hardcore retro FPS with a cyberpunk setting. You play as Seven, a special ops soldier on the run from the organisation she was a part of as well as government forces. The only thing giving her the will to survive is a mysterious voice telling her to carry on and discover the secrets that lie in the SPIRE. Miles has already reviewed SPRAWL as well as interviewed the developer's Co-Founder. So you already know the game has the Finger Guns co-sign. SPRAWL is out now for PC via Steam.
Chants of Sennaar by Rundisc – September 5th 2023
Inspired by the myth of Babel, Chants of Sennaar is a stealth puzzler with a strong focus on the narrative. Decrypt ancient languages, sneak past and outwit Guardians in the forbidden zones, and explore a beautiful world. The legend is told that the People of the Tower are divided but one traveller will restore the balance (which is where you come in). Boasting a vibrant cel-shaded art style, Chants of Sennaar looks like a wonderful puzzle game. The game releases on Nintendo Switch, PS4, Xbox One and PC via Steam.
Enchanted Portals by Xixo Games Studio – September 6th 2023
You'd be very quick to compare this to Cuphead, and you wouldn't be wrong. The old-timey cartoon aesthetic, the 2D shoot 'em up gameplay and the childlike wonderment can all be seen from just a glimpse of Enchanted Portals. The co-op shooter centres around two rookie magicians, Bobby and Penny who are stuck in between dimensions. They will both face unimaginable dangers to retrieve the Magic Book and return home. Developed by Xixo Games Studio from Spain, it's nice to see the influences they proudly wear on their sleeve, and hopefully bring another exciting Cuphead-like game for those looking for it. Enchanted Portals releases on Nintendo Switch, PS4|5, Xbox One & Xbox Series X|S and PC via Steam.
Toss! by Agera Games – September 7th 2023
What do you call someone who imbibes in the act of Tossing?… Anyway, Toss! is coming to PSVR2 and PC via Steam. Swing and toss across a spacey jungle gym playground as an acrobatic monkey. Toss! looks to be a colourful thrill ride with over 75 levels to explore across 9 biomes to rank up and become the Toss Master – the developer's words, not mine. With challenge modes to keep you occupied whilst you're parkouring through space, you can compete in a friendly competition to get a high score amongst your peers online.
Hauma – A Detective Noir Story by SenAm Games – September 11th 2023
Hauma – A Detective Noir Story is a comic book-inspired deduction visual novel set in Munich. You play as Judith, a former detective whose cunning nature finds her unravelling a conspiracy amongst the city's upper echelons. Explore real-life locations to discover parts of a history that echoes through to the present. Use the mindboard mechanic to conduce deductions and navigate difficult conversations. Experience a fully-voiced cast, featuring diverse characters as you solve puzzles in a great comic book art style. Hauma – A Detective Noir Story releases on Nintendo Switch and PC via Steam.
The Isle Tide Hotel by Wales Interactive & Interflix Media – September 12th 2023
A live-action interactive mystery that follows a father infiltrating an eclectic cult to save his daughter. The Isle Tide Hotel is hosting the final night, making your time and choices imperative. Featuring an award-winning cast from Game of Thrones, The Witcher and more, you will wade through an eccentric bunch of characters to uncover the grim events of The Isle Tide Hotel. Ominous, brooding and filled with ways to fail, the stakes are high and it's down to you to save the girl. The Isle Tide Hotel releases on Nintendo Switch, PlayStation 4|5 and PC via Steam.
Eternights by Studio Sai – September 12th 2023
The world is ending but why not find someone to spend the last moments with? The debut game from Studio Sai inspired by Persona 5, Eternights sees you making the most out of an impending apocalypse. With a unique blend of dating sim and action, you'll not just be fighting for the world but for the love of your life. With awesome animated cut scenes and a calendar to play against, you'll scavenge, dungeon crawl and date with a deadline, making your choices matter. Humans have turned into monsters who now only strive for violence and power, you and a cast of characters must face this world to potentially save it – if you're fast enough. Eternights releases on PlayStation 5 & 4 and PC via Steam.
AK-Xolotl by 2Awesome Studio – September 14th 2023
Play as a cute amphibian turned super killer in top-down roguelite shooter AK-Xolotl. You'll be blasting through the animal kingdom with a whole arsenal of powerful guns, impressive power-ups and an adorable army of axolotls. Explore through different biomes in randomly generated rooms with a bullet hell flare. Featuring crazy boss fights and a cool art style, this looks to be a great title in the vain of Enter the Gungeon. AK-Xolotl releases on PS4|5, Xbox Series X|S, Xbox One, Nintendo Switch and PC via Steam.
Ad Infinitum by Hekate – September 14th 2023
Ad Infinitum has been a passion project since 2014 when Lukas and Thomas from Hekate were still studying. The game follows a young man who's seemingly trapped between worlds: his home in Berlin, and the trenches of the First World War, filled with strange creatures. The game is a first-person psychological horror that takes you into the mind of our tortured protagonist. Through solving puzzles and riddles from within the walls of your home and the barbed wire of No Man's Land you'll peel back the story of a German family torn apart by the war. Ad Infinitum release on PlayStation 4|5, Xbox Series X|S, Xbox One and PC via Steam.
Galaxy Pass Station by Galactic Workshop – September 14th 2023
Described as an intergalactic Papers, Please, Galaxy Pass Station is a comical space station colony simulator. You'll be the central hub for all the exciting aliens across the galaxy to come rest and play. You play as the first caretaker of the station, providing a great time for all your guests whilst building out your station. With 13 unique alien races, a deep managing mechanic and monsters lurking nearby to overcome, there won't be a quiet day in space – even if no one can hear you scream. Galaxy Pass Station releases on PC via Steam.
Spirited Thief by Koi Snowman Games – September 19th 2023
Scout, loot and get out in the tactical turn-based stealth game Spirited Thief. You play as Elaj, an unlucky thief with a few tricks in his arsenal and Trin, partner in crime who is also an intangible spirit. Both are on the brink of being kicked out of the Thieves Guild as they've not been on quite the capers they should have. You will need to plan ahead during the levels before executing and using both characters' special abilities to outwit and overcome the enemies guarding the loot during your heist. Every turn matters before getting discovered and upgrading your skills and abilities is key. Spirited Thief releases on PC via Steam.
Hellsweeper VR by Mixed Realms – September 21st 2023
How far into hell will you go? Experience the first-person co-op intense action game Hellsweeper VR. You are an undead immortal, with the sole objective to rid the underworld of demonic souls. You'll be traversing through different dimensions and facing some of the meanest enemies as you hone your skills with your weapons through slaying. Defy earthly physics with wall-running, back-flipping, power sliding and bullet time to be the ultimate killer in hell. With traits, abilities and a whole arsenal – including elemental damage – to choose from, you have the freedom to play your way. Hellsweeper VR release on PSVR2 and PC via Steam.
Steam | Twitter
Mineko's Night Market by Meowza Games – September 26th 2023
Shown off at a few of the Nintendo Directs, Mineko's Night Market looks to be a wonderfully cosy social sim adventure game that celebrates Japanese culture. You play as the titular Mineko, a young girl who just arrived at her new home on a Japanese-inspired island at the base of Mount Fugu. The people of the island are known to worship the sun cat Nikko. But what was once a myth is now becoming a reality as sightings of Nikko have been reported. You'll be exploring across four seasons, competing in a variety of games at the Night Market, getting to know the locals and discovering the secrets of the island. Alongside meeting a lot of cats. Mineko's Night Market releases on Nintendo Switch and PC via Steam, with other consoles planned later.
Paleo Pines by Italic Pig – September 26th 2023
Welcome to Paleo Pines, a friendly and inviting island filled with lovely dinosaurs, quirky townsfolk and a mysterious past. Your job is to befriend the local dinosaurs and ask for their help to improve your potentially bustling sanctuary. Paleo Pines looks to be an Animal Crossing-style cosy sim with a prehistoric flare and a cutesy art style. As you explore the island and ingratiate yourself with locals, you'll be able to dig up the island's past all the whilst creating a place where humans and dinosaurs live in harmony. Paleo Pines releases on Nintendo Switch, PlayStation 4|5, Xbox Series X|S, Xbox One and PC via Steam.
Everhood: Eternity Edition by Foreign Gnomes – September 28th 2023
Coming to consoles for the first time Everhood: Eternity Edition is nigh! The highly acclaimed rhythm indie game chalked up a cult following for its delightful retro-inspired tunes and unique battle system. You'll be dodging notes and bullets whilst countering to conquer the wild characters you come across to an original soundtrack with renowned composers behind it. Now with 16 new tracks, you'll be exploring the edges of space and time as a simple quest turns into an epic and weird tale. Everhood: Eternity Edition release on PlayStation 4|5, Xbox Series X|S and Xbox One.
Noun Town Language Learning by Noun Town – September 28th 2023
If there's something about learning, I'd rather be playing games. Noun Town looks to do both, so hopefully next time I order a beer in Spain I won't look like an ignorant Brit abroad. Starting from nothing you can learn over 1,000+ words and phrases in Japanese, Korean, Chinese, Spanish, French, German, and Italian whilst playing through all the vocabulary challenges. Using speech recognition to nail the pronunciations, you'll be the language maestro in no time. The game is already out for VR but the non-VR version releases on consoles.
Fortune's Run by Team Fortune – Early Access Release September 28th 2023
This retro cyberpunk FPS promises high-octane action in the grimy underbelly of Fortune's Run. Be a part of the seedy dives of New Zabra as you explore an immersive environment that looks to harken back to the days of Deus Ex. Featuring an in-depth combat system with combos, specials and break stances, experience a lethal world of Quake-like strafe jumping. Master the parry, overcome the scum and travel the distant stars, with a fully simulated centrifugal space station. Fortune's Run hits Steam Early Access for PC.
Sentry City by Crashable Studios – 28th September 2023
Sentry City is a cyberpunk side scroller, with a part trial-and-error, part reaction time-based gameplay. You'll explore an overworld on your motorcycle as you blast and think your way through levels. Take on tough bosses and uncover the mystery behind the city's corrupt AI. Calling back to 8/16-bit games whilst retaining a new school feel, Sentry City features original handcrafted pixel art with intro and outro cutscenes. The game releases on Nintendo Switch and PC via Steam.
Afterdream by Jesse Makkonen – 28th September 2023
Afterdream is a 2D psychological horror that sees you lost in a lucid dream. Blending what's reality and fiction, you'll be using your camera's ability to navigate ghosts' mysterious residences. Look through your camera's lens to highlight hidden objects to help you with your puzzle-solving in a deeply atmospheric and minimalist frightening adventure. Solely developed by Jesse Makkonen, Afterdream looks to be a great horror indie game. Afterdream releases on Nintendo Switch, PlayStation 5, Xbox Series X|S and PC via Steam.
Cocoon by Geometric Interactive – 29th September 2023
Named the most anticipated indie game at Summer Game Fest 2023, Cocoon is the latest project from Jeppe Carlsen, lead gameplay designer of Limbo and Inside. In a year of brain-melting puzzlers like Viewfinder and Humanity, this title has a matryoshka doll of worlds for you to freely roam to solve the puzzles in the game. Journey through diverse biomes, from industrial structures to massive organic caverns, and discover how they are connected to one another. Each world is protected by Mighty Guardians which you must face to continue on your epic journey. Cocoon releases on Nintendo Switch, PlayStation 4|5, Xbox Series X|S, Xbox One and PC via Steam.
A great selection of indie games for the month of September. My back catalogue is warning me to not pick up anymore before I finish them, but which ones have got you excited to try out? As always you can contact us on our socials or email at hello@fingerguns.net if you want us to showcase your indie game for October. Until next month!
---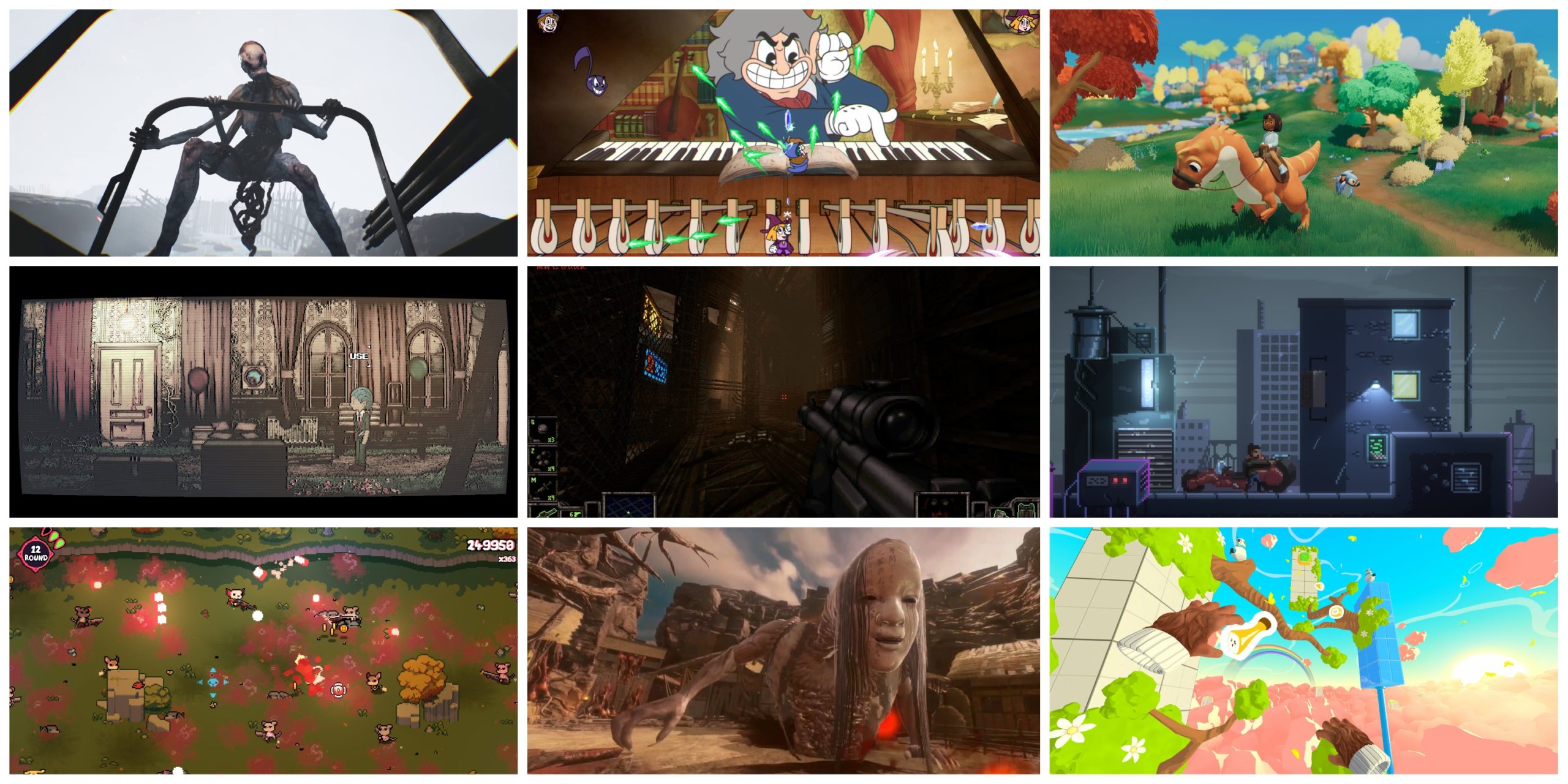 For more News on Indie Games and more click here
Make sure to follow Finger Guns on our social channels –Twitter, Facebook, Twitch, Spotify or Apple Podcasts – to keep up to date on our news, reviews and features.
If you enjoyed this article or any more of our content, please consider our Patreon.