A new, cosy point and click adventure game about robots in space, Growbot comes to the Switch. The Finger Guns review:
Growbot is a wholesome, cosy 2D point and click adventure game. You take on the role of Nara who's in a mystical biopunk space station. Nara aspires to command the ship one day and leaves home to commence training. When the ship is attacked, Nara must intervene and attempt to save the day. As the station's shield is created by Powerflowers, Nara is learning how to take care of them. As Nara awakens, The ship trembles and lets out a thunderous eruption. Around her new cosy bedroom, frightening blue crystals begin to emerge from the earth as her room is now in disarray.
How does your robot space garden grow?
Nara is a sweet tiny robot with a half-sphere glass case on her head. Other growbots will have a lovely flower in this after they are taught, but Nara is still learning how to bloom hers. As with other point-and-click adventures, Growbot begins with you gathering your bearings and figuring out Nara's controls around her living quarters.
To help guide through the controls (other than pointing and clicking of course), an interface pops up. On the left hand side, Nara will be able to utilise tools such as a guide book, a more permanent fixture within the game that explains the characters and more of the stories technical terms. There are other items that she can use to be able to travel around the environment. On the Right hand side Nara will be able to keep 'consumables'. These certain items that you find within the environment, or better yet, combine them to solve environmental puzzles to help Nara progress in finding out what has happened with the ship.
You will encounter certain folks along the route who can aid you in your search, in addition to your sidekick 'Brainapilla'. Brainapilla acts as your mentor to guide you upon your journey and lives in your glass dome head whilst there is no flower as you are in training. In order to learn more about other characters and your current objective, you can ask them questions through multiple-choice options. Counters will require Nara to do certain tasks that might require going to different parts of the ship or combining different items to be able to solve the puzzle. For example, a character might ask you for a cup of tea where you have to find the individual components before he tells you more information.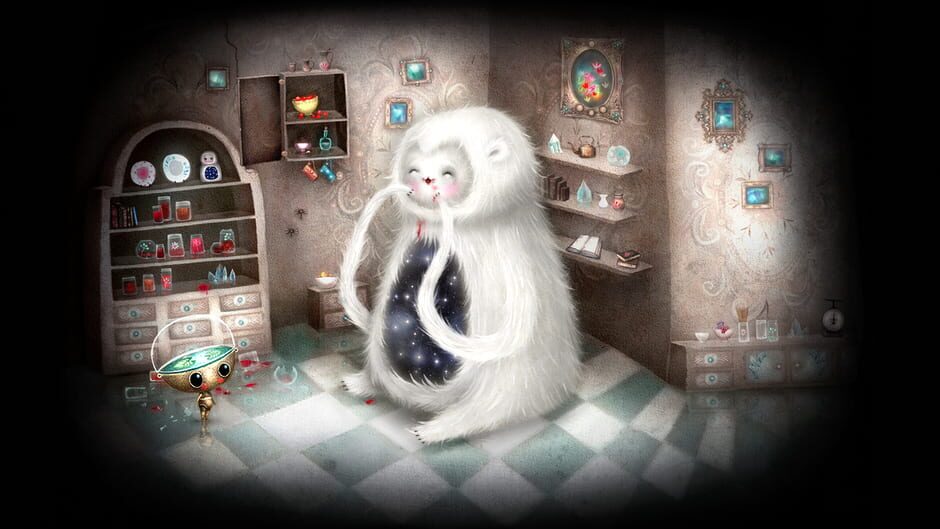 As you move to complete certain tasks, you will encounter different environments on the ship, such as the kitchen, some other living quarters and gardens. With each environment, you're not restricted to one area and you can go back and forth as you please, just in case you miss anything along the way. There will be some tasks that need completing before progressing to other areas, but you have the option to take this as slow as you would like. The game almost invites you to take your time.
Whilst moving forward, the challenges will get longer, harder, and more time-consuming to solve as the game progresses. The one drawback I identified with these latter puzzle's were that the explanation was occasionally not as clear as I would like. I would mindlessly click on everything to see what would fit. Additionally, there aren't really any reminders of what to do if you forget or weren't paying attention the first time you went through the process. There was one puzzle in particular that I couldn't figure out from the explanation, and there were no hints or tactics to help.
One advantage of the game's puzzles is that no puzzle is alike. All of these puzzles are usually instructed by different characters met along the way. They all included different ways to solve and collect sound seeds and all were enjoyable.
The art style is very whimsical, having a hand drawn children's book- like approach. Everything is designed very delicately with lots of shading to create a very cosy vibe when you're playing.
Flower Power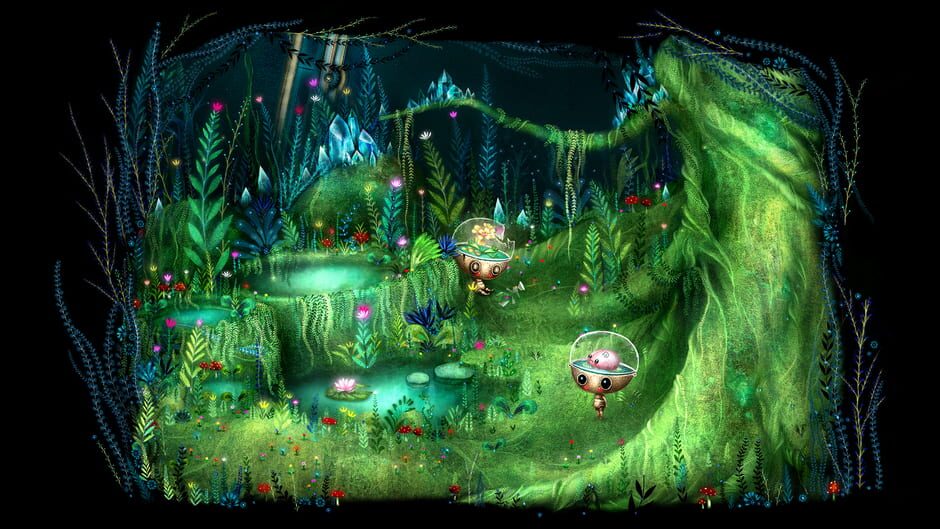 The main aspect of the game Includes finding seeds to grow and create flowers. Each flower will have a sound and Nara needs to collect those sounds. Players will combine those sounds to make powerful shields which will help you break objects or travel through doors. When creating a shield players will be given a tune i n which they will need to follow to put the correct sounds in the correct places to make the shield. Early in the game when fewer sounds are in play, this becomes pretty easy when you start. However, as the game progresses you will collect more seeds and sounds, therefore having a difficulty slope but one that isn't too punishing at all.
If you're tone death like I am, Growbot gives the option to name the sounds as they play, so you're able to put them in the correct order, which makes for a great accessibility option for players who may need it. Each environment has a new injection of colour and different colour palettes, so you'll never be bored looking at the same greys and metals as you can imagine a ship would have.
The game has no enemy encounters, and Nara can't die so the players do not have to worry about losing lives or running out of time to complete something and can simply just enjoy the game as it is. This adds to the cosy genre very well. The soundtrack fits the scene wonderfully. Some video games have a storyline within their music and Growbot is an example of this. There are ethereal tones, ethereal overtones, and a whiff of intrigue. There are moments when delicate sounds are played.
Growbot can take anything around two to three hours to complete, or perhaps more depending on how quickly you may complete the puzzles and find the items necessary to move on. It's difficult to reveal too much about this tale without giving away the entire game with its short runtime. The narrative is primarily told through dialogue, and Growbot does reach a logical ending to wrap things up. Anyone who enjoys the cosy genre should enjoy Growbot, The game is straightforward and abundant in sweet undertones in the narrative.
---
A cute coming of age space robot story and a fine addition to the cosy game genre, Growbot is a short and sweet puzzler with an ethereal soundtrack. This is one for those who want a short story, a beautiful art style and relaxing gameplay.

Growbot is out now on Nintendo Switch and Steam.
Developer: Wabisabi Play
Publisher: Application Systems Heidelberg
Disclaimer: In order to complete this review, we were provided with a promotional copy of the game. For our full review policy, please go here.
If you enjoyed this article or any more of our content, please consider our Patreon.
Make sure to follow Finger Guns on our social channels –Twitter, Facebook, Twitch, Spotify or Apple Podcasts – to keep up to date on our news, reviews and features