Cancel your social plans and find a comfy spot in front of your PC or console of choice because there's a tonne of great indie games launching in September 2022.
Cancel your social plans and find a comfy spot in front of your PC or console of choice because there's a tonne of great indie games launching in September 2022.
Here's a few of the most high profile things to look forward to in September 2022. September 16th is "International Day for the Preservation Of the Ozone Layer". September 9th is the 40th anniversary of Rush's "Signals" album. Oh, and it's Colchester's Cider and Sausage Fest this month too. Yeah, a dull month awaits us.
Thankfully, a whole bunch of promising indie games are launching in September 2022 to keep us busy. From diverse visual novels and dating sims to period appropriate first person shooters, an inventive take on Modern art and a beer brewing simulator, the indie games of September 2022 have a little bit of something for everyone. We've curated a list of 26 of our favourite indie games hitting this month.
Without futher ado, here's 26 indie games to get excited about in September 2022.
Spellbound: The Magic Within by Wyrdren Game – September 2nd, 2022
Ever since I stumbled across Spellbound [Steam Link] in the Rezzed indie games area of EGX 2021, I've been eagerly anticipating this game. A visual novel with optional romance elements, you play as someone who's moving to the town of Witcherley to learn how to harness their blossoming magical abilities. With a focus on diversity and inclusivity, this game has you working with a magical tutor of your choosing while investigating a dangerous monster that's threatening magic itself. I've already played Spellbound and our review for the game will hit the site on September 2nd, the same day that the game launches. While I don't want to spoil the review, the fact that this game is on this list kind of suggests that I thought it was good (Spoiler: it is). Check out Spellbound: The Magic Within when it launches on Steam on September 2nd.
Betrayal At Club Low by Cosmo D Studio – September 2022
Cosmo D create some of the most surreally distinctive games around. Their previous titles – Off-Peak, The Norwood Suite, and Tales From Off-Peak City Vol. 1 – carry a distinct, dare I call it 'odd' tone. Everything we've seen of their next title Betrayal at Club Low (Steam Link) suggests that'll be something that continues here. An adventure RPG, in this game you're attempting to infiltrate Club Low, a coffin factory-turned-nightclub, to rescue a friend that's trapped inside. Promising "tactile dice-driven gameplay, tense decisions at every turn" and 11 possible endings to arrive at based on your decisions and skills, Betrayal at Club Low sounds like a kooky, abstract delight to tuck into this September. Make sure to wishlist this on Steam.
You Suck At Parking by Happy Volcano – September 14th, 2022
Some indie games have a concept that just makes you think "Why hasn't anyone ever done this before?". That's certainly the feeling I got when I first saw You Suck At Parking from Happy Volcano back at EGX 2021. Greg enjoyed this game so much, he named it the game of the show (seriously, he was always playing it). The aim of the game is drive your car from the starting line and stop it in the parking spot located on the level. Each car only has so much fuel and once it runs out, the car will stop. Like vehicular boules, each previous attempt at the level leaves a car in its wake which can help or hinder subsequent attempts. You can even plant cars, knocking a past iteration of your car into the parking spot to win. As you progress, you'll have to hit more than 1 parking spot and vault over all kinds of obstacles in order to do so. It's a frankly fantastic idea which is bought to life in an enticing art style. You Suck At Parking is launching on Xbox and PC on September 14th, 2022. The game will also be joining Game Pass (on both Xbox and PC) on September 14th, 2022. A release is planned for Nintendo Switch and PlayStation consoles in 2023.
Hokko Life by Wonderscope Games – September 27th, 2022
Originally launching onto Early Access in June 2021, Hokko Life will be launching onto consoles and into its 1.0 version on Steam on September 27th. A life/community simulation game akin to Animal Crossing, you play as a character attempting to make a new life for themselves in the charming rural town if Hokko. It's up to you to design, build and decorate homes for all the new friends you'll make. Since entering early access, Hokko Life has had a number of new updates including adding Farming, new clothing updates and Mayor Merits. More so than most of the games in this genre, Hokko Life has a vast depth of customisation, allowing the player to design, paint and craft furniture however they see hit. Hokko Life is launching on PS4, Xbox One, Switch, and PC on September 27th.
Circus Electrique by Zen Studios – September 6th, 2022
Part story-driven RPG, part turn-based tactical battle and part circus management sim, Circus Electrique is a stylish concoction of elements set in a Steampunk spin on Victorian London. As the ring master of the Circus Electrique, you'll be managing a team of Strongmen, Fire Blowers, Clowns and other performers in brawls against ordinary Londoners that have been transformed into vicious killers. In-between battles, you'll be putting on shows and managing your roster's motivation as you travel through six sprawling districts. From Zen Studios (Dread Nautical, Star Wars Pinball), Circus Electrique launches on PC (via Steam and EGS), Switch, PlayStation and Xbox on September 6th, 2022.
Airoheart by Pixel Heart Studio – September 30th, 2022
I've got a lot of respect for indie games that wear their inspirations on their chest like a badge of honour. Airoheart is one such indie game that's described by developers Pixel Heart Studios as "a top-down action-adventure RPG inspired by the classics". A single watch of the above trailer could tell you what those 'classics' are, namely The Legend of Zelda, Dragon Warrior and the Ultima games. In the game, you play as the titular Airoheart who's on a quest to stop his brothers "diabolical plan to unleash an ancient evil that has been sealed in the shadows for generations, and to trigger a war using the power of the Draoidh Stone". Well, okay then. Check out the game when it launches on PC via Steam, Switch, PS4 and Xbox One on September 30th, 2022.
Nine Noir Lives by Silvernode Studios – September 7th, 2022
There's a blossoming corner in indie games that's packed with noir whodunit mysteries with anthropomorphic lead characters. There's Chicken Police, Backbone and now Nine Noir Lives [Steam link] from Silvernode Games. Previews of this game have been positive, in which you play as the fantastically named Cuddles Nutterbutter, a feline private investigator. You'll find yourself getting drawn into a murder case that risks upsetting the careful balance between the two most powerful crime families in the city of Meow Meow Furrington. Packed with charm and comedy, Nine Noir Lives is pouncing and then nuzzling players on September 7th, 2022 via Steam.
Let's Build A Zoo by Springloaded – September 2022
So, this one's a bit of a cheat. Let's Build A Zoo from No More Robots and Springloaded originally launched on PC back in November '21. In my review of the original release, I called it "a very satisfying, darkly funny and moreish tycoon game". While it has all of the features of many other zoo tycoon games, the kicker here is that you can be utterly immoral with your zoo here. You can even blend animal DNA to create countless mutant hybrids as your star attractions. Now Let's Build A Zoo is brining its unique blend of zoo design to consoles – Switch, PlayStation and Xbox – in September 2022.
Isonzo by BlackMill Games – September 13th, 2022
The WW1 shooter series has been going from strength to strength. While most First Person Shooters have been consistently mining WW2 for its locations and battles, this series has visited the WW1 Western Front with Verdun, the Eastern Front with Tannenberg, and on September 13th, they'll be taking the fight to the Italian Front in Isonzo (Steam Link). This series is renown for being among the most realistic shooters on the market and by the looks of the trailers, that's a trend that'll continue with Isonzo as we battle through the Alps. Players can already wishlist the game on Steam, PlayStation, Xbox (where you can also pre-order) and the Epic Games Store ahead of the launch on September 13th, 2022.
Please, Touch The Artwork by Studio Waterzooi – September 3rd, 2022
It's not often that I get to write one of these indie games lists and have reviews of games available already. With Please, Touch The Artwork by Studio Waterzooi however, I can already tell you that the Switch version of this game is good. 8/10 good, according to my review. An inventive and consistently impressive adaptation of the art work of Piet Mondrian, this puzzle game is "a unique experience that comes with a strong recommendation". So says I. Already available on PC via Steam, Please, Touch The Artwork is launching on Nintendo Switch on September 3rd, 2022.
Sunday Gold by BKOM Studios – September 13th, 2022
Sunday Gold looks f**king gorgeous, doesn't it? That hand painted, comic book art style, reminiscent of Disco Elysium, is stunning, portraying a dystopian London in an deceptively appealing light. In this turn based combat, RPG and point and click adventure hybrid, you play as a trio of criminals who have set out to "hunt down and expose the dark secrets of an evil mega-corporation and the malevolent billionaire behind it". Complete with puzzles, mini-games and a graphic novel inspired narrative, Sunday Gold is shaping up to be something fresh and unique. Sunday Gold is kicking in the doors of Steam [link] on September 13th, 2022.
Wayward Strand by Ghost Pattern – September 15th, 2022
There's a running joke at Finger Guns involving these indie games lists . Without fail, at least one of the games on them gets delayed shortly after we hit publish. Every. Single. Month. In July, the game that got delayed was Wayward Strand [Steam Link] from Ghost Pattern. In this game, you play as the young girl Casey Beaumaris. It's the summer of 1978 and instead of being out enjoying her school holidays, she's volunteering at an airborne hospital at the behest of her mother. Aboard this hospital airship are a diverse, eclectic cast of characters, each of which has a story to tell that may or may not entwine with a wider lattice of stories. The unique aspect of Wayward Strand is that time passes for everyone aboard the airship at the same pace – for the player, Casey and the cast of characters you can interact with. The patients and nurses go about their lives, moving of their own accord, and it's up to the player (sic. Casey) to choose who they talk too and when which decides which stories they'll get involved in. There's no way to experience everything that Wayward Strand has to offer in one playthrough, and every attempt at the game can be different if you change your approach. It's a very cool concept. Make sure to keep Wayward Strand on you radar for when it launches on Nintendo Switch, PS5, PS4, Xbox One and Series and PC via Steam on September 15th, 2022.
Serial Cleaners by Draw Distance – September 22nd, 2022
Serial Cleaners was not a sequel I had on my 2022 gaming bingo card. But I'm happy that this unique top-down stealth-action is coming back in a bigger, bolder way. Two decades after the events of 2017's Serial Cleaner – now in the 90's – Bob C. Leaner is no longer alone in the business of cleaning up crime scenes for the Mob. Each cleaner has their own set of diverse skills and playstyles in open ended maps that'll leave it up to you to solve the "problem". With art direction inspired by Basquiat and Post Modernism, this pulpy romp aims to deliver a non-linear story that'll have dialogue choices and consequences. Serial Cleaners releases September 22nd, 2022 on Steam, GOG, EGS, PlayStation, Xbox and Switch.
No Place For Bravery by Glitch Factory – September 22nd, 2022
Announced at the IGN Summer of Gaming '22, this gorgeous pixel-art top-down action RPG instantly became one of my most anticipated indie games of this year. No Place for Bravery tells the story of Thorn, a retired warrior who finds an opportunity for redemption in the case of his missing daughter. With his foster son Phid by his side, Thorn's journey through the ruined yet mystical land of Dewr will be met with vicious tribes and harsh environments, putting to question the true lengths you would go for the ones you love. The game features brutal Sekiro like 2D combat, focusing on parries and fast-paced combat. If you're like me and are excited for what looks like a cross between Hyper Light Drifter and Dark Souls – No Place for Bravery releases on PC (Steam / GOG) and Nintendo Switch on the 22nd of September 2022.
Bunny Park by Cozy Bee Games – September 30th, 2022
Bunny Park might stand out on this list, surrounded by all of the dark and serious indie games. The truth is though, even the most gruff and grizzled folks have their guilty cuddly pleasures. Rabbits are mine and Bunny Park looks arrestingly cute enough to fit the bill. In this game you design and build a nature park, fill it full of bunnies, care for them with snacks and pets and hopefully attract some tourists to keep the place expanding. Having spent more than 2 years on Steam, Bunny Park is hopping its way onto Switch, PlayStation and Xbox consoles on September 30th, 2022.
Whateverland by Caligari Games – September 15th, 2022
The pitch for Whateverland sounds incredible: In the game you play as professional thief Vincent who finds himself trapped in "a far-off realm of banished, morally gray souls where their worst traits become physical attributes". Here he must befriend or ignore the other dwellers of this realm in order to find a way back to the world he once knew. A point and click adventure, Whateverland features multiple endings based on your choices, minigames, puzzles and delectable art style. The sophomore title from Caligari Games (their first title being the quirky time travelling title The Great Perhaps), Whateverland is launching on PC via Steam on September 15th, 2022. Keep an eye on this one. Of all the indie games on this list, I'm betting this one is about to turn into a sleeper hit.
Jack Move by So Romantic – September 8th, 2022 For PC, 20th for Consoles
Announced last year during Steamfest, Jack Move has an updated and Official Animated Release Date trailer this Gamescom. A pixel-art turn-based cyberpunk RPG that appeals to the long dormant lover of 80s anime in me. We're talking the era of fun expressive madcap anime like Gunsmith Cats and Bubblegum Crisis, not your super serious stuff. You take on the role of Noa, a vigilante hacker (what else?) who is thrust into a world of murder, kidnapping and dark research after her father goes missing. And the tun-based battles happen in cyberspace, with Noa needing to load software on her cyberdeck to switch classes during battle – doesn't sound anything like The Matrix. I know Kung Fu! You can download it on September 8th for PC via Steam and September 20th for PlayStation 4, Xbox One and Nintendo Switch.
ValiDate: Struggling Singles in your Area by Veritable Joy Studios – September 2022
A romantic visual novel about 13 adults finding their way in the world, ValiDate is a gorgeous and interesting title that's seeing its first content drop this September. Navigating the relationships of the first 4 characters in the game, we'll be guiding them through "the dregs of capitalism – a journey, a transition – a rite-of-passage that leads into uncertain mid-adulthood" in Jercy City. The finished product promises 30+ routes through the game, including the ability to make poor life choices, simply to watch the fallout while you sit back and enjoy the schadenfreude. I'd be remiss not to mention the representation that ValiDate encompasses too; the game is written by an all people of colour team. Wishlist ValiDate on Steam and make sure to check this one out.
Little Orpheus by The Chinese Room – September 12th, 2022
After a short delay for entirely understandable reasons, Little Orpheus is preparing to make the leap from Apple Arcade to PC via Steam and Consoles on September 12th, 2022. After its initial release, this game was nominated for a number of awards and went on to win Best Mobile Game at the Develop Awards and Best Casual Game at the TIGA Awards. An action/puzzle platformer, in Little Orpheus you play as a Soviet explorer, Comrade Ivan Ivanovich, who is dropped into an extinct volcano in his exploration capsule, Little Orpheus, to explore the centre of the earth. Three years later, he reappears and claims to have saved the world. The game is his retelling of his…courageous journey. Will the mobile success of Little Orpheus translate onto bigger screens? We only have a few weeks left until we find out.
Beacon Pines by Hiding Spot – September 22nd, 2022
I got the chance to play the demo of the cute and creepy Beacon Pines last year during SteamFest. It's a little anthropomorphic adventure set in a little diorama-like world – think Night in the Woods meets Twin Peaks – sneak out late, make friends, uncover nuclear waste secrets in the local park. You know, the usual. What makes Beacon Pines even more interesting is that it's all about choice – you are reading a book as you play, and you uncover charms that hold key words, which can then be used to change the sentences in the book, which changes how the scene plays out. This leads to multiple branching storyline paths – you'll need to backtrack and explore them all to uncover the creepy goings on in Beacon Pines. Due out 22nd of September, Beacon Pines will be available on PC via Steam, Nintendo Switch, and Day One on Game Pass for Xbox One and Series X/S.
Brewmaster by Auroch Digital – September 29th, 2022
Just when you thought the simulator genre couldn't gamify any other hobby, here comes Brewmaster to get us all addicted to digital home brewing. In this scientifically accurate simulator, you'll be using real chemistry to brew the beer of your dreams, whether that's a hoppy IPA or the darkest of stouts. You'll be using a huge range of ingredients in your customisable brewing space in order to learn, master and tweak the brewing process. While you might want to just brew the ale of your dreams in the sandbox, you can also take on jobs, enter your brew into competitions and become…The Brewmaster… in a career mode. I had a fantastic time with this chilled out and deceptively moreish title during its beta and now, with help from Fireshine Games, Auroch Digital are serving up a cold one on PC via Steam and all the consoles on September 29th, 2022.
Q.U.B.E. 10th Anniversary by Toxic Games – September 14th, 2022
When I first read that the original Q.U.B.E. would be celebrating its 10th anniversary this year, I crumbled to dust. The classic from Toxic Games was amongst the first batch of games I ever covered as a critic and I still have fond memories of it to this day. Whether, like me, you fancy a block-manipulating jaunt down memory lane or you're new to the Q.U.B.E. series, it's worth writing down September 14th in your diary. That's the day that a special edition of the Q.U.B.E.: Directors Cut game is launching, featuring refined visuals, redesigned puzzles and an entirely new chapter – Sector 8 – will launch on PC and Xbox (with Nintendo Switch and PlayStation releases to follow soon after). The ultimate celebration of Q.U.B.E. including 4 to 6 hours of additional content, make sure to check out the 10th Anniversary edition this September.
Monorail Stories by Stelex Software – September 26th, 2022
Ah, the commute to and from work. The hustle and bustle. The chap who's eating some mysterious pungent food. Oh, and the possibility of altering someone's destiny. That's the pitch behind Monorail Stories, an asynchronous narrative game where your choices with one character can have far reaching consequences for another. That tag line "an adventure game focusing on extraordinary things happening to ordinary people" is quite compelling. Presented in a charming pixel art style, this game has you control Silvie and Ahmal, one who's from the City of M and the other from City of L. They commute on the monorail between these cities at different times each day but their actions and decisions shape a shared story. You can even play this game with a friend who's experiencing the consequences of the relationships you make or break on your play. It's a fascinating concept that's launching on the PC via Steam on September 26th, 2022.
The Fridge Is Red by 5WORD Team – September 27th, 2022
The PSX-inspired horror genre is exploding with indie games right now. Between Puppet Combo and the many games highlighted by the Haunted PS1, this is a genre that's truly coming its own. A new contender is about to enter the ring however and it comes from the talented developers behind Death Crown. An anthology of creepy horror games, all with those crunchy, punchy PSX visuals, The Fridge Is Red is a collection of 6 first person horror tales aiming to scare the pants off of us on September 27th, 2022 when it launches on PC via Steam.
Squad 51 vs. The Flying Saucers by Hisper Games – September 2022
When this game was first announced a few years ago, going by the name Squadron 51 at the time, it got most of the Finger Guns team excited. A name change and a publisher deal later, Squad 51 vs. The Flying Saucers is winging its way onto our gaming systems this September. Complete with a 1950's filmic aesthetic, this shooter looks like it's shaping up to be something quite special.
Justice Sucks by Samurai Punk – September 8th, 2022
Samurai Punk are back with Justice Sucks: Tactical Vacuum Action. An action-packed sequel to Roombo: First Blood. After successfully saving his home from a burglary, Dusty – a killer robot vacuum – has drawn the attention of FamilyCorp. Because of a fight with the warranty squad, Dusty has been sent flying into the living room TV. Dusty's now on a quest for vengeance in the TV dimension to defeat FamilyCorp and save his family once again. Much like the first game, you can suck up objects to use against your enemies, create traps and hack your way through in all new 90's TV inspired levels. This stealth-action Roomba gone rogue sucks its way onto consoles and PC (Steam).
That's it for this month – 26 exciting indie games to keep on your radar. Have we missed a game off this list you think belongs here? Excited about a particular game? Hit the comments section and sound off.
If you enjoyed this article or any more of our content, please consider our Patreon.
Make sure to follow Finger Guns on our social channels –Twitter, Facebook, Twitch, Spotify or Apple Podcasts – to keep up to date on our news, reviews and features.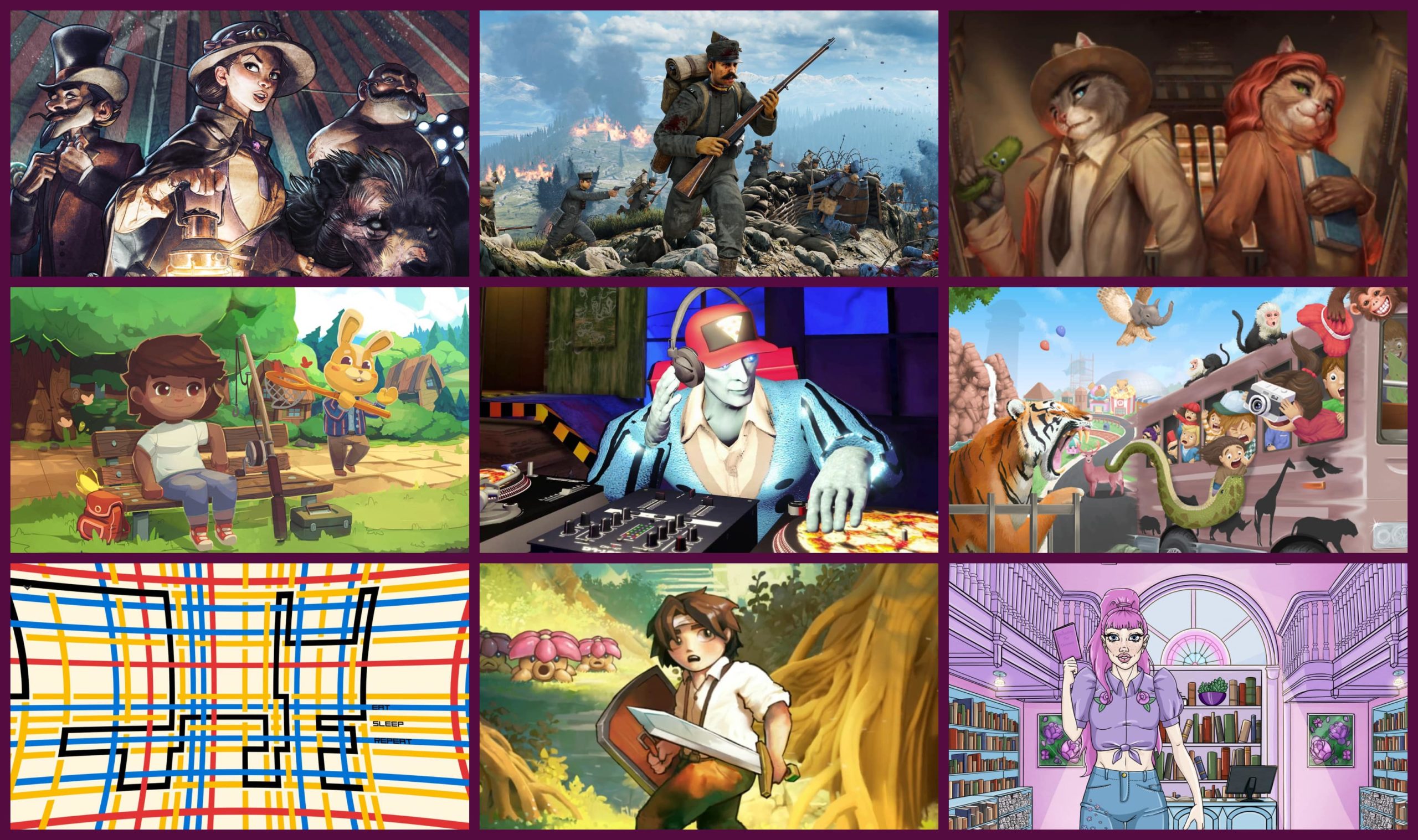 ---