A new approach to bike racers, RiMS Racing isn't challenging the established leaders in the genre but will greatly please its targeted niche. The Finger Guns Review.
A new approach to bike racers, RiMS Racing isn't challenging the established leaders in the genre but will greatly please its targeted niche. The Finger Guns Review.
As I sat in a preview event for RiMS Racing (to be henceforth styled to as Rims Racing to give my poor Shift key a break) a few months ago, I couldn't help but be impressed with the high concept. Representatives from RaceWard Studio said that they wanted their debut game to appeal to bikers, rather than just racers. They didn't want to create a game in which players jumped from bike to bike for the sake of it. They wanted to make a game where players picked their favourite bike, a bike that they might even have tucked away in their garage, and stuck with it. Get accustomed to it. Tweak it. Customise it. Win with it.
I couldn't help but think about my Dad when this concept was being pitched. My one and only experience on a real motorbike ended with the bike stuck in a tree after it had spun off down a massive embankment (true story) so I often rely on my old Da', a biker for 30+ years, to test the realism when I'm reviewing two-wheeled racing games. He's a dab hand with these racing games but they've never been something he'd sit down and play himself given the choice. He likes watching Moto GP but he doesn't want to play it. He'd much rather ride around the winding country roads of Wales than take a lap on a track. On any dry day you'll likely find him on his bike heading to a truck stop for a cup of tea. Listening to the designers at RaceWard made me think that Rims Racing might finally be the bike racer that my Dad sits down to play by choice, rather than me strong arming him into it so that my reviews don't suck.
I was right.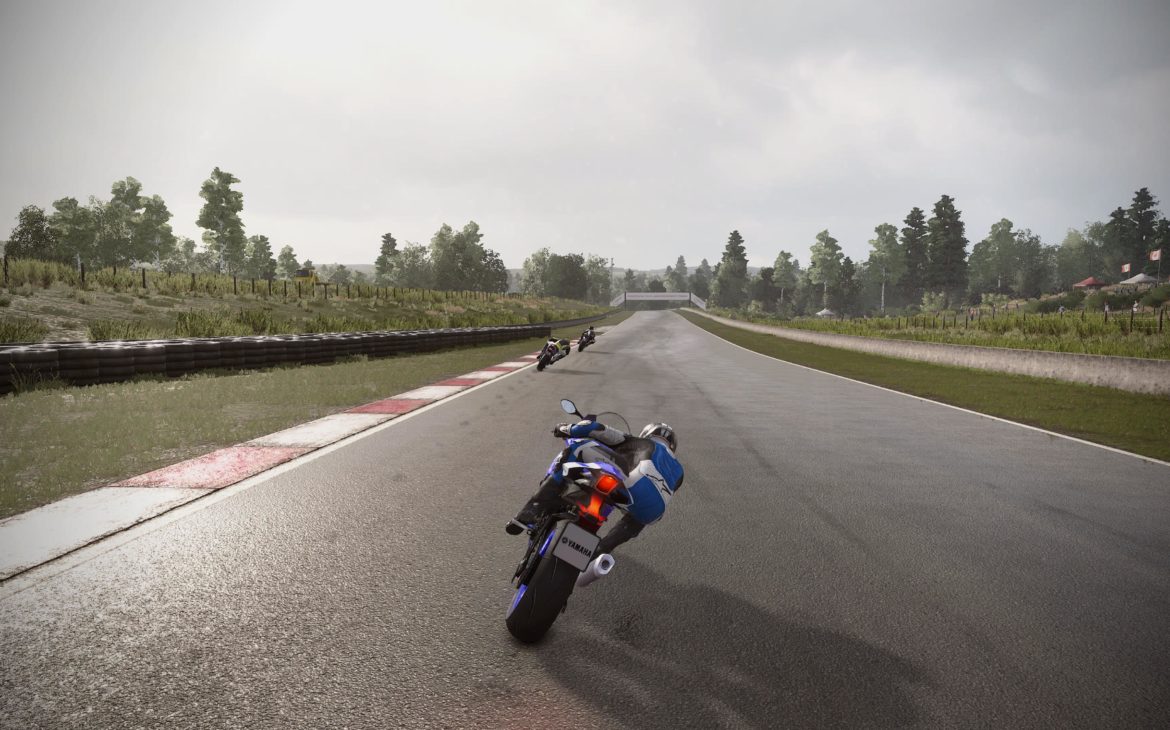 I think it's fair to say Rims Racing does things differently. This isn't like Ride, MXPG or any other racing game. Almost everything outside of the racing side of things will need some explanation. Its simply not initially intuitive or comparable to other racers. That means – unfortunately – the game begins with some pretty dry and extensive tutorials. This leaves a poor first impression but it's short lived. Once you're into the actual game, those tutorials feel invaluable.
Rims Racing has just 8 bikes – The Yamaha YZF-R1, Suzuki GSX-R1000R, the 2019 MV Agusta F4 RC, a Kawasaki Ninja ZX-10RR, Honda CBR1000RR ABS, the 2020 Ducati Panigale V4 R, the 2021 BMW M1000 RR and the 2020 Aprilia RSV4 1100 Factory. This might seem like a small selection but that's by design. Each of these bikes in their stock forms feel vastly different to play with and represent most of the entrenched bike brands you'll find in biker friend groups. From the menu where you'll get to choose your bike, you can see the stats of each ride. While I imagine there'd be some debate among friends about what's fastest etc, there's a decent variety of bikes for each different play style.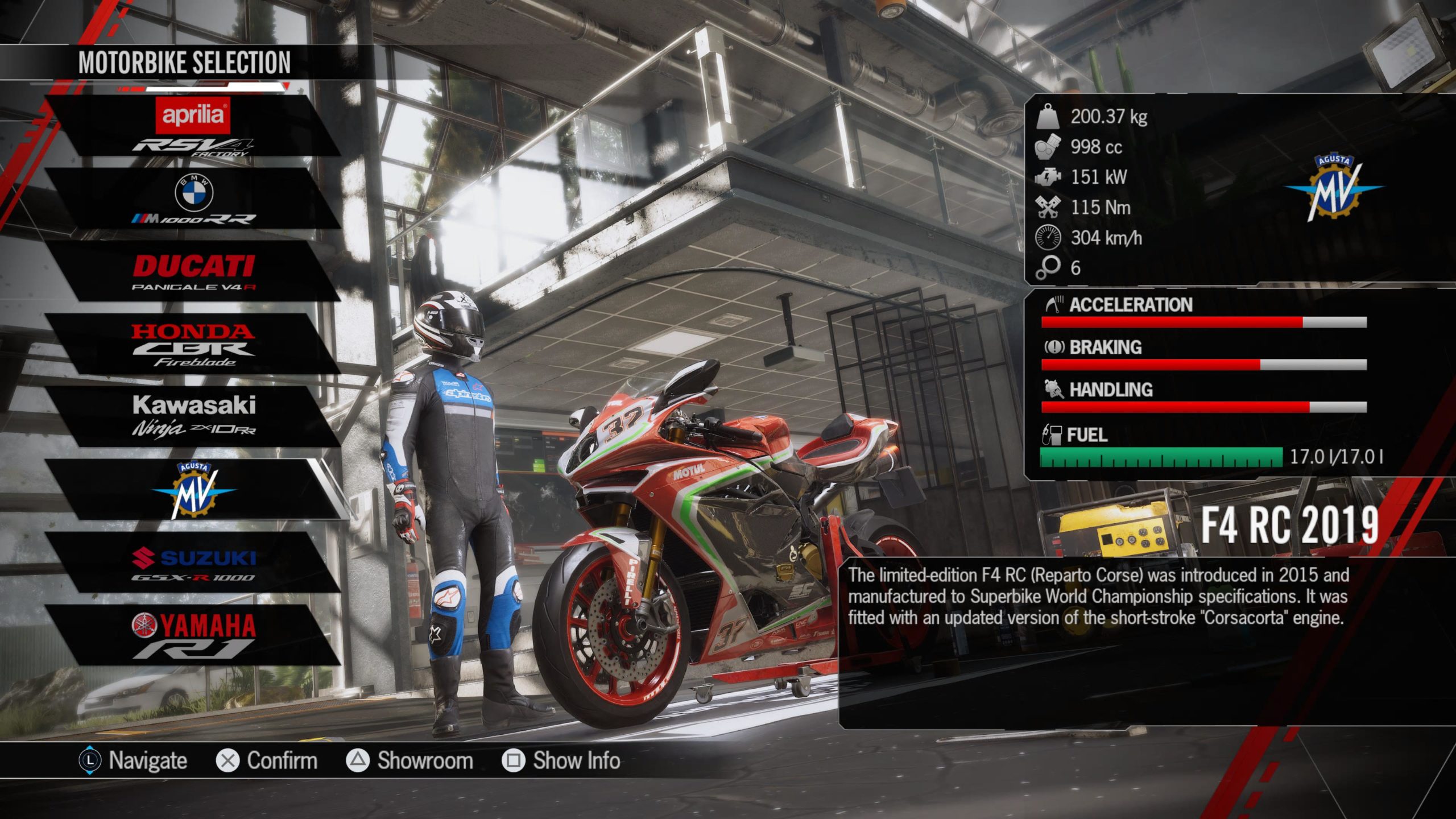 The core experience for Rims Racing is the career mode. Choose your bike – a bike you'll have to stick with for quite some time – from the 8 available and you begin your quest for two-wheeled domination. What allows this mode to stand out from so many other career modes is that everything is consistent, customised and personalised.
That bike you choose? It's a persistent entity. You don't get handed a fresh new bike at the start of every race like you do in every other racing title. The same bike you choose at the start of your career will be the same bike you park at the starting line for each race (at least until you unlock the other 7 bikes later in the career). Components will wear out. Tyres will wear down. The body will get scratched up.
This is the most unique aspect of Rims Racing – every element of your chosen bike can be replaced and customised. There are thousands of components from real manufacturers that can be swapped out for the stock parts on the bike. Each new part will have an palpable influence on the way the bike handles and feels to ride, as will their condition. Represented by a percentage quality and a traffic light score, the condition of a part can be easily identified and felt while racing. Fresh tyres will grip the road and mean that when you're accelerating out of a corner, you can really open it up to let the bike stand up. As they wear down, accelerate quickly out of a corner and you'll feel the bike fight back as the tyres start to slide away.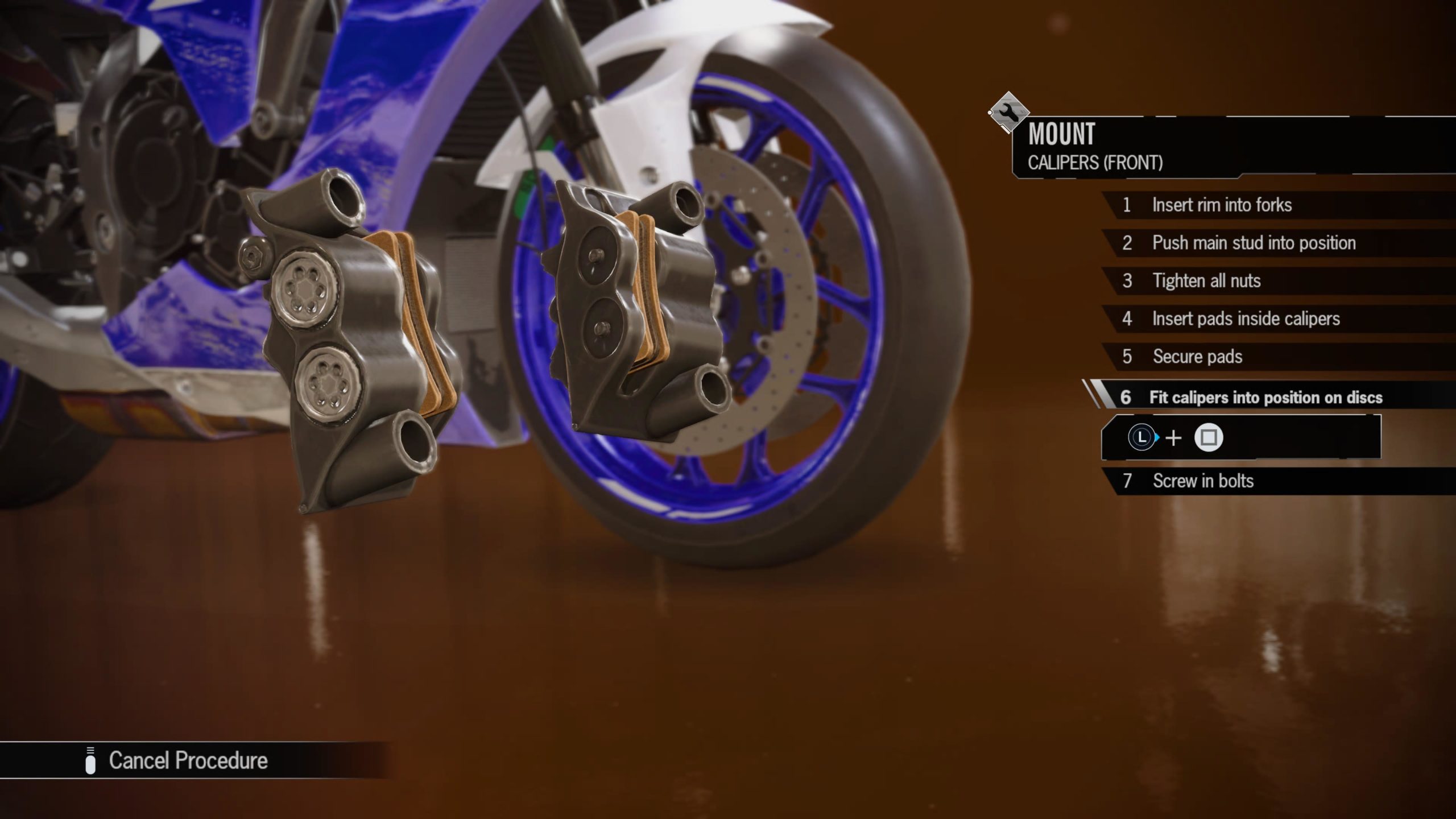 Actually changing the components on the bike is more involved than a simple button press too, whether that be in the career menu or during a pit stop. Each part that gets changed comes with a series of QTE-esque button press sequences that have to be completed in order to swap the part. Spin the left stick to loosen the bolts. Tap X to put a tyre onto a rim. Hold down L1 while pressing the left stick right and press X to remove the bar. As you complete these sequences, you'll see the actions being performed on screen. While I imagine this aspect of Rims Racing will be divisive, I personally found it to be engaging and informative. I didn't know how much work was involved in changing a break pad on a Kawasaki Ninja. Now I do. My dear old Dad, a collector of Haynes Manuals, was equally impressed.
Maintaining your bike is one of the core aspects of the career mode in Rims Racing as you compete across a calendar of diverse events. 1 and 1 road races, manufacturers events where you get to try out other bikes or win components for your existing one, championship weekends with practice sessions and qualifying, academy events with target time attack sections and more make for a content filled mode. These events take place across some fictional locations and a host of real world racetracks – including Nürburgring, Silverstone and Laguna Seca – which give the game a great level of variety.
The career experience is underpinned by an RPG styled progressions system that's akin to the career mode in WRC 9. Winning some events will reward the player with what is in essence a skill point that can be spent in various places around your headquarters. Doing so offers permanent improvements to things like component prices, inventory space and race research – but this never effects the performance of the bikes themselves.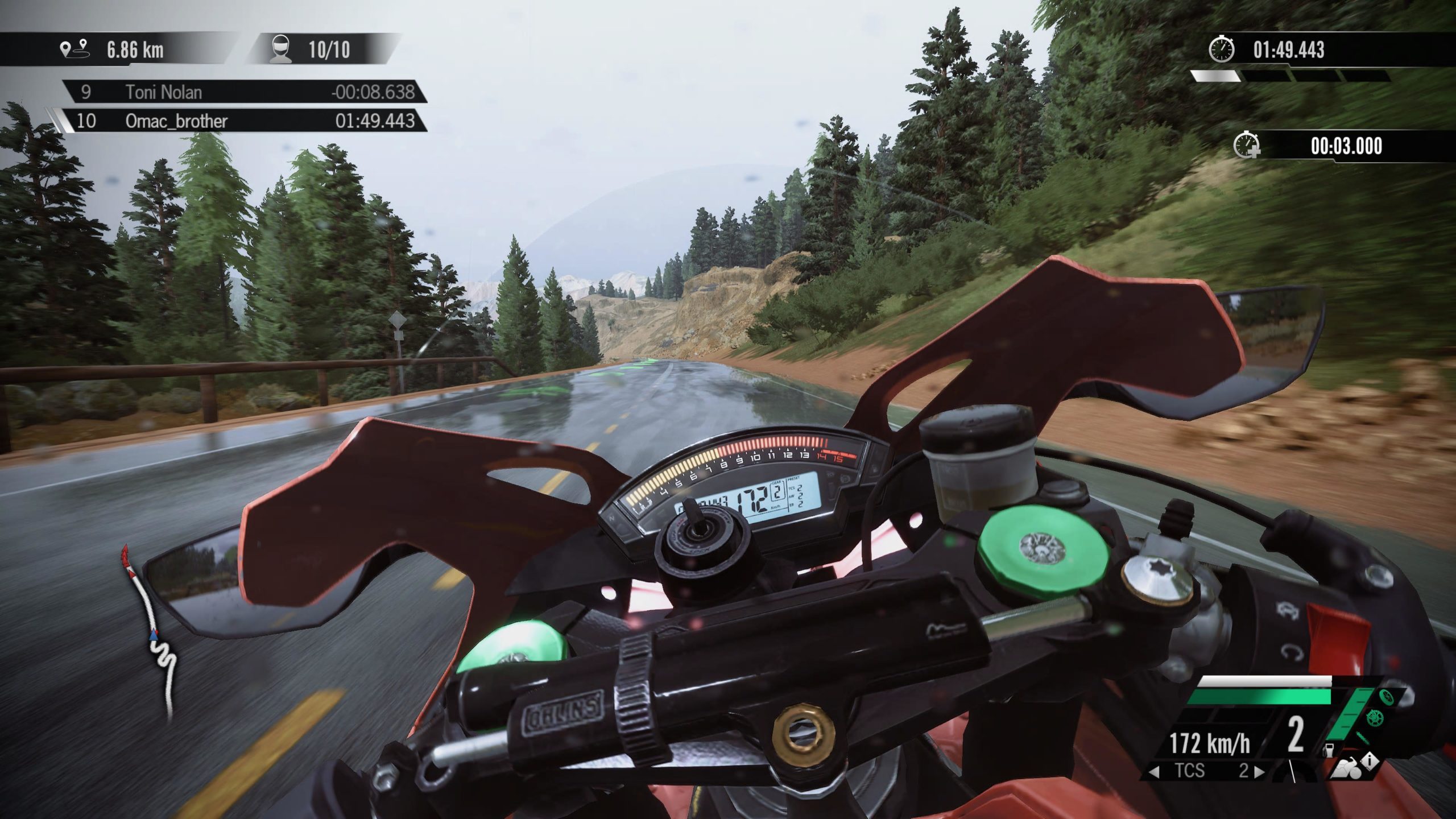 Outside of the Career, there are a hand full of other activities to take on. In single player, you can take on individual races or practice sessions on any track with any bike, as well as participating in academy events. The multiplayer is quite interesting here too. Split screen local racing is included with full customisation options which is a big plus for many but it's the online portion which offers up something unique. In Online Challenges, there are a series of timed events to take part in. All of these are completed individually but are measured on a leader board. At the end of the month, all the "Fame" (this mode's ranking type) is totalled up and you'll be granted a reward based on how well you stacked up against everyone else. Even in the early days of this mode, there already seems to be a few rivalries appearing at the top of the leader board so this mode has the potential for heated longevity.
If you simply want to jump into an online race, that's here too. The Rims Racing online modes are lobby based and having completed a number of them, I've not witnessed any bugs or connection errors outside of other players having terrible connections (seriously people, get better internet) which is par for the genre.
RaceWard might be relatively new studio but many of the team have worked on other bike racing games in the past so the action on the track doesn't feel like that of a debut title. The handling and bike performance, as previously detailed, is slick and fast but because it so drastically changes during a race, it's unlike anything I've ever experienced. Rims Racing is a simulation that feels like it's attempting to be both deep and accessible and succeeds in both regards. The complexity of weight shifting is automatically performed in the game without you having to fiddle around with a second thumb stick (thank Rossi that never came back to the genre) but you'll have to understand as a player the nuances of riding a bike compared to other vehicles. The AI in the game won't be committing any unforced errors no matter the difficulty you set it at but it will push and be aggressive at corners without simply riding through you on the harder settings.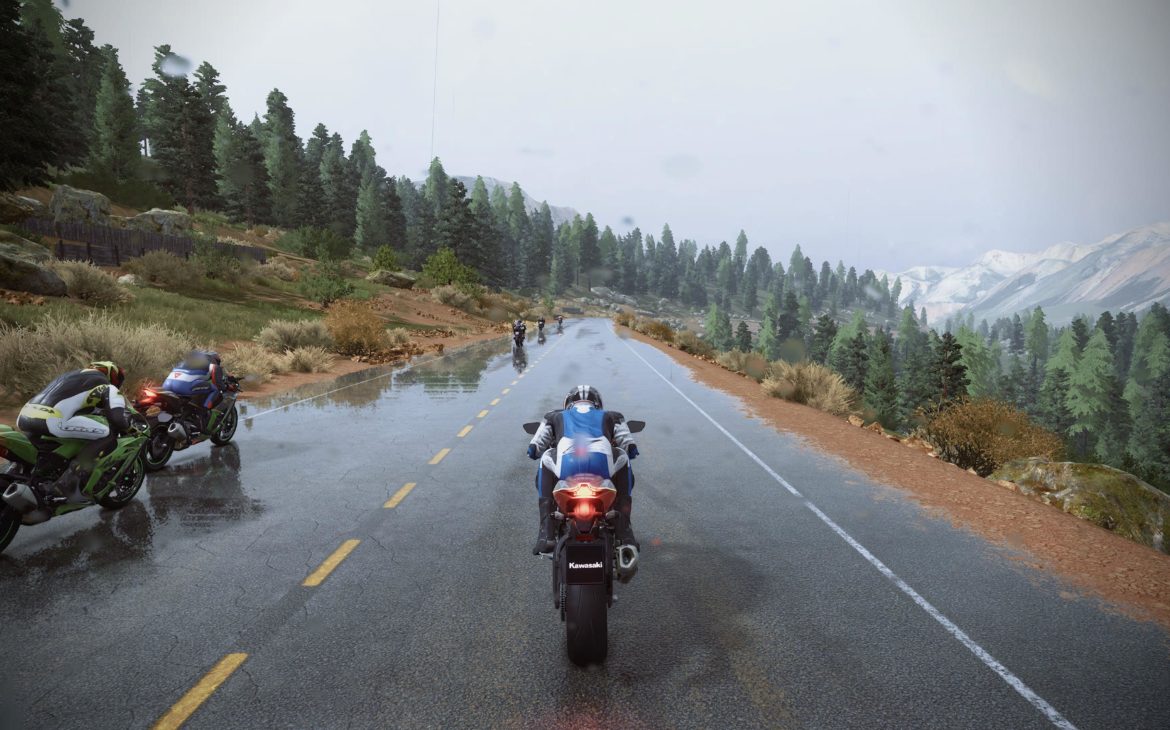 For the most part, Rims Racing is a visual showcase. The 8 bikes themselves have been lovingly recreated in their digital glory and so have the actual parts and components you'll be switching up and changing. The vast majority of the race tracks look fantastic in the game too. If I was to nit-pick, it would be to say that the road races in the game have some rough edges. The likelihood is that if you've got any real skill in this game, you won't see those rough edges. But when you spend a significant portion of your first attempt at a track watching a crash cam as your bike flies through the air and the rider slides across the ground, you'll notice them. There's also a little bit of visual pop in – something I rarely see on the PS5 – which is noticeable on track races with large gravel traps. You can see some of the far off guard railing phasing into existence coming up to the first corner of Laguna Seca, for example. It's not experience ruining but you can tell that this is a game built for both last and next generation consoles.
That being said, you can tell that some significant work has been put into the way that Rims Racing uses the DualSense controller features. When the exhaust crackles on the bike, you'll feel that in your hand. You'll feel the triggers push back when you're trying to brake at speed. The speaker in the controller will communicate when your tyres start to squeak out of control. The implementation of these features certainly makes for a more engrossing race.
If there's to be a Rims Racing 2, there's one thing I'd like to see improved in a sequel. That's the impression of speed the game gives off. It's something that a number of other bike racing games have really worked on and nailed down over the last few years – like the sound of the wind increasing as you speed up or a little more blur in the periphery without turning the game into WipEout. That's not something that's highlighted in this title. You can be doing 175km/h and just not feel like you're hitting those kinds of speeds. It's a small hang up but something that stuck out to me after playing so many quality bike racing games over the past few years.
It also needs to be mentioned that the soundtrack is provided by Bloody Beetroots. All of it. Every single song is provided by a single artist. Thankfully, BB has quite an eclectic and varied back catalogue and many of the artists biggest tracks, including 2 new ones, have been included so, miraculously, this doesn't get irritating.
Rims Racing is a bike game made for bikers. It takes a different tact to every other entry in the genre by spotlighting owning, maintaining and customising bikes as well as racing them. The comparably small gallery of bikes will feel small to those accustomed to massive libraries of bikes and racers, and there's a few rough edges, but there's a different focus here that will appeal to a specific niche of gamer, like my Dad. After a decade of forcing bike racing games on him whenever they get sent my way for a review, this is the first time my old man has asked to return to one. If only for the time I've spent racing against my Dad in this game, it was worth it.
---
A good first lap for a racing series debut, RiMS Racing is a game designed for bikers. It adds an element of maintenance and customisation to the racing formula which makes for a compelling career experience. With great action on track and a unique system off it, RiMS is certainly worth your time but has room for improvement in a sequel.

RiMS Racing is available now on PlayStation 4, PlayStation 5 (review version), Xbox One, Xbox Series X | S, Nintendo Switch and PC via Stream.
Developer: RaceWard Studios
Publisher: Nacon
Disclaimer: In order to complete this preview, we were provided with a promotional copy of the game. For our full review policy, please go here.
If you enjoyed this article or any more of our content, please consider our Patreon.
Make sure to follow Finger Guns on our social channels – Twitter, Facebook, Twitch, Spotify or Apple Podcasts – to keep up to date on our news, reviews and features.