MotoGP 21 on PS5 looks and feels the part but it's sorely missing some of last years modes. The Finger Guns Review.
MotoGP 21 on PS5 looks and feels the part but it's sorely missing some of last years modes. The Finger Guns Review.
It takes just a few seconds with MotoGP 21 to know that there is a different feel to this years entry to the racing series. MotoGP 20 was designed specifically for the hardcore MotoGP fans, forgoing a tutorial entirely. That changes with MotoGP 21. This title puts a step by step tutorial before you as soon as you start the game. This tutorial takes the player through the basics right through to racing lines in order to make you competitive. If you indulge in this tutorial, as clunky as it is, the usual learning curve that comes with a MotoGP game becomes less of an up hill battle. Not to fall into the "games journalist are bad at games" trap but I certainly found this tutorial helpful. It did make MotoGP 21 slightly less impenetrable right from the starting line.
That's not to say MotoGP 21 is any easier than the previous annual entries. It's still a hard core simulator that'll punish you for taking the wrong trajectory or speed into a corner, even on the easiest difficulty settings. You've still got to work your nuts off to finish in the top 10, even with all of the assists turned on. You've still got to have a base knowledge of the sport to understand a lot of terms that go unexplained. It just makes more of an effort this time around to teach the player how not to be terrible at it.
A beautiful ride
MotoGP 21 is the first in the series to release on the next-gen hardware and it makes use of the PS5 specific features. Load times are virtually non-existent here. Click on a quick race and you're treated to some swooshing colours and a few seconds later, you're on the starting line. This is a massive upgrade from last year's installment on PS4.
This entry is certainly better looking on PlayStation 5 too. The tracks and surrounding areas are highly detailed. The draw distances are massively improved. Wet tracks look fantastic with reflections giving a glassy appearance to the larger puddles. The bikes themselves look more detailed, again benefiting from the way light dances down the bodywork. Tyres have seen advancements too. Take a little detour over some sand and you'll see the rear tyre stained yellow for a short time. All of this is presented via 4K visuals and a stable 60 frames per second.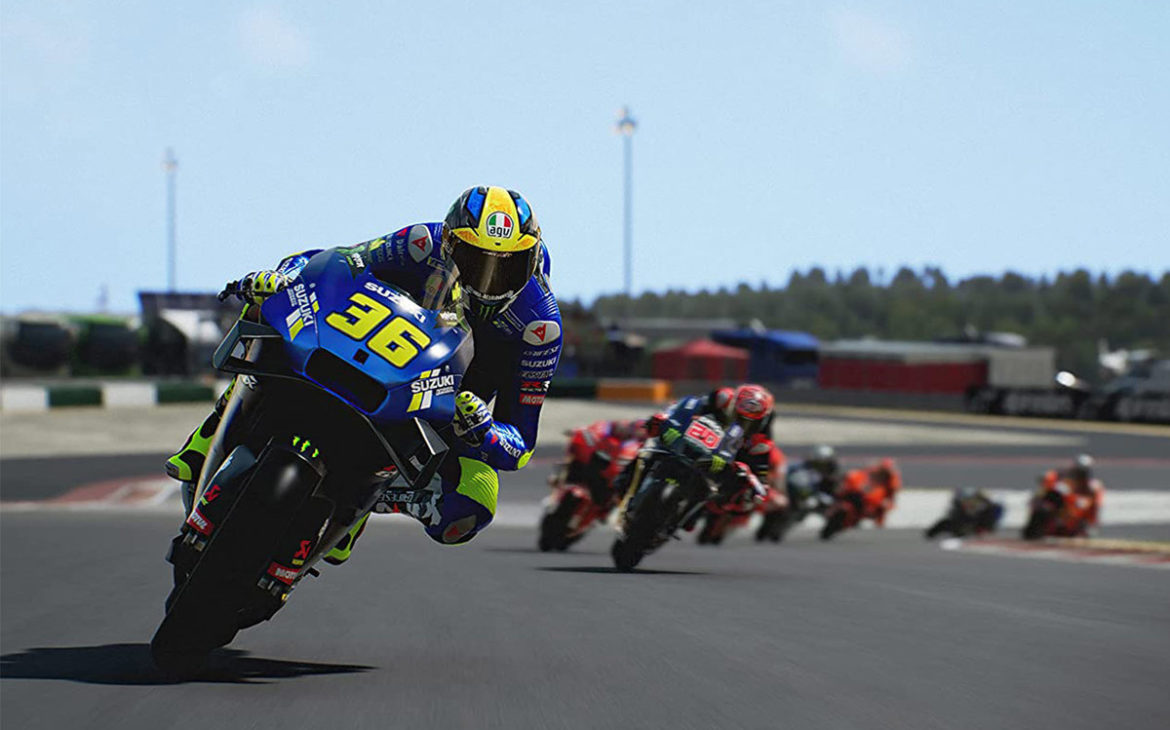 Not all of the visuals have improved for the next-gen version of MotoGP 21 though. The mist kicked up by bikes on wet tracks actually looks like a step back for this entry. Like a stream of white smoke, it stands out as an ugly edge to an otherwise gorgeous game.
Feeling where the rubber hits the road
The biggest difference between last years entry and the PS5 version of MotoGP 21 is the implementation of the Dualsense 5 controls. The inclusion of haptic feedback, and really putting some effort into making this worth while, is excellent. You can really feel the road as you ride over it through your hands and the crackle of the exhaust as it pops. Hit a rumble strip and you'll get that feeling in your fingers.
I can imagine the use of the adaptive triggers on the DualSense controller will be a divisive aspect of MotoGP 21. There's constant tension in the L2 button which increases and decreases depending on the choices of brakes. Personally, I'm a big fan of giving the simple act of breaking a more engrossing feeling but for some, I'll imagine they'll want this turned off (you can do this in the PS5 options). It doesn't add much to the game other than making it feel like you're having to exert more effort with your finger.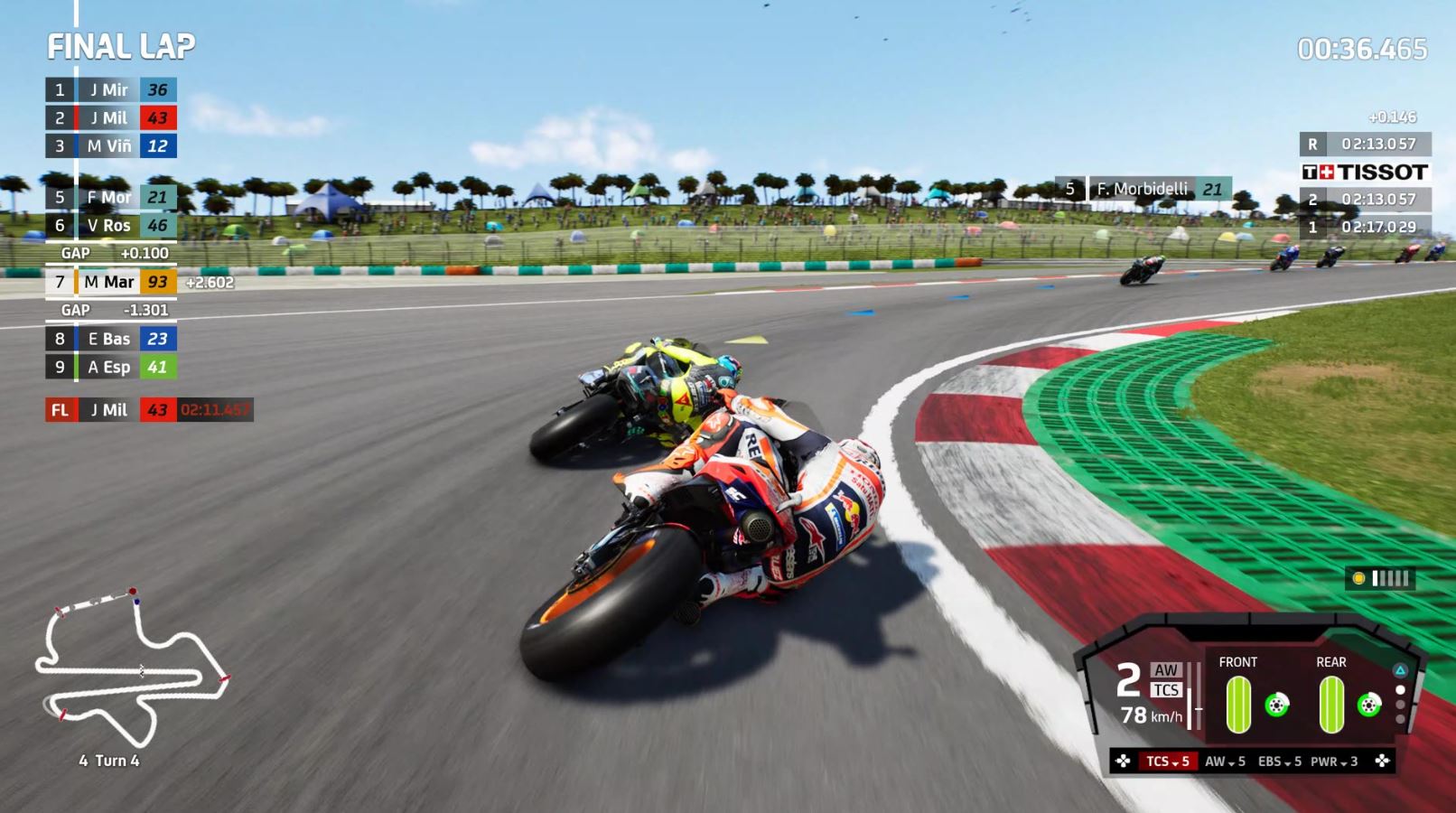 Accelerating with the R2 trigger is where that the adaptive triggers really come to life. It's here where it benefits the game play the most. There's little rumbles that let you know the game is going to drop or flip you over. It's an excellent use of the controllers which is the biggest step forward for the series, year on year.
MotoGP 21 Is 'Realer' But A Few Laps Shorter
In terms of content, most of the staples for the series return. Career mode, the most popular mode, is present and correct. Here you can choose your racer (including a custom built racer clad in number stickers that can be designed online) and register for Moto3 through to the MotoGP. Much like last years entry, team management plays a much bigger part of racing. You'll be joining (or creating a team) then hiring and firing team members (a Data Analyst, a Chief Engineer and Personal Manager) as you work your way up, experiencing each race weekend as it appears in the calendar. As always, this mode feels sterile and charmless but can become an engrossing time sink should you let it. Complete practice sessions and meet targets and you'll get research points.
The quick modes return to MotoGP 21 too. Here you can choose a racer, set your rules and select a race, a series or a time trial to take part in. There has been no dramatic shake up here. All of the racers and teams from Moto3 through to MotoGP can be selected in any mode. Every race track on the calendar (including a few historic favourites and the Algarve International Circuit) are available too. This even includes the the upcoming remodelled Turn 10 at Circuit de Barcelona-Catalunya.
Online play is also present and correct. Based on lobby centric races, you can search for existing races to join or create your own. There's a distinct lack of imagination to the multiplayer here. With some other racing games pushing multiplayer in some interesting directions, it certainly feels like MotoGP 21 has been left behind somewhat. There's no ranked racing, scheduled events or timed challenges like you could find in other racing games. If you like pure races and have friends to join you, there's still be fun to be had here.
For Real(ism) This Time
One mode that hasn't returned for MotoGP 21 is the Historic Mode. This was one of my favourite aspects of the past 2 MotoGP games and it feels like an omission here. Rather than challenging the playerto recreate historic races and moments, the game just gives it to you. There are 47 classic riders and three tracks in the form of the US's Laguna Seca, UK's Donington Park and Automotodrom Brno from the Czech GP. The latter of these races has been removed from this years race calendar for resurfacing (but can be included in the career/managerial mode if you really want to included). For some, having all of this unlocked from the start will be a bonus. I however enjoyed the focus on recreating historic wins and the rotating challenges that I find to be sorely missing here.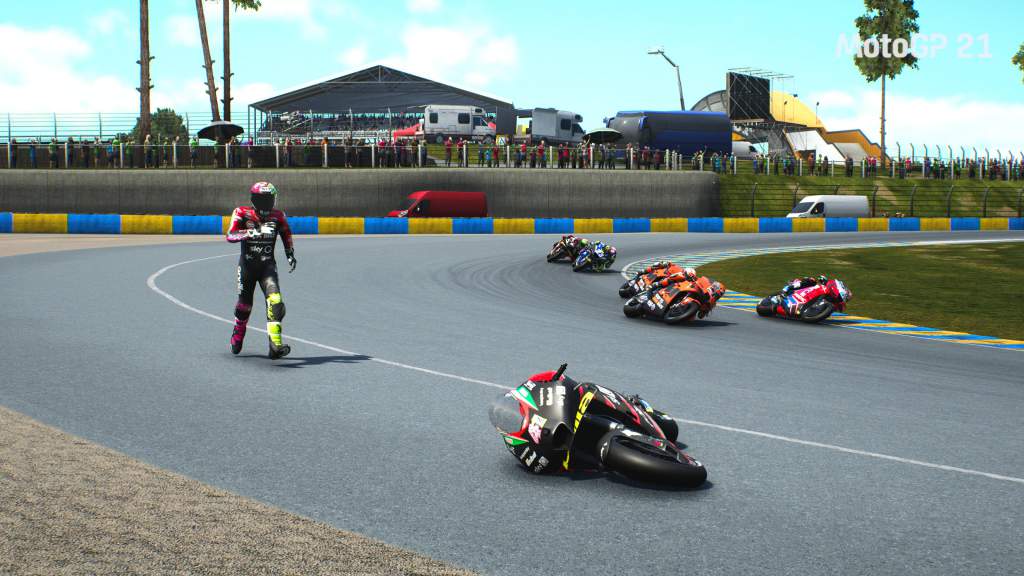 There have been a few additions to the realism for MotoGP 21 too. When you bin your bike, you've now got to retrieve it instead of simply respawning back on the track. There's also the inclusion of the Long Lap Penalty. Break the rules enough times and you'll be forced to drive along a longer section of the track. This replaces simply taking a time penalty.
While the inclusion of these elements makes for a more realistic MotoGP experience, they're only really impactful in the multiplayer mode. That's because the time reversal mechanic that has been the accessibility saviour of this series for years, returns for MotoGP 21. Mess up and a simple press on R1 will give you the chance to rewind the action and right your wrongs. Having this ability, and no limits to it, means it's rare to get a Long Lap Penalty or to have to run to get your ditched bike. It's totally counterintuitive to have new features which can be circumvented by a core mechanic of the game.
Pumping The Brakes
The final new addition is brake temperatures. For those tracks with lots of twists and turns with decent straights between them, monitoring the temperature of the breaks now becomes imperative. Choosing the right set of brakes for each track can make the difference between first row qualification and starting from the back. This is a pleasing new addition that adds to the realism. If this feature returns for next year, it'd behove the game to explain it to the player more clearly.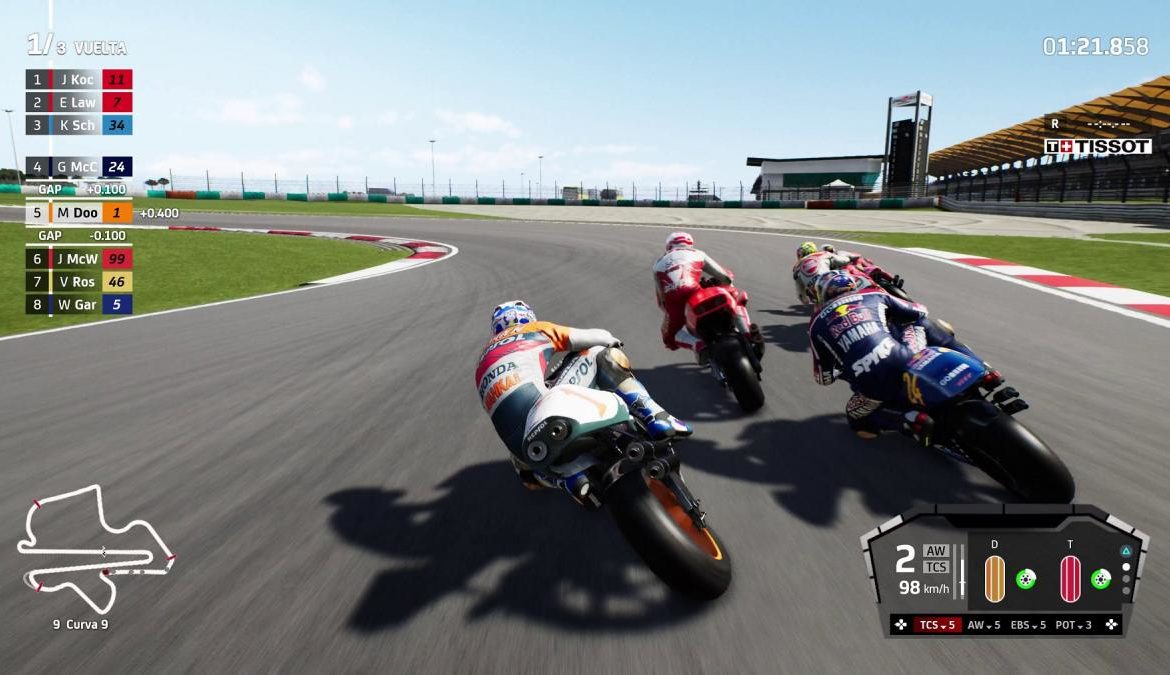 Some changes for MotoGP 21 don't feel like an advancement at all. The AI racers are a bit of a mixed bag, for example. When they're behind you, they certainly feel better at attacking than in last years game. They go for that hole-shot and won't just drive into the back of you. When you're on the offensive though, aiming to pass someone, they lose that intelligence. I've lost count of the times I've bested an AI racer on a corner and they've just followed their line and driven into me, sending us both flying.
It also has to be said that while the weather effects in MotoGP 21 are mostly impressive, the lack of dynamic weather events is curious. A race starts and stops in then chosen condition unlike Ride 4, which can alter the weather mid-race, which was also created by Milestone. Fingers crossed that makes an appearance for MotoGP 22.
---
MotoGP 21 is undoubtedly the best looking game in the series. It also makes fantastic use of the DualSense controller on the PlayStation 5. For every step forward this game takes forward though, it feels like it takes a step back elsewhere. It's still a very challenging but equally rewarding motorbike racing game and worthy of carrying the MotoGP name. The iterations without value adding innovations are starting to take their toll.

MotoGP 21 is available now on PlayStation 5 (review platform), PlayStation 4, Xbox One, Xbox Series X|S, Nintendo Switch and PC via Steam and EGS.
Developer: Milestone srl
Publisher: Milestone srl
Disclaimer: In order to complete this review, we were provided with a promotional code from the publisher. For our full review policy, please go here.
If you enjoyed this article or any more of our content, please consider our Patreon.