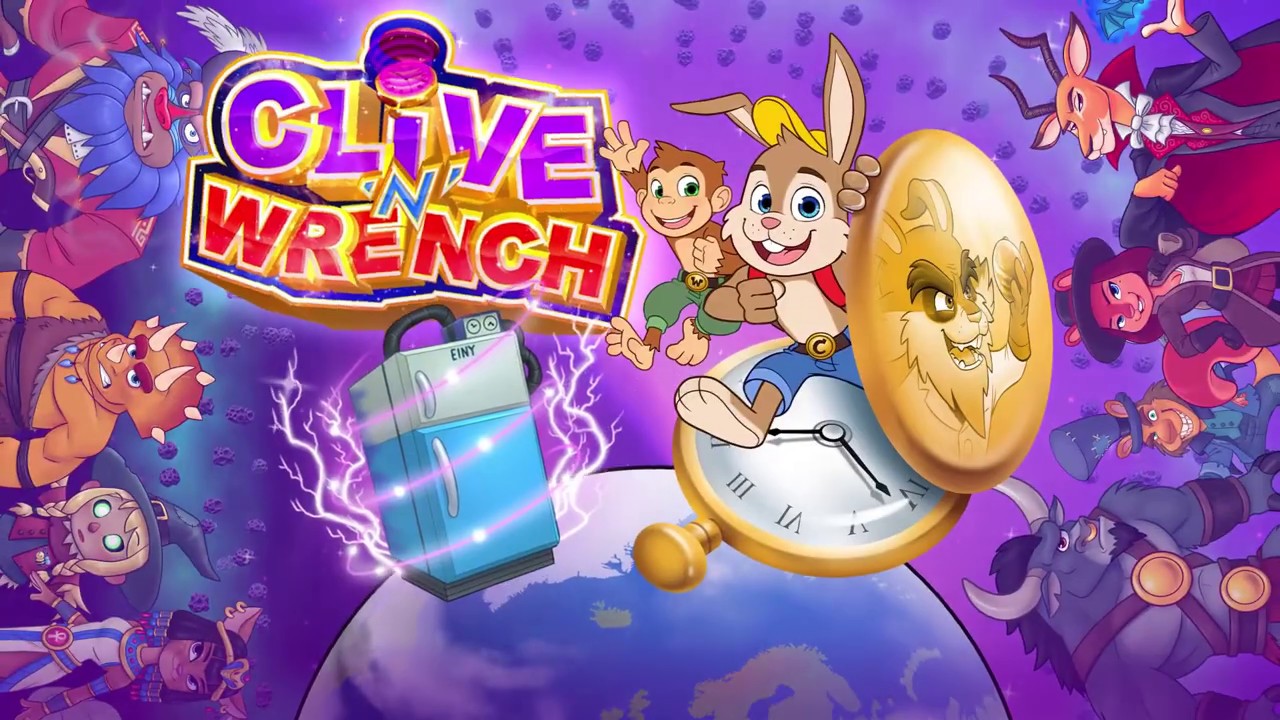 After 10 years in development, Clive 'N' Wrench is set to launch in February 2023 on Switch, PS4, PS5 and PC.
Publisher Numskull Games (RICO London, Final Vendetta) and Developer Dinosaur Bites have today announced that the long-awaited 3D platformer, Clive 'N' Wrench, will release in February 2023.
Previously confirmed to launch on Nintendo Switch and PC via Steam [Link], the publisher have also confirmed that Clive 'N' Wrench will be launching on PlayStation 4 & PlayStation 5 too. The game will launch simultaneously across digital and physical stores. Pre-orders are available now here.
To commemorate the announcement of the launch date, Dinosaur Bites have released the following trailer which… just watch it…
Also released today is a new game play video that demonstrates many of the worlds we'll be visiting in Clive 'N' Wrench. There's 11 levels in the game in total, each with their own theme from "the prehistoric ice age in Iceceratops, to ancient Egypt in Tempus Tombs, and even across the Wild West".
What is Clive 'N' Wrench?
Clive 'N' Wrench is a 3D platformer from 1-man team Dinosaur Bites. It promises to be full of challenges, collectables, and charismatic characters. The game stars titular characters Clive the rabbit and best friend Wrench, the monkey on his back. The pair are on a heroic quest to undo Clive's cousin Nancy's mistake thwart the tyrannical Dr Daucus.
Sole developer and 3D platformer enthusiast Rob Wass began development back in 2011. After designing content for Unreal Tournament and GTA III, Vice City and San Andreas, Rob threw his all into making Clive 'N' Wrench.
Numskull Games will release Clive 'N' Wrench on Nintendo Switch, PlayStation 5, and PlayStation 4, with a digital edition available on PC (Steam).
If you ever dip your toe into the gaming side of Twitter, you'll have likely seen this game going viral at least once. A throw back to the 'good old days' of Spyro, Banjo-Kazooie and Jak & Daxter, the game looks like a whole lot of fun. It's certainly one we've been keeping an eye on for -years- here at Finger Guns.
Physical Edition
A physical edition of Clive 'N' Wrench will be available on Nintendo Switch, PlayStation 5, and PlayStation 4. All physical Standard editions come with a mini-booklet which includes a breakdown of the duo's special moves.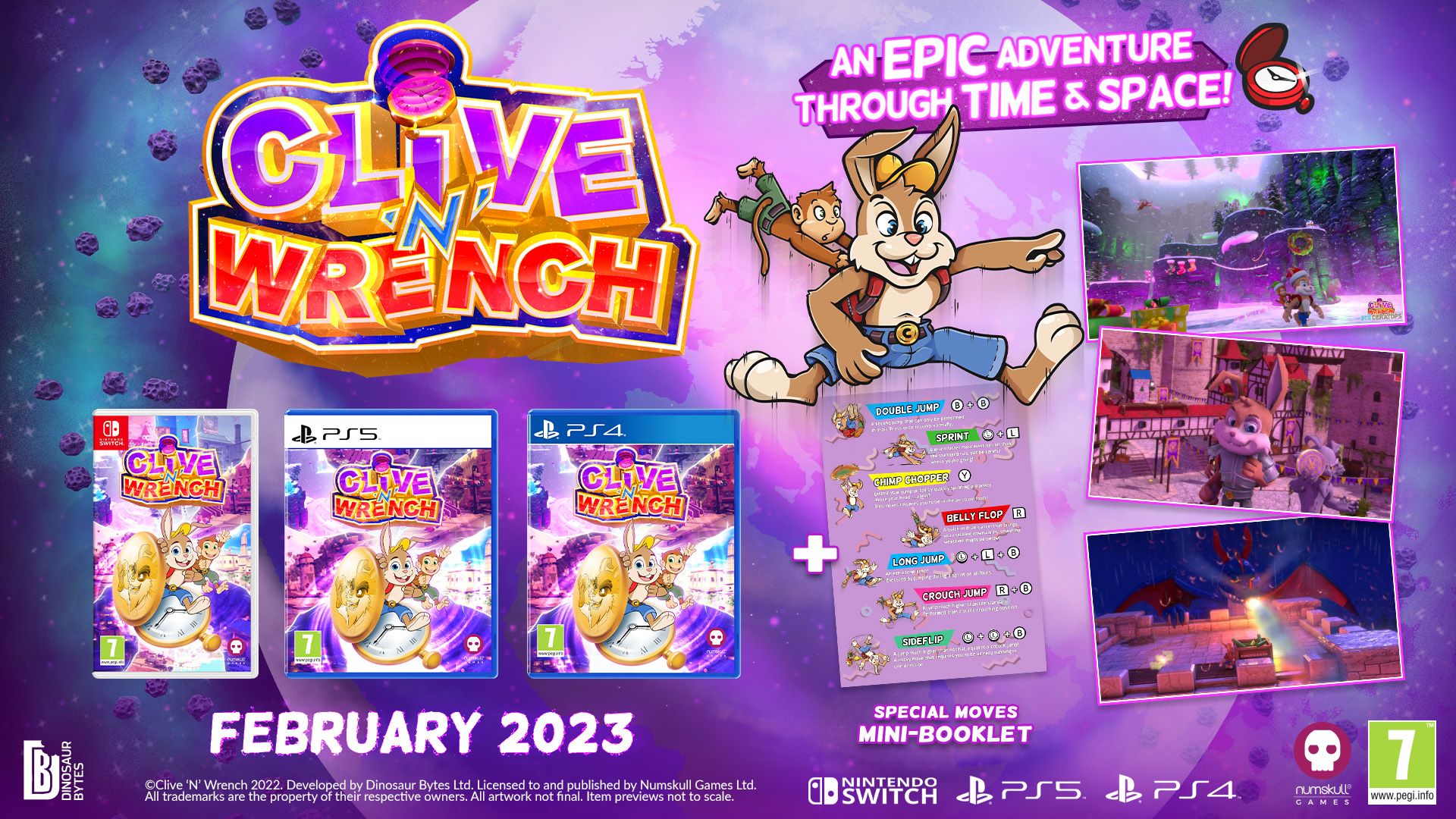 Clive 'N' Wrench Collectors Edition
For those of you that like to collect gaming trinkets, Numskull Games are also launching a Collectors Edition of Clive 'N' Wrench. This includes a copy of the game (obvs), the game's soundtrack, exclusive character cards, fridge magnet and a full colour manual. Ah, the memories of flicking through the instruction booklet on the bus home after buying a new game… anyway…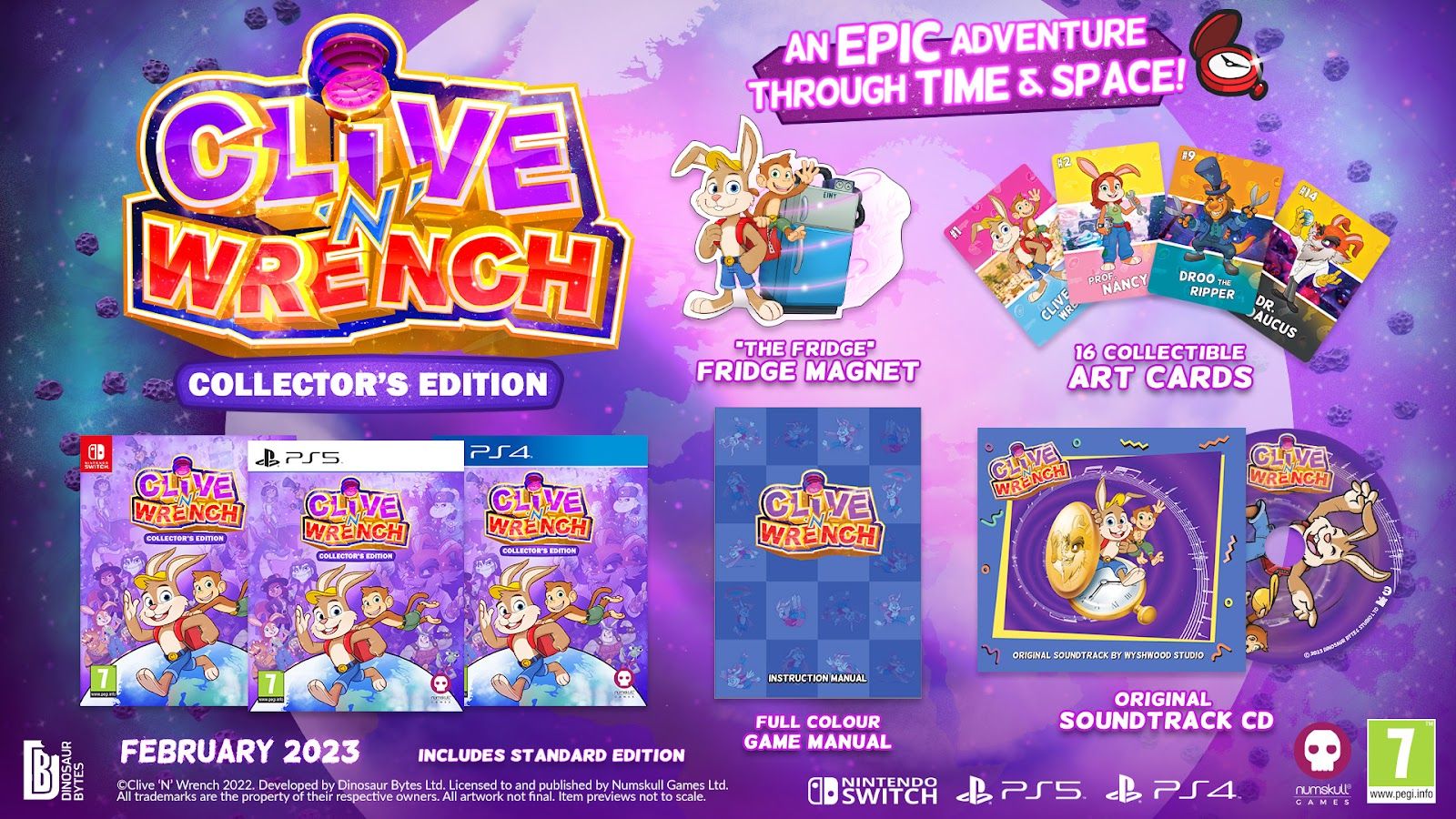 Rob Wass had this to say about the announcement of the release date:
"Clive 'N' Wrench has been a huge part of my life over the past 10 years. This project has been a real labour of love for me. I'm beyond excited for everyone to get their hands on Clive 'N' Wrench when it launches early next year."
Source: Press Release