Hack 'n' Slash Adventure Battle Axe re-releases on PS5 with a shiny new physical Special Edition, but is it a 1-UP? The Finger Guns review:
Originally released for previous gen consoles in 2021, Battle Axe hacks and slashes its way onto the PS5 with a whole new set of features. Battle Axe is developed by Bitmap Bureau and designed by Henk Nieborg (Xeno Crisis, Shantae series) and is heavily inspired by the arcade adventures of the 80's and 90's. Whether it's the presentation or the gameplay, everything has the essence of retro games whilst mostly bringing it into the modern generation.
The physical Special Edition for those who are interested comes in a gorgeous outer-sleeve featuring the games antagonist as well as a 13-Track CD of the games original soundtrack created by the legendary composer Manami Mastumae – known for Mega Man, Shovel Knight and… Looney Tunes?! Coming off the release of Final Vendetta, the developers Bitmap Bureau have carved out time to revisit Battle Axe before launch on PS5 to shape some quality of life improvements.
Prepare for Battle
The evil sorceress Etheldred has held Mercia captive for many years whilst enslaving people from across the land to work and never return. Three heroes answer the call to arms to defeat Etheldred and bring peace to Mercia. Choose from the dark Elf Fae, imposing pirate Rooney or wise druid Lolo to take on the forces of evil.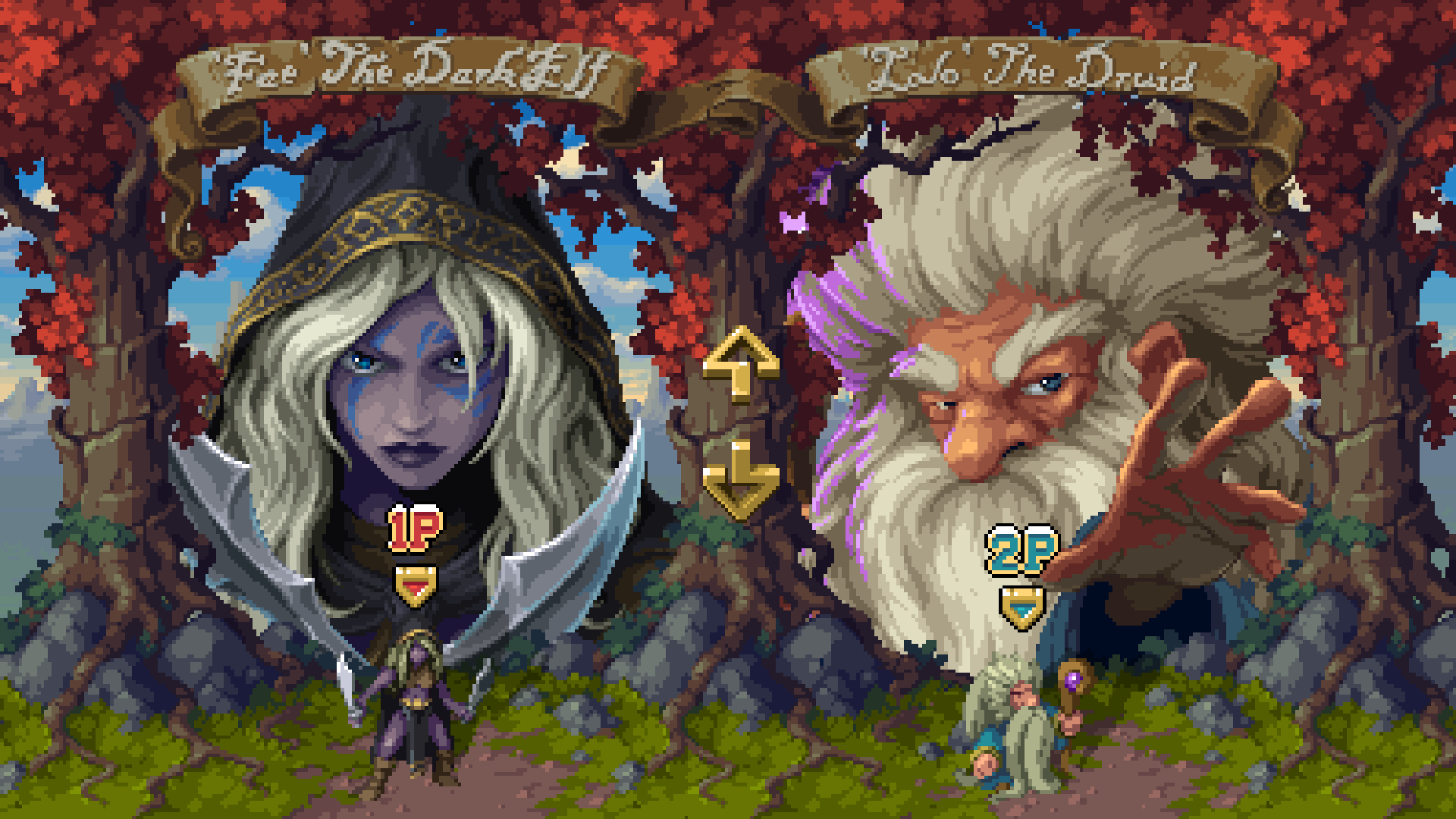 Outside of the opening cut scene and the ending scene, the rest of the story is told through your gameplay. Which is to say there isn't much else, but it doesn't need to do much more in this regard. It sets up the stakes and of course the only way to finish the story is to beat the game, so you can see where it's going to go. So, whilst Battle Axe is light on story for the sake of letting the gameplay shine, the pixel art cut scenes are a delight.
Battle H-Axe 'n' Slash
Battle Axe is a top down arcade hack 'n' slash that takes big inspiration from Golden Axe, Gauntlet and even Zombies Ate My Neighbours. The arcade set up means there is a relatively short game in Arcade Mode, with their only being 4 Stages. However, this doesn't mean there isn't enough to chew on as there are three characters to choose from and a helping of varied difficulties to playthrough. Not to mention the option to also play couch co-op only increasing the replayability.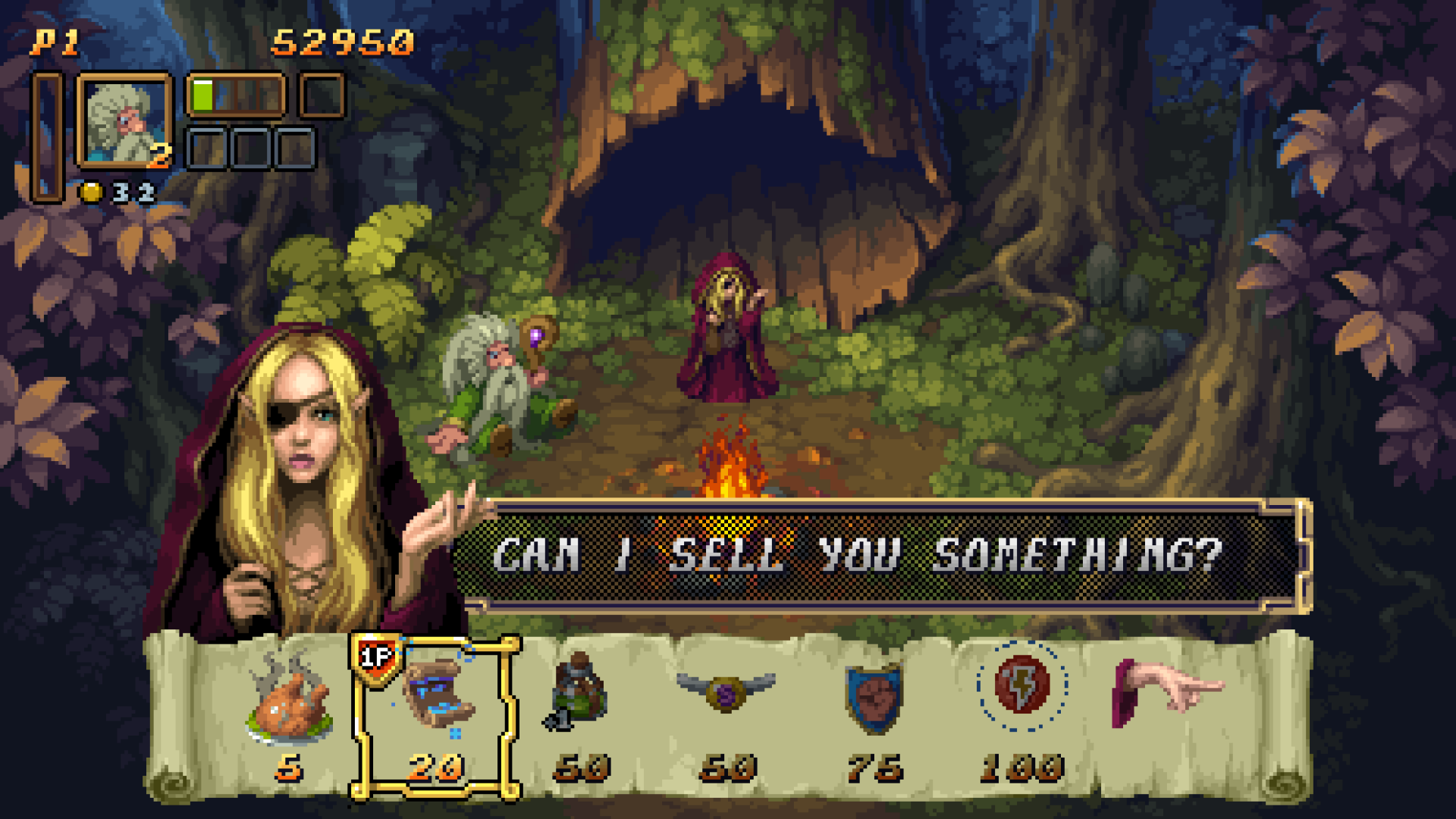 It's a tough but fair game, similarly to the golden age Arcaders of their time. As I said you can either play as Fae, whose fastest with a focus on melee, Rooney, a jack of all trades, or Lolo, whose focus is on ranged attacks. Each character has an attack, ranged attack, and an offensive ability that suit their own character. Each manoeuvre is best served with variety, if you want to nab the high score. There's an emphasis on a combo meter that drains over time if you're not attacking, but the more hits you deal the bigger your score. The combat is fast and frenetic with an emphasis on skill by the player to know when to attack or dodge.
The levels are relatively linear, even though I definitely got lost at the start due to the branching paths. However, when I learnt the map it was more of a case on how efficient can I be? In the level there are people you can save to increase your score and overall ranking. I found myself restarting the first level to nail it before moving on to try and get the S rank. It's an addictive loop that fires up the nostalgic high you get when you top your own score. In between those levels, the gold that you pick up from defeated enemies can be used at the shop. Health items, Scrolls (which inflict damage), and the option to upgrade your attack, defence and ability can be purchased to help you overcome the forces of evil.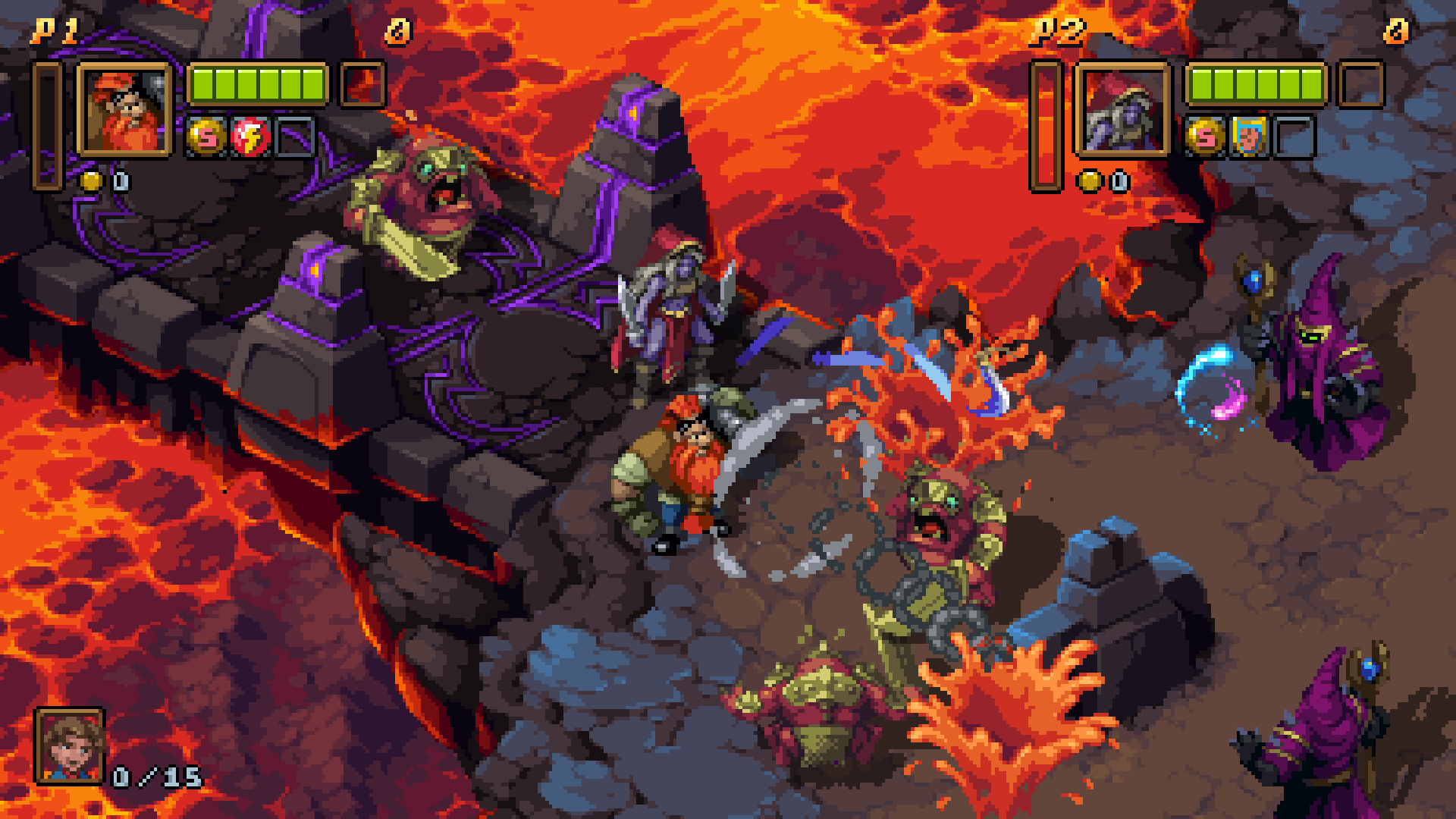 An Axe to Grind
Outside of Arcade Mode, there's also Infinite Mode. This sees you fighting endless hordes of enemies to net you the high score. There does appear to be a bug with this mode currently however – At the time of the writing this review, I do believe the way to complete the stage is to save all the hostages. This is however not the case currently as I've played it a good handful of times now and I find myself at dead ends in the map so I can't progress. It's a shame as I do think if/when it gets fixed this would be the mode I'd keep coming back to.
As well as that there was also the inclusion of a 'Casual' difficulty that was supposed to be infinite restarts. A neat addition to those who may have never played something of this genre. However, it only appears to be 9-lives and not the infinite I thought. Maybe it's the true intention and the term infinite was hyperbolic, but in the first few hours of playing I was experimenting with the characters and figuring out the levels with the idea there'll be no Game Over screen.
A new addition talked about in this version was the ability to strafe when using your ranged attack. A feature I've not found at all when playing. This is not a massive issue as I guess the true intentions were to not have it. But Lolo's power in ranged is squandered with the necessity of perfect footing and right direction to hit the enemy. Lolo seems like the strongest for the best scores but for right now, not as fun to play without strafing.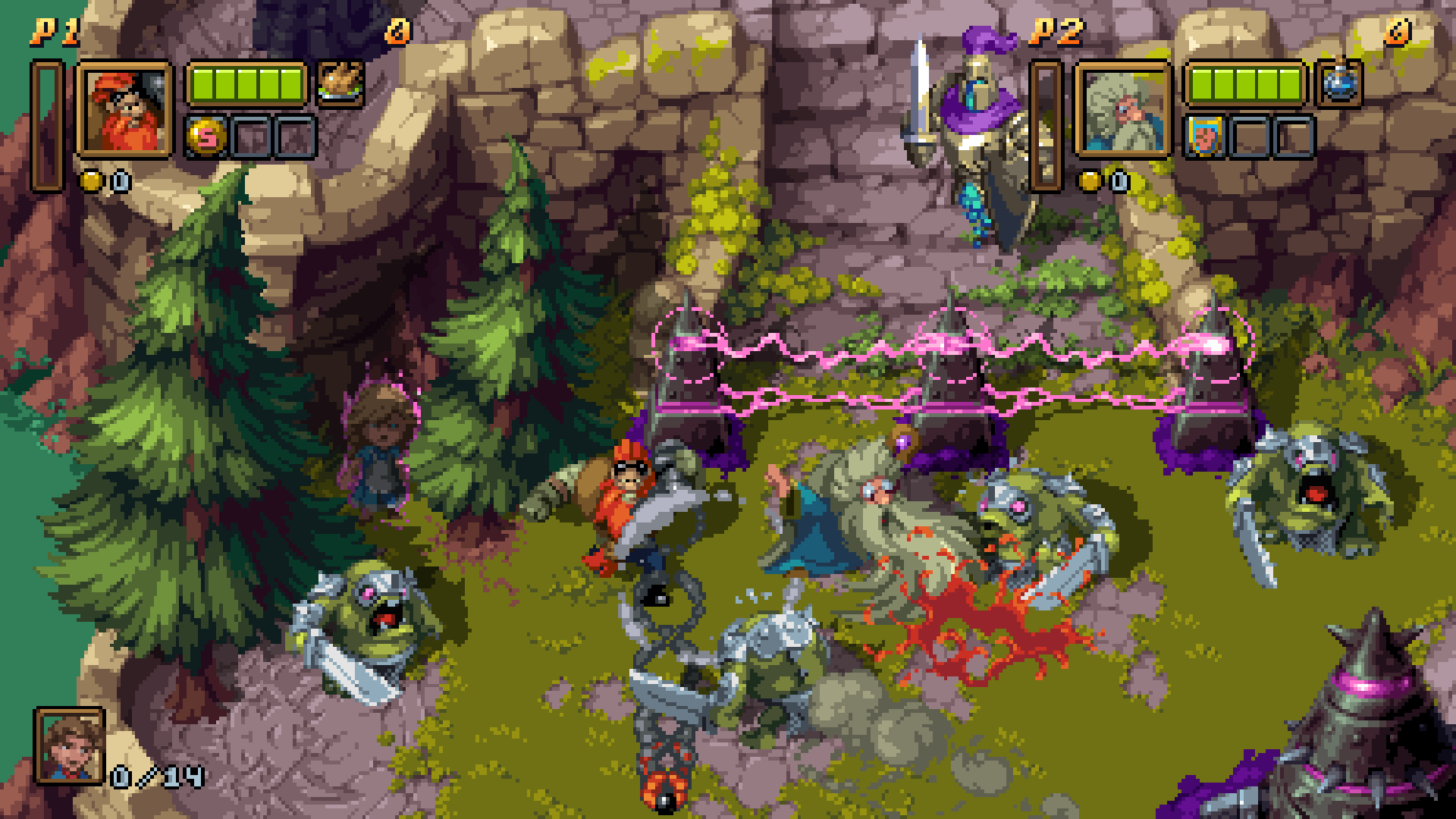 Battle Scars
The pixel art by Henk Nieborg is stunning. All of the cast are imaginatively designed and come to life in-game. Each character has amazing animations for their attacks, obliterating foes with an explosive conclusion. It all results in a satisfying look to the game. Each stage is distinct and have a vast variety within them and all of it is a wonder visually.
The enemies throughout the stages do get a bit samey with a change of colour palette but the enemies further along do get creative in terms of design and how to defeat. Not to mention the boss designs are so eloquently evil showcasing their strengths vividly. It's an overall, bold, expressive and colourful presentation. There's also a new CRT Shader included for this version which I did favour the look of, it makes everything so much more nostalgic to play, with designs not being lost by the shader.
The visuals are perfectly accompanied with Manami Mastumae's soundtrack. The 16-bit chip tune influence is action packed and blood pumping as you're slaying your foes. The biggest compliment I can give is just how much of an ear-worm the music can get. Just like the best of the classic arcade titles, they're not long but the loop of the track just makes it so memorable. For the Special Edition you do get this awesome soundtrack as part of the package, making it a great pick up if you're a collector.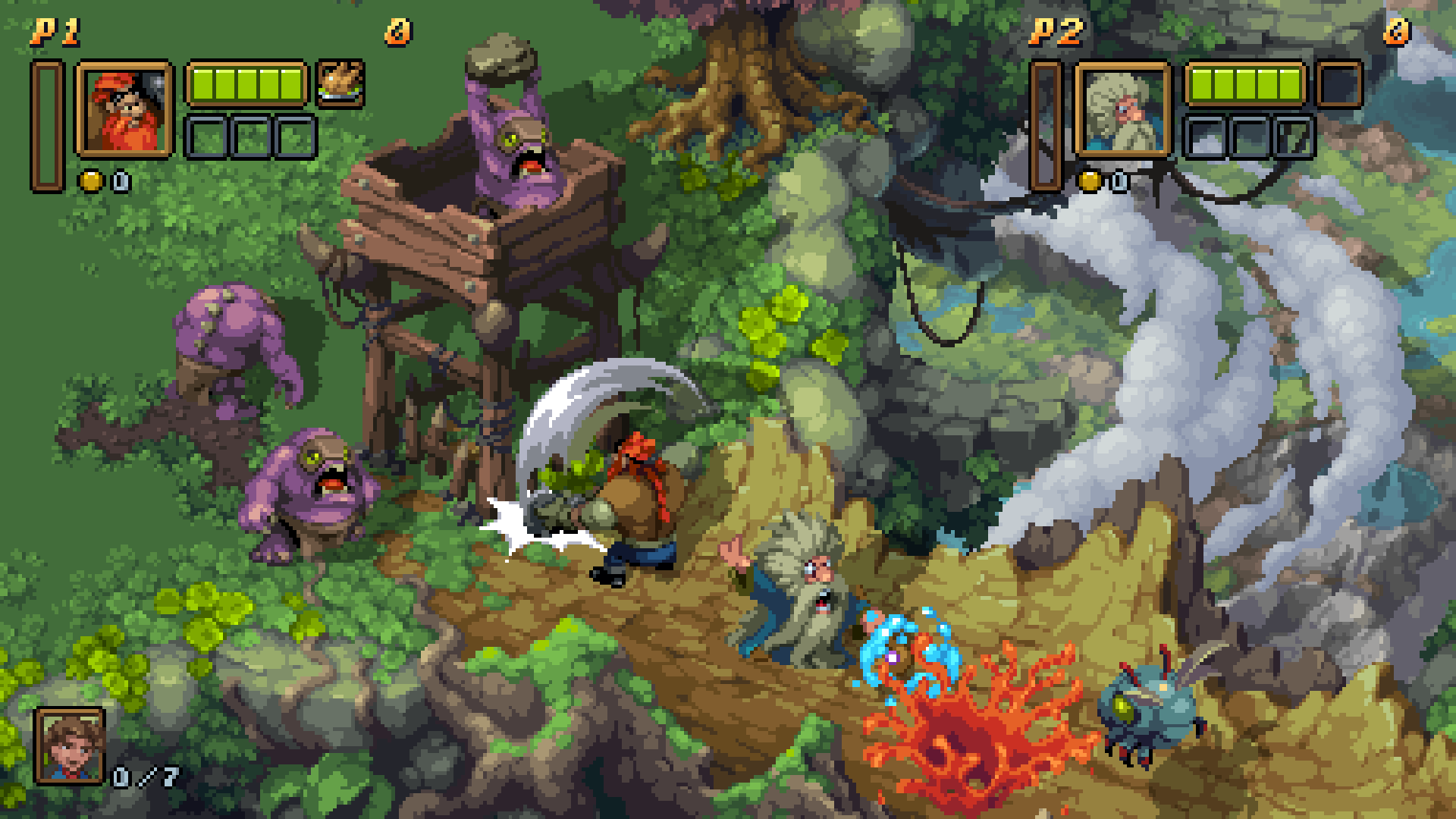 Spoils of Battle
Battle Axe is a fun title that harkens back to the nostalgia of the 80's, 90's Arcade classics. Gameplay for the most part is tight and precise, that in some instances – namely the ranged attack – maybe too precise. I absolutely loved the presentation – it really brought a modern feel to an old skool inspired game. Some of the added features for this version have not materialised which makes it a shame to be negative about, because had I not known about them in the first place, it'd be a non-issue.
---
No coins are necessary when taking on the difficult challenge that is Battle Axe. It's visually and audibly stellar, likely to please anyone looking for a hit of nostalgia. However, the promised features and improvements of the PS5 version are missing and half the game doesn't work as intended. With that said, the core gameplay is adrenaline fuelled and satisfying, hacking up the overall fun factor.

Battle Axe is out now on PlayStation 5 (review platform), Xbox One, Nintendo Switch and PC (Steam)
The details for the PS5 Special Edition are below:
EXCLUSIVE PS5™ SPECIAL EDITION: Includes the Base Game, Soundtrack CD by Manami Matsumae and an exclusive game sleeve displaying the games lead villain Etheldred.
UPDATES: Hot off the heels of the release of Final Vendetta. Bitmap Bureau have been able to revisit the game to deliver a number of quality of life improvements, including:
New Casual Difficulty Mode (with unlimited continues.)
New Strafing mechanic. Move whilst you use your ranged ability!
Improved CRT shader.
Other game re-balances.
These updates will also be coming to previous versions of the game in future patches.
The physical release of Battle Axe – Special Edition will be available for PlayStation ® 5 priced at £39.99 / €49.99 / $44.95 RSP.
Developer: Bitmap Bureau
Publisher: Numskull Games
Disclaimer: In order to complete this review, we were provided with a promotional code from the publisher. For our full review policy, please go here.
If you enjoyed this article or any more of our content, please consider our Patreon.
Make sure to follow Finger Guns on our social channels. Twitter, Facebook, Twitch, Spotify or Apple Podcasts – to keep up to date on our news, reviews and features.