A new year. A new month. A new monster list of potentially excellent indie games to get excited about. A Finger Guns article.
A new year. A new month. A new monster list of potentially excellent indie games to get excited about. A Finger Guns article.
January is usually a quite month for video game releases. The AAA game releases usually avoid the first month of the year, but there's still plenty of indie games that are looking to fill that gap. Releases dotted around Pokemon Legends: Arceus, Rainbow Six: Extraction, God of War's PC debut and Uncharted's arrival on PS5 are a number of indie games worth taking a look at. From long awaited sequels to quirky rhythm games, challenging action platformers to wholesome dog photography, there's a little something on this list for everyone.
Without further ado, here are 19 indie games to get excited about in January 2022.
The Anacrusis by Stray Bombay – January 13th, 2022
A four-player, cooperative first-person shooter that was first unveiled during the Summer Game Fest, The Anacrusis is the debut game from Stray Bombay. This might be the studio's first game but the pair that founded it – Half-Life 2 & Left 4 Dead writer Chet Faliszek and Riot Games veteran Dr. Kim Voll – have a wealth of games development experience behind them. Set aboard a massive, 70's styled spaceship stranded at the edge of explored space, The Anacrusis has you and 3 other players take on hordes of aliens as you work to survive together. As you play, you'll be unlocking "perks, weapons, and new ways to play that you can share with your team". The Anacrusis is set to launch into 'really weird early access' with a focus on community guided change on January 13th, 2022 on PC – Steam, Epic Game Store and via Microsoft's PC Game Pass – as well as on Xbox platforms.
Aery – Dreamscape by EpiXR Games –January 13th/14th ,2022
A prolific series which has seen 5 instalments over the past few years, Aery is a set of non-combative exploration games about flying through peaceful locations to collect things which unveil a narrative. The latest instalment in this series by EpiXR Games – Dreamscape – has you explore the thoughts of others as a little bird. These games might not be mechanically complex games but they manage to conjure up a meditative experience to kick back and explore at your own pace. After the madness of the holiday season, I'm personally looking forward to chilling out with Aery – Dreamscape when it launches on PC via Steam and on consoles on January 13th/14th (depending on where you look).
Windjammers 2 by DotEmu – January 20th, 2021
After the fantastic Data East Neo Geo arcade game Windjammers was resurrected with online support back in 2017, many fans of the cult classic wondered "What's next?". A year later, we got our answer. "WINDJAMMER…IS BACK", read the screen during a Nintendo Direct. *cue crazy reaction*. Like Pong had a love child with a fighting game, this top down frisbee game is packed with frenetic action that's easy to pick up and difficult to put down. Adding 4 new characters, taking the roster to 10, each with their own attributes, new moves, stages, and mechanics, the long awaited sequel looks to build on everything that made the original so addictive and fun to play. Windjammers 2 launches on PC via Steam, Nintendo Switch, PS4 and Xbox One (as well as Xbox Series and PS5 via backwards compatibility) on January 20th, 2022. A Stadia launch is planned too.
Blackwind by Drakkar Dev – January 20th, 2022
I'm a sucker for a really good, explosive top-down shooter. The bombastic sci-fi trappings of Blackwind from Drakkar Dev and Blowfish/Gamera certainly fits that bill. In this game you play as teenager James Hawkins who finds himself trapped within a prototype Battle Frame armour during an attack by the Raknos hordes. Exploring the dangerous planet of Medusa-42, James has to figure out how to shoot, slice and survive so that he can find his missing father. By the looks of the trailer, there's plenty of blisteringly fast paced action in store when Blackwind launches on PC via Steam, GOG, Apple Store and all of the consoles on January 20th, 2022.
Wanderer by Oddboy / M-Theory – January 27th, 2022
The Wanderer is a fascinating concept. Built specifically for VR platforms, you play as a character called Asher Neumann who lives in a post-apocalyptic version of Boston. After finding a mysterious wrist watch artefact that doubles as a helpful companion, Neumann travels back through time to try and prevent the collapse of civilization. To do so, you'll be visiting some iconic moments in time to try and change the course of history. Playing in front of thousands at Woodstock, experiencing the lunar landing, meeting Tesla in the Wardenclyffe Tower, decoding messages with an enigma machine and fighting off invaders from the steps of a Mayan pyramid are all destinations to visit in Wanderer. Combining escape room puzzles with action sections and a rich narrative, this game certainly feels like a perfect reason to strap on that VR headset when it launches on PSVR and PC via Steam/Oculus when it launches on January 27th, 2022.
COGEN: Sword of Rewind by Gemdrops – January 27th, 2022
I'll be honest, the fact that composer Motoi Sakuraba (who's work you will recognise from the Tales series, Dark Souls and a myriad of other titles) was attached to the project initially attracted me to COGEN: Sword of Rewind. On closer inspection though, this game has a whole lot going for it. A challenging 2D action platformer, this game has you play as the heroine Kohaku who wakes up in possession of the ExeBreaker, a sentient sword that can rewind time up to 3 seconds. Together, they explore Cogen City which is now in disarray. The art, animation and action all look top quality in all of the trailers for COGEN: Sword of Rewind. After a number of delays, the game is finally launching on PC via Steam and consoles on January 26th, 2022.
Circuit Superstars by Original Fire Games – January 27th, 2022
So, this one is a bit of a cheat because Circuit Superstars is already available on PC and Xbox. For whatever reason, that release passed me by entirely. As someone who had been waiting for the release of this game since I played an impressive demo at EGX a few years back, that's a pretty big oversight on my part. That's not a mistake I'm going to make for the PS4 release of the game, which is scheduled for January 27th, 2022. A top-down racing game with a crisp, clean art style and lovely, weighted arcade driving, Circuit Superstars was named as one of the 'Best New Racing games of 2021' by Traxion. PlayStation gamers will be able to see what all the fuss is about on January 27th.
Gravity Chase by Repixel8 – January 21st, 2022
Obviously inspired by the likes of WipEout, Radial-G and F-Zero, Gravity Chase is the sequel to the 2019 game Velocity G. A game that has you piloting zero-g craft around and inside 360 degree tunnel tracks, this game requires "skill and precision piloting" in order to cross the finish line first… and in one piece. Featuring 16 different tracks set in multiple biomes, 10 unique ships that each have their own unique attributes and 3 different race types, Gravity Chase is looking to scratch that zero-g racing itch when it launches on PC via Steam and Xbox One on January 21st.
Pupperazzi by Sundae Month – January 20th, 2022
Games about photography with wholesome/interesting subjects are having a real moment in the video game industry right now. The pinnacle of this genre Venn diagram overlap is probably Pupperazzi, a glorious concept from Sundae Month and Kitfox Games. In this game, you take pictures of dogs around a city while they play, frolic and… skateboard? Take on Pupperazzi jobs, earn money, buy upgrades for your camera and treats for your canine companions and build up your career in a wholly life-affirming indie game. It's a frankly excellent idea for a game that we'll be able to snap up on January 20th via PC on Steam and Xbox (also on Game Pass).
Operation Zeta by SFS Studios – January 14th, 2022
Reminiscent of retro jetpack games from the 80's and 90's, Operation Zeta is a quirky game. The game begins after a great space battle, which you lost, called "Operation Zeta". Your aim as the player is to guide your character around the warzone in order to repair your ship. You've got to do so quickly before the enemy fires up their death laser and obliterates everything. With roguelike elements with a procedurally generated series of worlds with each new run at the game, you've got to repair your ship and get out of there before falling foul of the 100 different NPCs and enemies. The game also features 13 playable characters each with their own unique set of skills and challenges, further extending its replayability. Built by just one person, Operation Zeta shows some promise. It's touching down on Xbox for the first time, and leaving early access on PC via Steam, on January 14th.
Kovox Pitch by Calvares – January 17th, 2022
As someone who only recently discovered Friday Night Funkin' (I know, I'm late to the party) and thoroughly enjoyed myself, I've been on the lookout for rhythm based indie games that do things differently. Kovox Pitch, a 2.5D rhythm game with post-punk music and a baseball theme, is exactly what I'm looking for. In this game you play as an anime character that is tasked with smashing baseballs to the rhythm that they're delivered by a robot-pitcher. The music the rhythm is set too is just fantastic, at least based on the itch.io demo, and to accompany the beat based action is a wholesome story too. Kovox Pitch is a peculiar mix of familiar genres with unique twists on them and I'm really quite excited to get my hands on the game when it launches on PC via Steam on January 17th, 2022.
—Red—Tether–> by Sleeper Games – January 18th, 2022
I spent an inordinate amount of time playing —Red—Tether–> (to be henceforth referred to as Red Tether) at EGX 2021 when it was selected as part of the Leftfield indie games Collection. This game certainly comes out of 'leftfield' with its ingenious, unique but very well crafted combat system. A 2D shmup at its core, the hook (or should that be tether?) for this game is that you don't have guns to blow up your enemies. Instead, you use a harpoon-esque tether that you attach to them. Whether it's drawing the drill like hull of your own ship through the enemy or by attaching them to one another, you've got to use the contracting force of the tether to literally rip your foes to pieces. Even on a busy show floor, Red Tether was a blast to play so I imagine it'll be even more fun when given the time to really get it to it. Check it out when it launches on PC via Steam on January 18th.
KINGDOM of the DEAD by Dirigo Games – January 26th, 2022
There's a myriad art styles presented in this indie games list but the striking visuals of KINGDOM of the DEAD is undeniably my personal favourite. A dark, blooding pen and ink hand drawn style with little details that make for a big mood, this game is the product of "One-dev-army" Diringo Games and is the first game to be published by the new publisher HOOK. A retro inspired FPS, KINGDOM of the DEAD features 8 creepy levels to explore, each of them along the US East Coast. In those highly replayable levels, you'll find more than 20 enemy types, giant bosses and 8 different weapons with which to fight them with. The game looks gloriously grim and we'll be able to get our hands on it when it launches on January 26th on PC via Steam.
Buck Up And Drive! by Fábio Fontes – January 11th, 2022
Okay. Technically – TECHNICALLY – Buck Up And Drive isn't a new release for January 2022 as it launched back in August 2021 on itch.io. Since owning things on Steam seems to be a monumental deal for people, I thought I'd list it in this month's indie games list as the game is headed there on January 11th, 2022. Inspired by the classic like OutRun and Top Gear after they stepped into a "The Fly" telepod with Tony Hawks Pro Skater, BUAD is a heady blend of mixtures that was described as "ridiculous and easygoing enough that it's probably impossible to not be entertained" by Destructoid. You might have seen this one regularly going viral on Twitter. If not, watch the above trailer. You won't regret it.
Blank Frame by Through Tunnel – January 28th, 2022
I'm personally very much enjoying the wave of late 90's, early 00's inspired 3D games that have been appearing all over the gaming landscape. Between the Puppet Combo games, Chasing Static, the Haunted PS1 contributors and, on January 28th, Blank Frame, we're pretty well taken care of by this genre. The latest of those games, Blank Frame, is a first person surreal horror game in which you play as a character called Henri. He "has found himself trapped inside of his own apartment, perhaps not completely by himself". Focusing on story and atmosphere rather than unnecessary jump scares, Blank Frame looks to slowly build up phycological tension when it launches on PC via Steam this month.
Summertime Madness by DP Games – January 26th, 2022
Summertime Madness was described to me by a friend as "the best first person puzzle game of 2021 that you've not played" when it launched on PC in June. Given the fact that I tend to play and enjoy a lot of first person puzzle games, that's pretty lofty praise. The premise certainly sounds interesting: You play as an artist that has made a deal with the devil and is now trapped within one of his paintings. He must solve the puzzles contained therein to find the way back to the real world or his soul will be stuck forever in his artwork. Every trailer I've watched for Summertime Madness is as trippy and artistically impressive as the last. I'll finally get to see what my pal was talking about when Sometimes You port this game to consoles on January 26th, 2022.
Deflector by Arrowfist Games – January 20th, 2022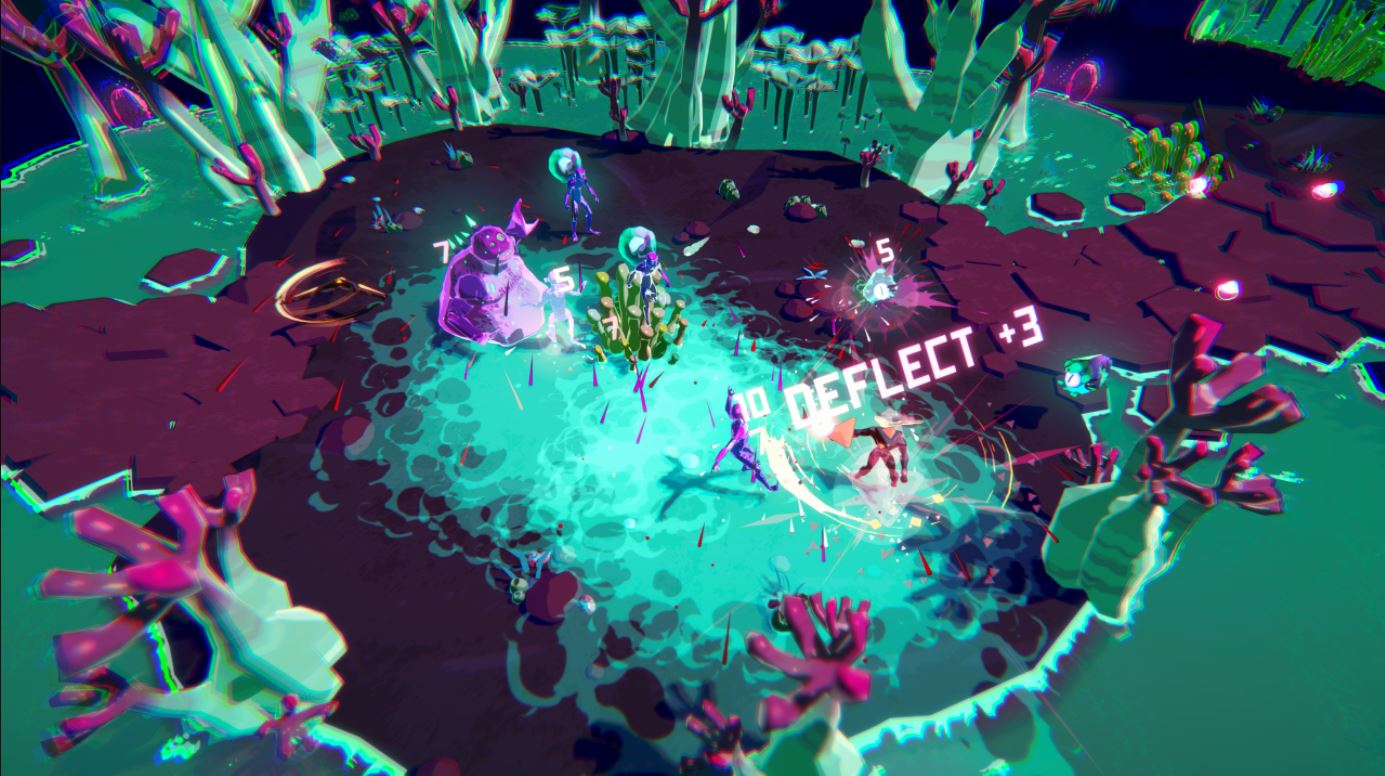 Parrying to return projectiles has been a staple of gaming for a while, but I can't think of a game that has been designed around the core concept of returning projectiles. Until now. Deflector is a roguelike bullethell game in which its 3 playable characters each have their own unique styles but all play into the core mechanic – deflecting incoming fire into enemies. As you defeat your foes, you'll unlock upgrades along a non-linear progression path so you can "create explosive clones, duplicate deflected projectiles, or even rupture the ground itself". Deflector looks very cool with a smart take on a genre I thought tired. Deflector is launching onto early access via Steam on January 20th, 2022.
Unforeseen Incidents by Backwoods Entertainment – Jan 27th, 2022
Unforeseen Incidents is a quirky, charming and thoroughly enjoyable interactive mystery P&C game that originally launched on PC via Steam back in 2018. It has 'very positive' reviews on Steam and Digital Chumps said it had "Solid characters, a good story, good puzzles that are balanced, and an impressive presentation thanks to well-drawn art/animations and a good aural package" in their review. A Nintendo Switch version had been announced back in 2019 but news on that version had gone a little quiet over the past few years. Now we know that the rich cast and gorgeous art of Unforeseen Incidents will be arriving on the hybrid console on January 27th, 2022. If you like good point and click indie games, this is certainly worth a look.
Threaded by Tiny Little Lion – January 14th, 2022
As much as I enjoy Picross and the Pic-a-Pix games, I've been on the lookout for something just a little more imaginative. Threaded from Tiny Little Lion and Boomzap looks like the next evolution of the mentally taxing pixel painting genre. Rather than having numbers surrounding a board, here they're represented as strands you have to paint through the image. It certainly looks like it's going to up the ante on how difficult these puzzles can be but it looks to be an instantly familiar type of puzzle too. While it's the least action packed game on this list, Threaded promises 70 puzzles to tackle which then teach you some trivia. Check this game out when it launches on PC via Steam on January 14th, 2022.
---
So, there you have it. 19 more indie games to keep your eyes on for the coming month. Obviously no list can be completely comprehensive – I fully expect that the very moment I publish this, several more announcements will be made that should be lister here. If you feel like there's any obvious omissions, feel free to head to the comments section and drop a link to your favourite upcoming indie games. We love to discover new titles that we've not heard about and it'd be awesome if you point us in their direction.
---
If you enjoyed this indie games article or any more of our content, please consider our Patreon.
Make sure to follow Finger Guns on our social channels – Twitter, Facebook, Twitch, Spotify or Apple Podcasts – to keep up to date on our news, reviews and features.