An idle clicker that's little more than a cash grab on festive spirit, Santa's Workshop is a gift you'll want to return. The Finger Guns Review.
An idle clicker that's little more than a cash grab on festive spirit, Santa's Workshop is a gift you'll want to return. The Finger Guns Review.
While I'm not a massive fan of the idle clicker genre (also known as 'incremental games'), I can certainly appreciate the design that goes into them. The best of these games distil complex genres down into just single button/mouse clicks. The likes of Crusaders of the Lost Idols and AdVenture Capitalist have managed to encapsulate high concepts and portray them within the power of a simple click. Some of these games even manage to tell interesting narrative tales, interspersed with capacity upgrades, goals and automation.
Santa's Workshop, a Christmas themed idle clicker from Webnetic, is not one of those games. Instead, it's a bland, uninspired cash grab that's praying on those looking for a festive treat on PS5.
He spoke not a word, but went straight to his work…
Unlike the best in the clicker genre, this game's premise is paper thin. Without so much as an introduction, you're unceremoniously ran through the few controls you'll need in order to play. The game is split into two screens – a field where Christmas trees grow and inside Santa's Workshop itself. On the former screen, a click of the X button forces a trio of trees to grow until they're cut down. This will grant you 3 logs. Switching to inside the workshop, you can press X to feed that wood, 1 by 1, through Santa's toy making construction line, turning it into a toy. Building a toy award you with coins – because apparently, Santa is in the business of selling toys now, instead of delivering them for good boys and girls. Go figure.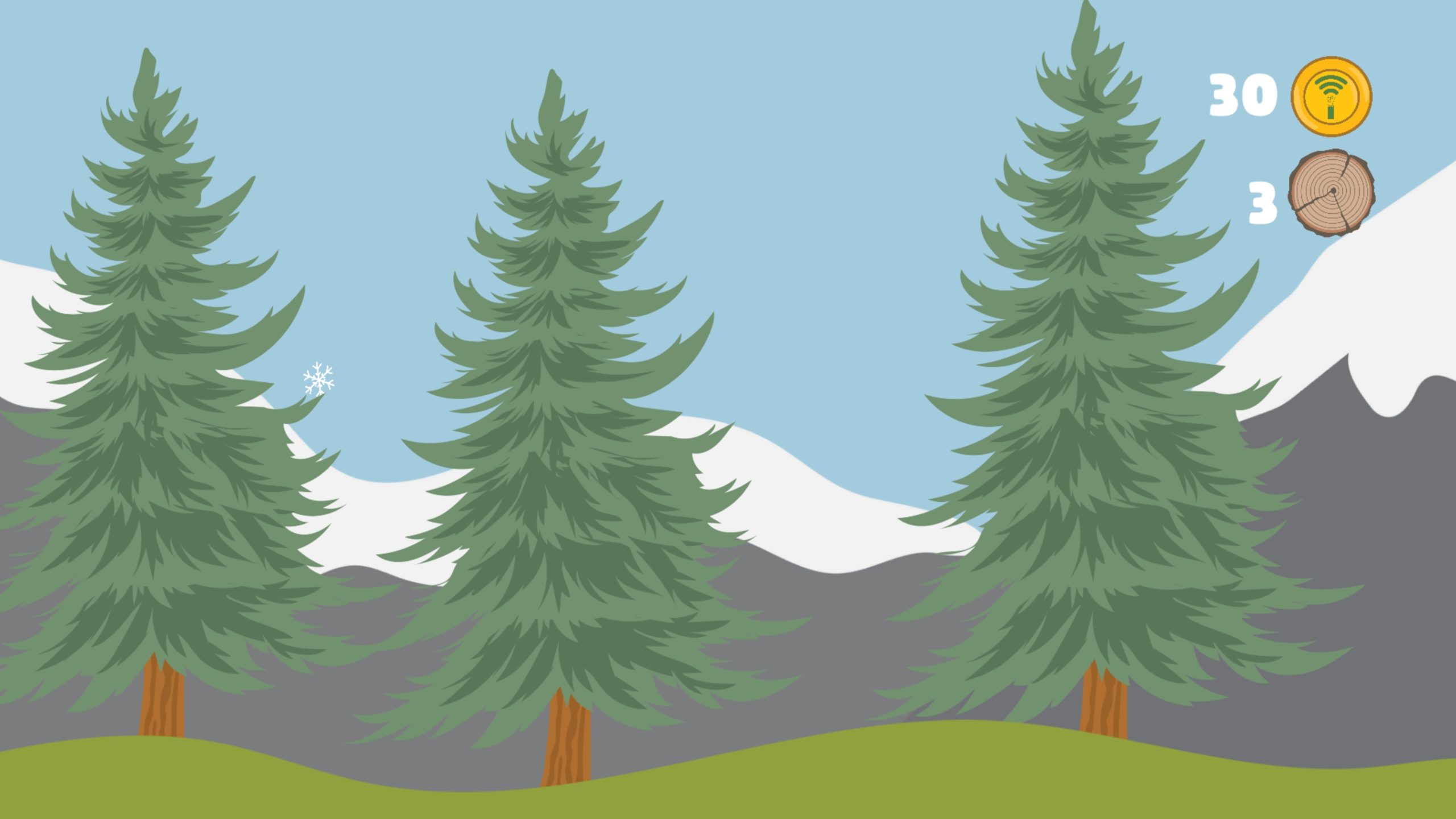 Being an incremental clicker, Santa's Workshop allows you to spend those coins on upgrades and a degree of automation. With 500 coins, you can automate the tree growth so that they're slowly but surely growing even when you're not clicking. For the workshop, you can upgrade the toys that are made there which improves the cash reward you receive for making toys.
The primary issue with Santa's Workshop is that that all of these upgrades and the single automation can be unlocked within minutes. It's an astonishingly low amount of content for an idle clicker game. After unlocking the first few workshop upgrades, the increased increment of cash earned snowballs quickly. It's completely unbalanced so that even after the first few unlocks, you'll have enough to cash to unlock the remainders. There's no targets or any other motivating reason to play this game beyond a few minutes.
When out in the field there arose such a clatter…
Of course, not every idle clicker game needs targets and goals. Sometimes it's about the zen atmosphere they generate with soothing music and ASMR tickling tones played alongside each click. Again, that's not something that applies to Santa's Workshop. The art work used within the game is rudimentary at best. It's not particularly festive either, to be honest. A field with 3 spruce trees growing on it and a production line with wood working machinery on it doesn't fill me with Christmas spirit. Where are the elves? Where's the tinsel and baubles? Where's Santa himself? It's all so basic.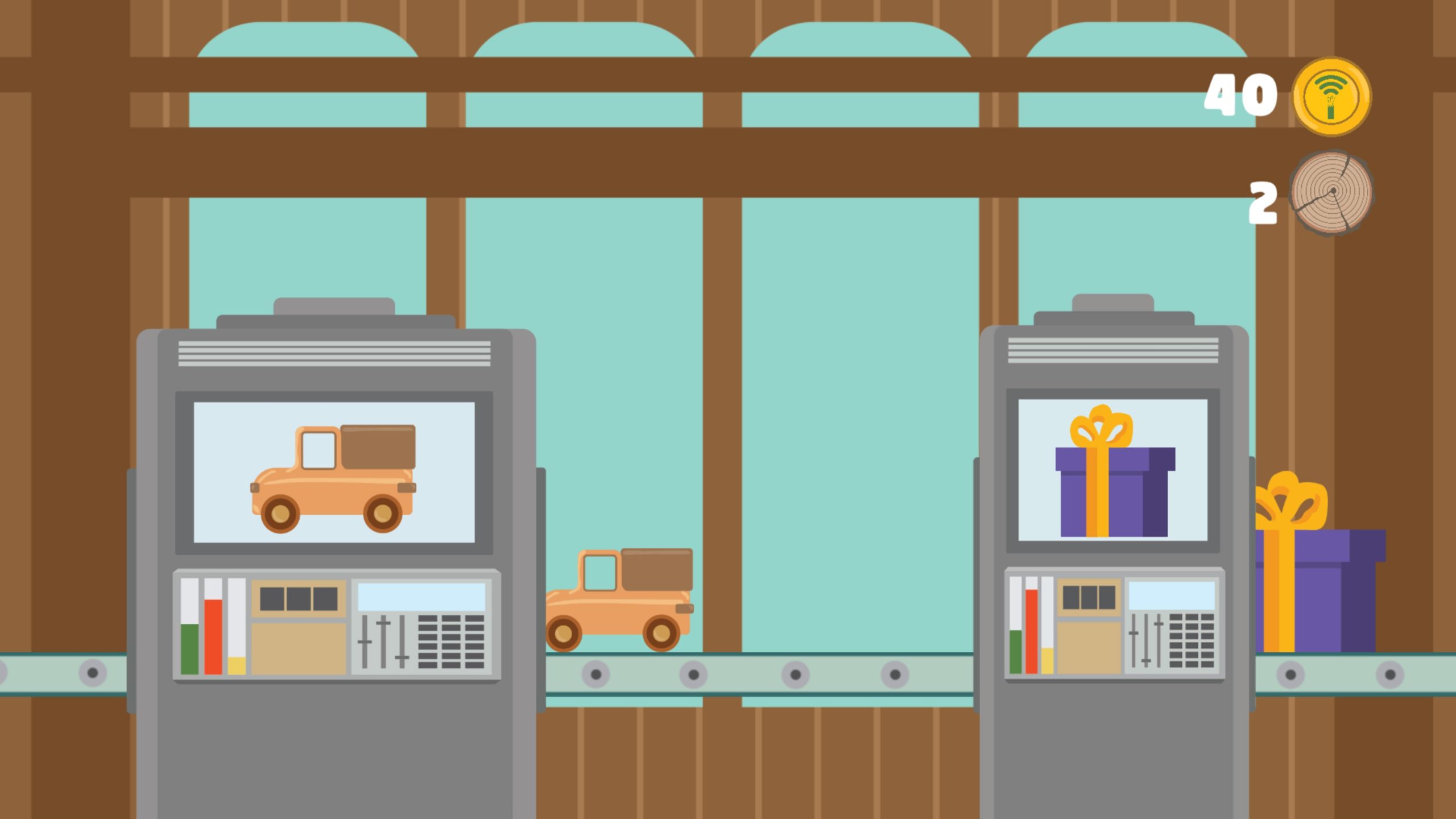 The best aspect of Santa's Workshop is the music that plays in the background. Complete with bells and cheery melodies, it's also the most festive element of the game. It's a complete shame then that it's spoiled by the sound of a chainsaw every few seconds. Every time the tree of trios are cut down, the rattle of a saw cuts through the music. I probably could have stomached played this game without any motivating factors beyond its short amount of content if it wasn't for the din that this causes. A really poor choice from the developers.
The primary selling point for this game is obviously the easy to unlock Platinum trophy. Achievable in less than 10 minutes, this is yet another cynical game released to take advantage of those PlayStation gamers who like to collect their digital cups. The criteria for the 'Plat' will have you playing this for a few moments longer than the actual game content lasts. While I find the cottage industry developing around budget games with easy trophies distasteful, the leveraging of the holiday theme to sell a few more units feels like an even more egregious insult to the player. Christmas is a time for giving, and I guess in that sense, Santa's Workshop is throwing a cheap Platinum at you. There's no gratification to be found here in unlocking it though.
---
Santa's Workshop is the video game equivalent of a lump of coal in your stocking. Lacking any of the features that make the idle clicker genre's best so moreish, it's a thoroughly hollow affair that's trying to cash in on holiday spirit with an experience without artistic merit and entirely devoid of intelligent game design.

Santa's Workshop is available now on PlayStation 5 (review platform) and PlayStation 4.
Developer: Webnetic
Publisher: Webnetic
Disclaimer: In order to complete this review, we purchased a copy of the game. For our full review policy, please go here.
If you enjoyed this article or any more of our content, please consider our Patreon.
Make sure to follow Finger Guns on our social channels –Twitter, Facebook, Twitch, Spotify or Apple Podcasts – to keep up to date on our news, reviews and features.