Another top quality month of indie games is ahead of us. Here's 21 indie game titles we think you should keep your eye on in December 2021.
Another top quality month of indie games is ahead of us. Here's 22 indie game titles we think you should keep your eye on in December 2021.
With December usually comes a lull in AAA, marketing driven behemoths. 2021 isn't much different with only Deep Silver's Chorus and the small matter of Halo Infinite sucking the air out of the room. This means that if you're an avid gamer who isn't into sci-fi shooters, you'll be looking for something to play. Look no further than the indie game scene. There's no slowing down for indie games as there's a plethora of them still to release before 2022. From cult classics finding new homes on new platforms to debut titles from new studios, there's a little bit of everything on this indie games list.
Without further ado, here's 22 indie games to get excited about during December 2021.
Mechajammer by Whalenought Studios – December 2nd
I thought I was done with Cyberpunk as an aesthetic and theme. I really did. But then I saw Mechajammer, combining that grim sci-fi future with a jungle theme and occult trimmings, and I'm right back in again. A tactical, immersive sim come turn-based RPG, this game offers a variety of ways to play, enabling players to either "skulk through the shadows or charge in guns blazing". The aim of Mechajammer is to escape a hostile off-world grindhouse jungle colony. In order to do so, you'll be exploring the world, recruiting a team, gather rumours, building up relationships by completing jobs and battling it out with foes. Mechajammer also has quite a unique simultaneous turn-based combat system which keeps action fast and exciting. There's a lot of promising aspects to this game which could make it a real sleeper hit. Coming from publisher Modern Wolf and developer Whalenought Studios, make sure to check out Mechajammer when it launches on PC via Steam, GOG and Epic Game Store on December 2nd.
Firegirl: Hack 'n Splash Rescue by Dejima Games – December 14th
There's no denying that Firegirl, a 2D/3D hybrid action platformer from Thundeful and Dejima, is gorgeous. By mixing 2D character art with 3D environments, this game has a really fresh look that's very eye catching. Unlike Demon Turf that did something similar, this is more of a 2D platformer than a 3D one. Moving through a side-on slice of the 3D world, the titular character is challenged to respond to emergency calls across the city. Armed with her trusty axe and high-pressure fire hose that also acts as a jetpack, Firegirl will have to put out fires, cross impossible gaps and rescue those trapped by the flames in procedurally generated levels. All the while, she'll be uncovering the mystery of why so much of the city is on fire. Firegirl is launching on PC via Steam on December 14th.
Fights In Tight Spaces by Ground Shatter – December 2nd
Ground Shatter are a Finger Guns favourite around these parts. Having created the excellent Skyscrappers, RICO and RICO London, the British studio has turned their hand to something a little different. Fights In Tight Spaces is a blend of deck-building card game, turn based tactics game and a tonne of nods to action movie classics. Presented in a serotonin releasing art style that's very pleasing on the eye, the aim of the game is to play action cards while managing your position and available space in order to kick the crap out of villains that are closing in on you. The last time I played Fights In Tight Spaces, it had just entered early access. I was very impressed. Having received a number of updates since February, the game is now launching out of EA as it's 1.0 version on PC via Steam and Xbox. Make sure to check it out on December 2nd.
Super Impossible Road by Wonderful Lasers – December 9th
I've been excited about the thought of playing Super Impossible Road since 2015 when it was first announced. After spending a few years in development, Super Impossible Road resurfaced as a timed Apple Arcade exclusive in 2019. As it seems is the deal when signing up with Apple, all mention of the game on other platforms disappeared. Now, 2 years later, the frenetic racer is finally headed to consoles and PC, starting with a Nintendo Switch release and December 9th. A procedurally generated racer, the aim is to get to the finish line before the other 7 racer or AI opponents – but there's no requirement to stay on the track. You can use every trick in the book here – ram your opponents off the track, skip parts of the track, boost around your peers or simply our manoeuvre them. Because tracks are procedurally generated in both the single player and multiplayer content, there's no learning a course. Winning will be based on your skill. Switch players can play this game on December 9th with a release for PC, Xbox and PlayStation expected later.
Sucker for Love: First Date by DreadXP – December 2021
Expanding upon the original concept that was included in the Dread X Collection 2, Sucker For Love: First Date is a dating visual novel with a difference. Thanks to a lovely pink Necronomicon you've found, you've summoned a trio of demonic deities that are looking for blood…and love. Each of the gods has their own branching narrative and endings to unlock as you attempt to woo the Cthulhu. The tagline for Sucker For Blood is "putting the "love" back into "Lovecraftian horror" which had me sold immediately. While I know dating simulators aren't everyone's cup of tea, this one looks kooky enough to reach outside the genre's usual target market. Wishlist it on Steam now.
No Plan B by GFX47 – December 1st
Every few weeks of so, I've seen a viral gif of No Plan B float through my twitter-sphere. Each time I was left intrigued by how this game was going to pan out. It's a game about meticulous planning around building entry, about using strategy to complete an objective without getting your team shot to bits. Flash banging rooms, covering corners and staggering movement so that you don't end up with your own troops crossing your line of fire. That sort of thing. You do all of this using an intuitive timeline system to design your plan. Once you think you've nailed it, you execute it at which point, there's no turning back. If you've made a mistake and not covered a corner for example, you'll get shot up and that's a casualty that'll persist in the FTL-esque campaign. It's certainly an interesting premise that could explode if it finds the right community of indie games players. You can join that community when No Plan B launches into Early Access on Steam on December 1st.
Breakwaters by Soaring Pixels – December 9th
If, like me, you're always fascinated by the whole biblical "parting of the seas", the start of Moana, and the trench section of Pirates of the Caribbean: Dead Men Tell No Tales then Breakwaters from Soaring Pixels is a game worth taking a look at. Set in a procedural world, the aim of this game is to survive by crafting, working with humans/fictional beings and to farm for resources. The main hook with Breakwaters is the games water engine though, that allows you to….break….waters. Using crystal objects, you can part the sea. By using structures, you can direct the waters where you want. Waiting out in those waters are titans as big as a mountain that you'll eventually get to take on in battle. It all looks very cool. We'll be able to try it out for ourselves on December 9th when the game launches onto Steam Early Access.
Heavenly Bodies by 2pt Interactive – December 7th
Ah weightlessness. In an environment where gravity has no bearing, we humans have to rely on out limbs to propel us through space. That's the central premise of Heavenly Bodies, a physics puzzle game from 2pt Interactive. Using the control over your cosmonaut's limbs, you'll be taking on a "collection of stellar scenarios inspired by the feats of space explorers and researchers throughout history". You don't have to do this alone either as you can play Heavenly Bodies with a friend in co-op. Complete with a stylised 1970s visual aesthetic, this game is floating in on December 7th, 2021. I can't wait.
Vaporum: Lockdown by Fatbot Games – December 10th
The grid bound dungeon crawler genre doesn't get enough love these days. Exploring labyrinthian dungeons, one step at a time, kind of died out in in the late noughties. Such a shame. While the genre itself is on life support, the indie games that are still keeping it alive are doing so admirably. Vaporum Lockdown, a prequel to 2017's Vaporum, is probably the best example. While the mechanics might be inspired by the old school classics, the visuals and narrative are anything but, demonstrating a modern day edge. In the game you're exploring a steampunk tower as they attempt to survive the terrors it now contains. Having had a successful launch on PC a year ago, Vaporum Lockdown is now headed to PS4, PS5, Xbox One and Xbox Series on December 10th.
Shovel Knight Pocket Dungeon by VINE/Yacht Club Games – December 13th
Shovel Knight has been a staple of indie games since 2014 when the titular warrior burst onto the scene. A number of expansions have kept the character relevant since then, alongside his many appearances in other indie games like Yooka-Laylee and Katana Zero. Now, the first of the Shovel Knight spin-offs is arriving in the shape of Shovel Knight Pocket Dungeon. Unlike the original, Pocket Dungeon is a falling block puzzle adventure that will have the Shovel Knight shovelling through enemies and bosses via a unique combat system. The game will feature 10 Shovel Knight characters to play as, each with their own abilities. Shovel Knight Pocket Dungeon is launching on Nintendo Switch, PC via Steam and PS4 on December 13th.
Ever Forward by Pathea Games – December 7th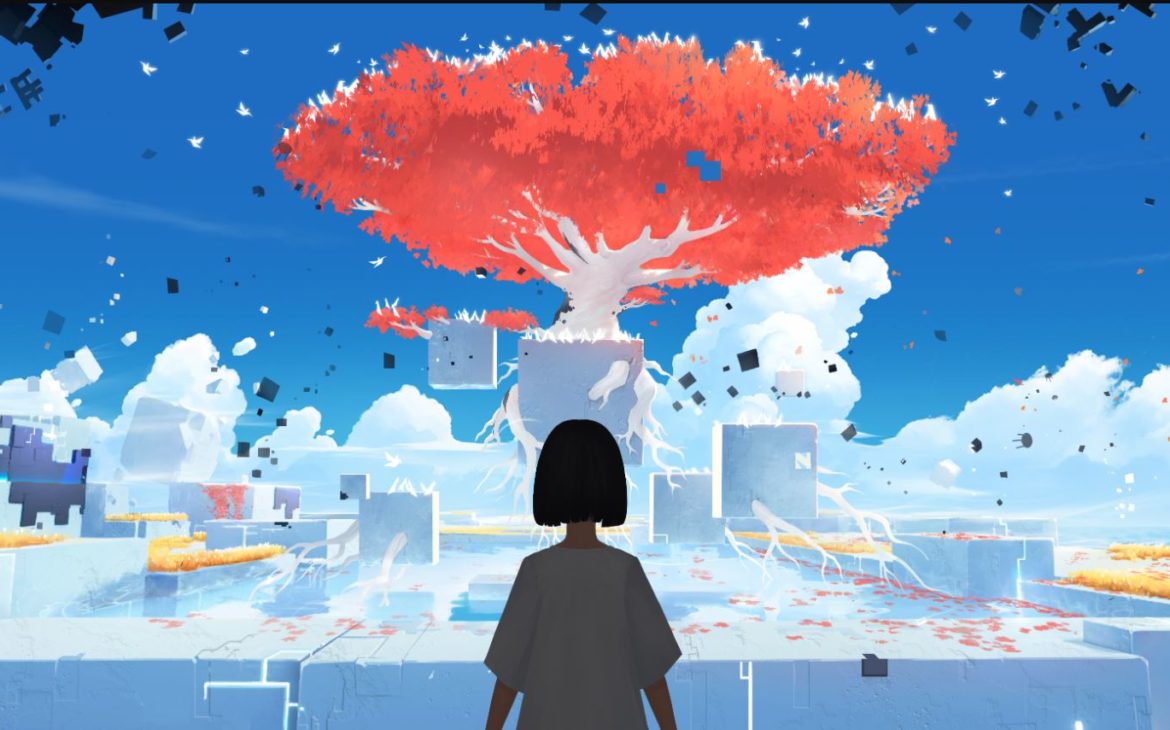 Originally scheduled to release earlier in 2021 before being delayed twice, the story focused puzzle adventure Ever Forward is finally launching December 7th. In this game you play as Maya, a young girl lost in a strange world somewhere between reality and imagination. As she attempts to unlock her memories, she'll have to solve a plethora of puzzles. Ever Forward was designed by Pathea Games with the puzzler gamer in mind and will require players to use their observational skills and intelligence to solve. Ever Forward is hitting the PS4, PS5, Xbox One, Xbox Series and Nintendo Switch on December 7th. There's going to be a physical version of Ever Forward on the PS4/PS5 and Nintendo Switch too.