We delve further into the indie games that are set to explode onto the scene during 2023, including Skate Story and Nivalis.
With the first part of our indie games feature, looking at those titles launching in 2023, we painted a very promising picture for the year ahead. We're not done yet though. We still have a bunch more indie games to highlight. In part 2 of our "Indie Games That Will Define 2023" feature, we look at some long awaited gems, a number of innovative titles and some unique narratives.
While 2023 already looks stacked with the likes of Street Fighter 6, Starfield and Final Fantasy XVI, it's the indie games that many of us at FingerGuns.net are most excited about. The entire team came together to form these list features, making it a diverse and comprehensive list of indie games to look out for.
Without further ado, here's part two of our series on indie games to keep your eye on during 2023.
---
If you missed part one of our "Indie Games That Will Define 2023" features, you can find it here.
SCHiM by Ewoud van der Werf
SCHiM (please don't ask me how to pronounce it) is a concept that's so beautiful in its simplicity that you have to wonder why someone hasn't done it before. In the game, you play as a being that resides in shadows and leaps from shadow to shadow in order to traverse the world. While the concept might seem simple, it takes just a single viewing of a trailer to understand why this concept hasn't been explored before – it's technically complicated. Thankfully developer Ewoud van der Werf has found a way to do it justice. By combining a gorgeous, clean art style with an environment alive with shadowy opportunity, SCHiM seems to have nailed the execution of the idea in a way that's easy to interpret. If the finished product can combine that unique traversal with head scratching environmental puzzles then this could turn into one of ingenious dark horse indie games we talk about as outside GOTY contenders each year. Keep an eye out for this one in Q2 2023.
Skate Story by Sam Eng
Sometimes, all it takes is a well put together gif of a game to sell you on it. This was the case with Skate Story. Long before the game was even had a name, I clapped eyes on a viral tweet that was doing the rounds of a stylish crystalline skateboarder riding in the dark. I've been following developer Sam Eng ever since and have been watching this game turn into one of the most artistically interesting indie games on the horizon. In the game you play as a demon in the Underworld that's "made out of glass and pain". The Devil has done you a deal – skate to the moon and swallow it and you shall be free. As you master the skating to kickflip your way through hell, you'll be taking in the surreal visages that surround you as you're driven forward by a psychedelic soundtrack by enigmatic New York artist Blood Cultures. It sounds like a real trip and one I can't wait to take in 2023.
Nivalis by ION LANDS
We're all big fans of ION LANDS' previous game (Cloudpunk) here at Finger Guns. While other indie games call themselves "Cyberpunk", not many of these titles really embody the spirit of the theme beyond its neon-kissed aesthetic. Cloudpunk certainly did, and it appears that the next title from ION LANDS is continuing this trend. In this unique slice-of-life simulator set in the titular city, the aim is to carve out a life for yourself however you see fit. Maybe that's managing a ramen stall where you also grow your own ingredients. Perhaps that's mixing cocktails in a nightclub. Or you could just sack off work and go fishing. How you live your life in Nivalis is up to you. It's a fascinating concept that builds on the strong foundation of Cloudpunk, complete with an evolution of the voxel art visuals that caught the eye in the developers' previous game. We don't have a release date for Nivalis, but this is certainly one to keep on your radar.
Harold Halibut by Slow Bros.
While Stop Motion animation and video games are a blend we've seen before in indie games, we've never seen it done on the scale and quality of Harold Halibut, a narrative focused adventure game from Slow Bros. In the game we follow the titual Harold, a lab assistant aboard the city sized space ship 'The Fedora'. Unfortunately, The Fedora isn't in space. After venturing into the stars to find a new habitable home for humanity, the ship crashed into an alien ocean where it has been submerged for more than two centuries. Most people on the ship have come to accept their aquatic residence, but Harold and his boss, the ship's lead scientist Jeanne Mareaux, are determined to return to dry land. A quirky story full of colourful characters and fantastic visuals, Harold Halibut is shaping up to be something special, like an interactive Laika movie. 10 years in the making, we're hoping that 2023 will be the year that Harold finally launches.
Die By The Blade by Triple Hill / Grindstone Games
Of all the indie games we played at EGX 2022, Die By The Blade was the one we kept coming back too. Greg repeatedly kicked my arse at it but even in defeat, I was having a good time. It's essentially a spiritual successor to Bushido Blade, complete with one-hit-kills and bloody spray. You face off against your opponent with a parry-matching system that tests you to read the opponents stance. If you have the same stance, you'll protect yourself against incoming attacks. If you have a different stance however, you'll take a hit which means death 99% of the time. Because there's such a slim margin for error, each fight is incredibly tense. Will you die by the blade? You'll be able to find out on in early 2023 when this game launches on PC and consoles.
Venba by Visai Studios
Cooking games are fine and all, but they're best when served with a spicy main course of narrative. That's what Venba is cooking up. This narrative cooking game has you you play as an Indian mom who immigrates to Canada with her family in the 1980's. You'll be preparing and serving up authentic recipes selected from southern Indian cuisine while navigating a branching narrative about life, love, loss and more. A recent age rating from ESRB has peaked my interest for Venba even higher, citing "Blood, use of tobacco and violence". There's a real chance that the aesthetically pleasing and hunger inducing cooking of Venba could be a trojan horse for a really powerful and impactful narrative. Venba is serving up its narrative in Spring 2023 on PC and Switch.
Routine by Lunar Software
I never thought Routine was coming out. I imagine that the developers Lunar Software had times when they didn't think Routine was coming out. A long time (and a few now-dead websites) ago, I used to routinely include Routine in indie game list features. The original pitch, of arriving on an abandoned space station and having to survive what you found therein, was compelling. After what sounds like a number of years of tough part-time development for Aaron, Jemma, and Pete at Lunar Software, the fruits of their labour were re-revealed to the world in 2022 – and by golly does it look good. Set aboard a retro-futuristic lunar base designed with the 1980's vision of the future in mind, you'll be attempting to survive the automated enemies that believe that you're little more than an intruder. I don't want to jinx it, but we might see Routine released in 2023. If not, it's still a title worth keeping an eye on throughout the year.
OTXO by Lateralis
Imagine Hotline Miami but with roguelike elements and an eye catching black, white and red art style. That's kind of what it feels like to play OTXO. It's deeper and weirder than that of course, but it's a good starter for 10. I had a lot of fun playing this during a recent Steam Next Fest and Greg enjoyed it at EGX when he played it too. In this violent top down shooter, you play as a mysterious protagonist entering an abstract mansion where you'll fight your inner demons – both figuratively and literally. The trip will take you through 150 hand crafted rooms served randomly, where you'll find over 100 weapons and abilities. Based on the demo, OTXO will be a real thrill to play when it launches on PC in 2023.
Murderous Muses by D'Avekki Studios
D'Avekki Studios are among those responsible for the recent thrust of FMV indie games back into the limelight. Their titles – Doctor Dekker, Shapeshifting Detective and Poe & Munro – have been among the quirkiest and most fun FMV games in recent times. Their next title, Murderous Muses, looks like it's going to evolve their formula in interesting new ways. In this game you play as a security guard working at a haunted art gallery. The gallery is hosting an exhibition of art work by controversial artist Mordechai Grey who had been murdered 12 months earlier. His murderer remains at large – but portraits of the suspects now hang in the gallery. Each time you play this game, the killer will be randomly chosen and it'll be your job to explore the portraits of the potential killers – which are now coming to life – to determine whodunit. With returning cast from previous D'Avekki games, alongside new faces, there's a talented bunch making this game. Make sure to keep an eye out for Murderous Muses when it launches in 2023.
The Gecko Gods by Louis Waloschek
When I sat down to play The Gecko Gods at EGX 2022, I was met with a gentle charm and chilled vibe that was hard not to get absorbed in. Even on a busy showroom floor, it was an arrestingly charming experience. In the game, you play as a gecko that can climb on most surfaces. You explore a mysterious island covered in ancient ruins that form puzzles and platforming sections for you to overcome. Whether you want to round-up every lore piece and collectable in the game or simply take in the chilled out vibes, The Gecko Gods seems to have you covered. Check it out when it launches on PC and Switch in 2023.
Boundary by Studio Surgical Scalpels
It has been a while since we've seen anything new of Boundary, the zero-g shooter with a "boots on the ground" tone. What I can tell you is that when we got our hands on the game a few years back, it felt incredible. While the game is set in space, floating around space bases and the like, it felt very… Call of Duty-y. Fast, frantic battles are punctuated by the sound effect of your suit cracking open and the air shooting out into the void of space. There's a real chance that Boundary will explode when it finally launches in 2023 on PC and PlayStation consoles.
Sunshine Shuffle by Strange Scaffold
It's an odd feeling when you come across indie games that seem laser guided to your personal tastes. That's the odd feeling I got when I first saw Sunshine Shuffle from Strange Scaffold. I love Texas Hold'em poker, ska, cute aesthetics and narrative driven games – Sunshine Shuffle blends them all together. In this game you play cards against some of the remaining members of the 'Morning Shift' gang while aboard the S.S. Sunshine. This gang pulled off a daring bank heist but simultaneously upset the Fishie Mob. As you play poker, you'll learn more about their adventure, and if you win, you'll get to customise the S.S. Sunshine with your winnings. Add in an original Ska sountrack by Skatune Network and RJ Lake and you've got an absolute winner of a game. Come on 2023.
Keylocker by Moonana
I'll be honest, I'd not heard about Keylocker from Moonana until my man Toby turned me onto it during the making of this indie games list. Now, I'm heavily intrigued in how it'll turn out. A blend of turn based JRPG and rhythm game, Keylocker is set in a world where music has been prohibited. In the game you play as a character called B0B0 who's teaming up with a Jukebot drummer in order to bring melody to the masses. While we've got no definitive launch date for Keylocker, we're hoping to see it launch in 2023.
Videoverse by Kinmoku
Kinmoku's previous game 'One Night Stand' was a refreshing and forthright look at 'the morning after the night before' scenarios. It was a game I personally really enjoyed so I was really interested in what was next from the developer. Well, that next game is VIDEOVERSE, a 1-bit love letter to old-school social gaming networks. In this narrative adventure game you play as Emmett, a video game-obsessed teenager. The aim is to browse through a Miiverse-esque social network, share artwork, make friends and report trolls to help this retro-inspired social network become a better place for everyone. All the while, a narrative will be unravelling. There's real potential here and it'll be exciting to see it come to fruiting during 2023.
3D Don't Die Mr Robot by Infinite State Games
Infinite State Games are really damn good at making indie games. Between Rogue Aces, Family Tree, Horatio Goes Snowboarding and the OG Don't Die Mr Robot, they're one of the last, best developers making pure, addictive arcade games. The latter of those games is getting a new dimension in their next game – 3D Don't Die Mr Robot. The title of the game kind of explains the aim. You'll want to keep the titular Mr Robot alive among the lasers, saw blades and enemies that try to shift him from his mortal coil. Mr Robot can fight back however; by collecting pieces of fruit, he'll create a shockwave which will blow up most dangers. While I personally enjoyed the 2D art style of the previous title, this move to 3D creates the opportunity to dial up those flashy effects which look great in all the footage of the game we've seen so far. Role on April 3rd, 2023.
The Forest Cathedral by Brian Wilson
In 1962, Rachel Carson changed the world. With her science book Silent Spring, she highlighted the environmental harm caused by pesticides, specifically DDT. The book, and the movement it inspired, eventually resulted in the creation of the US's EPA. What does any of this have to do with a video game? Well, The Forest Cathedral is a creative reimagining of the Silent Spring book. Playing as scientist Rachel Carson, players will figure out why a remote island won't let her leave. Along the way, we'll be solving puzzles that blend 2D and 3D environments in a very appealing art style. This game is a truly fascinating concept that's based on a pivotal moment in scientific discovery that deserves more recognition. We'll be able to investigate DDT ourselves in Q1 2023 when The Forest Cathedral launches on Steam.
Classic Sports Driving by Pixel Wrappers
We've been spoiled by a glut of retro inspired racing indie games recently. Of them all though, I'm most excited about Classic Sports Driving. Procedurally generated tracks with hand drawn environments and randomised weather conditions aim to give the impression of a drive along the open roads. Whether you want to compete in time trials with a more sim-like experience, or simply take in the journey in a more arcade-like fashion, Classic Sports Driving caters to both. Aiming to line up at the starting line in Q2 2023, Classic Sports Driving looks like a really pleasing package.
Spells & Secrets by Alchemist Interactive & rokaplay
It's tricky to describe Spells & Secrets without drawing parallels to the elephant in the room – Harry Potter. In this game, you play as a first-year student of the magic arts, arriving at the Academy of Greifenstein. An incident on the first day throws the school into turmoil and it's up to you (and your co-op partner, if you fancy) to rescue your lost schoolmates. The inspirations are obvious for Spells & Secrets, but that's no bad thing. The charming art style meets roguelike core of this game, along with creative spell-based combat and puzzle solving, stands it out from the crowd of witchy indie games coming out soon. This might also be one you would want to check out if you're avoiding the AAA alternative. Look out for this one on PC and all the consoles in 2023.
Twitter | Steam | PlayStation
Dead Pets Unleashed by Triple Topping
The pitch for Dead Pets Unleashed called to the younger version of me, hiding away in my spirit somewhere. In this game, you play as Gordy, the lead for the struggling punk band 'Dead Pets'. The band is still looking for their big break after 10 years of plugging away. But as Gordy turns 30, life starts to get in the way. The aim of this narrative driven slice-of-life game is to balance everyday life – working, paying the bills – with aiming for your dreams with your band. You'll have to go to band practice, write new songs, book the next gig, manage Gordy's finances and wellbeing, as well find time to earn enough money to cover rent. I think most 30-somethings will relate to some of the themes here, of wanting to give your dreams one last chance before 'life' takes over. If this theme also calls to you, keep and eye out for Dead Pets Unleashed in 2023.
Open Roads by Fullbright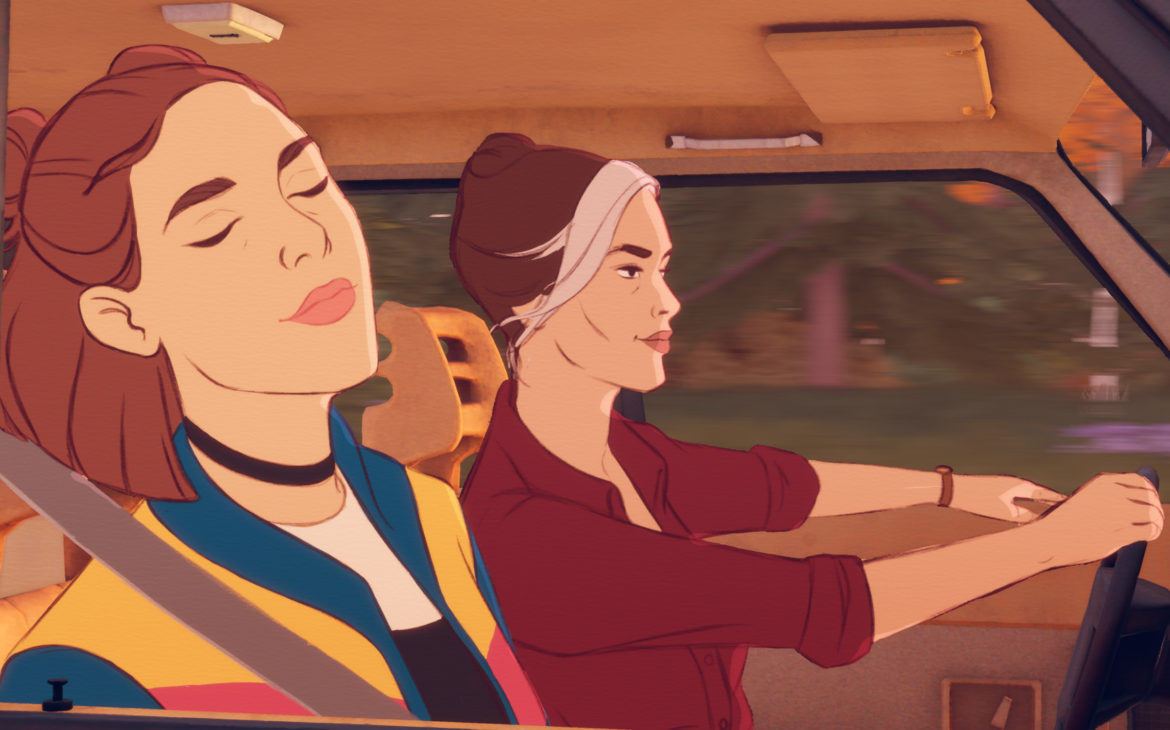 Like the most memorable of road trips, Open Roads has had some highs and lows during its development. We won't go into the lows here, but it now seems that the small team working at Fullbright on the game are proud of the game they've made. They've managed to put their own stamp on it while retaining all the positives that got many (including us at Finger Guns) so excited for the game back in 2020 when it was unveiled. A road trip tale about a 16 year old and her mother, Open Roads has you uncovering a family secret after the death of their mother/grandmother. Along the way, the pair will stop off and explore both their relationship and their settings.
Twitter | Steam | PlayStation
UFO 50 by Mossmouth
Sperlunky and its direct sequel have defined a genre. There are dozens of roguelike platformers that cite these games as inspirations. The excitement from Sperlunky fans and game developers for Mossmouth's next project is understandably high then. UFO 50 is a collection of retro inspired games. Not mini-games however. These are fully fledged titles across myriad genres. From platformers and shoot 'em ups to puzzle games, roguelites, and RPGs, these games span the industry. The familiar 8-bit 80's art style they're presented in come coupled with modernised mechanics and game play elements however. The thought of exploring a retro inspired multicart collection like the old days, especially one from an insightful developer like Derek Yu, is really enticing. Originally planned for 2018, we're hopeful that UFO 50 will launch in 2023.
To Hell With The Ugly by La Poule Noire
To Hell With the Ugly is a point & click adventure game adaptation of the novel by the same name by Boris Vian. In the game you play as Rock Bailey, a handsome but shallow man that was mysteriously kidnapped outside the Zooty Slammer jazz club. Waking up with a black eye and a spotty memory, Rocky sets out to figure out who kidnapped him and why. I managed to get some hands on time with To Hell With The Ugly at EGX 2022 and was thoroughly impressed, particularly by the gorgeous art style and the turn based battles. The final version of the game is aiming to launch in 2023. There's a chance this could be a point and click classic if it reaches the right audience.
Nour: Play With Your Food by Terrifying Jellyfish
Here are Finger Guns, we're absolutely here for the rise in the "toy game". Y'know the games – the ones that cast off failure conditions and act more as interactive art than traditional video games. Originally announced back in 2017, Nour is likely the most famous of these toy games which, contrary to what your mum may have instructed, encourages us to play with our food. Nour contains more than 20 interactive vignettes featuring gloriously aesthetically pleasing food, and is designed to put a smile on your face and a grumble in your belly. While we still don't have a solid release date on Nour, we're hopeful to be sprinkling ice cream in a bathtub during 2023.
Twitter | Steam | PlayStation
Troubleshooting by Jam Rascals
We've all been there. Maybe not for a few years but we've all done it. For me, it was back in the Limewire days. Suddenly the family PC was infested with a virus and I realised that that movie I just tried to download was not what I thought it was. The battle began. In Troubleshooter, a first person shooter from Jam Rascals, that battle is literal. In this game you play as a JPEG who's fighting through its computer to save it from a virus. Steeped in those PC tropes (a messy desktop, a talking paperclip, graphics cards that go brrrrrrr), this game looks as funny as it does exciting and is certainly one to watch out for in 2023.
Infinity Girl by Chroma Games
I've been following the development of Infinity Girl for the past few months because I get some incredible vibes from it. A turbo charged rhythm/racer/roguelite where the world moves to the beat of the music, the aim is to traverse procedurally generated levels at breakneck speeds without crashing. It feels like the spiritual successor to Chase The Sun that we (okay, *I*) always dreamed of. This is undoubtedly and ambitious game but there's real potential for Infinity Girl to be a sleeper hit during 2023.
---
That's it for part two of our hotly anticipated indie games list for 2023. With another 35+ indie games to write about (no, seriously), we'll be back with part three soon. In the mean time, make sure to follow Finger Guns on our social channels –Twitter, Facebook, Twitch, Spotify or Apple Podcasts – to keep up to date on our news, reviews and features.
If you enjoyed this article or any more of our content, please consider our Patreon.