A morally questionably tycoon game, Let's Build A Zoo shows a lot of promise during its early beta phase. Here are our thoughts.
A morally questionably tycoon game, Let's Build A Zoo shows a lot of promise during its early beta phase. Here are our thoughts.
Betas are good. It's that portion of game development when you get to iron out the bugs and tweak the game based on feedback. The beta for Let's Build A Zoo (sign up here), the upcoming tycoon style management game from Springloaded and No More Robots, is likely going to be more helpful than most. The game, on the first day of its early beta phase when I played it, is in rough shape. During the 45 minute demo, taking the player through the first fortnight of the game, Let's Build A Zoo crashed, had a number of little visual bugs and was missing a lot of usability touches that will hopefully get implemented later. Those rough edges surround a novel and unique prospect however that's wrapped in a comforting familiar package.
Build a Zoo. The video game concept has existed for 2 decades. On the surface at least, Let's Build A Zoo seems built in the same mould that those that came before it were. The first few gameplay days track along the same trajectory as the classics like Zoo Tycoon or Zoo Empire. You're building enclosures, filling them with animals, making sure they have water and food, setting up stores and making it all look pretty with decorations. Let's Build A Zoo has all the same trappings as every other game in the genre with a molecular level of detail (even going as far as giving the player the option to choose what ingredients are being fed to the animals and in what ratio). It follows the same game play loop too – fill the zoo with animal attractions, attract guests that pay to enter and spend while in the park then reinvest this money on more and better animals to attract more guests.
And then it happens. Let's Build A Zoo shows it true colours. It will pose a a moral quandary that is unlike anything you'll find elsewhere in this genre. For me, it was "Do you want to paint your horse and pass it off as a Zebra to make it more appealing to your guests". I laughed. Then I naturally clicked yes. A little later, Joe (Exotic Animal Trader), a man with a wonderful mullet (see what they did there?) offered to sell me an animal which appeared to be some weird hybrid between a bird and a capybara. Yes please, Joe. Sell me your black market mutant animals. Shortly before the demo ended, I'd started cooking up animal hybrids in my own CRISPR lab. The possibilities of this had my mind whirling with excitement – there's apparently more than 300,000 possible animal combinations.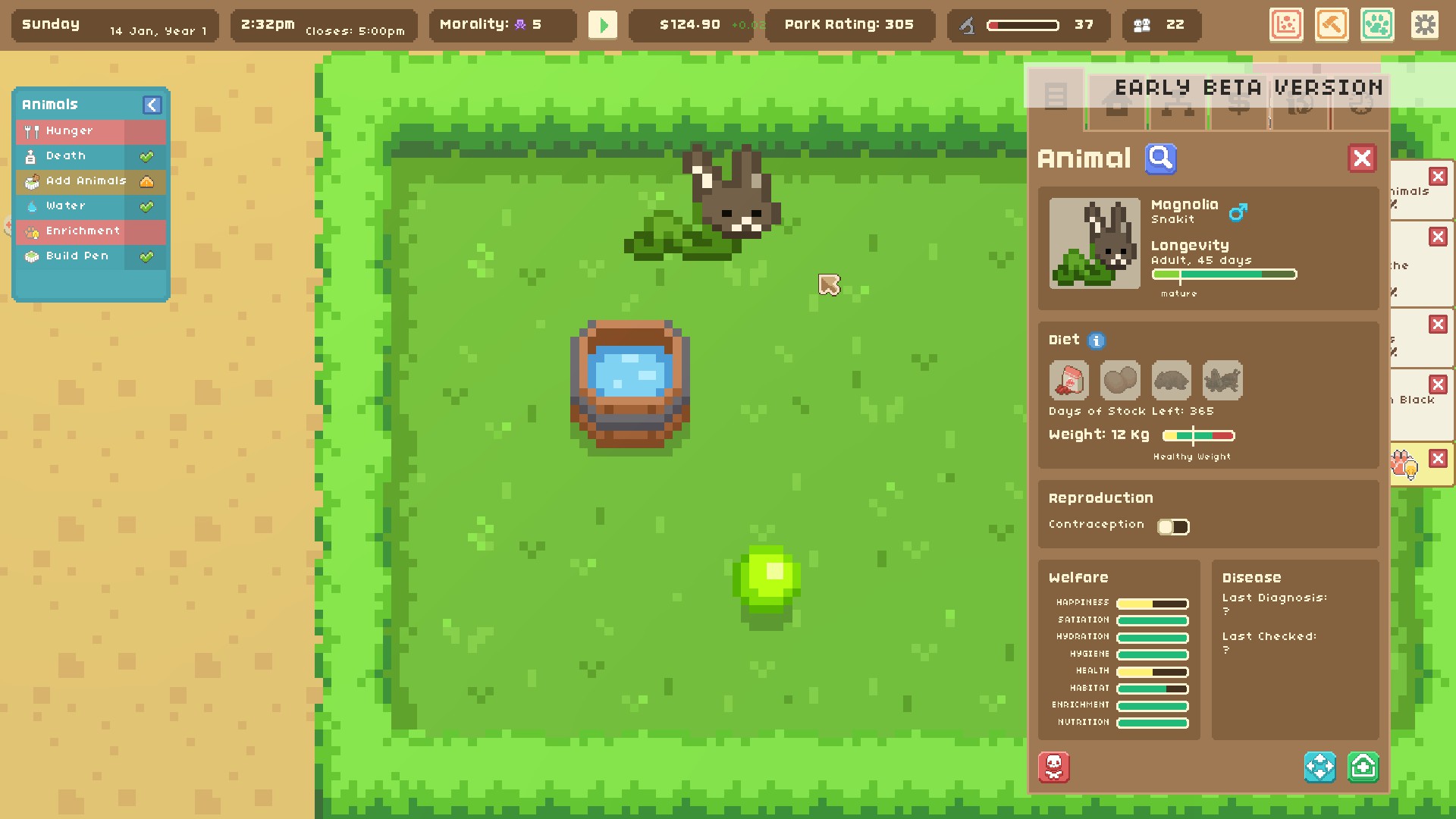 By the time I finished my first run, I feel like I was well on my way to becoming a corrupt, morally not-so-grey Zoo owner. You can refuse to take these opportunities too, if you want to play the game morally "good" – instead of dealing with Joe (Exotic Animal Trader), you can rescue animals or trade with other zoos, for example. Each moral decision has an impact on a dial at the top of the screen which is measuring them. Hidden away in some of the menus were buildings and decorations that appeared locked by the amount of moral/immoral actions you've taken. The better/worse you'd been, the more building items seem to unlock.
That there is the kicker. By the time I'd finished the demo, I knew I wanted to play the full version of Let's Build A Zoo – what's more, I knew I wanted to play it twice. The pixel art and chilled out soundtrack – both of which are excellent in the beta, by the way – would be enough for me to play through this game as if I was playing a vanilla simulator like Planet Zoo. You know, trying to be the best and most morally pure zoo creator I could be. Trying to ace the game without spitting in the face of God by amalgamating 2 strains of DNA to create an unholy mutant, purely for people's enjoyment.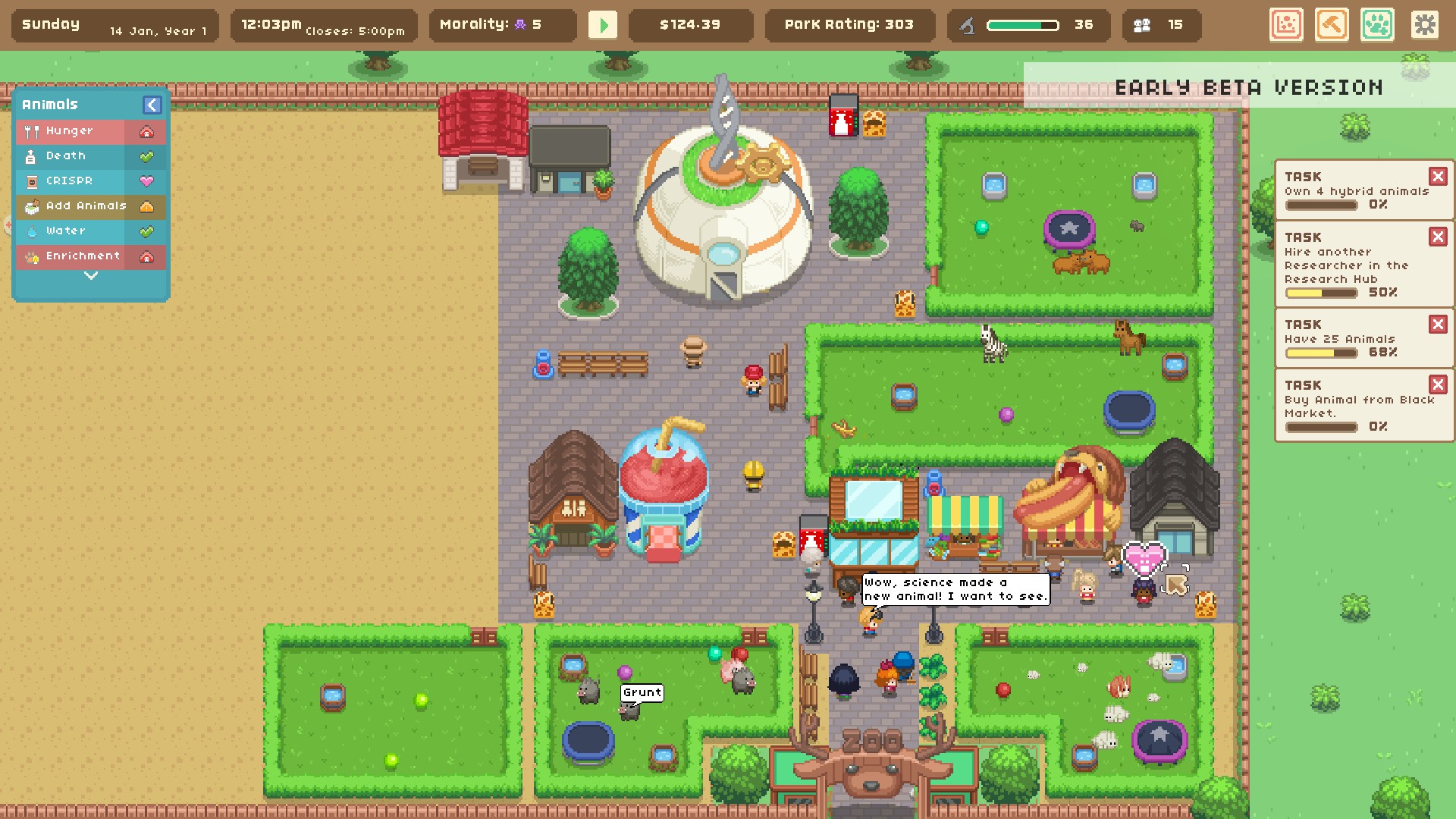 And then there's the devil sitting on my shoulder. He's going to want his own time to explore the morally questionable side of Let's Build A Zoo. "Sure, you could rescue another pig for your Zoo", he says "but why don't you just blend a wolf with a pig and have that Cronenberg creation roaming around the zoo for people to gawk at?". Sure, I'm probably going to feel guilty about it later but I expect the unique aspect of this game – giving the player the option to be morally questionable in a genre that's usually so squeaky clean – is going to make it funnier and far more interesting that its peers.
The text might be a little too small for my liking and there's currently no way to make it larger. Some of the flooring tiles in the grass pens glitched out. After unlocking some items, the game broke down and it prevented me from clicking on anything. The game crashed. The beta for Let's Build A Zoo demonstrated that there's plenty more to do on the road to release. More than that though, it demonstrated that the core idea to the game is intriguing, novel and fresh. 45 minuets was long enough to see the killer hook for what it is and for me to know that I'll be there on day one when Let's Build A Zoo launches on Steam. This Beta will allow this game to be the best game it can be and I have an inkling it'll be a hell of a game.
---
Disclaimer: In order to complete this preview, we were provided with a promotional copy of the game. For our full review policy, please go here.
If you enjoyed this article or any more of our content, please consider our Patreon.
Make sure to follow Finger Guns on our social channels – Twitter, Facebook, Twitch, Spotify or Apple Podcasts – to keep up to date on our news, reviews and features