Heading to EGX 2022? Here's 10 indie games we think you should keep an eye out for.
Ah, EGX 2022 is upon us. Once again returning to the ExCel Centre in London, the UK's biggest gaming show is opening its doors to give us a glimpse of all the shiny new games that are on the horizon.
While there's always a slew of big names in attendance – Sonic Frontiers, Call of Duty Modern Warfare II (read my beta impressions here – plug, plug), Street Fighter 6 and Wo Long: Fallen Dynasty to name a few there this year – it's always the indie games that are on display at EGX that draw my attention. Away from the long queues and and loud stages, the Rezzed Zone and Leftfield Collection are where you'll likely find me on any given day of EGX.
That's likely to be the same for EGX 2022. My list of games I'm aiming to check out during the show is now 52 long. The vast majority of those come from indie developers or indie publishers. Of course, I don't have the time (or energy, it's 11PM) to list them all, so I thought I'd spend a little time highlighting 10 indie games you should definitely check out during EGX 2022.
In no particular order, here are 10 indie games to check out during EGX 2022.
Trinity Fusion from Angry Mob Games
A fresh rogue-like action game from Angry Mob Games, Trinity Fusion [Steam Link] was unveiled just a few days ago and will be getting its first public showing at EGX 2022. In the game you'll be controlling parallel versions of the lead character in order to save the dying multiverse. I'm getting a lot of Metroid vibes from this trailer, as well as hints of Dead Cells and a whiff of the 2014 Strider title – a heady blend that I'm excited to try out at EGX 2022.
Planet of Lana by Wishfully
I've been desperate to get my hands of Planet of Lana [Steam Link] ever since it blew my socks off (and, likely yours too) when it appeared as one of the most impressive surprises of the Summer Game Fest kick off show. A cinematic puzzle adventure with hand painted visuals, Planet of Lana has you control the titular Lana along with her animal companion as they they explore the strange and potentially dangerous planet to find Lana's sister. The game looks like a stunning animated water colour painting in action and we UK folk will be able to try it at EGX 2022. While you're at the Thunderful booth checking this out, make sure you check out Worldless, The Last Hero of Nostalgia, Wavetale, Togges and Tinkertown too. They all look excellent.
Formula Retro Racing – World Tour by Repixel8
I'll be honest – I wasn't the biggest fan of the original Formula Retro Racing. There's no denying there was potential there however, so I'm very happy that this series is getting a second lap. Building on the positives of the first game, this retro inspired racer emulates the pick-up-and-play nature of the 90's styled arcade racer, namely Daytona and Virtua Racing. This sequel includes new car types, new tracks and a feature that felt lacking from the original game – online leaderboards. Formula Retro Racing – World Tour [Steam Link] is debuting at EGX 2022. Make sure to check it out.
Gori: Cuddly Carnage by Angry Demon Games
"Murderous cat on a hoverboard fighting bloodthirsty mutated toys" should be enough of a pitch to sell you on Gori: Cuddly Carnage [Steam Link], if the trailer above doesn't do the job. A third person "skate 'n' slash" game coming to PC and consoles, this game puts you in the deadly paws of Gori, F.R.A.N.K and CH1-P as they attempt to stop the carnage of the 'Adorable Army'. Everything I've seen of Gori looks incredibly cathartic. I'm excited to see if it's just as gratifying to play as it is to watch at EGX 2022.
While you're over at the Wired Productions booth, you should definitely check out the award nominated The Last Worker, the promising Tiny Troopers Global Ops and the charming Tin Hearts while you're there.
BLINNK and the Vacuum of Space by Changingday
As accessibility has increased over the years, game developers have found new and ever more innovative ways to over come some challenges that players have accessing and enjoying games. In relative terms, Autism is an unexplored front on this battle for accessibility and useability. BLINNK and the Vacuum of Space [Steam Link] is a game made by people with autism, for people with autism. A VR title, this game has you sucking up sandwich stealing lab experiments using a sci-fi hoover called the Vacuumizer 5000. This is a fascinating project from debutant studio Changingday that I'm looking forward to experiencing at EGX 2022.
Zellige: The Tilemaker of Granada by NFTS Students
The National Film & Television School (or NFTS to its friend) area at EGX is always worth visiting. While not every game on display there will make it to a commercial release, the games on display from NFTS Students are always bristling with that unbridled creativity that comes from what is obviously a supportive environment. Last year, I was blown away by Hook Up and Zelige. The former is available now on iOS and the latter is returning to EGX 2022.
Set in medieval al-Andalus, Zellige puts you in the shoes of a tilemaker who's tasked with decorating a Moorish palace. Using an intuitive tool set, you get to design your own mosaics and then apply it to walls and floors. It's a relaxed, almost zen experience, even when played on a busy show floor. I'm excited to see how much Zelige has progressed since I last played it. Make sure to stop by and see it at EGX 2022 (and check out the other NFTS games there too).
How To Say Goodbye from ARTE France, Florian Veltman & Baptiste Portefaix
How To Say Goodbye [Steam Link] has the potential to be one of those games that hogs a lot of my time at EGX 2022. It's beautiful in its peculiarity, presenting a liminal world for you to manipulate to solve puzzles. The aim is to move and reorganise this world to assist a group of ghosts on their quest to finally move on. The developers cite some powerful influences behind the visuals of the game (Tomi Ungerer, Tove Jansson, Antoine de Saint-Exupéry and Maurice Sendak) that's channelling the vibe of children's picture books. The premise feels far more mature however, touching on grief and mourning but done so with "kindness and subtlety". How To Say Goodbye sounds utterly fascinating and I'm excited to finally try it at EGX 2022.
To Hell With The Ugly by La Poule Noire & ARTE France
I'm a big fan of the work of Boris Vian (or should I say Vernon Sullivan in this instance?). I feel almost ashamed to report then that the first time I'd become aware of the existence of a point and click adventure game adaptation of Vian's pulp thriller To Hell With The Ugly [Steam Link] was when I saw it in the list of games at EGX 2022. Starring Rock Bailey, a 19 year old man as handsome as he is superficial (who's determined to retain his virginity until he's 20, rebutting any and all sexual advances), finds himself drugged and supposedly kidnapped. In the game, you'll be shedding light on Rocky's abduction and hopefully getting to the bottom of the mystery.
Launch-Test by Jawbyte Games
I've long thought that those bits in the last few Assassin's Creed games when you guide the flight of an arrow would make a great game all on their own. Well, Jawbyte Games have taken that premise a step further by replacing the arrow with a missile in Launch-Test. A physics destruction game, this title has you launching customisable missiles at things and watching the destruction you have wrought. It's a simple premise but by the looks of the trailer, quite a fun one. Launch-Test will be getting its first demo at EGX 2022. Stop by and check it out.
Telusfax from Richard Sherriff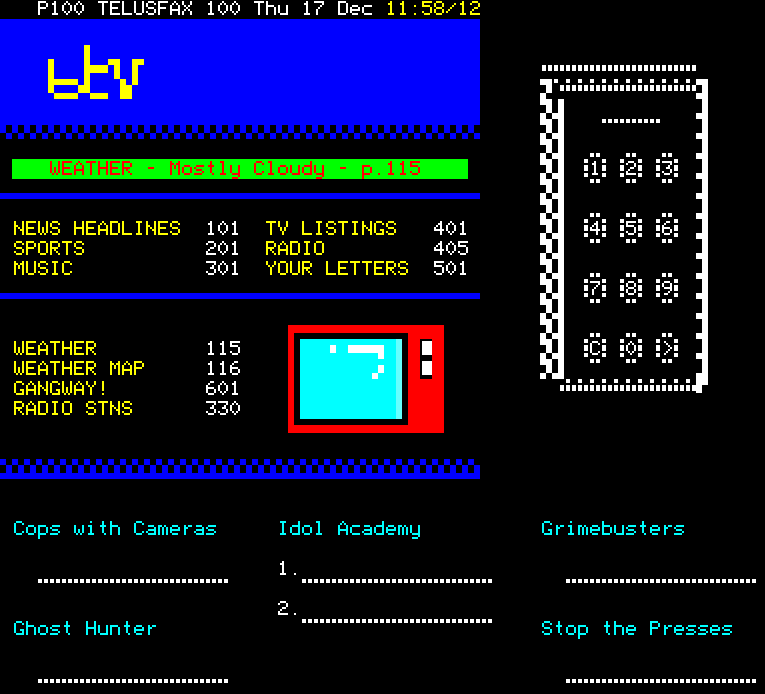 Ah, 2003. Harry Potter was still in fashion. Chelsea were an unremarkable football team. Michelle McManus was topping the charts. Things have changed a lot since then and with the boom of the internet came the death of teletext, a garish but loveable TV information service. Telusfax from Richard Sherriff is an archaeo-game set in the teletext system of a British television station in 2003. The aim is to explore the 50 pages in order to dig up some information, but along the way, you could check the weather, get the latest footy scores or get the most up-to-date news regarding the foot and mouth pandemic. For some, this game will be a wonderful click down memory lane to a simpler time. I'm quite looking forward to sampling this at EGX 2022 (before picking up the full game on itch.io).
---
Of course, there's many other indie games being shown at EGX. Have you got a favourite that you're looking forward to playing at EGX 2022? Head to the comments section and sound off.
---
If you enjoyed this article or any more of our content, please consider our Patreon.
Make sure to follow Finger Guns on our social channels –Twitter, Facebook, Twitch, Spotify or Apple Podcasts – to keep up to date on our news, reviews and features.