Let's Sing returns with a full on ABBA celebration in Let's Sing ABBA. The Finger Guns Review;
There are times as a game critic you can't quite believe what you've taken on. I'm sitting here writing a review about an ABBA video game. I'm 36, have no vested interest in the band despite somehow knowing all the words to all their songs and I'm supposed to look at this game with a critical eye. If you're a regular reader of Finger Guns one imagines that such video games offer up precisely zero interest to you and I absolutely get it. The Let's Sing series, Singstar, Just Dance etc are all part of that little niche – a niche that sells millions of copies every year – where it's a game that you probably wouldn't buy yourself, but you know someone that loves ABBA and they would adore this. Why wouldn't they? It's a karaoke game all about their favourite band.
On the same wavelength as Let's Sing Queen from a couple years back, Let's Sing grabs permission and storms out a game that will sell utterly bucket loads, and us core gamers will never know why. The same way we marvel at Steam charts every week wondering how What Remains of Edith Finch continues to be a bestseller. If I said those words to my Mum she'd likely be confused. But if I give her a copy of Let's Sing ABBA she'll be delighted for an entire weekend.
So here we are. And let's be real, we all need this. ABBA is a safe space. You may not claim to be a fan but if you need some unmitigated cheese in your life to save you from, well, everything, then Let's Sing has your back. You could argue this landed at precisely the right time. Let's Sing ABBA is 2022's Animal Crossing: New Horizons, that launched the day we went into lockdown for the first time. Sometimes you just have to escape.
If you're at all familiar with the Let's Sing series, then you'll feel right at home on the menu screen. 'Legend' is the game, so to speak. You pick a character and you're off competing against AI singers and you have to beat their score and knock out a three star rating to progress. It's very easy to do so, so when you arrive at a 'boss challenge' – normally a massive hit played all the way through – and if you beat the other singer you unlock a multitude of things, including adding Dancing Queen to the 'jukebox', the games karaoke mode where you and your friends can just sing along for the hell of it.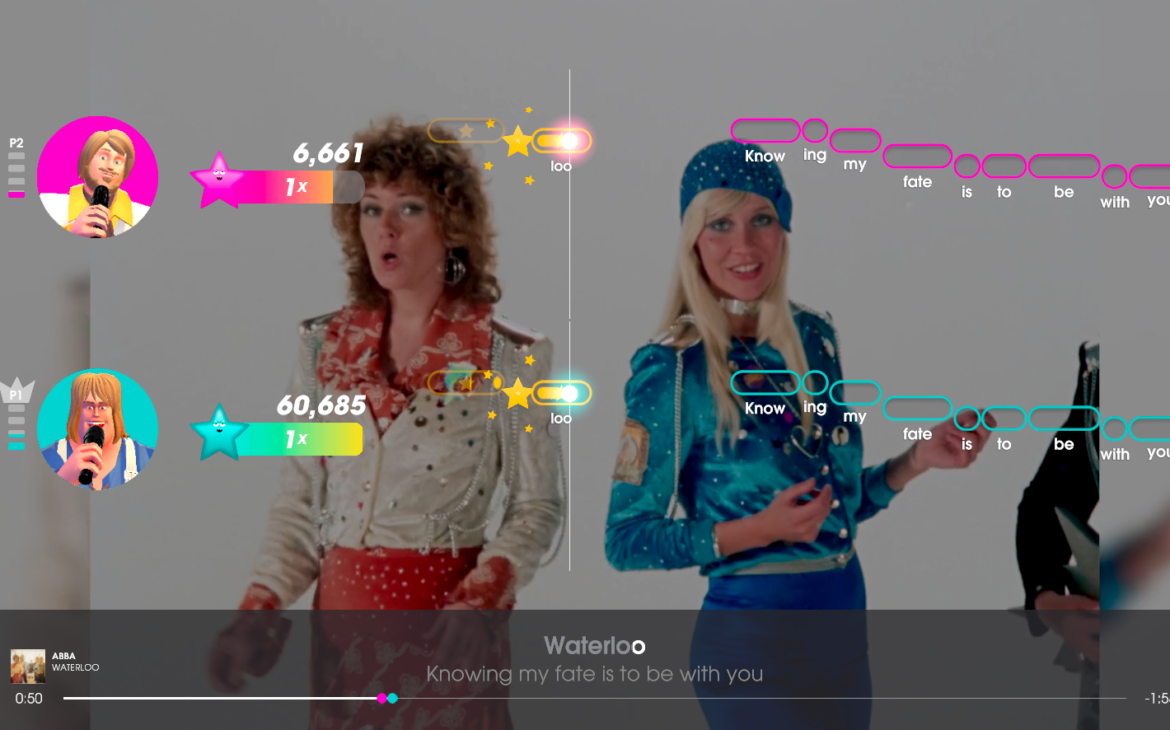 'Classic' mode allows you to sing any song you like with the other three members of your ABBA tribute act, 'Mixtape' will sling you quick blasts of certain songs if you don't have the time to put on an entire concert in your living room. 'World Contest', as the name suggests puts you up again the entire world to see if you're actually better than people named Bjorn. 'Feat.' naturally lets you duet with a buddy and 'Let's Party' is local competitive for up to eight players. There's not much to get hugely excited about if you were looking for some series innovation here. It's like when FIFA launches on the Switch without a single change but the kits have been updated. That's essentially what Let's Sing ABBA is in comparison to what came before it.
Which of course means that you don't actually have to know any of these songs in order to progress. If you can carry a tune you can get through this game fairly easily without much stress. The game doesn't know what lyrics you're singing, only the pitch. So long as you can keep that up you can literally belt out any old bollocks and the game will score you exactly the same.
You don't even need to belt it out. ABBA songs are notoriously easy to sing if you're a drunk woman on a karaoke stage with a mojito in your hand and a blow-up penis in the other, but us guys can't hit them notes so easily. Fortunately, if you sing in vibrato – essentially the same pitch as your speaking voice – again, so long as it's in key you'll beat everyone and everything this game will throw at you. There's never really any kind of competition, just how long you can keep it up.
From a tech standpoint, I spent most of the game singing into my poor DualSense, though I did notice a slight delay. If you have USB microphone lying around from previous versions of the game they'll all work perfectly and are the most ideal way to play through the game. If you don't have a microphone on your controller though you can download the Let's Sing app, connect it to your game via a code and sing into your phone. Again, that slight delay is present but there's not much you can do about it. Let's Sing never evolves, it just appears out of thin air every year.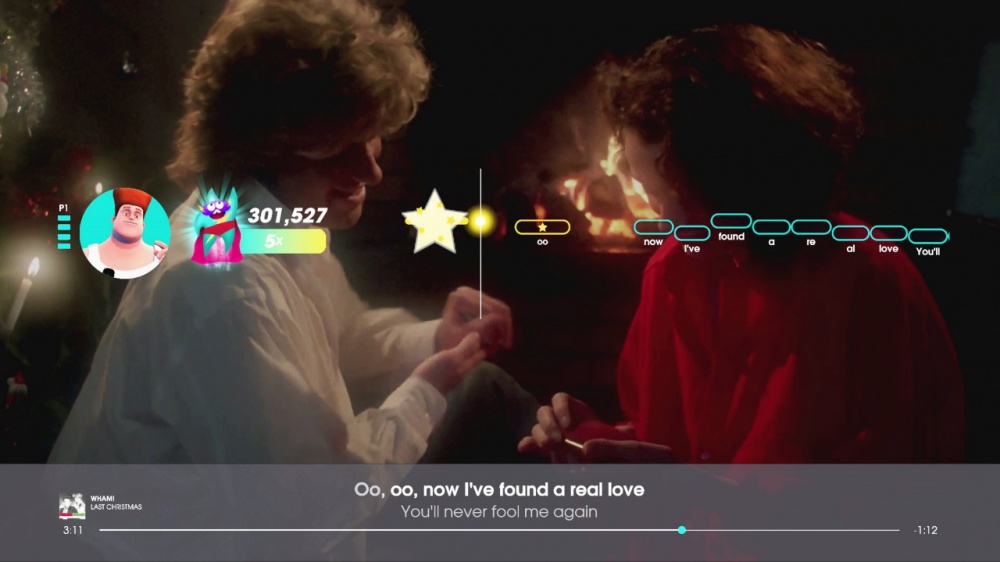 Still, I'm griping but you're not here for me to whine about the technical aspects or the genuine this-is-a-cause-for-concern now lack of innovation. The setlist is what you want and well, it's very difficult to argue that it's absolutely chock-full of all-timers that you'll be singing along to in no time because in the back of your head, you know these songs and you know them all very well. Even if you don't think you do.
From Waterloo, Dancing Queen, Mamma Mia, Fernando, Thank You for the Music, SOS, Knowing Me, Knowing You, the bloody brilliant Does Your Mother Know, Gimme! Gimme! Gimme! (A Man After Midnight), Money, Money, Money, Super Trouper, The Winner Takes It All, Voulez-Vous, Chiquitita, Take A Chance on Me and even songs from their 2021's Voyage album including I Still Have Faith In You are present and correct, and it's hard to argue that it isn't a stone cold collection for an indoor karaoke session.
I Have A Dream is not included, which is odd when there are some serious deep cuts for the most hardcore fans including Ring Ring, Summer Night City, The Day Before You Came, Head over Heels and I Do, I Do, I Do, I Do, I Do included. Lay All Your Love on Me also isn't here. Future DLC? Thanks to TikTok that's very much in the public consciousness these days so it's a very strange omission. Still, what's here is exhaustive, and ABBA fans shouldn't have a thing to complain about here.
So here we are again and as ever, a brand new Let's Sing lives and dies on its setlist. Thankfully, they've packed every single massive ABBA track into a single game which has made it somewhat essential for any karaoke evening worth its salt. Regardless of your opinion on ABBA, their legacy is futureproof. They won't ever go away as these pop masterpieces will live on forever. Let's Sing may not ever change or evolve (like, at all), but if they keep churning about band exclusive titles such as this and Let's Sing Queen, they'll have about as much staying power as ABBA themselves.
So I say, thank you for the music. These songs I'm singing. Who could live without it? I ask in all honesty, what would life be without a song or dance what are we? So I say thank you for the music, for giving it to meeeee (in the shape of a review code).
---
Let's Sing ABBA is a very typical Let's Sing title with precisely zero innovation or new features. Thankfully, it's a game based on ABBA's music, so the set list is to die for. If you're so inclined, it's an absolute must for your karaoke evenings.

Let's Sing ABBA is available now on Xbox One, Xbox Series S|X, PS4, PS5 (review platform) and Nintendo Switch.
Developer: Ravenscourt, Voxier
Publisher: Ravenscourt, Plaion
Disclaimer: In order to complete this review, we were provided with a promotional code from the publisher. For our full review policy, please go here.
If you enjoyed this article or any more of our content, please consider our Patreon.
Make sure to follow Finger Guns on our social channels. Twitter, Facebook, Twitch, Spotify or Apple Podcasts – to keep up to date on our news, reviews and features.