With a gap in the market, is Let's Sing 2021 the game to fill it? The Finger Guns review.
With a gap in the market, is Let's Sing 2021 the game to fill it? The Finger Guns review.
Led by Singstar, Lips and – to a lesser extent – Rock Band and Guitar Hero, karaoke was once a pretty big deal in video game circles. However, something of a consumer backlash against the sheer number of plastic peripherals cluttering people's homes and retailers' shelves – as well as the advent of online streaming karaoke services – saw demand for these titles dwindle dramatically, particularly over the lifespan of the PlayStation 4 and Xbox One generation.
However, with the imminent and somewhat surprising shuttering of the Twitch Sings online karaoke service, there suddenly exists a potential gap in the market for karaoke-based video games to re-emerge from the shadows. This is where Let's Sing 2021 – the latest in the series developed by music game veterans Voxler and published by Ravenscourt – comes in.
If I was to use one word to sum up Let's Sing 2021, it would be 'slick'. Straight from the off, this is a really nicely presented game – menus are clean and simple, very snappy and easy to navigate, This means that everything is within easy reach, which is exactly what you're looking for in a party game.
Of course, the most important factor in any party game is the multiplayer, and that is well catered for here. Classic, the standard game mode, allows for up to four players to join in on a free-for-all singalong to any of the game's initial slate of 30 songs. The game's duet mode, feat., allows you to either sing with a friend or with a surprisingly competent AI. Probably the game's best party modes though are Mixtape and Let's Party.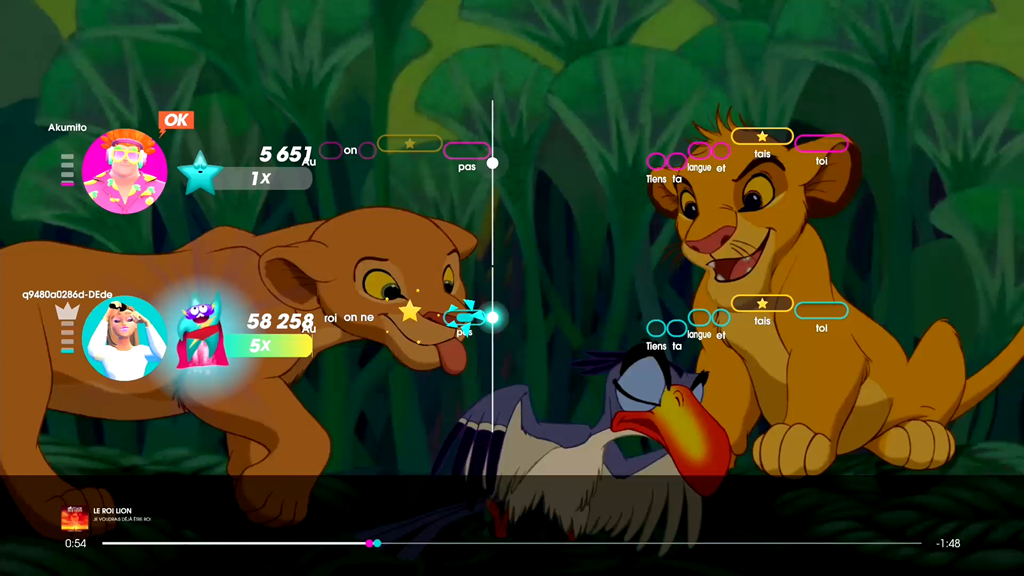 Mixtape is a mode in which you sing a random selection of excerpts of songs from the tracklist – this serves as a nice change of pace from doing full songs and knowing what's coming, especially on Shuffle mode. Let's Party is a competitive team mode for up to 8 players. So, of course, no-one is going to be experiencing that in its full glory any time soon (or they shouldn't be – stick to the rules!), but it's still a fun interactive experience with less than 6 players.
Where Let's Sing 2021 really shines this year though is in the brand-new Legend mode, which is essentially a campaign mode where you take control of one of a number of pre-created 'avatars' and work your way through a series of singing challenges against other AI avatars, culminating in a series of pseudo boss battles. It's a real breath of fresh air to have a mode in a game like this, where it feels like there are genuine stakes. It's the most 'game-like' that one of these…well, games…has ever been, and it's all the better for it.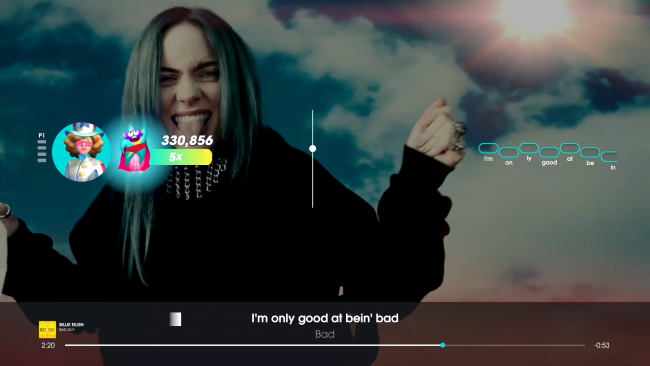 Of course, any karaoke game is only as good as its tracklist. Despite wishing there were a few more songs on there, and maybe a few more for an old codger like me to get my lungs huffing for, it represents a decently eclectic mix, with Billie Eilish, Dua Lipa and Lewis Capaldi songs featuring alongside the likes of Kim Wilde, Genesis and The Lumineers.
Of course, with there being just 30 tracks supplied with the core game, you'll likely find yourself tempted to pop onto the store and pick up a few more songs via a series of 5-song packs. It's not ideal (microtransactions never are), but it suggests that Voxler will support the game throughout its life cycle and, in fairness, it does allow you to build a decent library for the game's Jukebox mode, which allows you to just throw the full non-karaoke versions of tracks on for those who don't want to do the singing.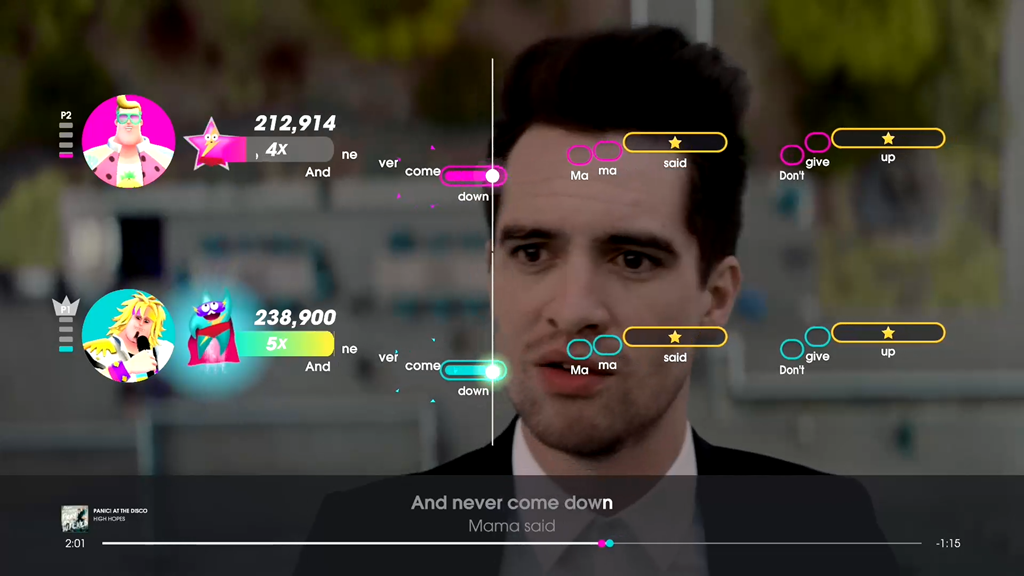 Technically, the game has a couple of frustrating issues that I hope can be ironed out with a patch or two. On more than one occasion, the connection between the game and the smartphone app that allows you to use your phone as a microphone dropped out mid-song, leaving me needing to restart the song as I had to generate a new connection code. In fact, on one occasion, a drop-out caused the game to hard-crash back to the Xbox dashboard. Secondly, I found that the game would sometimes struggle to pick up my vocals, despite setting the microphone sensitivity to its highest, which can be an issue for those who don't belt songs out. However, these are relatively minor issues that don't overly detract from an overall good time.
---
The reason Let's Sing 2021 works as well as it does is because it feels more like a game than many of the titles it shares DNA with. Whereas most previous karaoke games were of the common "sing a single song and we'll give you a score" variety, this feels the template on which all future games should be based upon. A more extensive core tracklist would be nice, and I hope future iterations might do a bit more to cater for the quieter singer, but this feels like an excellent pushing-off point for the franchise and the genre as a whole.

Let's Sing 2021 is available now on Xbox One and Series X|S (reviewed on an Xbox Series S), PS4, PS5 and Nintendo Switch.
Developer: Voxler
Publisher: Koch Media / Ravenscourt
Disclaimer: In order to complete this review, we were provided with a promotional copy of the game. For our full review policy, please go here.
If you enjoyed this article or any more of our content, please consider our Patreon.
Make sure to follow Finger Guns on our social channels –Twitter, Facebook, Twitch, Spotify or Apple Podcasts – to keep up to date on our news, reviews and features.