Nearly an hour of game play demonstrates that 2022's Saints Row reboot isn't breaking the mould but is certainly improving upon it. The Finger Guns Preview.
Nearly an hour of game play demonstrates that 2022's Saints Row reboot isn't breaking the mould but is certainly improving upon it. The Finger Guns Preview.
If there's one thing that is certain after watching almost an hour of Saints Row (2022) game play, it's that the upcoming reboot is undeniably a Saints Row game. In fact, I'd wager that if someone had played me the preview video we had the opportunity to watch and hadn't told what it was before hand, I'd have likely excitedly asked "Yo, is this a new Saints Row game?".
A prevalence of purple. A penchant for explosions. An outlandish, oddball sense of humour. The core thematic elements that have run through every Saints Row game are present and correct. So are the activities – it was confirmed that the Mayhem and Insurance Fraud missions, the chaotic fan favourites, are making a return.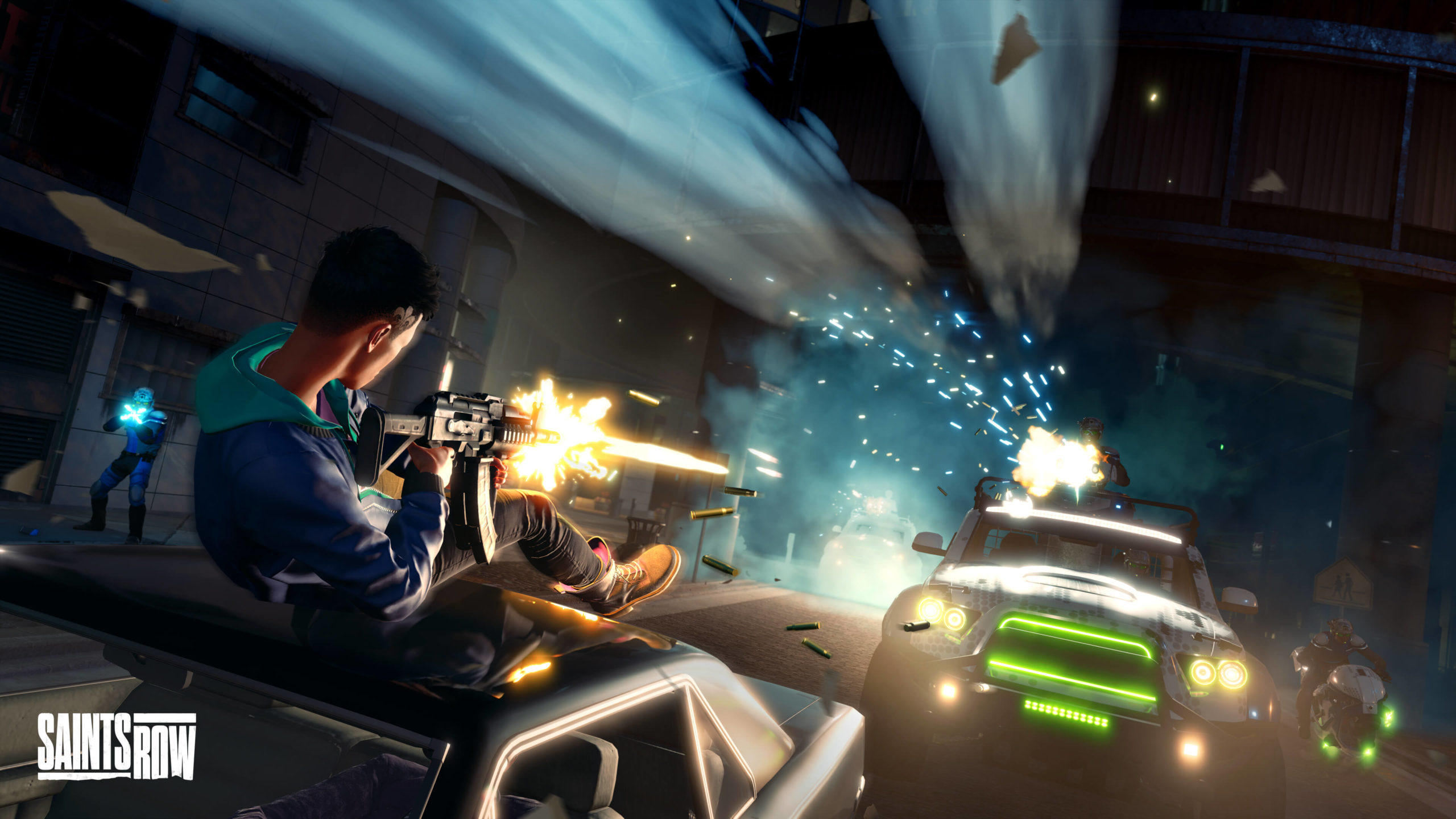 At the same time though, Saints Row's reboot is very obviously something different too. More grounded in reality than the last few entries, it certainly seems to be a more mature evolution and measured version of the tried and tested formula. There were no signs of dildo baseball bats, aliens or super powers. There are however glider suits to fly around the city in, then bounce off of pedestrians to get some more air time, and a mission where your car is tethered to an occupied portable toilet and you're using it as a wrecking ball.
That underlying irreverence and fun loving attitude comes balanced against a more emotional core this time around. At the start of the game, the Saints aren't even a thing. Instead, your customisable "Boss" character is just one of four friends, each of which has a link to a gang in the new fictional city of Santo Ileso. The quartet are struggling to pay rent so team up to do what they do best – crime. The three partners in crime all seem like likeable and charismatic individuals that are fun to spend time with. They will all contribute to the rise of the Saints in their own way – and invariably cause trouble for them too.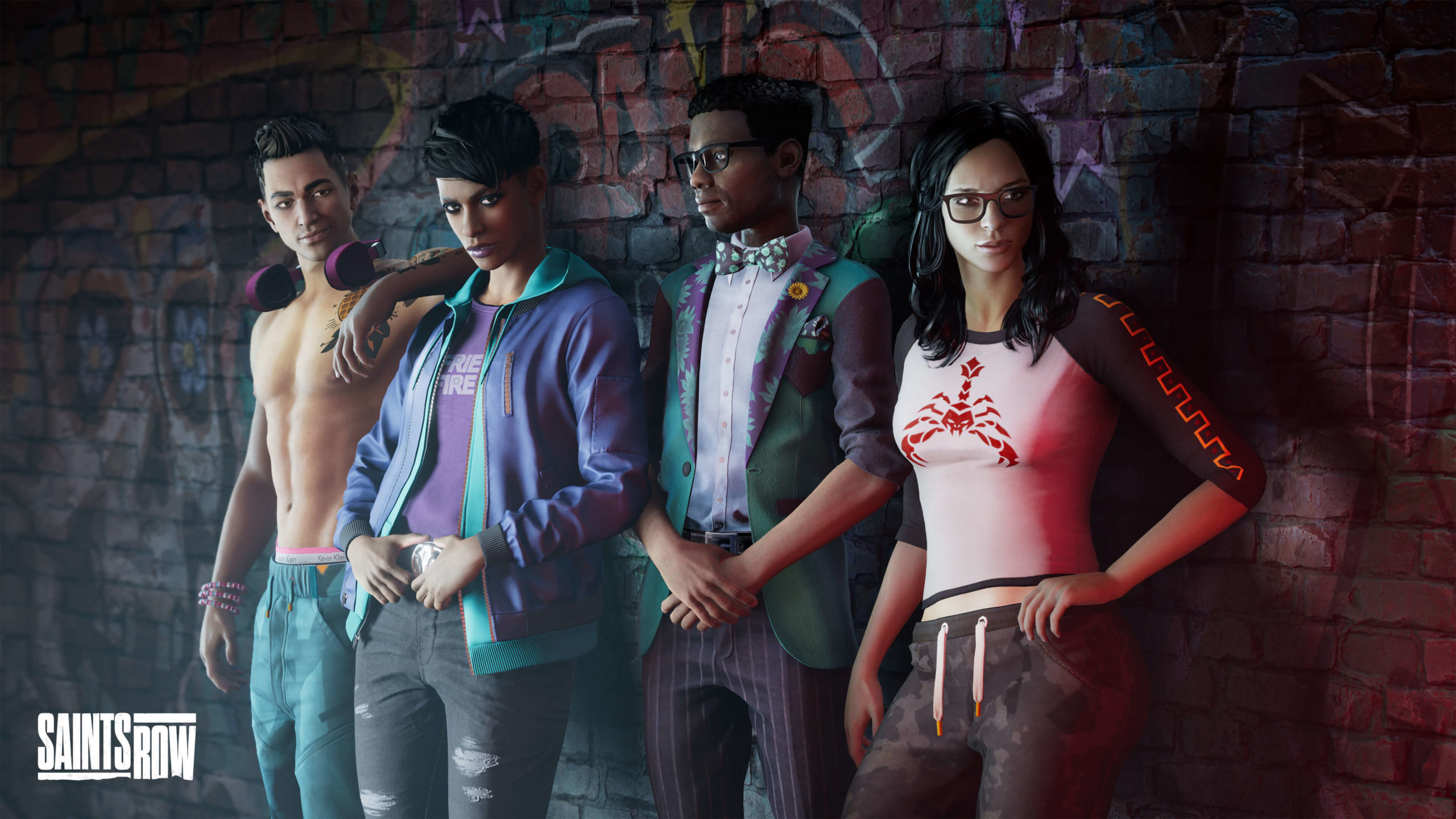 That trouble will seemingly put you at odds with the 3 unique gangs that have carved up the 9 distinct districts of the massive Santo Ileso for themselves. Like in previous games, the opposing gangs have their own characteristics and strengths. In the preview, we saw the Saints coming up against Los Panteros, a group of meat heads obsessed with vehicles, and The Idols, an anarchist gang that overpowers their rivals with pure strength of numbers. Both of them offered a different kind of challenge to the Saints in the footage we saw. While it's a familiar formula, it looked well implemented here.
For all of the comfortable familiarity in the preview footage though, what was most impressive are the new aspects. For example, the driving system seems to have been totally revamped. A new side swipe attack has been included which can be used against opposing cars in a sort of steroid-infused PIT manoeuvre. Against cop cars and gang vehicles alike, this looked to be devastating. Off-road driving is also a much larger aspect of the Saints Row reboot. An early section of the game features a long cross country chase which, in the preview, ended with a spectacular jump over the top of a water tower out in the middle of nowhere.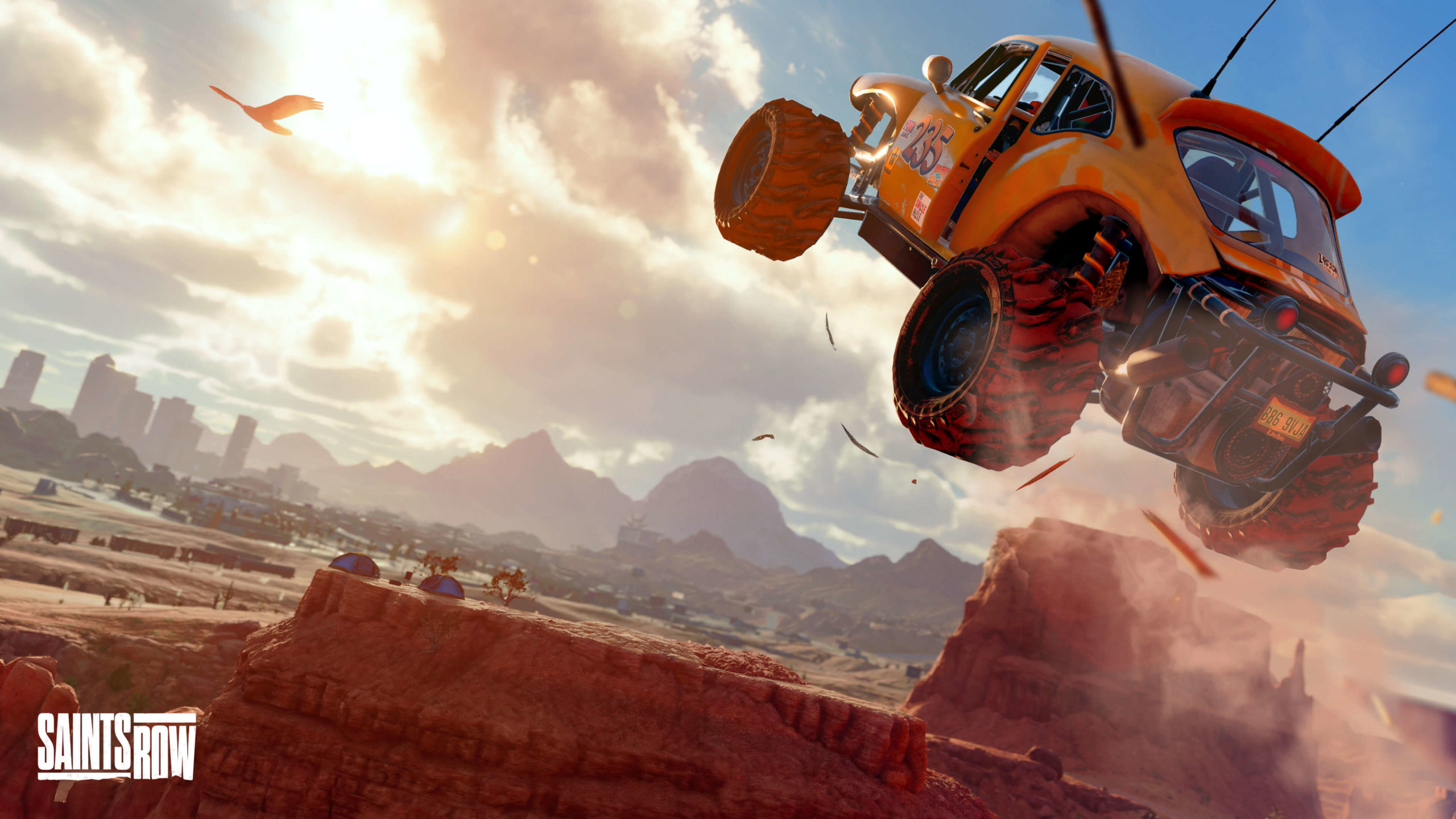 The inclusion of off-roading and wingsuits seemed to be an essential part of traversal around the new, much bigger and more diverse open world. This world of Santo Ileso in Saints Row seemed reminiscent of – dare I say it – San Andreas in terms of variety of environment and the amount of freedom you have to get around. We only got a peak at what we can expect to see around this open world but if the many pins on the world map were anything to go by, it certainly seems like there was a lot to explore and do.
Hand to hand combat has also seen some obvious improvements in the reboot. Brutal finishers have been joined by some interesting and quintessentially 'Saints Row' special abilities. For example, a fire punch unleashes some firey knuckles across the screen making the Boss look like they just stepped out of Mortal Kombat. My personal favourite of the new moves was the "Pineapple Express" which involved grappling with an enemy before spinning them through the air after pulling a pin on their grenade, essentially turning them into a explosive package. It was hard not to smile each and every time I saw this move executed.
One of the most prominent evolutions of the Saints Row formula for this reboot is the customisation. Tailoring your experience and look has always been a part of this series but the level of customisation in the reboot appears to be unparalleled. Customisation of your playable "Boss" character is extensive, allowing you to play as a model that looks and sounds how you want. They can be dressed in whatever you want with clothes picked up from the many shops around Santo Ileso. Vehicles and your arsenal of weapons (complete with some comedy entries) can be tweaked and changed with whatever aesthetics you want. An abandoned church that acts as you base of operations can be tailored with whatever visual unlocks and objects you've collected. You'll also be able to build some Saint owned buildings around the map where you choose – these act as fronts for your criminal ventures from army surplus stores that unlock gun running to waste disposal sites that have you driving toxic waste to illegal dumps. There appears to be a myriad ways to make your Saints Row experience truly "yours".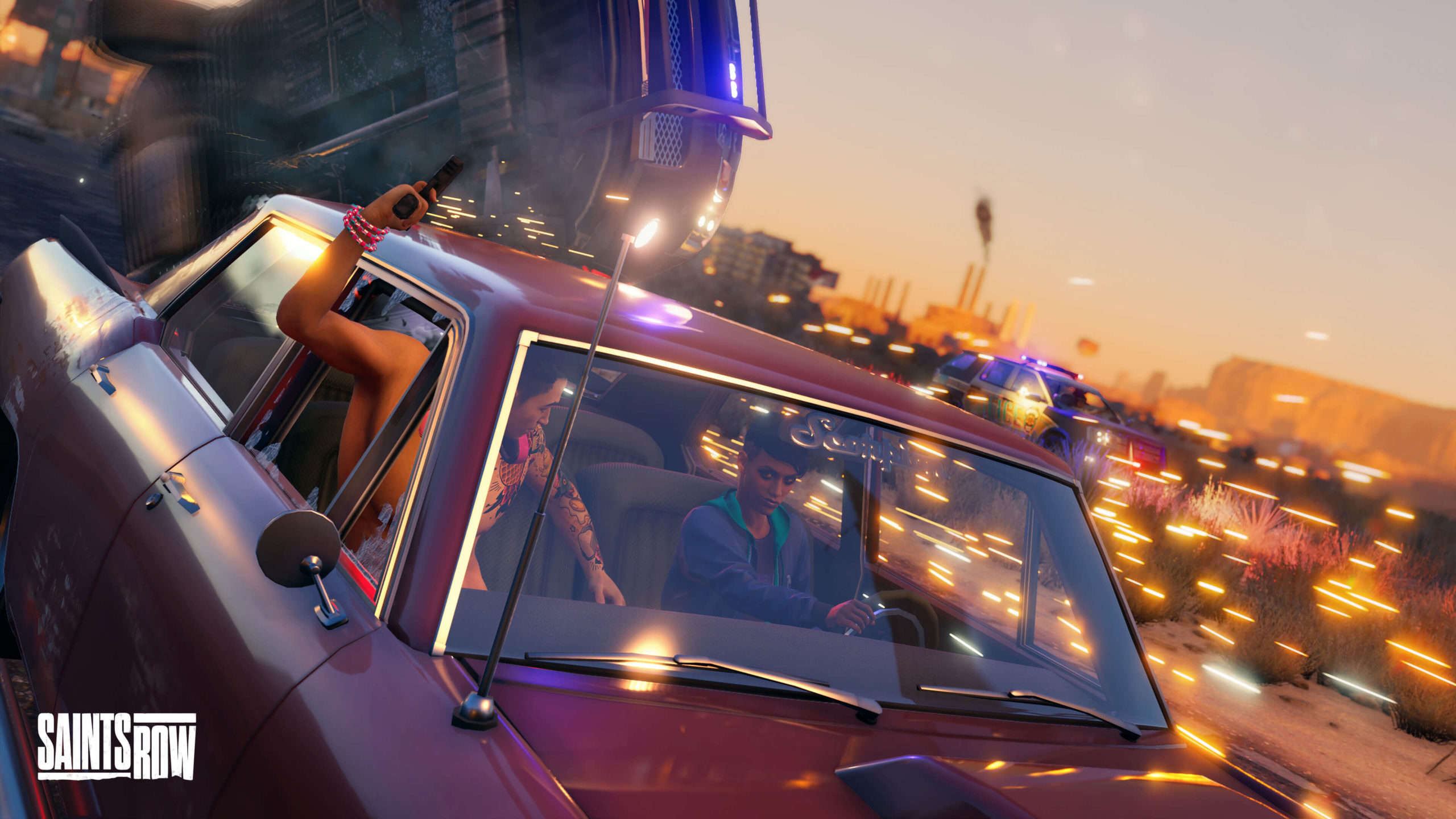 Of course, you can only get so much from a video presentation. How all of this feels to play still remains a mystery to us. One thing is for sure though – for me, it put Saints Row as a series back on the map. I'll admit, I've been sceptical about this reboot. The gaming landscape has evolved a lot since 2013 and the last time we saw a main line entry in the Saints Row series. I wasn't convinced that there was still a place for it. After watching a 45 minute game play preview, I'm now convinced there is. In fact, this game is now among my most anticipated games of 2022 and I feel like it has a real chance of filling the Grand Theft Auto shaped shoes at the apex of the genre.
I also really wish I'd recorded my reaction when I saw a weapon in this game that's literally called Finger Guns. I made such an unusual yet joyous sound.
---
Saints Row is launching on Xbox Series X|S, PlayStation 4, Xbox One, PC and PlayStation 5 on August 22nd, 2022. Pre-order here.
Developer: Deep Silver Volition
Publisher: Deep Silver / Koch Media
Disclaimer: In order to complete this preview, we attended a digital preview event. For our full review policy, please go here.
If you enjoyed this article or any more of our content, please consider our Patreon.
Make sure to follow Finger Guns on our social channels –Twitter, Facebook, Twitch, Spotify or Apple Podcasts – to keep up to date on our news, reviews and features.