The tiny slasher is going knives-out in Dead by Daylight and the Fog November 28th, watch the trailer here, if you dare.
Behaviour Interactive continue their push to have the greatest horror icon line-up in history. Dead by Daylight: Alien chapter brought the (ridiculously OP) Xenomorph and Ellen Ripley into the Entity's playground of pain. Now, it's the turn of the ginger-haired psychopath doll Chucky to take up the kitchen knife and tunnel survivors relentlessly. Presumably tunnelling, anyway.
Launching in just a few weeks on November 28th, Chucky will be bringing its own brand of sadistic, violent torment to survivors everywhere. Brad Dourif returns to reprise his role as the sharp-tongued and sharper-armed murderous character, while Killers can get creative with his lunge and scamper abilities that change up the usual chase formula.
Effectively, Behaviour Interactive have created an even more monstrous and mayhem-fuelled Victor. Only now, with a big ol' knife and the ability to scarper under pallets and not just over them. We're trembling at the thought already. Read on if you'd like to know more about the latest exciting addition to the asymmetrical horror nightmare:
"We know Dead by Daylight fans have been clamoring to see Chucky in game and we've been dying to make it a reality", said Bill Kispert, Senior Vice President and General Manager, Business Development, Universal Games and Digital Platforms. "It's the perfect time for Chucky to unleash his particular brand of mayhem upon players in Dead by Daylight, while he also terrifies them in the latest season of the highly entertaining and always shocking USA & SYFY series."

"It's a character that I never thought we could bring into The Fog because of his size", notes Mathieu Côté, Head of Partnerships for Behaviour Interactive. "The team has outdone itself to prove me wrong. Players are in for a treat – Chucky in Dead by Daylight really is the unmissable multiplayer horror gaming experience."

Small But Deadly

Players should not underestimate the power of this Killer, nor should they underestimate his foul mouth. With new lines voiced by none other than Chucky's original voice actor Brad Dourif – a question emerges: what is more scathing, his knife or his tongue?

With effective tools for sneaking around the Map, Chucky is a force to be reckoned with, utilizing his Slice & Dice ability to lunge forward and attack unsuspecting Survivors. Though his height does have its limitations, Charles Lee Ray, in his human form, appears as a spirit to assist him in Hooking Survivors, as well as interrupting them while they're Vaulting or Repairing.

On the other hand, his stature gives him an incredible advantage while hunting, forcing Survivors to always keep both eyes and ears open. His larger-than-life rage and pint-sized build let him vault through windows and under pallets allowing him to close in on his unsuspecting prey, unlike any other Killer before via his Scamper ability. From the iconic rat poisoning scene from Curse of Chucky, the deathly yardstick from Child's Play 2 or even the electrifying TV from Bride of Chucky, there are a variety of add-ons inspired by iconic moments bringing the franchise to life while elevating action for players.

"Like a tiger on the prowl, you'll only ever know where Chucky is on his terms; terms that usually involve a knife and his many weapons of choice", mentions Jason Guzzo, Game Designer on Dead by Daylight. "He adds such a fun flavor of jump scare to the game, and his voice lines are a darkly comedic twist to the gameplay of Dead by Daylight. It has been an absolute honor to add him to our ever-growing roster of Killers."

Customizable Good Guy (Or Gal) Outfits

Players will be able to customize their little Killer through a series of terrifying outfits fit for only the most notorious of serial killers. In a unique twist, players can even go as far as customizing their Killer with The Good Gal outfit – inspired by Tiffany Valentine aka the Bride of Chucky and voiced by the legendary Jennifer Tilly, this outfit brings Chucky's other half to life like never before.

Indigo Pearl PR/Behaviour Interactive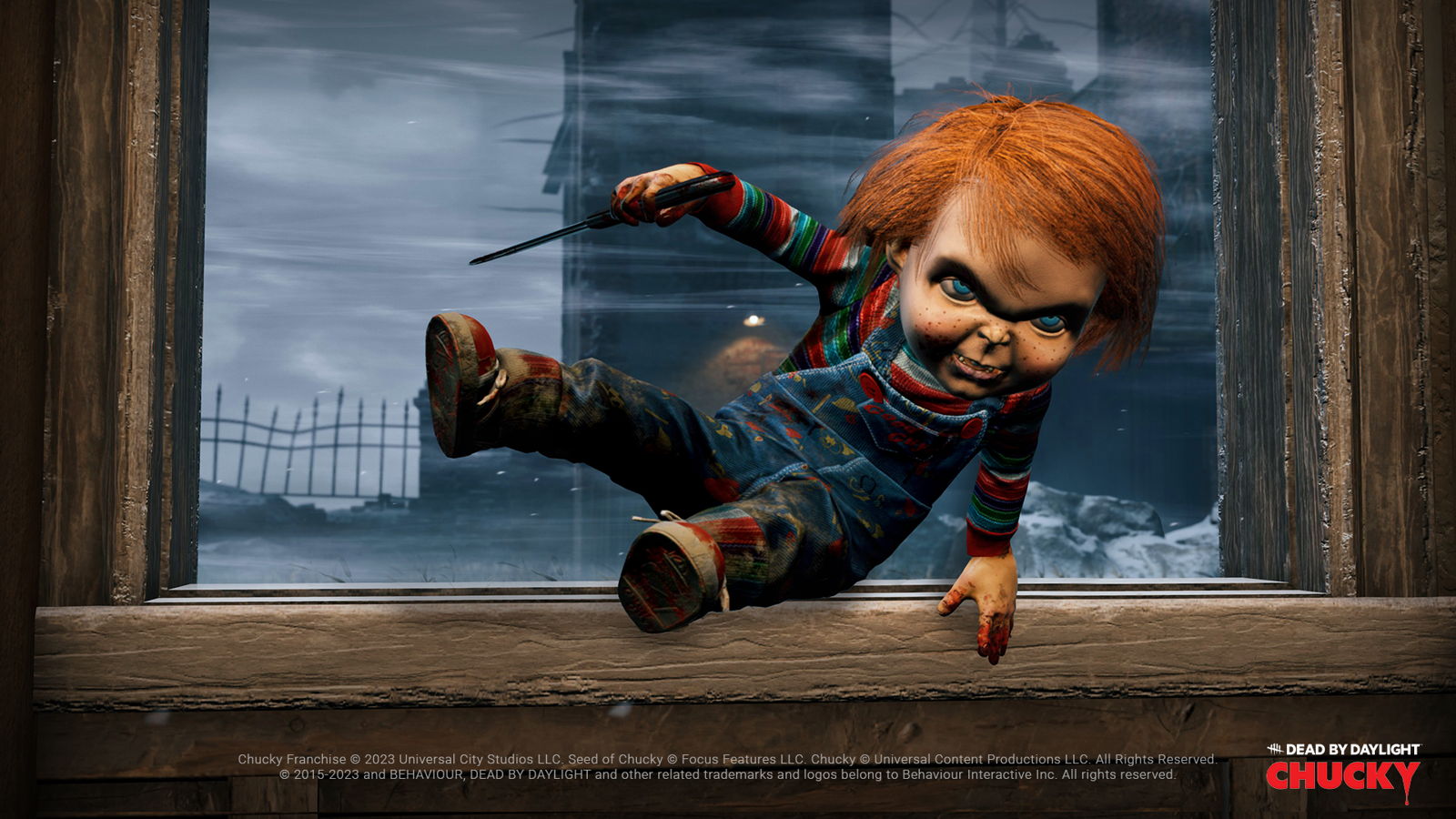 Plenty to sink your possessed kitchen knives into when the Dead by Daylight Chucky chapter releases on November 28th on all supported platforms (Steam, PS5, PS4, Xbox One, Xbox Series X|S, Epic Games Store, Windows Store, and Nintendo Switch). Whatever will Behaviour think of next? At this rate, virtually nothing is safe from the Entity's clutches.
For now though, carving up Dwight's and jump-scaring Yui's as a terrifying doll of mayhem will have to suffice.
---
Source: Press release.
For more News click here
Make sure to follow Finger Guns on our social channels –Twitter, Facebook, Twitch, Spotify or Apple Podcasts – to keep up to date on our news, reviews and features.
If you enjoyed this article or any more of our content, please consider our Patreon.