In space, no one can hear Nic Cage scream. Dead by Daylight welcomes the Alien and Ellen Ripley to fix that.
Just as Josh and I thought we'd escaped the harrowing addiction of Dead by Daylight, Behaviour Interactive have pulled us right back in. Much like the survivors desperately scrambling from all manner of killers, we simply cannot escape the Entity's clutches. No matter how hard we attempt to find freedom, we're clawed back into its iron grasp, forced to face the Fog once more.
Nicolas Cage got us excited. The Xenomorph and Ellen Ripley? Now that's just straight up stratospheric euphoria. That's right, the Alien chapter is launching August 29th, bringing the iconic acid-blooded creature and badass heroine to the asymmetrical multiplayer game. Joining the likes of Michael Myers, Ghostface, Freddy Krueger and damn near every other licensed horror icon, the Xenomorph is a perfect fit.
Want to know more? Read on for further details about the acid-spewing mortal coil, if you dare.
A relentless specimen from a distant planet

The Xenomorph is the embodiment of the stealth Killer – quick and powerful, it can strike Survivors with its razor-sharp tail. The Xenomorph's Power, called Runner Mode, allows the Killer to walk on four legs and become stealthier, reducing its Terror Radius considerably. An icon of the horror and science fiction realm, it is the perfect deadly killer: surprising even the most resourceful Survivors and forcing them to "sign off"…

"What a gift to bring such an icon of horror into Dead by Daylight", says Dave Richard, Creative Director for Dead by Daylight. "Its appearance is so striking, so fear-inducing in itself…but to have it in our game also delivering on horrifying surprise moments really opens the door for fun strategic gameplay. I'm proud of what we've accomplished with this Chapter."

The Xenomorph's arrival also introduces a new interactive Map function: Control Stations. Seven Control Stations are scattered across the Map. Survivors can interact with these stations to get a new Tool, the Remote Flame Turret, while the Xenomorph can enter and exit the tunnels underneath the Control Station. 

"Creating the Xenomorph's Tunnel system was very challenging as we had never created a sub- level that could only be accessible to the Killer", explains Janick Neveu, Game Designer on Dead by Daylight. "This new mechanic grants it Map-wide mobility and definitely amps up the scare factor – which feels very connected to the original character." 

The Ultimate Survivor

As the sole survivor of the Nostromo, Ellen Ripley is strong-willed, level-headed, and determined. Having overcome relentless threats, she is the embodiment of resilience, making her an invaluable ally to any Survivor groups. She has faced the Xenomorph before and is now in the Entity's hands. Her fate in this hostile place is still undecided – but there is hope.

Indigo Pearl PR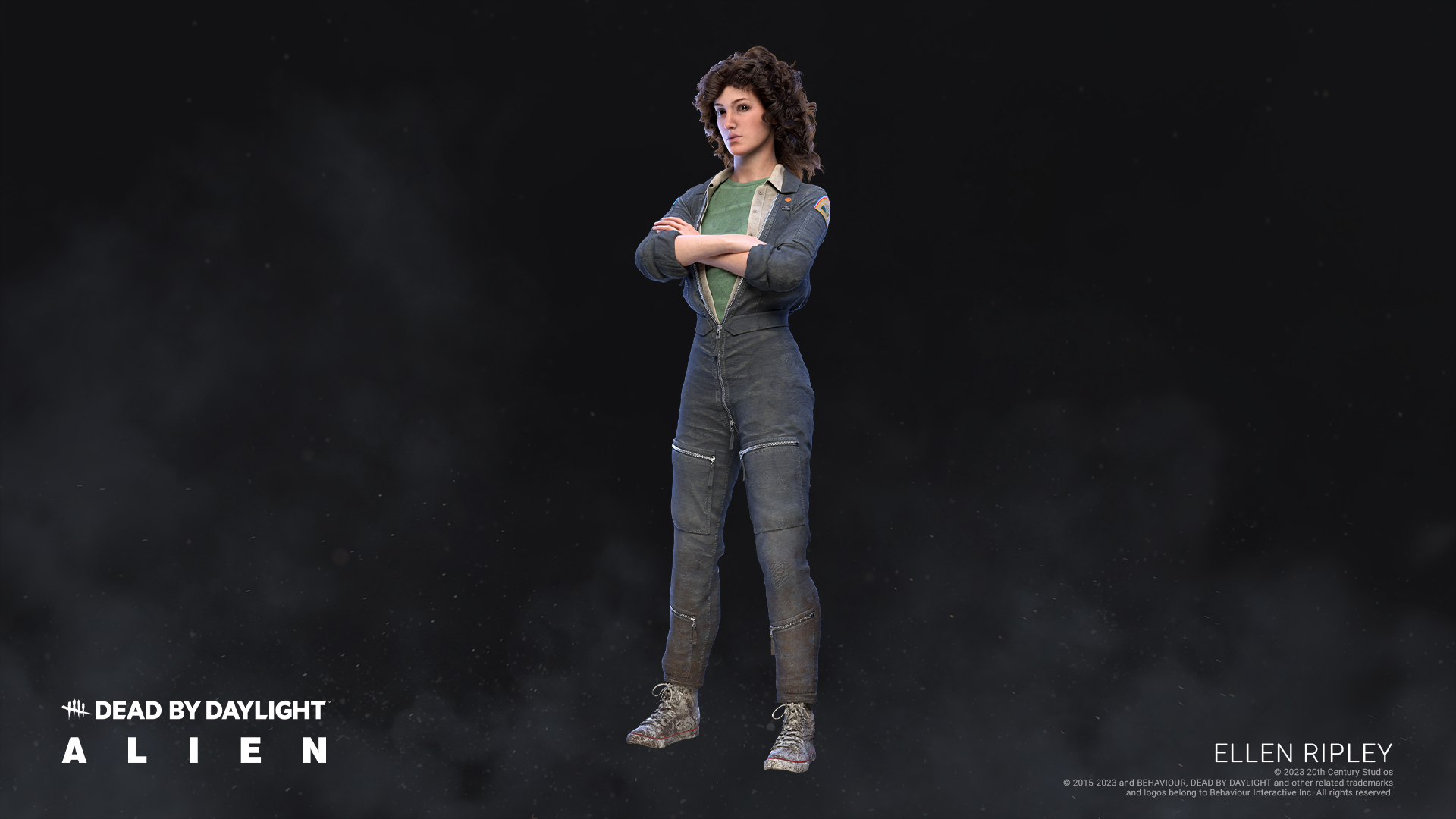 "Get out of there!"

Surrounded by vast, overwhelming shadows, an omnipresent feeling of dread is imbued with the new Map, Nostromo Wreckage. The Entity has reconstructed the Nostromo spaceship from Ripley's memories, so that players can stalk – or be stalked – around the derelict and nightmarish craft. Players will rediscover the iconic ship as it incorporates memorable elements from the first Alien film with some unique Dead by Daylight twists.

New Survivor Tool: The Remote Flame Turret

Dead by Daylight: Alien introduces a new Survivor tool that can be used exclusively when facing the Xenomorph. The Remote Flame Turret's defensive attack staggers the Xenomorph and can cause its unique Power to end. This tool complexifies gameplay as it requires Survivors to strategically place the Turret and activate it at the opportune time. Players will be kept on their toes as they will need to repair the tool if it overheats, and will be forced to protect it (and themselves) from the powerful Xenomorph, which can destroy the Turret. Who will make it out alive?

Dead by Daylight: Alien will be available for purchase on August 29, 2023, on Steam, PS5, PS4, Xbox One, Xbox Series X|S, Epic Games Store, Windows Store, and Nintendo Switch.

Indigo Pearl PR
Repairing those generators and getting those flashlight saves is going to be infinitely harder with the Xenomorph joining the fray. What delightful antics will the DBD community engage with once they get their hands on both Ripley and the Alien? Well, for that we'll just have to wait and see.
The new chapter has entered PTB stage, so early adopters are already trying out the new killer and survivor combo. The new Mori is a doozy and Ripley's perks feel truly authentic to the license. For us, it likely means another hundred or so hours added onto our lengthy playtimes we've already accumulated. We're nothing if not addicted dedicated, right?
---
Source: Press release.
For more News click here
Make sure to follow Finger Guns on our social channels –Twitter, Facebook, Twitch, Spotify or Apple Podcasts – to keep up to date on our news, reviews and features.
If you enjoyed this article or any more of our content, please consider our Patreon.