Four new Silent Hill properties were announced last night during Konami's live stream Silent Hill Transmission, here's everything we learnt.
Four games, one movie and a whole bunch of Silent Hill collectibles were revealed last night during Silent Hill Transmission. The livestream starts off with our first look at the new Silent Hill 2 remake by Bloober Team.
The Remake We've Been Waiting For
The Silent Hill 2 remake is a faithful recreation of James Sunderland's journey into the town of Silent Hill, after receiving a letter from his deceased wife Mary. Bloober Team have worked closely with Konami to inject modern technology in 4K for current consoles. Composer Akira Yamaoka is back to produce new music that fans of the game will enjoy. The game will now have an over the shoulder camera angle, with updated combat mechanics, but other than that that's all we know. As and when this releases, it will be exclusive to PlayStation and PC at launch for the first 12 months.
Downfall to Townfall
Co-produced by Annapurna Interactive (Stray, Neon White, Outer Wilds) and multiple BAFTA award-winning independent developer No Code Studios (Stories Untold, Observation) – Silent Hill: Townfall has no details outside of the enigmatic trailer as of yet. However, the pedigree of both studios has us at Finger Guns very excited as to what this could be. Both studios have an emphasis on their story telling, so expect something compelling! (Platforms TBC)
Foray into Forte
Silent Hill f is probably the biggest departure from what we know of the Silent Hill franchise. It's a new story set in 1960's Japan featuring a beautiful, yet horrifying world. It's `being written by Ryūkishi07, famed for Japanese visual novels dealing in murder mysteries, psychological and supernatural horror. It's nice to see Konami willing to take chances with the IP. Yet again, the trailer is much as we know but the visuals are strikingly different to what we've seen before. Some of us at Finger Guns have our eyes on this. (Platforms TBC)
Ascending To Live
The emphasis for Silent Hill: Ascension is viewer participation. Set for a 2023 release, this comes across as a livestream event that'll feature a new story with new characters where the audience will create the canon. Seemingly using Genvid's streaming software tools to gather an audience that will influence the outcome of the event with no takesy backsies. Also in the collaboration is Behaviour Interactive – known for Dead by Daylight – and J.J. Abrams' helmed production company Bad Robot with their game division. Safe to assume they could both collectively be working on the game/story for this title. With production company dj2 Entertainment who specialise in video-game-to-TV/Movie adaptations. With the teams behind it, this could be the boldest entry in the livestream. But like the fog plaguing the town, we've not been able to see what's ahead just yet.
Returning Once More
Director Christophe Gans is back for the new film Return To Silent Hill. It sounds as though they're either going to be telling the story of Silent Hill 2 or it's heavily inspired by it for this film. Red Pyramid Thing is back, but other than some story boarding that's the only concrete information. However, fans loved the original Silent Hill for what it translated visually from game to screen and the same has been promised by the director to do the same.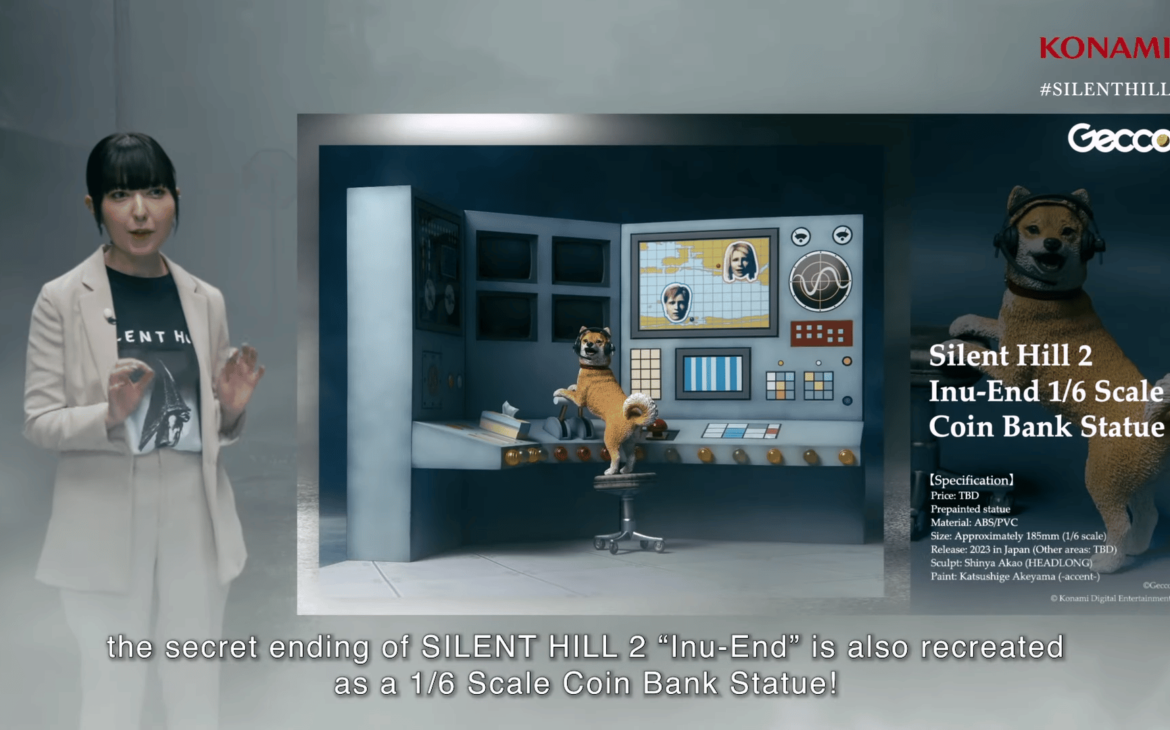 Did Someone Say Statue?
If the trailers weren't enough Silent Hill for you, Konami also announced a whole bunch of Merchandise to enjoy. Namely a quartet of 1/6 Scale statues from Silent Hill 2. James Sunderland, Red Pyramid Thing and for the first time Maria and a specific secret ending have all been made with intricate detail. On top of that, they've introduced some displayable skateboards. Each representing the first four games of the series, as well as much much more.
But for now that's all we know, be sure to check back here when we know more about the upcoming games. Like buses, we've been waiting a while for a new game and now we have four to look forward to.
If you want to see the steam for yourself you can right here
(Source: Press Release)
More News over at – Finger Guns News