Brace the gates! The Wolf's army approaches, prepare for the impending invasion with Stronhold: Definitive Edition's trailer and roadmap.
Hope you've prepared your walls, dug your moats and armed your peasants, Stronghold: Definitive Edition is finally available. Hasn't everyone dreamed of building rickety castles with horrid vantage points for your archers to get decimated by swordsmen? No? Just me then. Anyway, Firefly Studios has opened the gates to a launch trailer and all the details regarding their post-release support.
"We have faith in the demand for new 2D isometric strategy games" said Chief Marketing Officer Nick Tannahill. "The overwhelming support, feedback and love for our series' 2D roots made this project possible and we cannot wait to hear what players think of it! Stronghold: Definitive Edition has been a labour of love for the team, both for the series itself and a bygone golden era of isometric 2D strategy. We hope that shines through in the game, as we continue to provide updates and new content into early 2024".

Firefly Studios
Stronghold: Definitive Edition adds a brand new 14-mission campaign and a 10-mission 'Castle Trail' of siege scenarios, challenging players to besiege such famous historical bastions as Marksburg and Château Gaillard. This comes atop foundational uplifts like remade visuals, Steam multiplayer, new maps, Workshop support and fresh voice lines from returning voice actors Jay Simon and Christopher Kent. Also available at launch are many community-requested features, including those from recent demos such as doubled troop limits, customisable modernised controls, rally points, quality-of-life upgrades and more.
For a rundown of the latest additions to the game and a glance at what players can look forward to, Firefly has also released a post-release roadmap including plans for updates and DLC:
Following the game's launch, Firefly plans to release two major updates for Stronghold: Definitive Edition early next year, each containing separate free and paid DLC content. The Winter Update will come first, adding new maps and, for the first time ever, a brand new economic campaign. Narrated in English by returning voice actor Jay Simon, this seven mission campaign is set after the events of the original military campaign and will challenge players with construction and resource production objectives. Players will travel north squashing pockets of resistance and rebuilding their lands, all against the backdrop of a ravaged feudal empire.
Following this, the Spring Update will add a completely new Castle Trail of siege scenarios, with players travelling across Europe to either conquer or defend historical citadels. Presented as a greatest hits of old and new castles, including the first ever Polish fort in Malbork Castle, this new series of missions will give an edge to those clued up on the strengths and weaknesses of these epic medieval structures.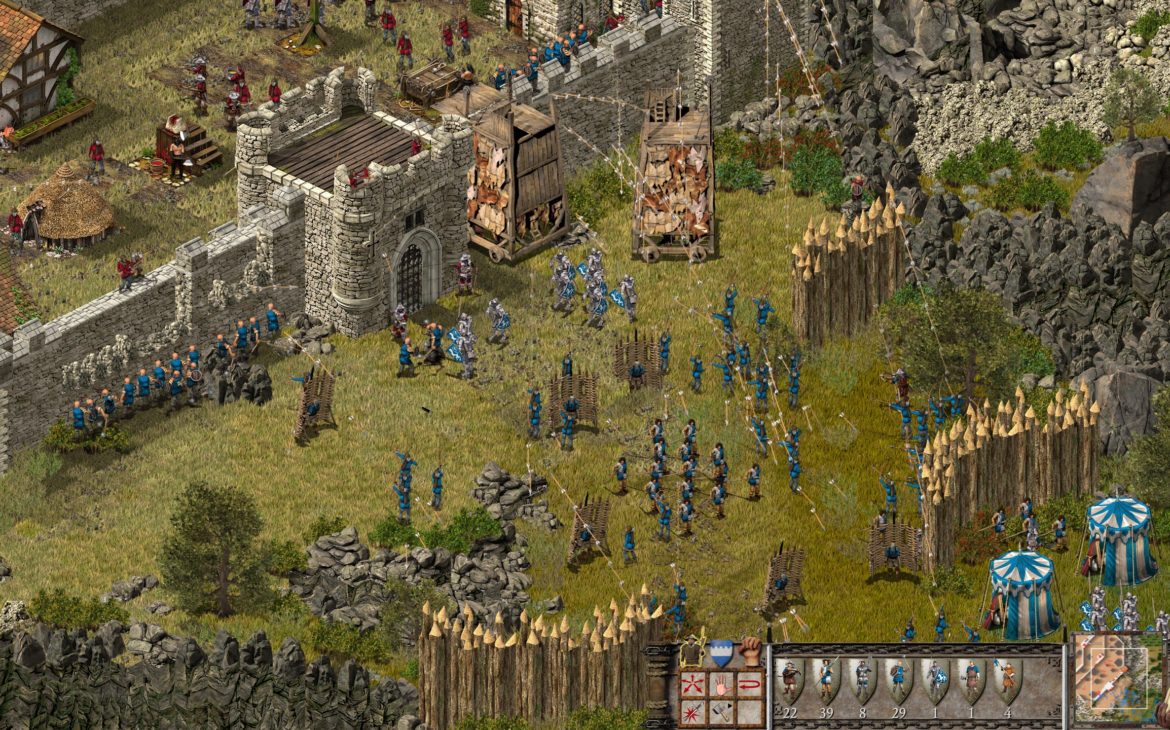 Each free update will be released together with paid DLC, bearing new narrative military campaigns featuring series antagonists The Pig and The Wolf! 'Swine's Bay' will be followed by 'Valley of the Wolf', with both campaigns telling a new side story set during the events of the original game. Once again voiced by a returning original voice actor, Christopher Kent will continue to tell the story of a young captain of the guard sent north to rescue the niece of fan favourite character Sir Longarm. These DLCs will each retail for a paltry £2.49.
Stronghold: Definitive Edition is out now on Steam for £12.99 with a 10% launch week discount.
---
Source: Press Release
For more News click here
Make sure to follow Finger Guns on our social channels –Twitter, Facebook, Twitch, Spotify or Apple Podcasts – to keep up to date on our news, reviews and features.
If you enjoyed this article or any more of our content, please consider our Patreon.