Some high quality showings from Interactive Fiction/Visual Novel games at EGX 2021 hinted at a very good year for the genre.
Some high quality showings from Interactive Fiction/Visual Novel games at EGX 2021 hinted at a very good year for the genre.
I don't think it's a secret that this year's EGX event had a different vibe to it. Some of the usual media partners that present at the event – Ubisoft, Activision, Sony, Microsoft, Nintendo and more – were not in attendance. This had a pretty interesting impact on the event itself. Those people who usually queue for an hour to play the latest Far Cry/Assassin's Creed/DOOM went looking for something else to play instead. Many people found what they were looking for in the Rezzed zone, a section of the show reserved for indie developers and the smaller boutique publishers. On Saturday especially, his area was packed full of people sampling some of the delightful games that had decided to attend. While people may have travelled to EGX to play Call of Duty, there's a real possibility that they left the event thinking about games they'd never heard of before. That's certainly the case for our writer Greg who spent an inordinate amount of time playing You Suck At Parking (but more on that in a different article).
One of the biggest winners of the events was likely the interactive fiction/visual novel games on show. I've always felt like this is a genre that really struggles to show well at traditional gaming expos. They're usually very personal experiences and a bustling, loud expo show floor is a difficult place for that type of experience to shine. But EGX 2021 wasn't too loud and on some days, it wasn't too busy. This meant you could dedicate time to getting to know these games without a baying crowd, screaming for some free merchandise at a big AAA booth, breaking your immersion. That's certainly what I did, and I came away excited about what the upcoming year has to offer.
---
While it might be the most traditional of the visual novel games I played on the EGX show floor, the game I came away from the show most excited about was 'Spellbound: The Magic Within' (Steam link) from Wyrdren Games. A visual novel with a branching narrative, this game puts you in the shoes of a character who recently discovered they have magical abilities. Your family send you to learn how to harness these powers with an old family friend in a town called Witcherley. Here you'll meet a cast of colourful characters, bond with them and maybe even romance them if you choose too. Oh, and you might even save the world while you're at it. My 10 minutes with the game was enticing and left me wanting more. Thankfully, I don't have that long to wait as the game is aiming to launch on Steam in March 2022 with a Nintendo Switch release later.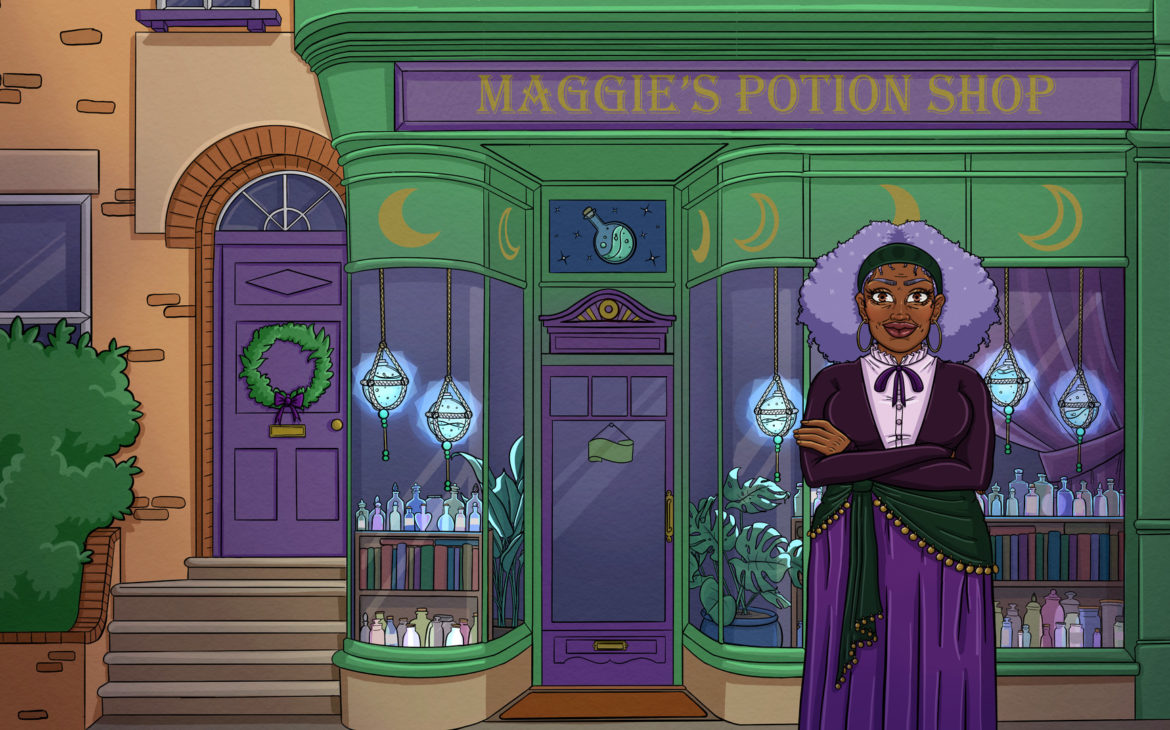 As someone who grew up on Harry Potter but now finds themselves at odds with its creator (let's not get into it), Spellbound: The Magic Within might fill a void I didn't know I needed filling. With a choice of pronouns and a highly customisable player profile, it's a accepting and inclusive take on a magical world. I was deeply impressed with the character creation options which I imagine will allow you to recreate yourself in the game accurately or, if you're more inclined, let your creativity run wild – I made a chap with nice long red hair, an impressive moustache and big hoop earrings. I looked lovely but very unlike myself.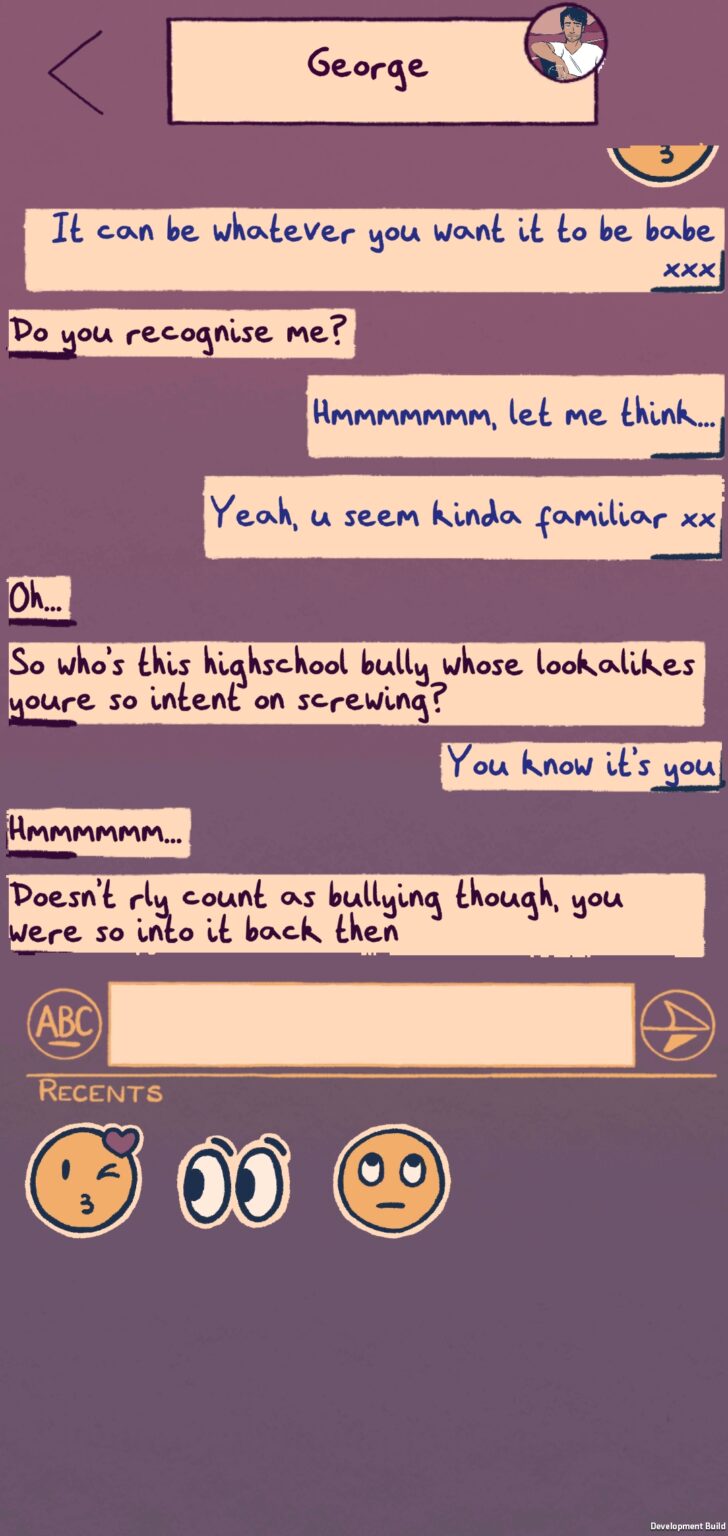 Other interactive narrative experiences on the EGX show floor were far less traditional. One very impressive example was 'Hook Up' (Twitter), a project from The National Film and Television School (or NFTS to its friends) students Sophie Artemigi, Becky Vicars and Itzel Gonzales-Estrada. Resembling a Found Phone narrative experience akin to Simulacra, Hook Up has you navigate the dating profile of a character called Alex, a sex-positive twenty-something. Matched with her high school crush turned tormentor, this game explores the power dynamic and sexual chemistry between the two characters in a raw and highly relatable way.
With a fresh art style and branching conversations, influenced by the player via the use of emojis, Hook Up managed to reel me in, hook line and sinker during my time with it. The concept is so real and is delivered in such an intuitive way that it left me feeling both deeply curious and strangely emotionally exposed. Where the demo ended, there was a myriad ways that the story could have progressed and I'm very intrigued to see in which way it heads. Sophie and the other students are aiming to finish and release Hook Up in 2022.
Chorus Worldwide are an indie publisher that specialises in Interactive Fiction having previously published the likes of When The Past Was Around, Coffee Talk & Headliner: NoviNews. They'd been slowly revealing the games they were taking to EGX 2021 in the weeks prior to the event and they certainly delivered 4 very impressive demos once the show began. The first I managed to try was 'Mothmen: 1966' (Steam link), the latest in the "Pixel Pulp" series from LCB Games, alongside their other projects Shark Riders and Red Dragon Down. Described as "fast-paced visual novels with stunning pixel art", this series is inspired by the serialised pulp fiction from decades gone by combined with artwork that utilises colour palettes akin to that of the ZX Spectrum.
I didn't need long with the EGX demo to see that Mothmen: 1966 looks fantastic. The art work might be restricted to a limited number of colours but that makes it quite evocative. There's great use of black space and coloured outlines to represent light being cast on things. The writing in the demo was also very impressive. The section I played involved a back and forth between lead character Lee and his girlfriend that had a learned feeling too it, like it was drawing on reality. This made the following section, involving an altercation with some mountain cats, all the more tense. Mothmen: 1966 is aiming to release in 2022 on PC and if you like "choose your own adventure" style visual novels, this is certainly one to keep an eye on.
Next up on Chorus Worldwide's booth was 'Frank & Drake' (Steam link) by Appnormals Team. A contemporary take on the classic novels of Frankenstein and Dracula, this game has you play as two characters who work on different time cycles. Frank, a machine-savvy, sickly building superintendent during the day, and Drake, a nocturnal newcomer to the area, will inhabit the same living space but because of their circumstances, won't meet face to face. Instead, their relationship will evolve and change depending on the way they treat their shared space and through messages they leave for one another. It's a very interesting concept, taking a dual narrative and intertwining it without having to have face to face interaction.
What was most impressive about my time with the demo of Frank & Drake is how the game subtly (and not so subtly) changes the way that each character's story is told when the game shifts from day to night. Playing as Frank was quiet and ponderous. There was very little in terms of an inner monologue for the sickly man and mechanically, this part of the game was heavy on puzzles that were relatively hands off on their guidance. That completely changed when playing as Drake. Every thought that went through his head was vocalised via his voice actor and often written on screen in a curvy, flamboyant font. Coupled with some very eye catching rotoscoped visuals, making items of interest fidget on the screen, and Frank & Drake makes for a very promising package. It's certainly worth considering when it launches in Spring 2022 on PC and consoles.
Fans of the original Coffee Talk will likely be very happy with what's to come from the next instalment, 'Coffee Talk Episode 2: Hibiscus & Butterfly' (Steam link), based on the EGX 2021 demo. If you've not played the original Interactive Fiction game, it's much like VA-11 HALL-A: Cyberpunk Bartender Action. You serve customers the drinks they request, sometimes with vague properties that need a little thought putting into them, while acting as a shoulder to cry on or an agony Aunt to confide in. While the series is set in an alternate present-day Seattle where humans, orcs, elves, and other races have been coexisting since the beginning of time, the problems you chat through with the customers are all very relatable and down-to-earth. Well, mostly. The first title was really quite compelling and the 5-10 minutes of the demo I tried at EGX is more of the same. Coffee Talk Episode 2: Hibiscus & Butterfly is aiming to release on PC and consoles in 2022.
The last game at Chorus Worldwide's booth was one I went into blind as it's a sequel to a game I've not played, despite owning the original on 2 different consoles. That game is 'Read Only Memories: Neurodiver' (Steam link). Let's just say that my short demo with this game has convinced me that I need to re-download and play 2064: Read Only Memories. Not that it's imperative – I understood what was going on in Neurodiver without any context from 2064:ROM – but because the demo was really great, I really want to get the most out of Neurodiver. There's promise of returning characters so if you're in the same situation as me, I suggest doing the same before 2022.
In Read Only Memories: Neurodiver, you play as a psychic detective known as ES88. Using a squid like creature called a Neurodiver which allows ES88 to enter people's thoughts, it's their job to hunt rogue and malicious espers that have hidden in people's memories. In the demo, a man had forgotten his computer password. While that might usually be a quick call to ICT, here it's a hint of a neurological attack and a need to start digging through a persons memory. The art work and music used in the demo was sublime and I certainly can't wait for Read Only Memories: Neurodiver to launch in Q1 2022 on PC and consoles.
As you can tell from this article, the range and quality of the visual novels and interactive fiction on show at EGX 2021 was impressive. The smaller scale of the show in general allowed these narrative heavy games to shine in an environment that better suited them. I left the show feeling pretty excited about what's to come from these genres within the next few months. Coupled with more traditional gaming experiences with a story based focus, like Conway: Disappearance at Dahlia View (which we discussed on our EGX podcasts) and Grotto, and the slew of interactive fiction games that didn't attend EGX 2021 that probably could have done very well there (Oxenfree II, Open Roads, The Dreamwalkers, Not Tonight 2 or Goodbye Volcano High to name but a few), it certainly seems like the genre is about to have a stellar year ahead of it.
---
If you enjoyed this or any of our content, please consider supporting our Patreon.
Make sure to follow Finger Guns on our social channels – Twitter, Facebook, Twitch, Spotify or Apple Podcasts – to keep up to date on our news, reviews and features.