FIFA 21 is an improvement on last year, but that isn't saying an awful lot. The Finger Guns Review;
It's difficult to know where to start with this one.
Is FIFA even a beloved franchise anymore? The series that came from behind in the video game football wars time and time again, despite having the licenses, the strips and the stadiums, the early 2000's FIFA always felt years behind its arch nemesis, PES. It really wasn't until the mid 2010's that we saw worthy improvements that allowed FIFA to hold the crown for a fair few years. Cut to FIFA 19/20 and now 21, and there's just so little to celebrate about the franchise that's it's become almost a meme at this point. The football game that became a fruit machine for teenagers. As embarrassing as it is heartbreaking.
I was quite the lover of FIFA 18. I argue that's when FIFA was the last time it was hitting the heights of PES once more and taking the crown with a version of FIFA that was really damn fun, and a single player component I fell pretty deep into, mourning its removal in FIFA 20 in favour of Volta, which returns this year.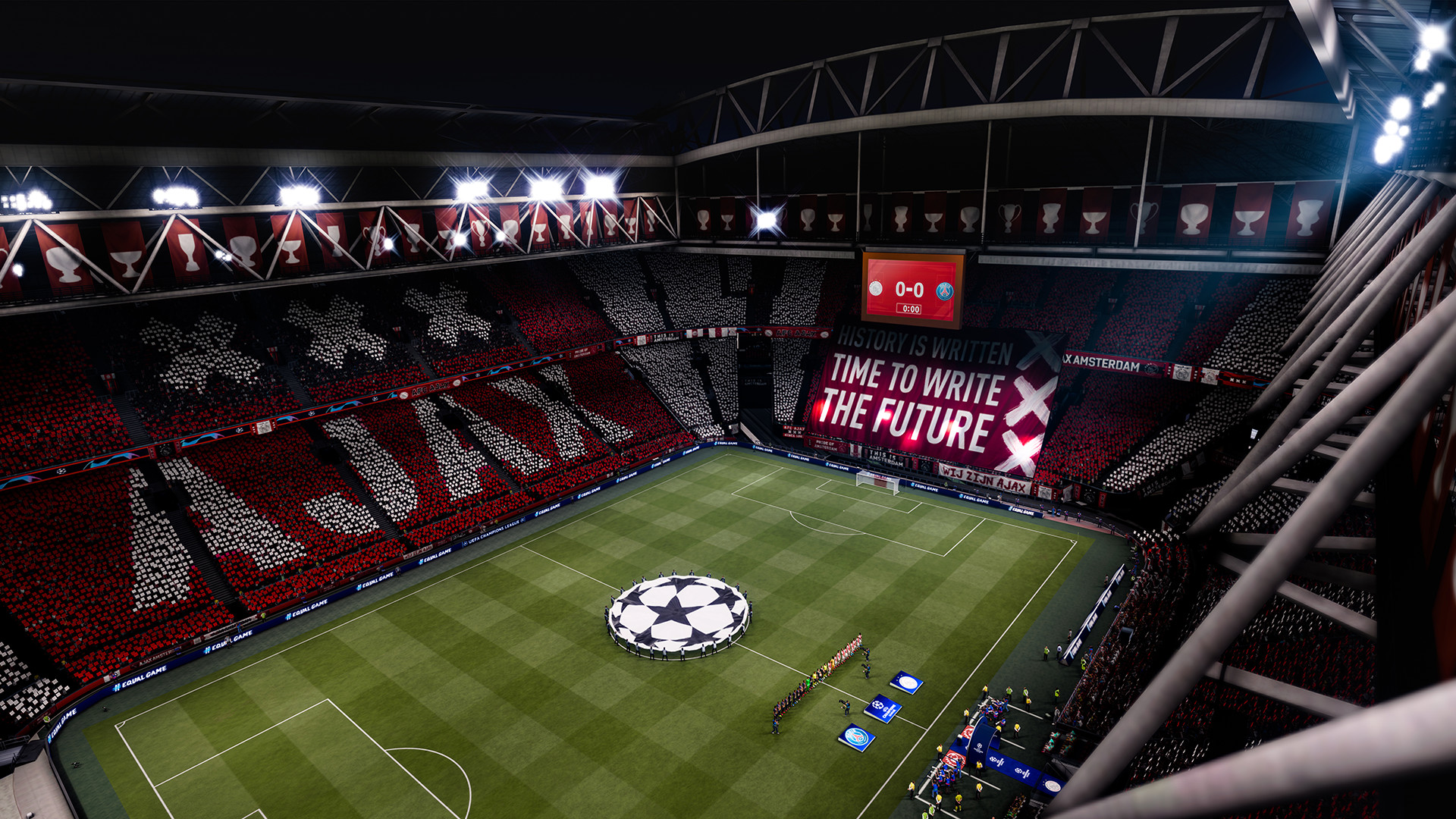 The simple truth is, does any of this matter? FIFA has become very little more than a £60 entry fee into FIFA Ultimate Team, EA Sports billion-dollar mode that has seen the franchise become bigger than ever because for some reason it's exciting to see teenagers open card packs on the internet whilst lining the pockets of EA shareholders. The culture of FIFA revolves around FUT, you simply can't have one without the other and EA Sports are obviously perfectly happy for this to continue, adding significantly less each season to other modes purely to fill up the value. As a longtime fan of the series (sup FIFA 94), it's really rather sad to see what it's become. And those features that I once admired the series for are either removed completely or simply added to so incrementally you have to wonder why they even bothered at all.
And there's where it's worth starting because, naturally, FIFA 21's biggest updates are within FIFA Ultimate Team and frankly, nobody should be surprised by this. Over the years I've dabbled, and yes, 21 is no different. I just can't get on board, for the purposes of this review though I wanted to see what the fuss was about this time around and the addition of FUT co-op, where you and a friend can battle against the AI and take on multiplayer matches with a mate is a welcome one, as FUT can be a tiresome process at the best of times, so being able to share the load with a buddy makes a good amount of sense.
The grind and the business model of FUT is what keeps me away. EA Sports have made it pretty clear they have no intention of really revolutionising the legacy modes in FIFA anymore, safe for a few small updates, in favour of maximising FUT profits. It's difficult to argue against, but the lack of innovation in FIFA 21 is an enormous elephant in the room that can't be ignored and this entire generation of FIFA has felt like it was never once moving forward. It's because of the success of FUT. If people stopped buying into the mode then perhaps we'd see a completely new version of FUT and FIFA as a whole. As it is, why would they innovate? What's the point? Until their profits take a nosedive there simply isn't one, and that's the saddest thing of all.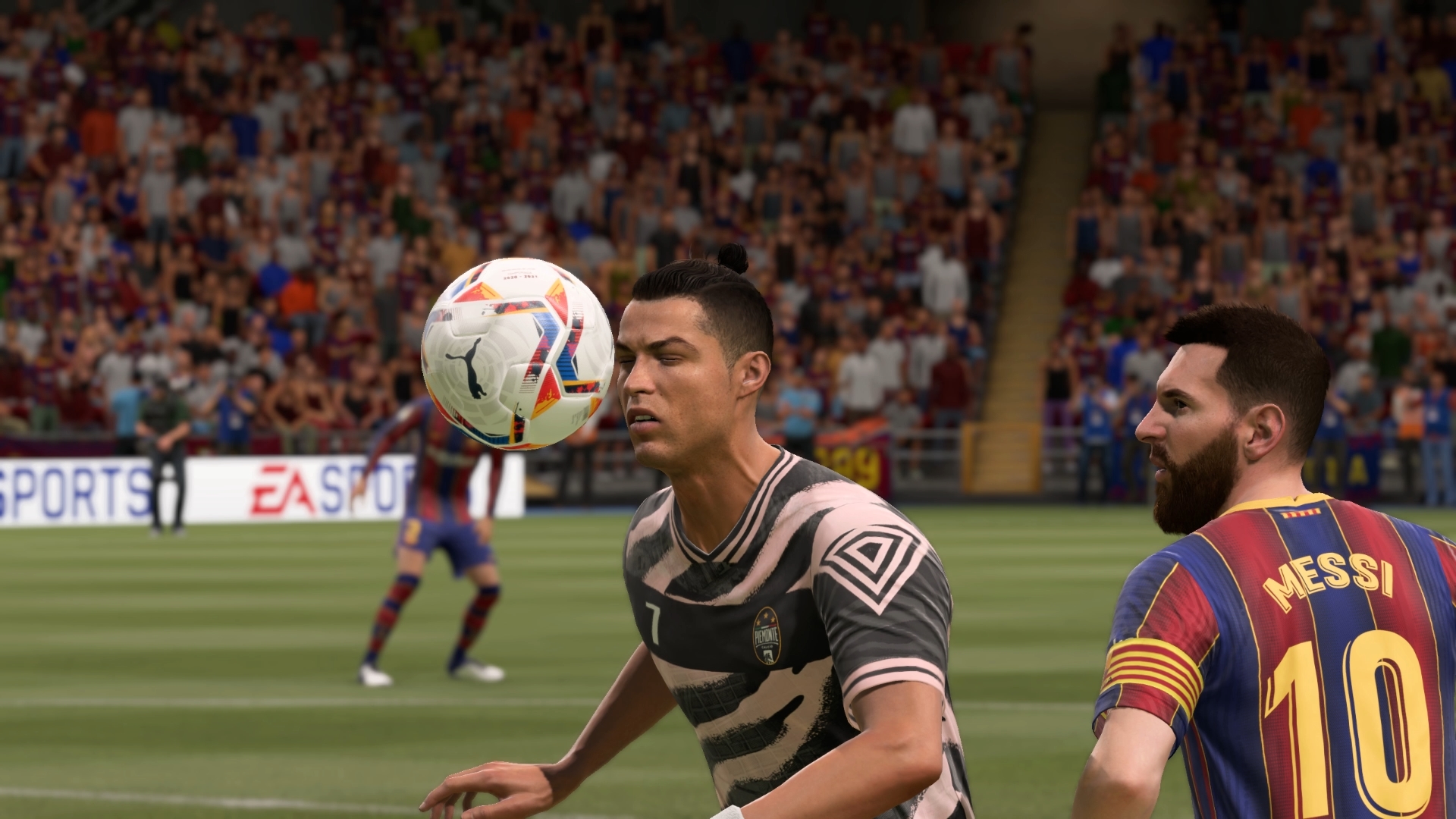 On a more positive note, FIFA 21 is fundamentally a better video game than FIFA 20. But then, that's like saying getting punched in the face is objectively superior than being kicked in the balls. It's better purely because running with the ball just feels better than it did last year. I no longer feel like I'm running through jelly and being held back by an invisible rubber band. 21 feels far more like your team is supporting you either running forward or heading back, in a similar way to 18. The new speed boost is beneficial for players that can actually run rather fast in real life, so if you want to unleash Rashford down the wing against Spurs and actually score then that's a thing you can do, despite how unrealistic that currently appears to be.
I'm grateful that FIFA 21 feels more 'arcadey' than realistic. I've never needed FIFA to play like a simulator. If anything it's terribly boring when football games play out at the same tempo as their real-life counterparts. Beyond anything else, it feels 'fun' again, and it's taken two years for FIFA to feel 'fun'. You know, like it's supposed to. I was a big fan of this years PES and it's surprising that they've both gone down the more 'hey fun is arcadey football!' route when they're normally further apart than people care to admit, but the simplicity of FIFA's setup, which remains unchanged as it has done for years, is one its strongest assets.
My beloved Career Mode returns and barely a stone has been turned to see it improved upon last years iteration. Amazingly, one of the games worst new additions – cut scenes between managers, agents and players to hash out contracts – are remarkably still in the game, despite them being the longest, dullest aspects of the entirety of recent FIFA games. Every single time you need to 'negotiate' these pathetically animated scenes pop up and you can't leave them until you've made a deal, which takes far longer than it ever needed to. Before this of course, you could just type some numbers in and send it off. Why we need five minute animated scenes for this purpose is beyond me because they're unfathomably shit.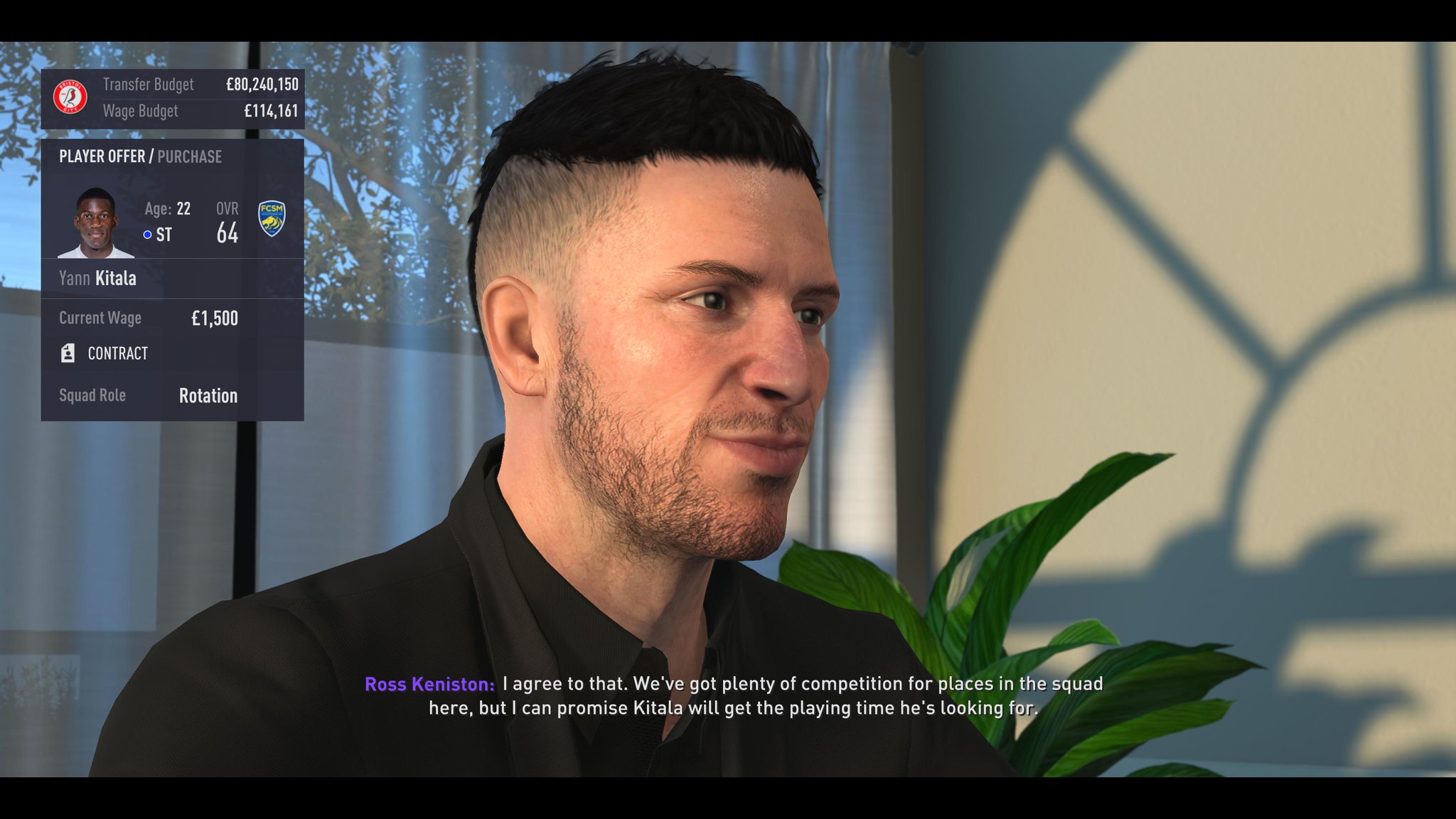 In Be A Manager, you can now choose to Sim a match by watching a top down view of the match with Football Manager esque (I say 'esque', it's basically a blatant copy) circles playing the match before you. There's not much going on here and weirdly you still have to leave the screen if you want to make a substitution, and if you find any moment during the game isn't going your way you can jump in and take over. It's fine, though I found it far more useful as a way to see games out when I knew I had won them rather than an alternative to playing. It's pretty remarkable one of the biggest new additions to FIFA 21 is the option to simply not play the game at all and just watch.
Elsewhere it's much the same, though the Youth Development has seen a significant upgrade and a focus this year. It's now far easier to scout a future star and if you really want to, sign them up almost immediately and get them training with the rest of your team. Your scouts are seemingly head over heels in love with you and will do whatever they can to please their overpaid overlords, so be sure to take advantage of the new system which can see major benefits over time. Dealing with headlines and mopey footballers is still present and correct, along with press conferences that feel just as long and drawn out as the transfers do, though these can have significant repercussions on your team's morale, so be sure to choose your answers wisely, even if it does get boring enough that you can simply can choose to not turn up to them and forget they ever existed.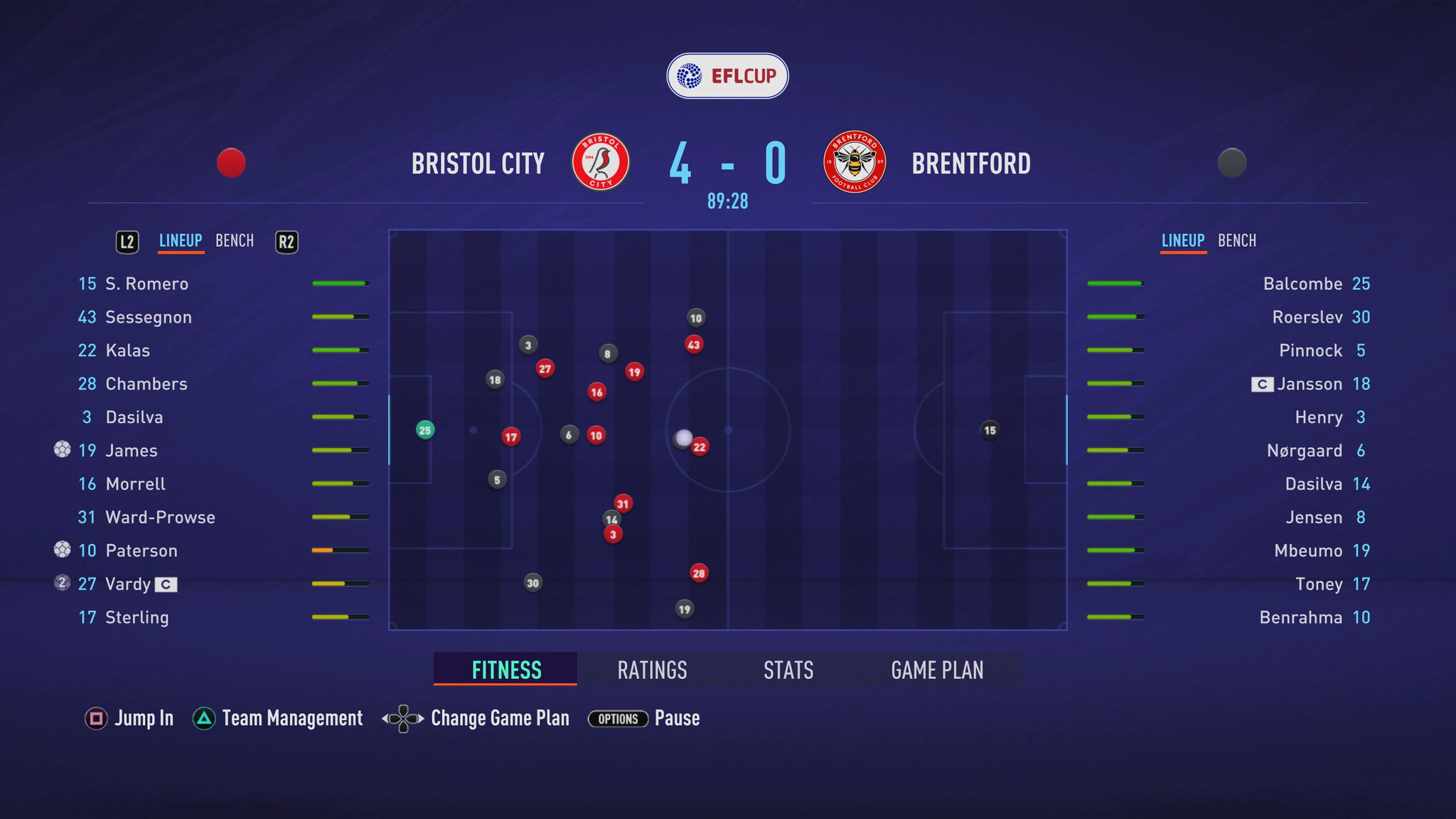 In my league I'm currently pushing Bristol City for a promotion into the Premier League and have them in the semi-final of the FA Cup, having already won the EFL cup. My rating as a manager has gone down to 65 (from 80 where you begin), and I just don't understand how this is possible. The classic FIFA issue of starting as a new striker for Man United, for example, banging in hat-trick after hat-trick and still being loaned out to Accrington Stanley for the season is still very much an issue, as regardless of how well you begin, the 'Career' mode will always work in exactly the same way, which again makes it far more realistic to start from the bottom and work your way up. You can still smash Liverpool in the finals of cups, if you like. It's never not satisfying.
And yet I play Career Mode because it feels safe, and I know EA Sports don't really give two shits about it anymore. I know what I'm getting into, I know exactly how each season will play out depending on who I play for / manage, and this lack of innovation is starting to grate. The Pro Mode is where it's even worse. The regular matches with the camera on you and only you remains a dumbass way to play any kind of team sport match and offers very little in the way of feeling like a multi-million pound footballer and instead, you get the experience of wondering what it's like to be Robbie Savage, effectively can't believe your luck that you're even on the pitch and you're looking around like you've won a competition. God I miss The Journey. #BringBackDannyWilliams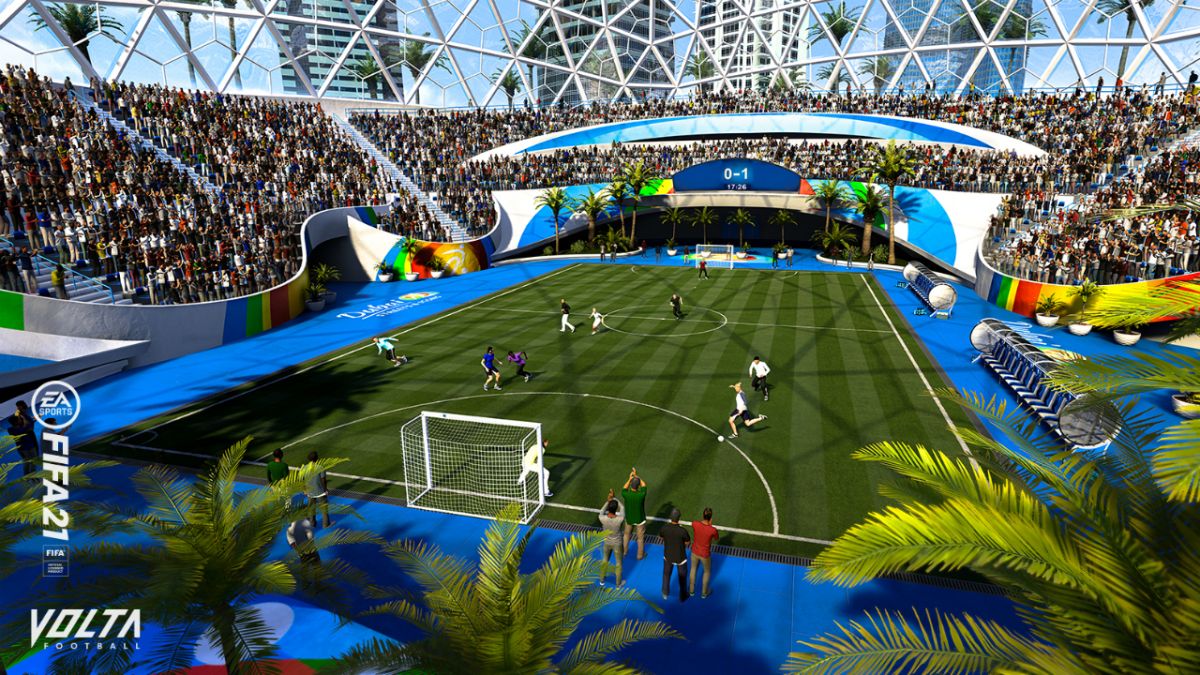 And then there's Volta, added to bring back the glorious memories of FIFA Street and add to the whole 'hey Gen-Xers, look at how cool FIFA is. We're so cool, you can play on the streets man yeah hip and jive'. Ugh. An hour into Volta and I'm exhausted. I'm pretty certain I'm not yet too old to enjoy it, but there's something about it that I'm pretty sure is meant to strike some kind of nostalgic nerve. It just doesn't. This years major addition is drop-in online team play, something oddly missing from last year's edition.
Granted, the only match I could get was with a friend of mine and that was only because it was pre-arranged. Is anyone playing Volta? It's fun to jump into but I've never seen out the mode in full because I just get bored / a headache.
It's miles better than Street Power Football, mind. So, I guess it has that going for it? One could argue that we may not see Volta in FIFA 22 if this carries on. A full-on single player campaign like The Journey, at least on my end, would be such a welcome replacement. I've probably got more chance of finding Messi, Ronaldo and Maradona in the same FUT pack before that happens, mind.
The local modes are thankfully, still included. One of FIFA's best additions in years, being able to play random matches with your mates on the sofa with bizarre rules are still here, which is a godsend and ensures we can still all play FIFA together all year round without having to resort to taking each other on in pap like Online Seasons and FUT.
I appreciate I sound like such an old man in this review, but I'm tired and cranky when it comes to FIFA and I've got no interest in playing FIFA online with eight year olds. I'm surely not the only one.
So this is where we are. FIFA 21 is markedly better than FIFA 20, but it's just not good enough anymore. The various additions are fine, but they're not worthy of an entire iteration. The Frostbite engine is now beginning to look dated and one can only hope once the series moves onto the next generation we see an improvement in the presentation of the players, because they're looking rougher than ever and I'm not entirely sure how that's possible.
---
There's so much work to be done to make FIFA a viable contender again as a genuinely great sports game. The sad part is, I don't think EA Sports really care anymore.

FIFA 21 is available now on Xbox One, PS4 (reviewed on PS4 Pro), PC and Nintendo Switch.
Developer: EA Sports
Publisher: EA Sports
Disclaimer: In order to complete this review, we were provided with a promotional copy of the game. For our full review policy, please go here.
If you enjoyed this article or any more of our content, please consider our Patreon.
Make sure to follow Finger Guns on our social channels –Twitter, Facebook, Twitch, Spotify or Apple Podcasts – to keep up to date on our news, reviews and features.