Its influences are clear, but can Super Arcade Football be judged on its own merits? The Finger Guns review.
Its influences are clear, but can Super Arcade Football be judged on its own merits? The Finger Guns review.
It can be difficult to remember sometimes, given the all-pervading presence of EA's FIFA franchise (and, to a lesser extent, Konami's eFootball PES franchise), but there are other football games out there. Indeed, the lower-budget retro-styled football game has been something of a fertile breeding ground in recent years, with the likes of Kopanito All-Stars Soccer, Golazo and even the return of Dino Dini's Kick Off finding some success in recent years. One such title – Super Arcade Football from developers OutOfTheBit Ltd – first emerged in 2016 as an Early Access title. Now, five years and one full revamp later, this retro-soaked kickabout sim finally hits 1.0 and is ready for its close-up.
Look, there's not two ways around this, so let's get it out of the way right now – Super Arcade Football has been heavily influenced by a game considered by many to remain the zenith of the genre, Sensible Soccer. From the almost-but-not-quite-fully top-down persepctive and vertical pitch orientation to the insane levels of aftertouch you can apply to shots and passes to the very-familiar-but-not-quite-right team and player names, Sensible Software's classic has its DNA very firmly woven into OutOfTheBit's title.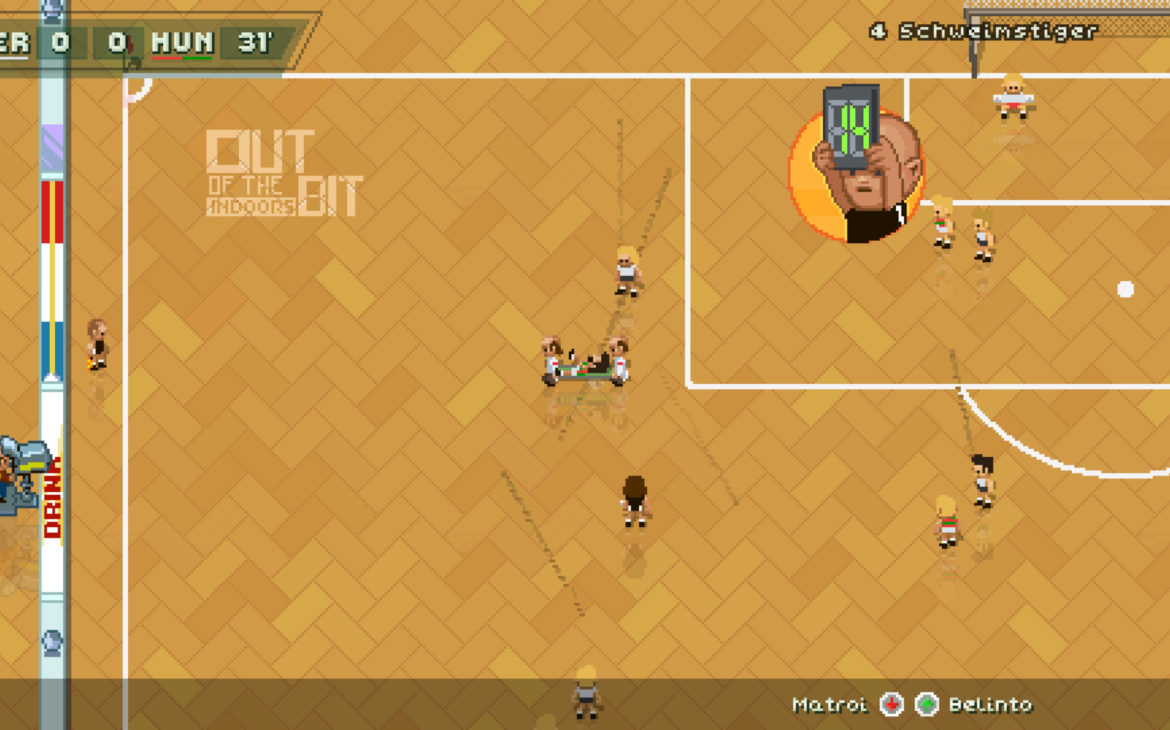 If this sounds like a negative, then I apologise, because it is absolutely not. Sensible Soccer remains widely revered for a reason, and it's to the developer's credit that they've taken those elements and been able to successfully build upon them in some regard. For example, Super Arcade Football makes terrific use of weather effects to imbue the action with an added level of atmosphere – play during a thunderstorm, and puddles will form on the pitch, you'll see slight reflections on the slick surface and the screen will occasionally flash white to depict nearby bolts of lightning.
Indeed, within the first ten matches of the game's story mode (more on that shortly), you'll have encountered the aforementioned thunderstorm match, a game played on a solid block of ice, one on a pitch seemingly laid on top of an oilfield and even a wooden indoor pitch. They're all simple aesthetic touches, but they work really well and add some welcome variety and charm to the proceedings.
Speaking of charm, that extends to another area where Super Arcade Football differentiates itself from some of its competitors – its story mode. In terms of gameplay, the mode essentially adopts a mobile-style system, comprising a series of levels with a maximum of three stars to be won per level. Gain one star (basically 'win the game') to progress to the next match.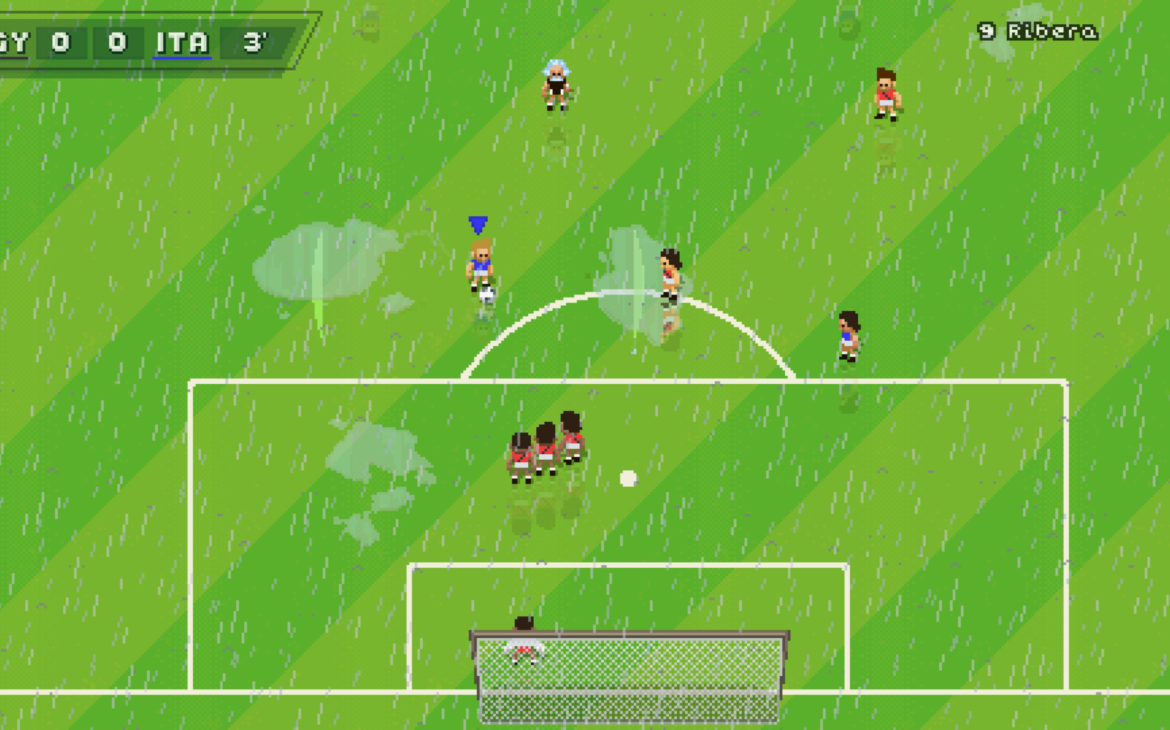 It's a simple set-up that works well enough, but the real source of interest in the story mode for me is in the story itself. You are Martin, a young man who discovers that his favourite club – Balarm – is about to go out of business, with the stadium set to be sold to Lord Admond, the evil manager of bitter rivals Snakesfield, who intends to knock it down and build a retail park. You happen upon Balarm's former manager and current owner, Old Joe, who allows you to buy the club for basically nothing and tasks you with reviving its fortunes. Don't get me wrong, it's not exactly Ted Lasso, but it's daft wholesome fun and the cutscenes – presented in a visual novel format – provide the occasional break from the on-field action.
As always, this is largely irrelevant, if the gameplay itself isn't up to scratch. Thankfully, Super Arcade Football didn't let me down here, although your mileage may vary. As someone who found Sensible Soccer's pace and lack of ball stickiness to be a somewhat overwhelming combination at times, the slightly more sedate pace and more forgiving dribbling here was most welcome. The refereeing is also hilariously lax, meaning slide tackles for days with little fear of reproach. All-in-all, it's a fun little arcade knockabout that – as with most games – becomes more fun in multiplayer.
Super Arcade Football also offers a decent range of modes to mess around with. In addition to the story mode, you can play online matches, as well as a pretty substantial number of tournaments – each with a different theme and series of parameters (if you really do just want to play Sensible Soccer, there's even a tournament that specifically caters for you!). And if you're just in the mood for a quick game at any point, the game offers a series of match modifiers, allowing you to adjust some of those parameters yourself, from the basic (change goal size or game speed) to the eccentric (yes, you can play during a meteor shower).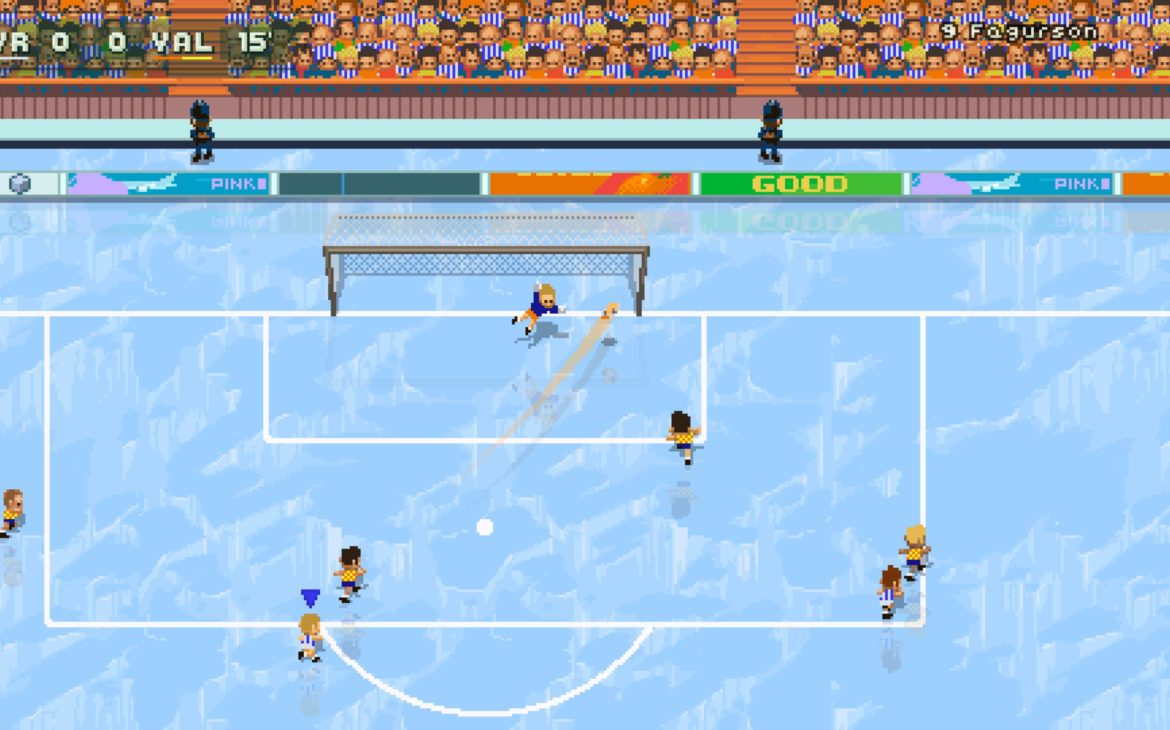 Above all else, Super Arcade Football recalls a time when football games could have a little fun with the rules, rather than slavishly devote themselves to realism in both tactics and feel. While the tactical side of the game does feel a little underbaked, making little to no difference to how any match plays out, it's ultimately irrelevant when the game does such a good job of meeting the criteria set by the middle word of its name.
---
It's not the game it was five years ago, but Super Arcade Football is all the better for it. You can do much worse than use a classic as the basis for your title, and it successfully marries the still solid gameplay aspects of Sensible Soccer with some modern graphical enhancements and general quality-of-life improvements to deliver a football game that offers a cheap viable alternative to the juggernauts of the genre. Well worth a shot (pun only slightly intended).

Super Arcade Football is available on PC through Steam (review platform), Nintendo Switch, iOS and Android devices.
Developer: OutOfTheBit Ltd
Publisher: OutOfTheBit Ltd
Disclaimer: In order to complete this preview, we were provided with a promotional copy of the game. For our full review policy, please go here.
If you enjoyed this article or any more of our content, please consider our Patreon.
Make sure to follow Finger Guns on our social channels – Twitter, Facebook, Twitch, Spotify or Apple Podcasts – to keep up to date on our news, reviews and features.