Hot Wheels Unleashed is pure nostalgia, wrapped around an absolute must-play of a kart racer. Find out why in this preview:
As a kid, Hot Wheels was the peak of creativity. Scalextric was great and all, zipping cars round miniature race circuits, but it wasn't loop-the-loops. It wasn't launching through a dinosaur's mouth into a barrel roll, was it?
Cracking out those kits and making obscene tracks around the dining room table was the best. It annoyed your mum, your dad was probably secretly envious that he didn't think of it, but you didn't care. You just had to make sure the dog stayed lying down for the final jump.
Naturally, as you get older and such, these things get put away. You still see the adverts, or some insanely rich kid unboxing one on YouTube, and it takes the mind back to a happier place…
But now, thanks to Hot Wheels Unleashed, you don't have to reminisce. What you can do instead is recreate those insane tracks you've envisioned, with some of the sweetest Hot Wheels cars ever rendered. Let's find out what I learnt in the preview build for Unleashed.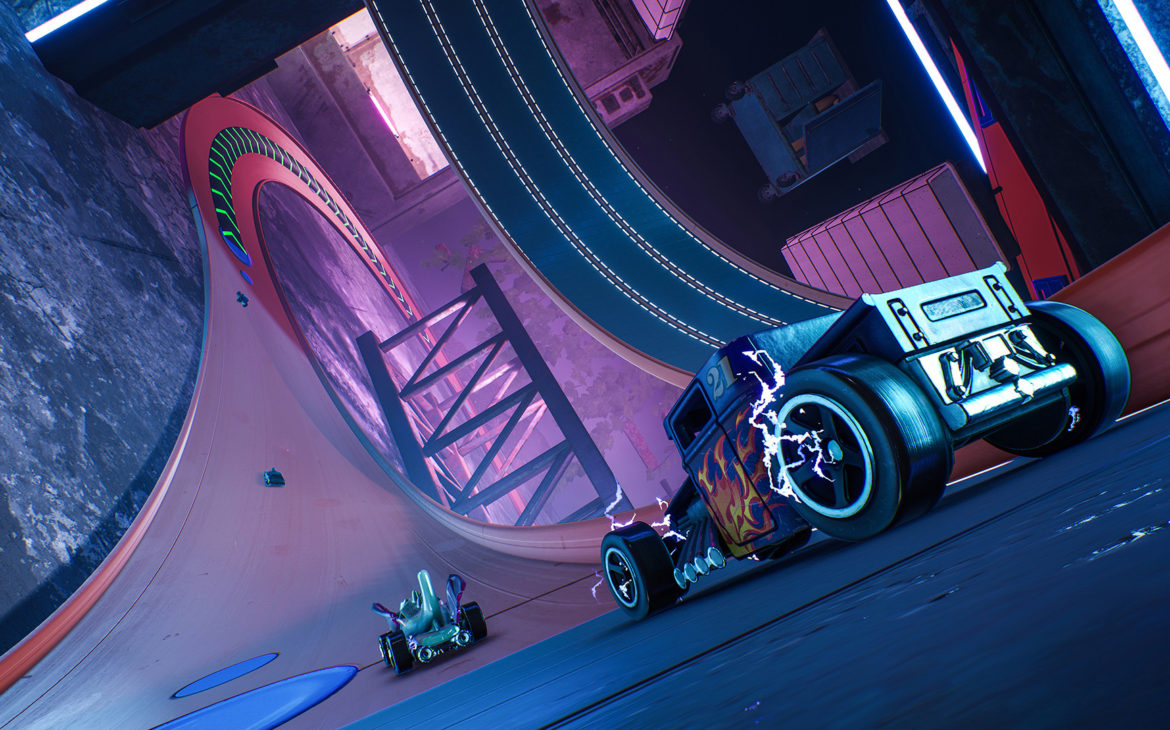 Leading The Way
Keeping this short and sweet, Hot Wheels Unleashed is a kart racer. However, unlike Mario and Sonic's iterations, there is no weaponry on hand here. It's a plain and simple, lap-based or point-to-point racing system that we're so familiar with. What I am omitting from that summary is the phrase "no frills".
You remember that little nostalgia trip above about the insane tracks you could build? Well, Hot Wheels Unleashed is that vision come true. Loops, vertical walls, magnetic strips defying gravity and orientation, the lot.
It's all realised in graphics that look so life-like you can see the plastic sheen reflect in the light. The moulded spider that spits pace-stopping webbing looks straight out of a Mighty Max playset, as it should! Hot Wheels Unleashed is going for the realism of our childhoods: not Gran Turismo, but grand twists and turns of a child's imagination.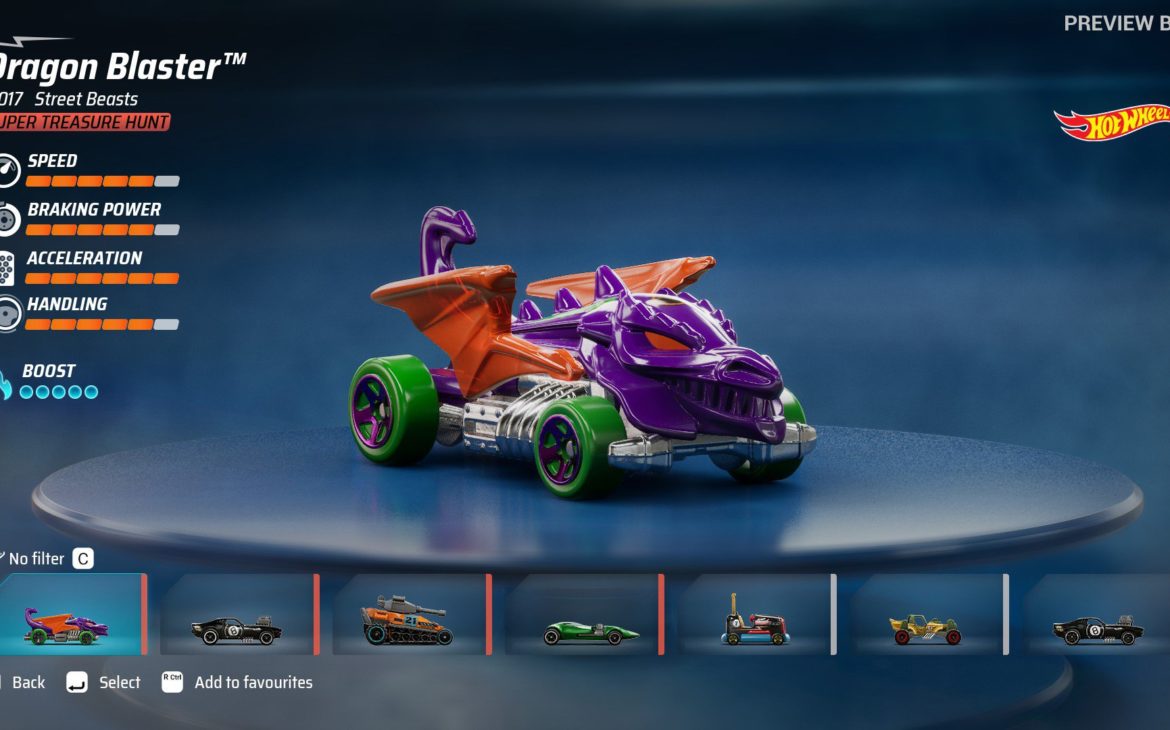 Got, Got, Need…
The other main draw of Hot Wheels Unleashed is, of course, the cars. Even if you didn't have the tracks, collecting the ultra-cool diecast miniatures was equally as awesome. In the preview build I got to play, I had thirty three to play with. Admittedly, some were "rarer" versions of the same car, but they all looked incredible just the same.
This is because they look exactly as you remember them. Milestone, known for their realism in motorbike games, haven't tried to make these miniatures look realistic, however. They've made them look real. As in; the real metallic shine of paint to a plastic formed supercharger. The imitation molded plastic join lines of an exhaust. The tiny screws holding plastic alloys into metal/plastic car models. You can clearly see the tinted plastic eyes in Skull Crusher, for example.
It's what makes this game feel genuinely nostalgic, rather than an imitation of any other arcade racer with Hot Wheels in it. Milestone have made the game we've always wanted: a digital playground to race toy cars in. And that is why I love it.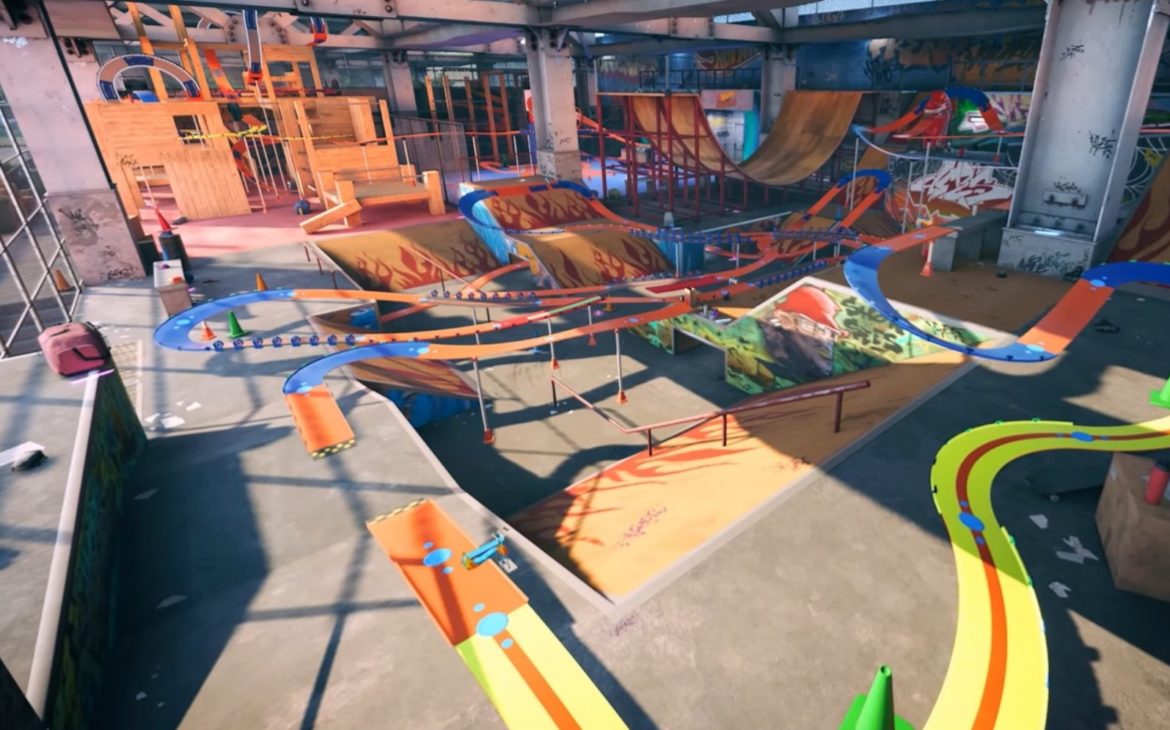 Trials and Titillation
The only drawback to the preview build I had to play with: no track editor. Much as it would have been nice to build one with the help of my streaming community, it wasn't possible. I mean, I know I lack creativity, but with an audience throwing suggestions out, it would have been sick. Ah well…
But what I can see happening, and appreciate, is that Hot Wheels Unleashed is going to have a track community akin to that of Trials or Trackmania. And that's what will keep it alive. Sure, the single player avenue will be there for speedruns, shortcuts and whatnot, no doubt there.
But the meat of this game is going to see the myriad of mind-boggling courses that the community will come up. Now we at Finger Guns had a blast with Hotshot Racing, so I can see this surpassing that level of excitement. Imagine the hours spent trying new community-made tracks to destroy each other on…
It's going to be carnage… and I welcome it.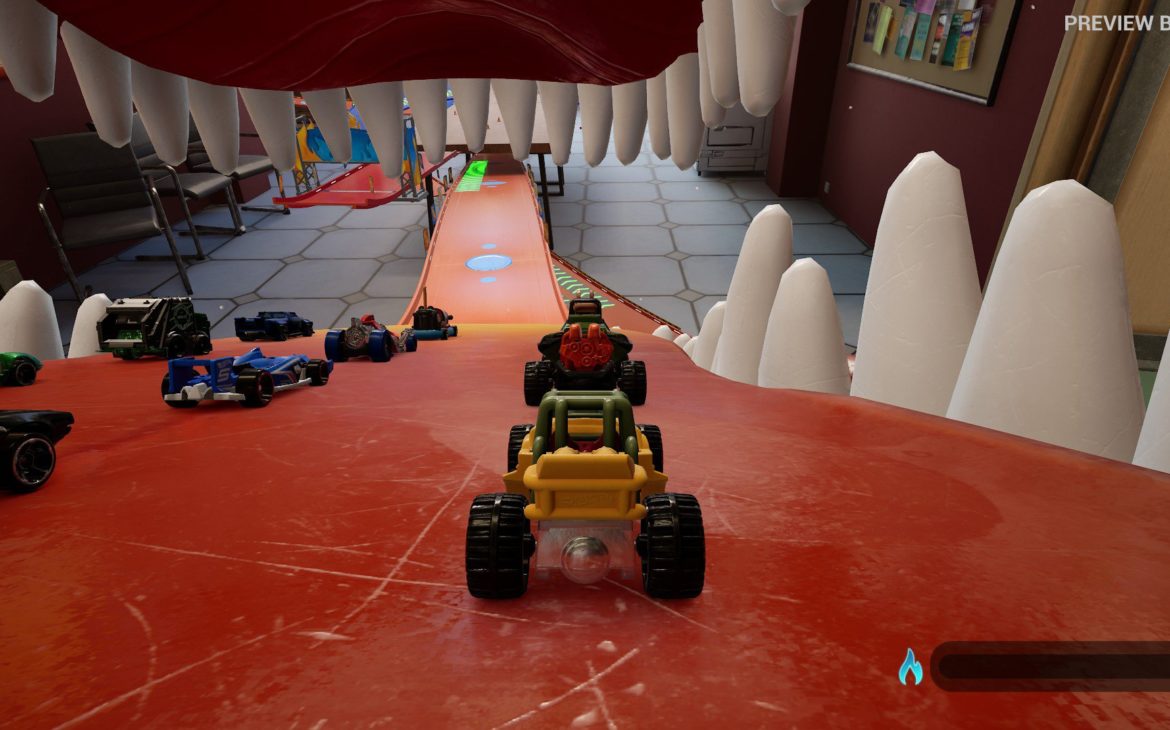 Get Those Wheels Hot and Ready to Be Unleashed
The final word of my time with the preview build: it's incredible. It's an old school kart racer; pure racing with drifts and boosts, no weapons. But what it lacks in weaponry and explosions it more than makes up with tight and twisty tracks, breakneck speeds and a sheer sense of fun we sorely need right now.
It put me in mind of Extreme G and F-Zero GX: that weightless feeling of speed and cat-like reflexes on the controller. Couple that with some absolute nostalgia-inducing, flashback-triggering collectible cars and you've got an instant recipe for possibly this year's hottest game (pun intended).
If you would like to see how much my excitement peaked, you can watch my stream here.
---
Hot Wheels Unleashed is available from September 27th 2021 on PlayStation 4, PlayStation 5, Nintendo Switch, Xbox One, Xbox Series X | S and PC.
If you enjoyed this article or any more of our content, please consider our Patreon.
Make sure to follow Finger Guns on our social channels –Twitter, Facebook, Twitch, Spotify or Apple Podcasts – to keep up to date on our news, reviews and features.