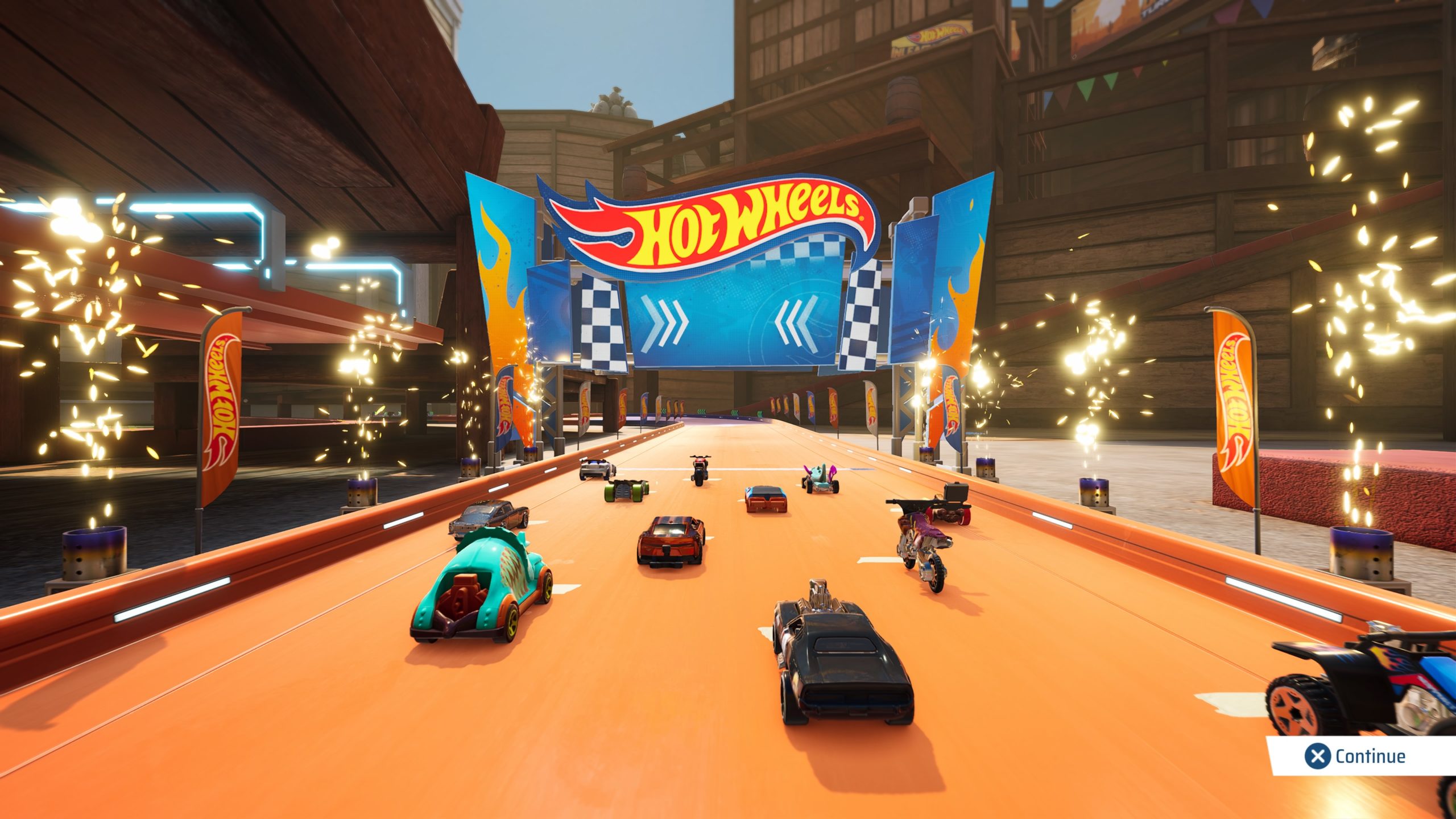 Hot Wheels returns in another absolutely stunning racer that lives up to the original and expands upon the highs. The Finger Guns review:
Way back in 2021 us lot at Finger Guns were somewhat surprised by Hot Wheels Unleashed. The genuinely fantastic racer was hugely well received by us, bestowing upon it our highest possible honour with a 10/10 from our own Greg Hicks. Hot Wheels Unleashed came out of nowhere and became a possible game of the year contender and an excellent racer.
And yet here we are in 2023 with the game's sequel, Turbocharged. And oddly we were surprised to see it released at all. We're hugely thankful it sold enough to turn into a franchise so sure enough we're going to jump on these tiny tracks all over again, and it might be even better this time round.
So what's new? Well first up there's a brand new campaign focusing on the beasts in Hot Wheels from yesteryear – dinosaurs, sharks, a big ol' octopus and whatnot. Well they've been maximised and somehow it's up to you and your Hot Wheels car to take them down and save the city. The new courses – all of which are brilliant, it has to be said – have all been taken over the beasts and you'll have boss level to take them down by tearing it through items and sections of the course to 'damage' the beasts that's taken over the course.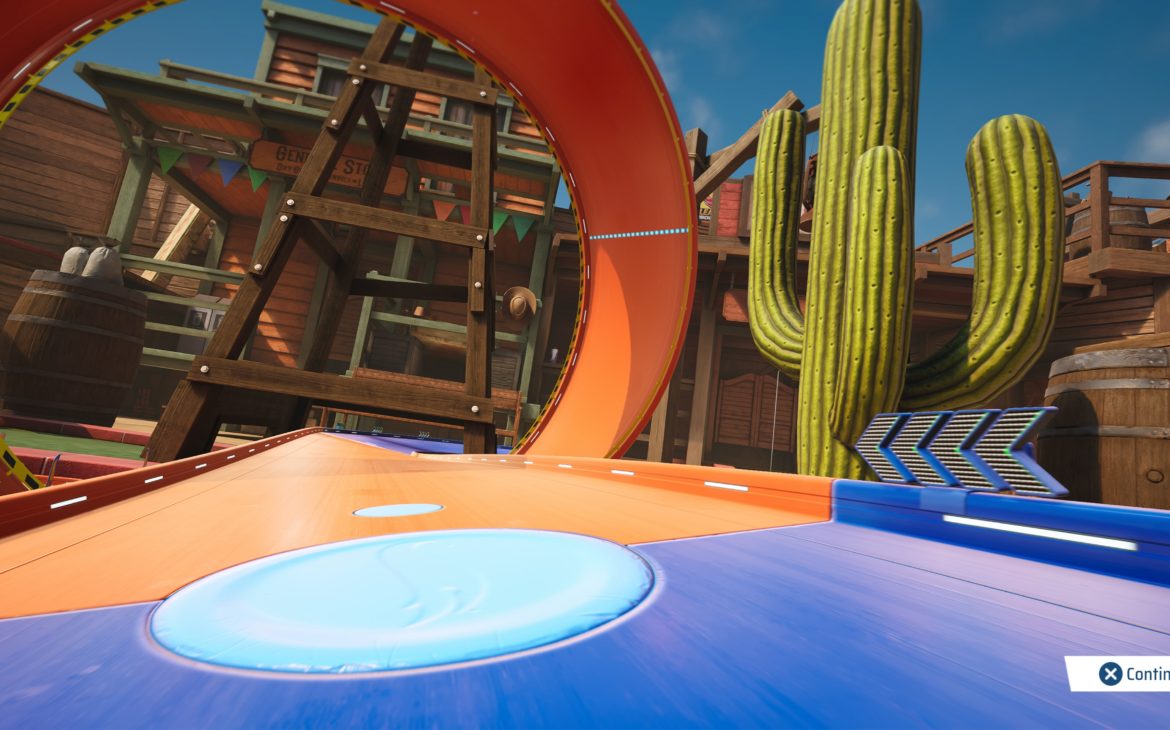 What's come over from the original is the time trials, drifting challenges across the city which offer a significant amount of XP for winning along with currency and additions to customise your cars. There's plenty to unlock so the grind never feels unwarranted. It's also too much fun to put down.
Perhaps the biggest addition to Turbocharged is in the races itself. Across the outstandingly designed tracks the sequel adds a jump, a double jump and the fantastic sideways dash, which adds dramatic changes to the tactics of the races overall. From using jump to get to a higher portion of the track (and finding some helpful shortcuts) or to tear it through a ring of fire and land like an absolute hero which doesn't ever get old. The sideways dash is helpful in tearing it through crashes and crashing opponents off course.
It's also super handy in boss levels as the aforementioned items you need to 'hurt' the boss are somewhat easy to miss if you're going a certain speed. The sideways dash alleviates this by immediately putting you in the line to hit it spot on and is my absolute go to in order to complete those levels. There's a whole new level of mechanics here that are unexpected and most welcome. Just brilliant.
The additional mechanics of jump and dashing is also helpful across the new courses. With the addition of obstacles and terrains that add another level to the original bringing additional variety such as sand, concrete and grass adding to the iconic orange plastic.
This requires very swift decisions to avoid a variety of barriers getting in your way or encouraging you to jump or double jump to stay on course. Jumping and sideways dash are also particularly helpful when avoiding vapid attacks from the beasties that are staring down at you from above while you absolutely throw yourself around in a shiny tiny Austin Martin.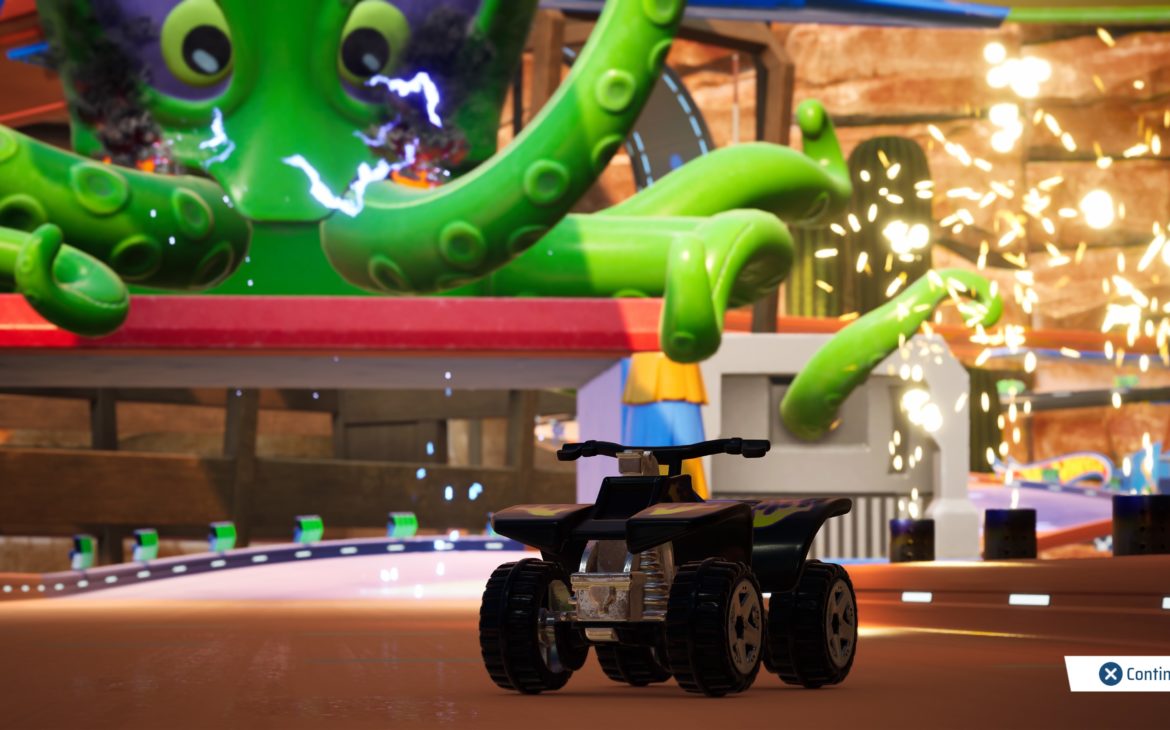 Talking of vehicles, the line-up is once again an absolute wonder. Over 130 vehicles included to buy and unlock throughout really make you feel like you're building your own Hot Wheels collection and frankly made me wish the game went all LEGO Dimensions and allowed me to have a collection of these cars that I could place upon a cool base and just appear in the game. Maybe Hot Wheels Unleashed 3 will take me up on this absolutely brilliant idea.
Anyway, particular events will require particular tiers or certain types of cars to complete such as drifter, swift, rocket, off-road, balanced and whatnot. The Tiers will change when using the aforementioned skill points to upgrade your vehicles to get to the Ultimate level, unlocking more abilities to add to your cars. The Garage is where you can view and edit your collection and customise them with liveries and spending that currency you've earned across the game to buy new stuffs.
Thankfully this time round though, there are none of those pesky loot boxes which was certainly a cross on the first game. Turbocharged includes a shop featuring cars that rotate on a daily basis so you have much better control over the cars you actually want in your collection. I've filled up my collection with some rather neat Austin Martin's and enormous 4×4's, along with some delicious motorbikes and buggies that are a pain to control but absolutely cane it around the orangeness with reckless abandon. It's so much fun.
There's wonderful moments throughout that add to the hugely polished experience overall. If you're using a motorbike for example, it's initially a little wild seeing no rider on top but then you remember of course that these are meant to be Hot Wheels, and suddenly being immersed in that world is enormously engaging, reminding you of why it's just so much fun to be messing with Hot Wheels cars on these spectacular courses created for maximum enjoyment and very little else.
The framerate is steady throughout, with performance and quality options available to you in the options mode. Performance allows the game to perform beautifully at a gorgeous 60fps, and runs like a dream without a hint of slowdown. From a technical standpoint Turbocharged is an absolute belter, allowing you to look lovingly at the shiny vehicles you've collected during your time with the game and marvel at these glorious new courses.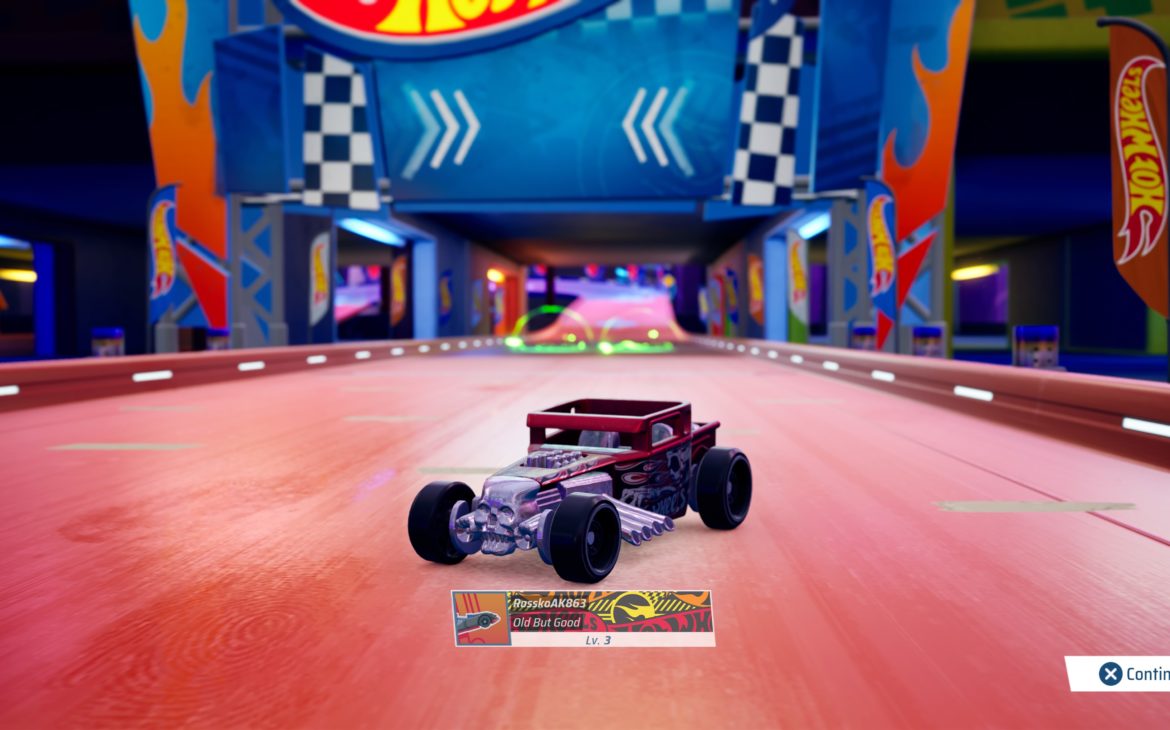 So Hot Wheels Unleashed 2: Turbocharged is an upgrade to the original in damn near every way. The robust new mechanics add a new level of focus and immersion in the races. The story campaign isn't going to win any awards for originality or is in itself at all exciting, but as a way to link all of this madness together it'll suit fine.
If there's a slight niggle it would only really be that this doesn't feel as surprising as the first game did, which came out of nowhere and absolutely blew us away with its terrific racing and originality in celebrating the Hot Wheels franchise to its fullest.
Turbocharged makes the races better and more varied by adding terrains, jumps and obstacles to an already breathless single player experience, which is fantastic but doesn't quite have that 'knock your socks off' wow moments of the original which elevated it to legend status.
As a whole the game is hugely improved from the 'doesn't-need-to-be-bettered' original, but perhaps that lack of wonderspark is missing, even if it is very difficult to complain at all about what's on offer.
And for a budget(?) price of £44.99, what's included is hardly anything to sniff at. You're getting your money's worth and then some with Turbocharged. Spider-men and plumbers be damned. In a week of stacked games, don't sleep on Turbocharged.
We need that 'toys-to-life' threequel, after all.
---
An absolute belter of a sequel that improves on the original in every way without ever feeling overstuffed. Hot Wheels Unleashed 2: Turbocharged is a stunning racer that builds upon the groundwork of the first with aplomb, adding new mechanics that make each race feel breathless and relentlessly exciting.

Hot Wheels Unleashed 2: Turbocharged is available now on PS4, PS5 (review platform), Xbox One, Xbox Series S|X, Nintendo Switch and PC.
Developer: Milestone
Publisher: Milestone
Disclaimer: In order to complete this review, we were provided with a promotional copy from the publisher.
For our full review policy, please go here. If you enjoyed this article or any more of our content, please consider our Patreon
Make sure to follow Finger Guns on our social channels. Twitter, Facebook, Twitch, Spotify or Apple Podcasts – to keep up to date on our news, reviews and features.