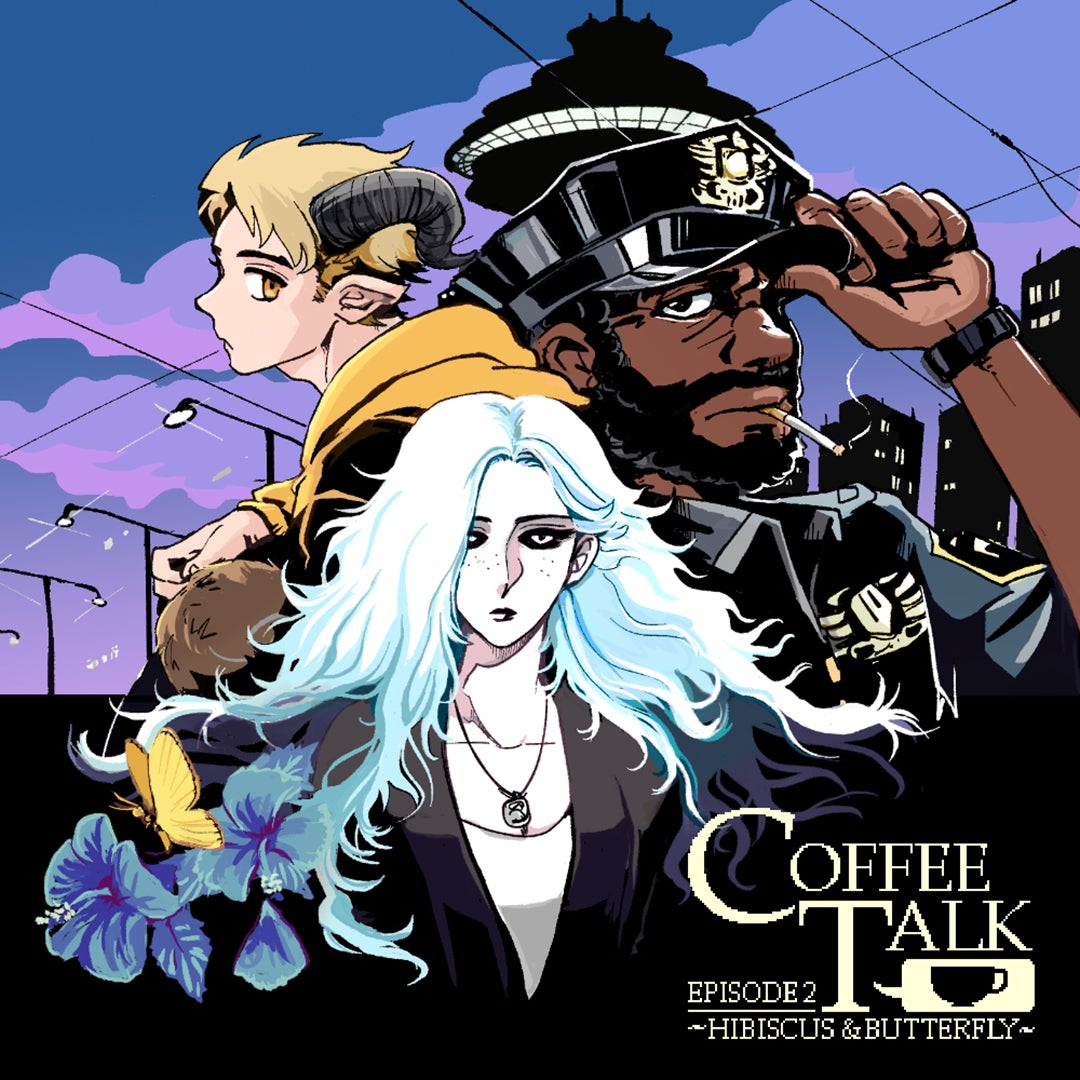 Care to spend a few nights behind the bar mixing coffees and listening to the problems fauns have with social media? Coffee Talk Episode 2: Hibiscus and Butterfly is just the game for you. The Finger Guns review:
Coffee Talk 2, or Coffee Talk Episode 2: Hibiscus and Butterfly (to give it its full title) has had a fair time to brew, three years in fact. The original game came out in January 2020, but over that time the concept has lost none of its rich flavour. In fact, trying a new concoction with some new ingredients seems to be exactly what the barista called for.
A narrative-driven barista simulation game Coffee Talk 2 tasks you with making cuppas for your late-night café clientele, but mostly it's about listening and talking to them about their lives and problems. If visual novels aren't your thing, or you need action gameplay, you aren't going to find it here. Instead, there's full-bodied chilled narrative loveliness from start to finish, and minimal gameplay interaction beyond experimenting with beverage combinations. Coffee Talk is a very different brew.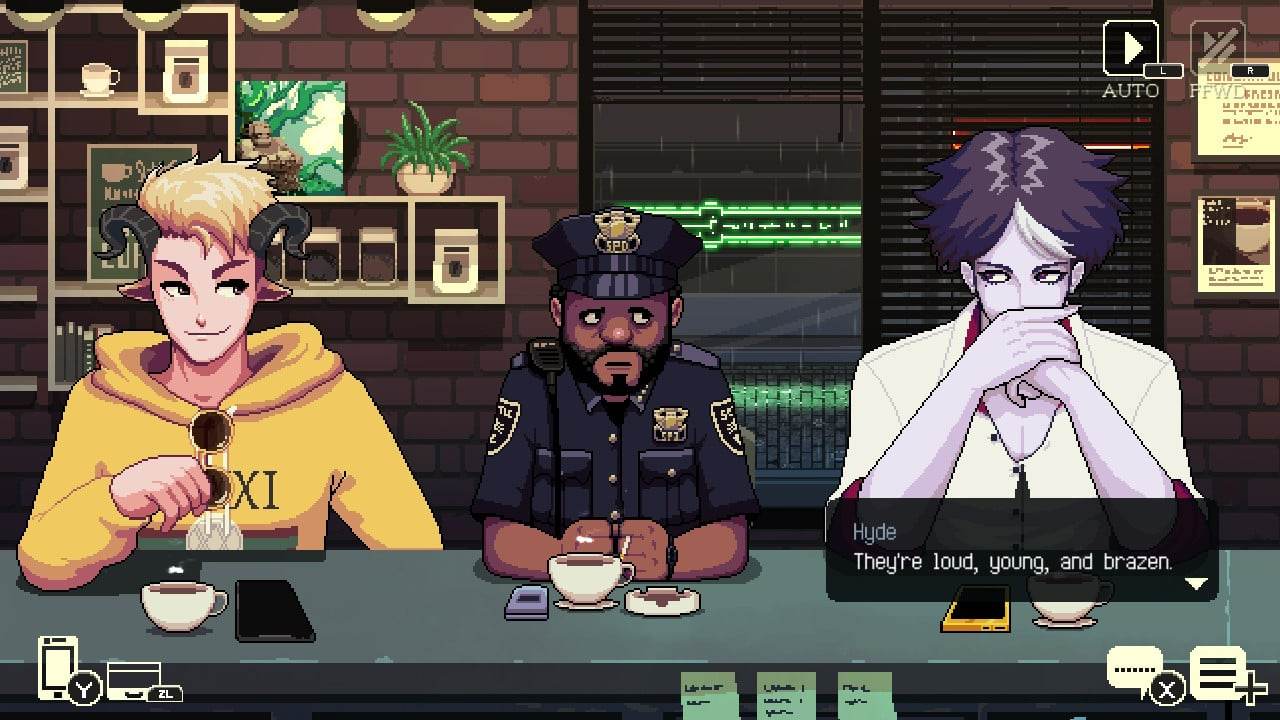 Sleepless in Seattle
Coffee Talk 2 is set across fifteen nights of rain and thunderstorms in downtown Seattle. If you played the first game you'll know there's a cozy little joint called Coffee Talk just off the main drag that only opens late. Like seriously late – doesn't even open doors until it's dark out. The clientele are a different breed; elves, succubi, vampires, orcs, aliens, even a cop, you name it, if they need a cozy place to unwind late in the evening, it doesn't matter your race, creed or species.
This time around there's a slew of vandalism going on around the block and Officer Jorji is trying to find the culprit and Hyde the vampire has moved back into town, but lost his direction in life. New characters stop by including Riona, a banshee struggling to make it in the opera scene and with rejection and harassment online, and Lucas, a chirpy and idealistic satyr influencer who wants to help others succeed.
It's set at night for a reason. These characters can't sleep, their minds run a mile a minute, and to help…they get coffee. Well, no, to be fair, many of them get the new relaxing Hibiscus and Blue 'Butterfly' Pea teas of the game's title. And then they unload – their lives, their problems, their hopes and dreams. A game this steeped in the art of conversation lives and dies on its dialogue. Hell, you can't call your game Coffee Talk and not have a fair bit of confidence in your conversational bonafides.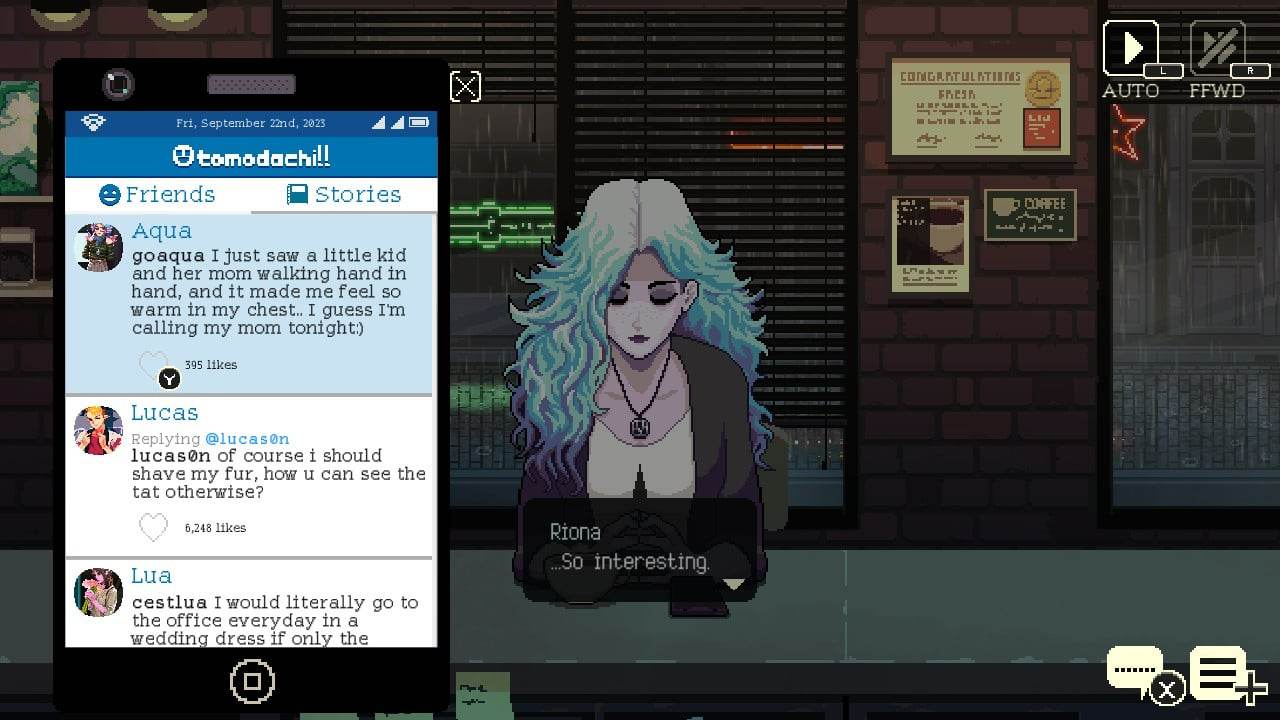 And Coffee Talk 2 never curdles the milk, not once. It's all beautifully written from start to finish. The last two days brought tears to my eyes. It's heartfelt and genuine and written with wholesome conviction. Coffee Talk's world of fauns, banshees and vampires is a foil for our own. They're metaphors, stand-ins for our current world with all its myriad races and cultures. The best of fantasy and science fiction comments more on our modern world and problems than on its own future world, and many of Episode 2's best stories are about acceptance, identity, and fast-moving social media.
Good dialogue aside, I don't think any coffee shop this side of fiction would be able to get people to open up and talk this much. Some people talk in a bar, after alcohol shorts their inhibitions, but over coffee to a barista? Certainly not in the UK anyway. I've given a few baristas my name, sure, but that's where the conversation usually ends.
Despite its great writing, I would say it is not the best start-off point. A lot of the progress returning characters have made is just assumed in this one. Like Gala's drink that keeps his werewolf changes at bay, or Aqua's previous struggles with her game and her relationship with Myrtle. Hyde the vampire and Jorji the police officer take the limelight of the returning characters, where Aqua, Myrtle and Rachel fade into the background. Most telling by their absence is Freya, the green-haired struggling fairy writer trying to make it big in the first game. It leaves space for others to shine, but for me she left a pretty big hole. There's still plenty of write what you know – influencers, game designers, struggling artists – the characters don't fall far from the dev's own experiences, but it's all the stronger for it.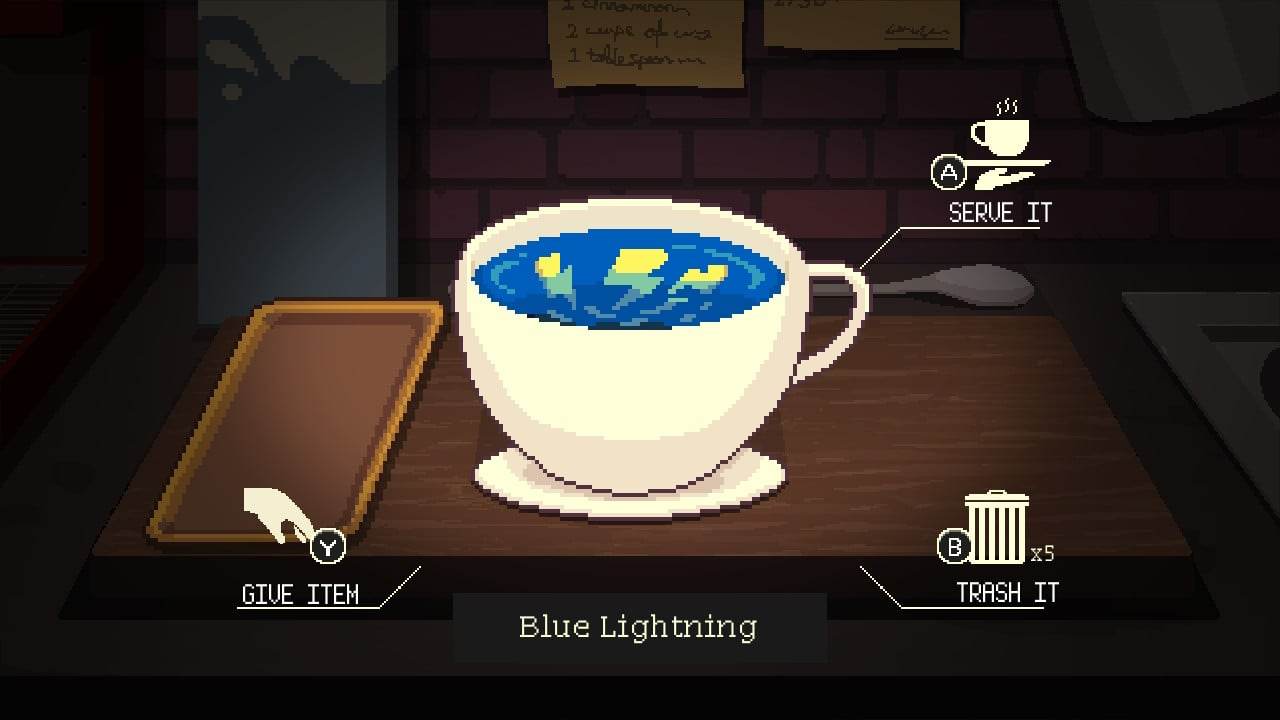 The Cup of Life
It's not all reading. Well, it almost is. But there's also brewing tea, and mixing that perfect coffee. We don't stray far from the recipe in Episode 2 – apart from some new concoctions and the Blue Pea and Hibiscus flavours, the gameplay is almost identical to the first game. Use a base, milk and flavourings to make a triple combination and hey presto, out pops a beverage. You aren't given dialogue options or choices on a reel, but the right drink can spark off new conversation.
You can also doodle on the top of any drink made with milk with a little Latte Art. I often went back to replay a day when I'd got some way in, just to make sure I got the right drinks and saw the extra dialogue. Don't be scared if you got a named drink, that's usually the correct choice for the situation. It's worth getting them and seeing characters open up a little more – sometimes it is literally the way to solve a few otherwise open-ended topics. However also don't be tied to it – the devs have done a great job crafting potential responses to a good number of slightly alternative drinks, and you won't have missed much if you got it a little wrong.
In Episode 2 sometimes a character will leave an item behind, or give it to you to give to another. You keep these in a drawer, and can bring them out with orders to again, spark new conversation topics. There's also Tomochill, which is essentially Facestagram on your phone, where you can keep up to date with patrons who might not be in that night.
Coffee Talk 2 beats to the same lo-fi vibe as its predecessor, with a soundtrack that's incredibly easy on the ears. It's also easy on the eyes with pixel art that's expressive and charming without being distractingly beautiful. Everything is kind of secondary to the stories and dialogue, but also integral to the whole package. Without art, music, drinks and a keen ear for the ingredients, you will miss vast amounts of good story. I didn't feel the new gameplay added all that much to the mix, but I also didn't begrudge Episode 2 not changing the recipe much. Why mess with a classic?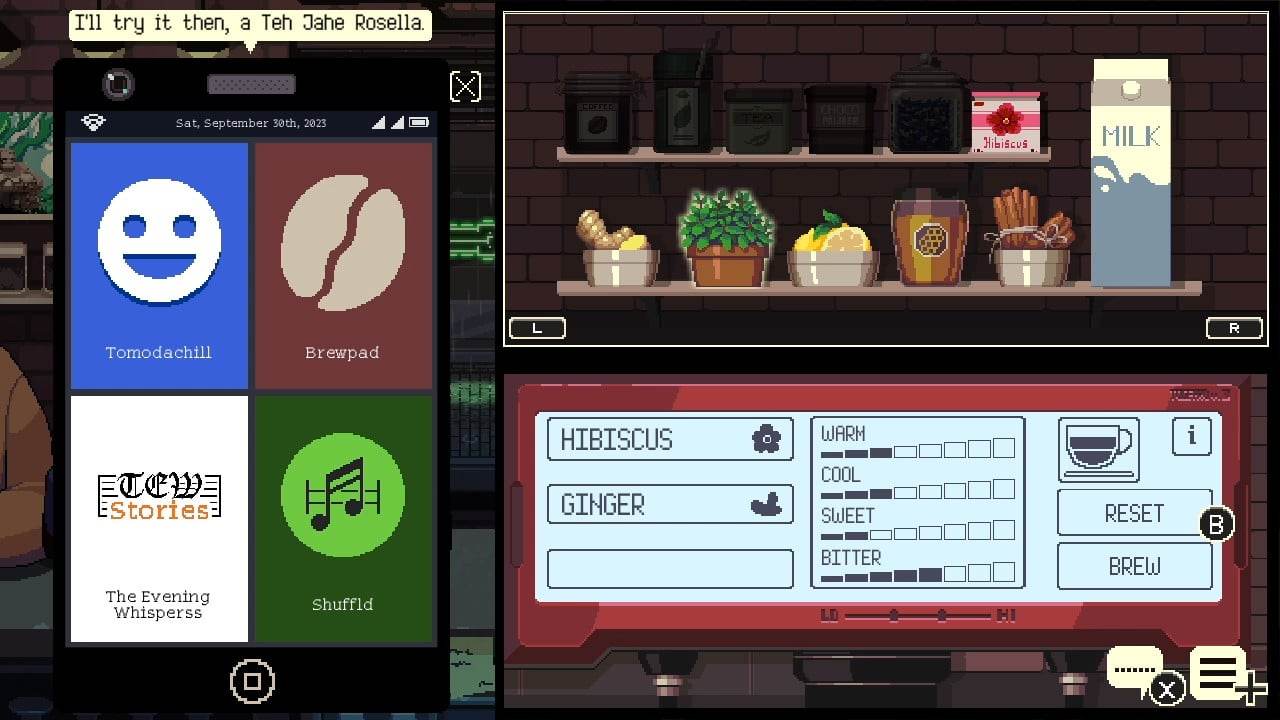 A Little More Conversation
I spent a very pleasurable few weeks with Coffee Talk Episode 1 and I was relishing the prospect of doing it again. Coffee Talk 2 made me feel like I was the returning character, in that same city, the same coffee shop, the same vibe. It feels like a really great overdue catch-up with old friends.
I admit, I am the target audience for this – I love narrative-focused games, I listen to lo-fi music to study, and I like a nice relaxing coffee. Hibiscus and Butterfly was a pleasure to spend an hour with each night, and suits the Switch no end. I didn't like to rush it, I liked to savour it like a nice cuppa. Hell, a few times I even brewed myself one before I curled up in an armchair and tapped my Switch.
Coffee Talk Episode 2: Hibiscus and Butterfly is still basically Coffee Talk. There's the same narrative focus, and the same simple but kind of satisfying ingredient-combining gameplay. If you ordered one at Starbucks you'd like the other. But instead of reinventing a classic, it's a continuation, the next episode in the story. There's new narrative for old favourites and new characters alike, and there are new drinks to experiment with, but there's little in the way of re-invention. I'm glad it's not been completely changed as it makes it easy to settle in with.
A vibe steeped in lo-fi chill, with heartfelt conversations over a cuppa. Don't rush it like an early morning one-shot expresso, or you'll burn your mouth. Savour it like a nice coffee, until you have to say that bittersweet farewell.
---
Coffee Talk Episode 2: Hibiscus and Butterfly is steeped in the same lo-fi chill atmosphere as its predecessor. Light touch gameplay gives way to heady and heartfelt conversations full of flavour, and despite little in the way of invention, it never lets the milk curdle. Savour it like a nice warm beverage, until you have to say that bittersweet farewell.

Coffee Talk Episode 2: Hibiscus and Butterfly is out April 20th on Nintendo Switch (review platform), PlayStation 4, PlayStation 5, Xbox One, PC via Steam and even Mac.
Developer: Toge Productions
Publisher: Toge Productions
Disclaimer: In order to complete this review, we were provided with a promotional code from the publisher. For our full review policy, please go here.
If you enjoyed this article or any more of our content, please consider our Patreon.
Make sure to follow Finger Guns on our social channels. Twitter, Facebook, Twitch, Spotify or Apple Podcasts – to keep up to date on our news, reviews and features.