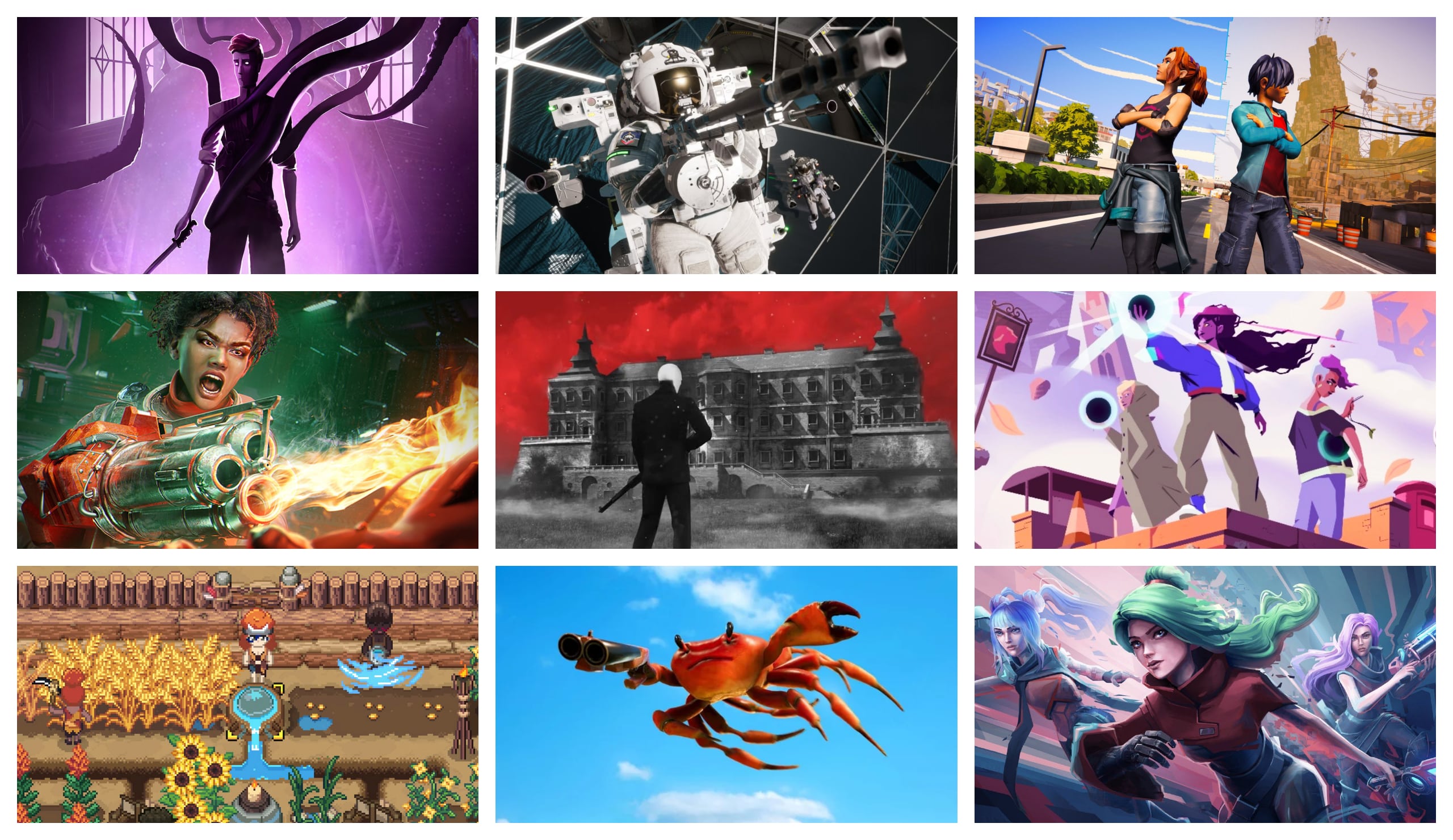 April is shaping up to be an excellent month for indie games fans, and here are 20 indie titles to keep an eye out for.
March 2023 was an incredibly stacked month for indie games. With the release of Dredge, Clash: Artefacts of Chaos and Gripper amongst a whole slew of other games that we broke down in last month's list, some of which we reviewed.
We are now however, into April with a brand new batch to excitedly play or at the very least add to the backlog that we'll one day get around to. A handful of horrors of every kind, a nostalgic throwback to the 'chose your own adventure' and a sprinkling of Metroidvanias – truly something for everyone this month. Here are 20 games to get excited about during April 2023.
Murderous Muses by D'Avekki Studios – April 12th, 2023
From D'Avekki Studios who have made quite the name for their extensive Murder Mysteries, comes an infinitely re-playable murder mystery blending deduction, exploration, puzzles, collectables and FMV. You'll be working three night shifts in a haunted art gallery where the portraits strangely come to life, each of which helps you get closer to solving the murder of Mordechai Grey a year prior. Explore a procedurally generated gallery to solve a mystery that re-rolls every time you play. Murderous Muses will be available on Switch, PS4, PS5, Xbox One and PC, April 12th 2023.
Suffer the Night by Tainted Pact – April 17th, 2023
"Don't play the game. Burn it. Destroy it. When you see him. It's already too late.". The year is 1989, a storm ravages Sleepy Woods. As lightning strikes an envelope is put through your front door, and the nightmare begins. Experience the game within a game, Suffer The Night transports you into Sleepy Woods to play a text-based adventure where the Pale Man lurks. Will you escape his grasp? Or suffer the consequences of playing the game? Suffer the Night will be available on PC, April 17th 2023.
Varney Lake by LCB Game Studio – April 27th, 2023
Varney Lake is for anyone who enjoys fine storytelling and engaging puzzles. It's the Summer of 1954, and three best friends plan to play games, make crazy plans and escape bullies in their perfect idea of a vacation. But what happens when their plans are turned upside down after meeting a Vampire? Search for the truth in the nostalgic, branching narrative, immerse yourself in the story with its rich, evocative illustrations and witness the fate of Varney Lake's characters in 'Choose Your Own Adventure' style gameplay. Varney Lake will be available on PC, PS4, PS5, Switch and Xbox One.
Mia and the Dragon Princess by Good Gate Media – April 21st, 2023
Mia and the Dragon Princess is a live-action interactive movie following Mia, a plucky barmaid whose life is thrown into chaos when a mysterious woman turns up at her workplace, on the run from a group of violent thugs and is unable to speak English. The game features interactive action with real-time attribution tracking that influences the fate of the narrative. As well as 10 multiple outcomes formed from your decisions. Mia and the Dragon Princess will be available on PC, PS4, PS5, Switch, Xbox One, iOS and Android, April 21st 2023.
The Library Of Babel by Tanuki Game Studio – April 12th, 2023
The Library of Babel is a 2D Stealth Platformer and Graphic Adventure. You play as Ludovik as he explores the jungles of a futuristic Babylon to discover the secret behind the Library of Babel's sudden lockdown and the mysteries behind their mythical creators. Inspired by the Jorge Luis Borges short story of the same name – the game welcomes you to a world 20,000 years after humanity's extinction. With the world now run by advanced robots, Ludovik is a Seeker solving a murder case that takes him into the depths of the Library. With beautiful hand-drawn 2D environments you'll be stealthing and platforming through – The Library of Babel will be available on PS5, Xbox Series X|S, Nintendo Switch and PC.
Voodolls by SideRift – April 13th, 2023
Voodolls is a co-op tower defence game set in the dark and mysterious world of voodoo magic. Filled with frenetic third or first-person action, you'll play as four unique Voodolls fighting hordes of enemies to defend the Puppet Master to escape the clutches of the afterlife. Team up with friends to synergise the different characters' unique abilities to crush hell's minions. Crowd-controlling skills, almighty attacks and ranged abilities make unity the key to success. In between the action, you'll set up traps and defences across multiple distinctive worlds filled with unique detail. Voodolls will be available on PC, April 13th 2023.
Curse of the Sea Rats by Petoons Studio – April 6th, 2023
Embark on an epic, hand-animated, 'ratroidvania' adventure, where a ship filled with the British Empire has been turned into rats by the Pirate Witch, Flora Burn. Explore a rich non-linear world as four characters with their own unique playstyles. With action platforming, challenging bosses, and unlockable unique abilities – either alone or in four-player co-op. Josh has reviewed the game already which you can find here. Curse of the Sea Rats will be available on PC, PS4, PS5, Xbox One, Xbox Series X|S, and Nintendo Switch on April 6th 2023.
YOLKED – The Egg Game by HardBoiled Studios – April 6th, 2023
YOLKED is a kinetic, physics-based platforming romp where you take control of an anthropomorphic egg as it emancipates itself from one perilous predicament to the next! Climb, mantle, & swing past all sorts of environmental hazards & dastardly dangers as your fellow eggs cheer you on! Kat reviewed YOLKED which you can check out here. YOLKED will be available on PC, PS4, Xbox One and Nintendo Switch, April 6th 2023
Coffee Talk Episode 2: Hibiscus & Butterfly by Toge Productions – April 20th, 2023
After the outpouring of love for Coffee Talk in 2020, most of which was directed towards the incredibly chilled lo-fi atmosphere and heartfelt narratives; it made sense for Toge Productions to go for a double shot with Coffee Talk 2: Hibiscus & Butterfly. Part coffee brewing sim, part visual novel – Coffee Talk 2 features a brand new diverse lovable cast to sit and have a coffee with. Like the first game, your narrative choices decide the outcome of the characters you come across in the cosy backdrop of a pixel art coffee shop. Coffee Talk 2: Hibiscus & Butterfly will be available on PS4/5, Xbox Series X|S, Xbox One, Nintendo Switch and PC, April 20th 2023.
Tin Hearts by Rogue Sun – April 20th, 2023
From members of the team behind Fable, comes Tin Hearts. You'll be guiding a troop of toy soldiers through a whimsical toy-filled world as you use contraptions to bounce, shoot and glide them to their goal. With over 40 levels littered with time-bending, brain tingling puzzles, forging your own path to discover the emotional and thought-provoking story of Albert J. Butterworth. Tin Hearts is Lemmings meets Toy Story with a magical backdrop. Tin Hearts will be available on PC, PS4, PS5, Xbox One, Switch, Meta Quest 2, April 20th 2023.
OTXO by Lateralis – April 2023
OTXO (pronounced oh-cho)is a top-down hyperviolent gruesome twin-stick shooting action game with roguelite elements. You play as an unnamed protagonist entering an inexplicable mansion to search for your lost love. The deeper you delve into the mansion, the more secrets you discover whilst facing your inner demons to obliterate them in fast-paced chaotic bullet action. With a huge emphasis on weapon variety and over 100 abilities, you'll be dodging bullets, kicking down doors and raising hell. There are also over 150 hand-crafted levels that change per playthrough, making no one playthrough the same. As well as a blood-pumping soundtrack set to the brutal noir backdrop composed by the developer themself. OTXO will be available on PC, 20th April 2023.
The Last Case of Benedict Fox by Plot Twist – April 27th, 2023
Take on the last case of Benedict Fox and dive into a twisted world of secret organisations, forbidden rituals, and cold-blooded murders. With a husband and wife found dead and their child missing, it is up to you to explore the decrepit mansion alongside your unlikely demon companion. You'll be harnessing their demonic abilities to fight and relive the deceased's memories and traumas and physical form. This sumptuously designed Lovecraftian Metroidvania has been brought to life with a Burton-esque art style, making it look as equally grim as it does mystifying. The Last Case of Benedict Fox will be available on PC and Xbox Series X|S, April 27th 2023.
Boundary by Studio Surgical Scalpels – April 13th, 2023
Boundary is a multiplayer tactical-based space shooter. Go head-to-head with other players in a zero-gravity setting. You play the role of heavily armed astronauts called Astroperators in what has been described as firefights akin to dogfights as players can come at you from any angle. Heavily inspired by real-life space exploration and industrial technology, Boundary has a realistic approach to their level designs with space stations, solar farms and wreck strewn debris fields as the backdrop to these intense tactical firefights. Boundary will be available on PlayStation 4, Xbox One and PC, April 13th 2023.
Road 96: Mile 0 by DigixArt – April 4th, 2023
Road 96: Mile 0 is a prequel to the critically acclaimed Road 96. You'll be in the shoes of Zoe and Kaito – two teenagers with extremely different lives, coming to a head when they want to leave the walled-off city of White Sands. Learn more about Petria, Zoe and the beginning of the road in a cross between cathartic rhythm sections and narrative decisions that affect the direction of the game. Available on PC, PS4, PS5, Xbox One, Xbox Series X|S, and Switch on April 4th 2023.
Supplice by Mekworx – April 6th, 2023
Supplice is a throwback to the 90's retro FPS glory days with heavy inspiration from the DOOM modding community. As a part of a terraforming unit, your job is to seek out new worlds to colonise as your home planet has been outgrown. With big guns and even bigger enemies, this bombastic shooter is laced with gory pixel-art Mecha machismo with an array of weapons to turn the enemies into red mist. Supplice will be available on PC, April 6th 2023
Desta: The Memories Between by ustwo Games – April 23rd, 2023
Filthy Animals: Heist Simulator by Pewter Games Studios & LoPoly – April 4th, 2023
Filthy Animals: Heist Simulator puts you into the world of chaotic crime as you and up to three other players execute the filthiest heists imaginable. You'll be working for Tony – a criminal mastermind – as you fight, steal, fall and eat tacos whilst trying to get away with as much loot as possible. Spanning 8 different chapters and 21 levels, choose your animal to be a part of the ultimate frantic heists. With death defying traps and hazards and security trying to stop you every step of the way, there's high jinks around every corner. Filthy Animals: Heist Simulator will be available on PlayStation 4/5, Xbox Series X|S, Xbox One and PC, April 4th 2023.
Trinity Fusion by Angry Mob Games – April 13th, 2023
Trinity Fusion is a 2D roguelite action platformer where you play as 3 different characters, all with their own worlds to explore within the multiverse. With a sprawling procedurally generated world and handcrafted challenges all in 3D graphical detail, there is so much to conquer and explore within the game. Featuring a hub where you can purchase permanent upgrades, there's always a sense of progression even upon death. Trinity Fusion will be available on PC, PlayStation 4/5, Xbox One and Xbox Series X|S, April 13th 2023.
Crab Champions by Noisestorm – April 1st, 2023
Crab Champions is a fast-paced third-person shooter where you embody a crabby crab defeating hordes of enemies to become the strongest crustacean. With a bunch of exotic islands to explore with your extremely fluid and frenetic movements – this run-based shooter sees you and up to three others taking on as much as you can handle, collecting loot and upgrading your crab along the way for the most empowering builds. Crab Champions will be available on PC, April 1st 2023.
Roots of Pacha by Soda Den – April 25th, 2023
Roots of Pacha is the Stardew for the Stone Ages. Discover, gather and farm vegetables and herbs you find in the wilderness. As well as befriending domesticating animals out in the wild. Your efforts in building your civilisation will help evolve your town by upgrading the tools you use and ideas that reshape the primitive world. With an extremely cosy visual art style and an emphasis on building a community with well realised NPCs, Roots of Pacha looks to be an absolute delight. With options to customise your appearance as well as your home, the possibilities are seemingly endless and the future is bright for the dark age. Roots of Pacha will be available on PC, PS4, PS5, Xbox One, Switch, Xbox Series X, April 25th 2023.
---
Have we missed any indie games launching in March 2023 that you're anticipating? Want to share with us some of your most anticipated indie games? Head to the comments section and have your say.
Make sure to follow Finger Guns on our social channels –Twitter, Facebook, Twitch, Spotify or Apple Podcasts – to keep up to date on our news, reviews and features.
If you enjoyed this article or any more of our content, please consider our Patreon.