Another accessible and child-friendly game, Peppa Pig: World Adventures takes the titular character around the globe. The Finger Guns Review.
I can count on one hand the number of games that my 5 year old daughter can play, and more importantly enjoy, without assistance. Among those select few is her favourite game, My Friend Peppa Pig. An incredibly approachable title that puts its target audience at that centre of its design, my daughter still fires it up on a weekly basis, even 10 months after we reviewed it together.
To say that my daughter was excited for the follow-up – Peppa Pig: World Adventures – is an understatement. The trailer suggests grander adventures for Peppa and her friend as they travel the world and visit iconic locations like Paris, New York and London. Can developers Petoons Studio capture the same accessibility to children that they provided in the original game but on a larger, more varied scale? The short answer – Yes, and also no. The long answer… let's get into it.
Hi, My Name's Peppa Pig and this is my friend…
Much like the first game, Peppa Pig: World Adventures begins with creating a playable character. The structure of the creation suite is virtually the same as that of My Friend Peppa Pig, but this time, the selections have been expanded. There's a few new species to choose from, new coloured clothes and accessories to wear. The options menu here is very intuitive, even for the youngest of gamers. You simply click on the boxes on screen to choose each element of the character. My daughter chose a tan goat with a bow on her head and she completed the process entirely on her own.
After a pretty well disguised tutorial that teaches the few basics for the game, you also get to complete the other element of creativity that allows players to make this adventure their own – and it's a surprising one. In Peppa Pig: World Adventures, you get to create both your family and new home. The structure is the same here, with boxes representing the creative options that just need click on. Again, the system is simple and intuitive; my daughter made Peppa Pig-ified versions of my wife and I as well as one of her brothers.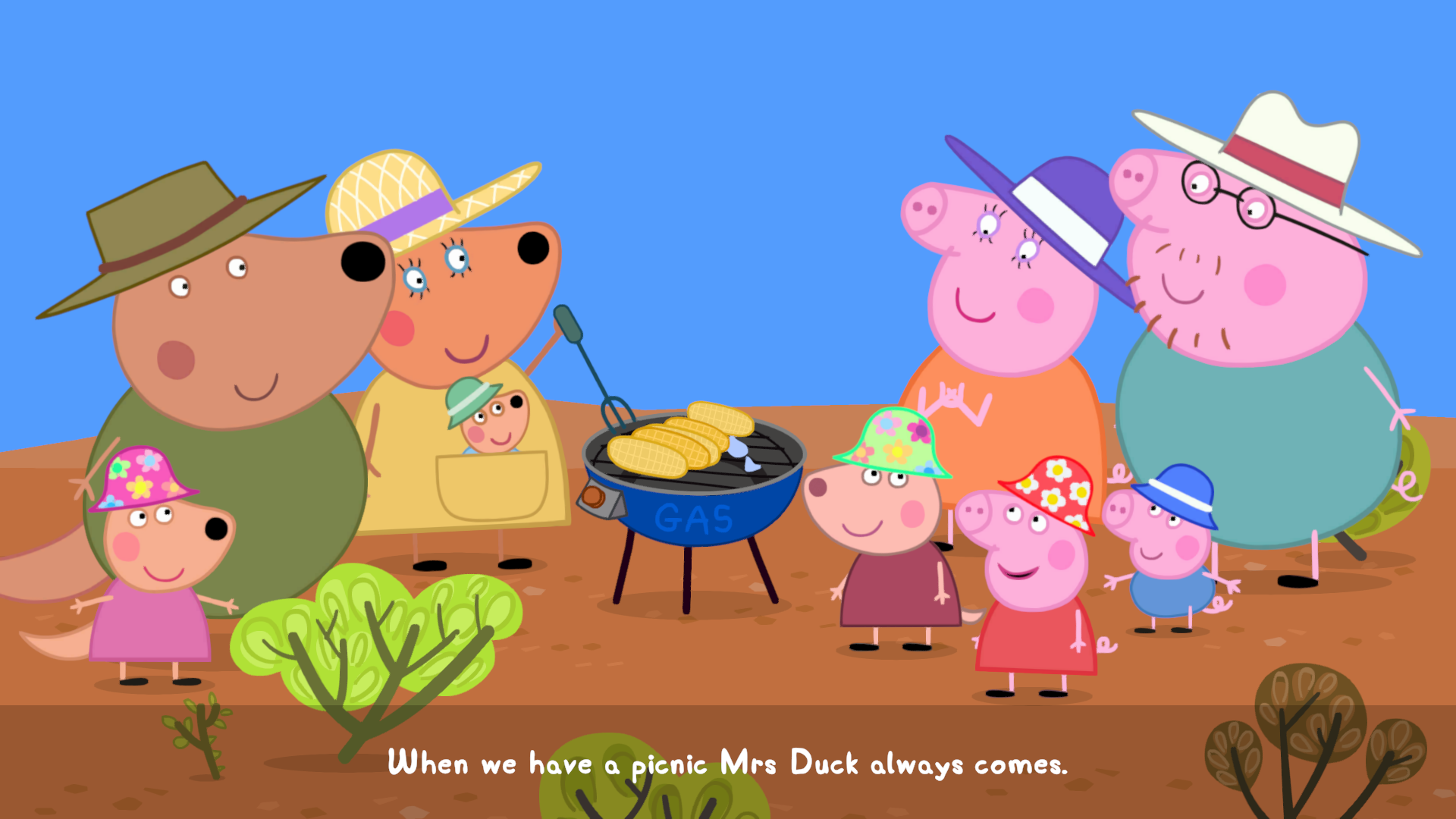 I think it's important to point out here that the family creation suite isn't restrictive. The created parents don't have to be the same species as your playable lead character, and you don't have to create the typical atomic family. If you wanted to have a single dad family or an adoptive family, for example, that's possible.
From Paris To Berlin
The initial set-up to Peppa Pig: World Adventures is virtually identical to the set up of My Friend Peppa Pig. You're a new character whose family just moved into the neighbourhood. Shortly after arriving at their new, custom built home (thanks to Mr Bull), the titular character along with her family arrive to introduce themselves. Peppa and her new pal then head to play group because it's "International Day".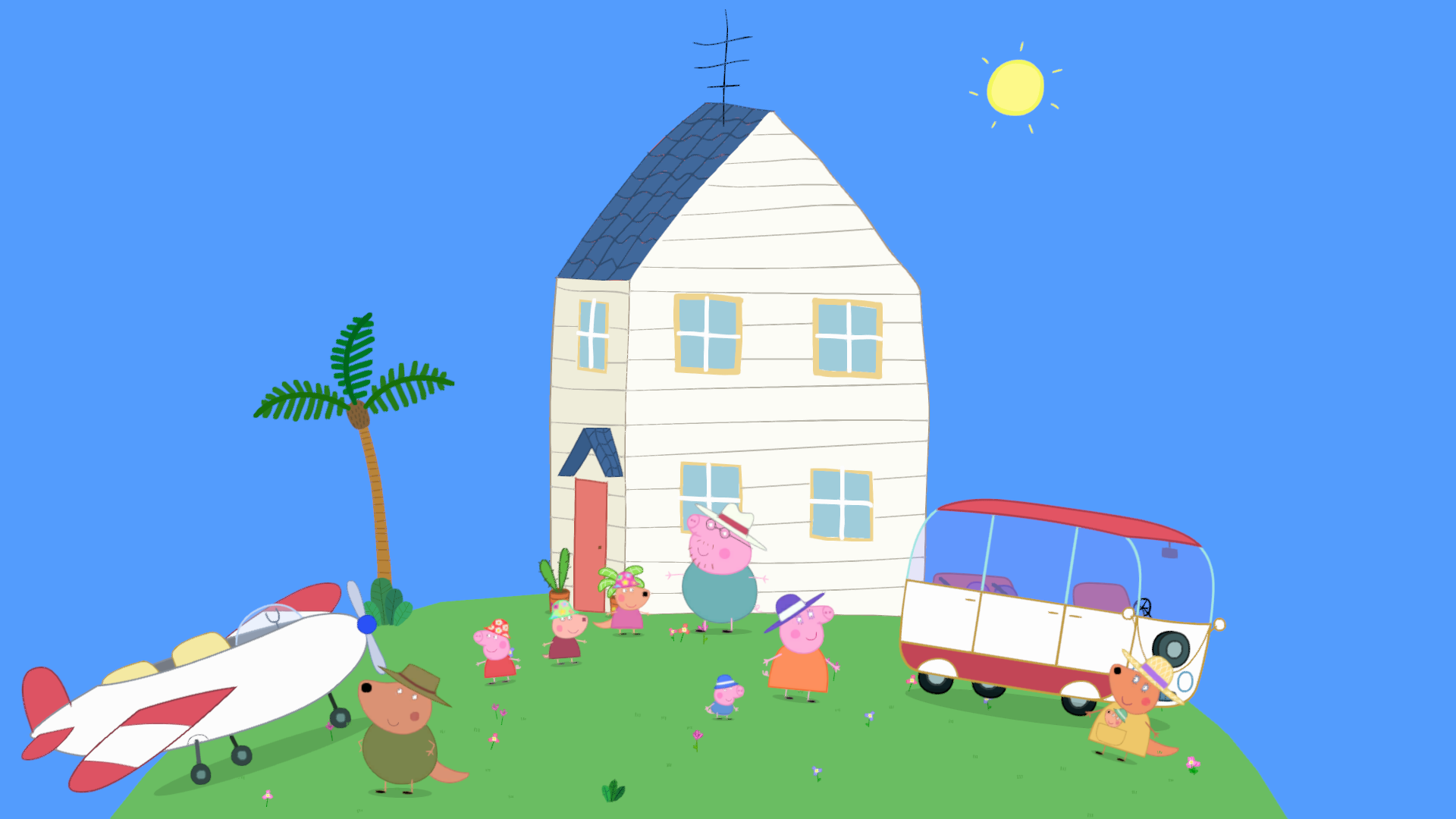 Here, Madame Gazelle teaches the class about some of the iconic locations around the world. Oh, and there's a cruise ship at the dock that could take you to these places. What a coincidence. Thus, the structure of the game is presented. Accompanied by Peppa, Daddy Pig, Mummy Pig and George, or your own family, your created character sets out on adventures to culture spots around the globe.
Only a small portion of Peppatown has been digitally replicated for Peppa Pig: World Adventures this time. Instead, the cruise ship leads to self contained levels set in London, Australia, New York, Barcelona, A German market, Hollywood and more.
Press A For Muddy Puddles
While the locations are different from those in My Friend Peppa Pig, the simple and intuitive way you interact with them is the same. You move along a linear horizontally path through the playable levels and when you get to an interactive element, you can press A to use them. From bicycles and skateboards to footballs and fair ground rides, there's a lot to interact with throughout these levels.
Rather than being single button presses this time around, you'll occasionally get the option to press the B button too, to stop the activity early. In a few of the locations, things get a little more complicated too. In London, for example, there's a button press activity that tasks the player to press the right button. For young players, this is a bit of a step up in complexity from the accessibility of the first game – but it's not insurmountable. This mildly elevated challenge does make these moments more rewarding – my daughter clapped when she overcame some of the activities – but can be a bit frustrating for young gamers if they get stuck.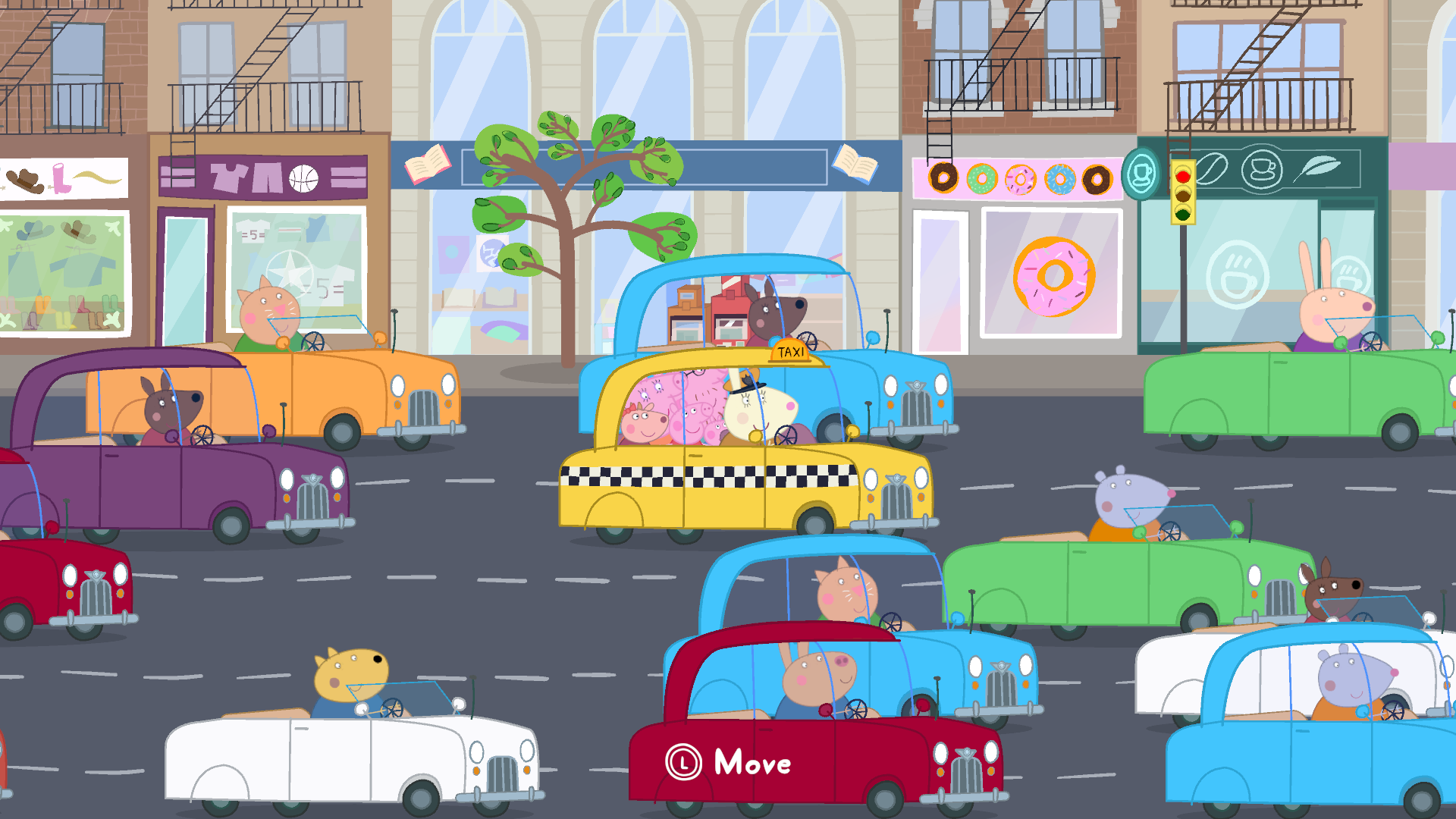 The narrator for the game, as well as other characters, act as your guide to the world. In each location, you'll meet new people, most of which you'll recognise from the TV show, that offer to do activities with you. Take a trip to Italy and you can make a pizza. In Barcelona, you play football on the beach. The German market is where you can board a train and go on a helter-skelter slide. In Paris, you paint some of the landmarks and head up the Eifel Tower. It's in London where the game's best moments are, taking a bus tour and jumping up and down in puddles with the Queen (although this ends abruptly with a tribute to Queen Elizabeth II).
The London level, along with New York, unfortunately don't feel as big or as free as the rest of the content however. The levels that you walk through are limited in these areas, instead replaced with set piece like moments. This is like helping a taxi driver navigate through through traffic. These do give the game a more episodic feel, like the TV show, but they do mean you're watching the game a lot more this time around, rather than playing it.
It's Peppa Pig's World, We're Just Living In It
Much like its predecessor, Peppa Pig: World Adventures captures the visual aesthetic of the TV show expertly. Locations you'll see from the show are recreated in loving detail exactly how you'd see them here. Even the movement of the characters replicates the springy steps of the younger characters and the plodding of others, like Daddy Pig.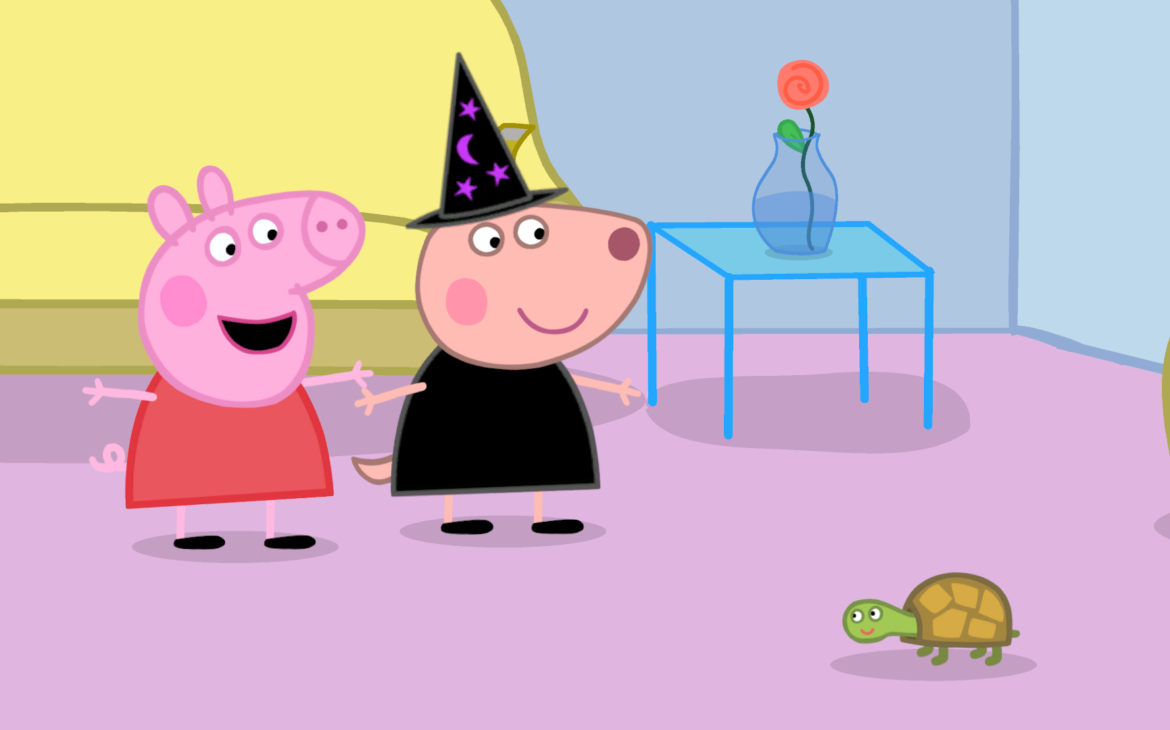 The staples of the TV show can be found in the game's script too. Peppa occasionally asks a daft question which prompts everyone to hit the deck and laugh on their back. Daddy Pig gets scared of things. There's a Miss Rabbit or similar in every location you go. George says the occasional "Dinosaur". There's an obvious understanding of Peppa Pig that has been employed in the development.
The world of Peppa Pig feels a bit more alive this time around too. For example, characters don't just stand around waiting to be interacted with. You'll see Mummy Pig walking around the house or Daddy Pig out in his garden.
Making A Pig's Ear Of It
Unfortunately, there's a few issues that creep into Peppa Pig: World Adventures that weren't in My Friend Peppa Pig. That starts with the voice cast. Like a lot of video game adaptations of TV shows, the voice cast has seen a number of changes here. Outside of Mummy Pig (who sounds like it is the TV voice actor), the rest of the cast sound like sound-alikes. While most of the voices were good enough replicas of their TV counterparts, some stood out, even to my daughter. Daddy Pig's first line elicited a "That's not Daddy Pig!" from my daughter. I imagine it's expensive to hire the actual Peppa Pig cast, but the quality of the voice cast feel like a step down from the previous game.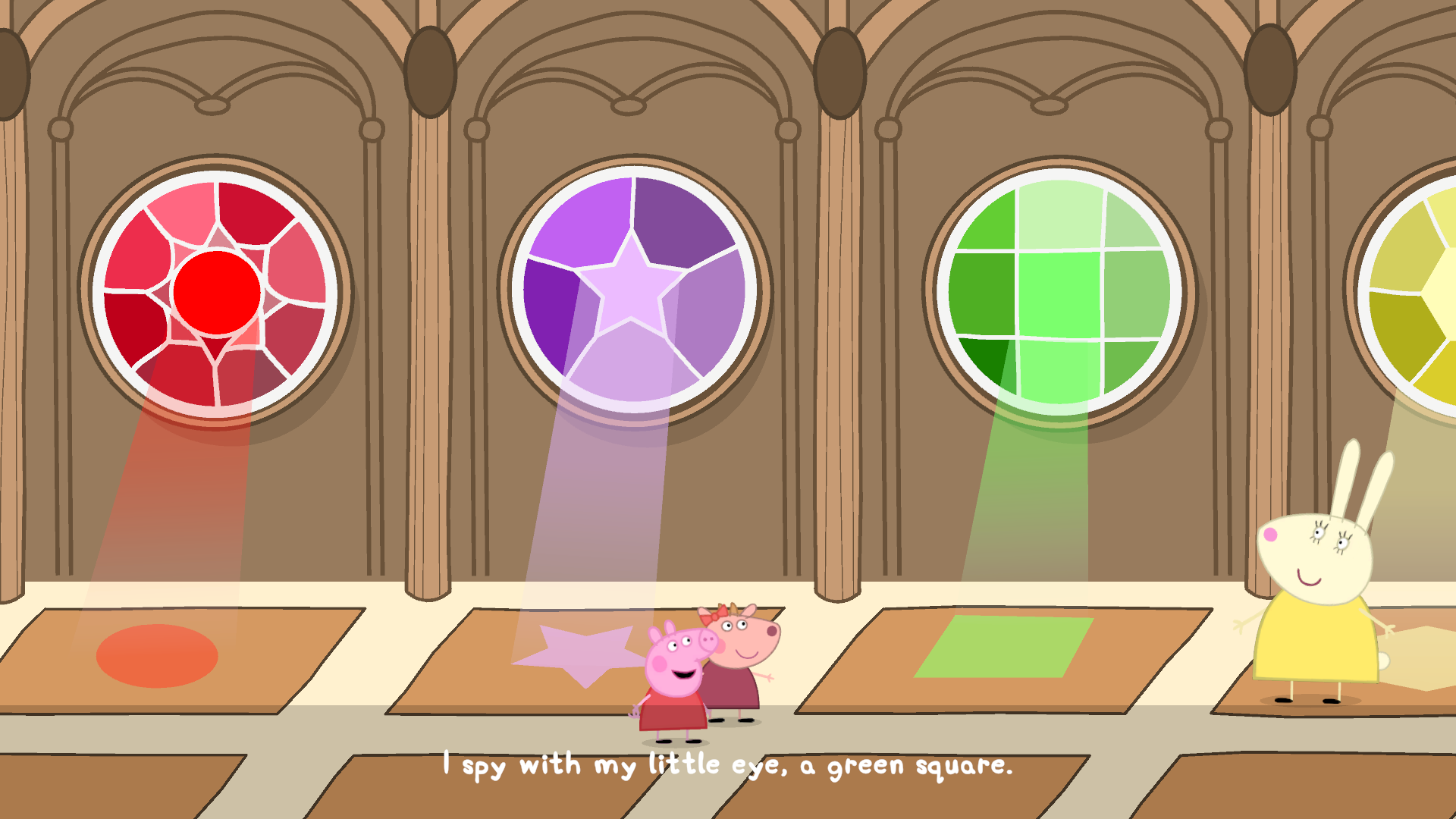 The structure of Peppa Pig: World Adventures, which admittedly is much easier to progress within this time around, introduces an element of unnecessary repetition to the game too. After completing all of the activities at a destination, Peppa and her new pal always return home, rather than the harbour. If you just wanted to head to each of the locations – like my daughter did – it means repeating the whole trip to the harbour all over again. It's only a small annoyance, but after a few of these cycles, my daughter audibly said "Oh, not again".
Finally, there's a few visual issues throughout Peppa Pig: World Adventures that haven't been solved by the current patch. They're only small issues, like Daddy Pig walking in place instead of actually moving. In another spot, Peppa's life jacket floats in the air rather than staying attached to her while she swims. There's nothing game breaking here, but it would be remiss of me not to mention them. My daughter remained blissfully unaware of them.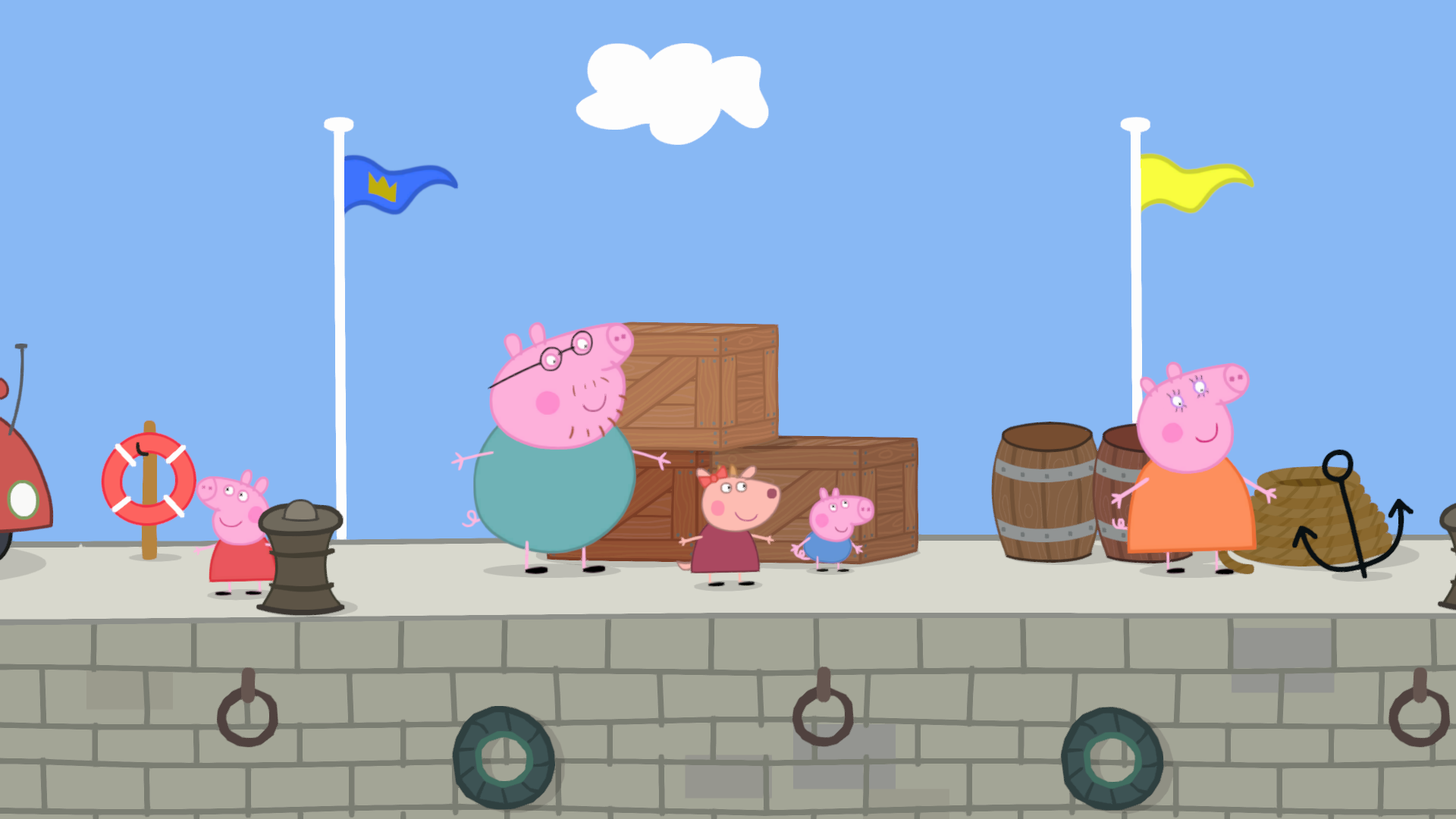 A Globe Trotting Adventure Worth Playing?
In the end though, despite it not quite matching up to the quality of its predecessor, Peppa Pig: World Adventures is another smash hit with its target audience. As soon as the credits rolled on the game, my daughter turned to me, smiled and said "Can I play it again?". There's nothing revolutionary about World Adventures, and in fact, this whole game might have made for a decent DLC pack for My Friend Peppa Pig. If it isn't broke, there's no need to fix it, and while the formula from the first game has seen some very mild evolutions, it retains all of the strengths from the first game.
It's accessible and approachable to the youngest of gamers. It carries the staples of the Peppa Pig TV show very well. In my daughter's own words, it's "the best game" and a "thirteen out of ten", but when asked, she still prefers My Friend Peppa Pig. It'll be nice to have another game in the limited selection she can play totally unassisted, regardless.
---
It can't quite match up to 'My Friend Peppa Pig', but 'Peppa Pig: World Adventures' is another approachable and accessible title designed specifically for its target audience. Replicating the art style and vibe of the TV show, this game is a must play for fans of titular character. With a patch to iron out a few issues, it could be even better.

Peppa Pig: World Adventures is available now on Xbox Series S|X (review version), Xbox One, PS4, PS5, Nintendo Switch and PC via Steam.
Developer: Petoons Studio
Publisher: Outright Games
Disclaimer: In order to complete this Review, we were provided with a promotional code from the publisher. For our full review policy, please go here.
If you enjoyed this article or any more of our content, please consider our Patreon.
Make sure to follow Finger Guns on our social channels. Twitter, Facebook, Twitch, Spotify or Apple Podcasts – to keep up to date on our news, reviews and features.