Designed specifically for its target audience, My Friend Peppa Pig is one of the most child friendly games on the market. The Finger Guns Review.
Designed specifically for its target audience, My Friend Peppa Pig is one of the most child friendly games on the market. The Finger Guns Review.
As a parent to 5 kids, it has always been a bit confusing that when a game gets an age rating of PEGI 3 (or an ESRB rating of 'E for Everyone' if you're from across the pond) it doesn't always indicate that it'll be suitable for kids aged 3. Sure, the content is suitable – without violence, threat, peril or bad language – but a vast majority of games that get a PEGI 3 rating couldn't be played by a 3 year old. At least not in an enjoyable way. There's a skill barrier that prevents it that most 3 year olds just won't possess, never mind the ability to use a controller correctly. Those games designed specifically for the youngest of gamers are few and far between and require a very specific design insight to make. Petoons Studio are one developer that has a proven record of using that insight in games like Petoons Party, PJ Masks: Heroes of the Night and most pertinent for this review, My Friend Peppa Pig.
Originally released in October 2021 on last-gen hardware, My Friend Peppa Pig jumped to the PS5 in January 2022. "But Sean", I hear you ask, "Why are you reviewing a game that has already been out for 4 months?". Well, my 4 year old daughter has been playing this regularly since it launched and she asked me to write about it. After sitting with her many times, and watching how much joy it brings to her, I couldn't refuse the request.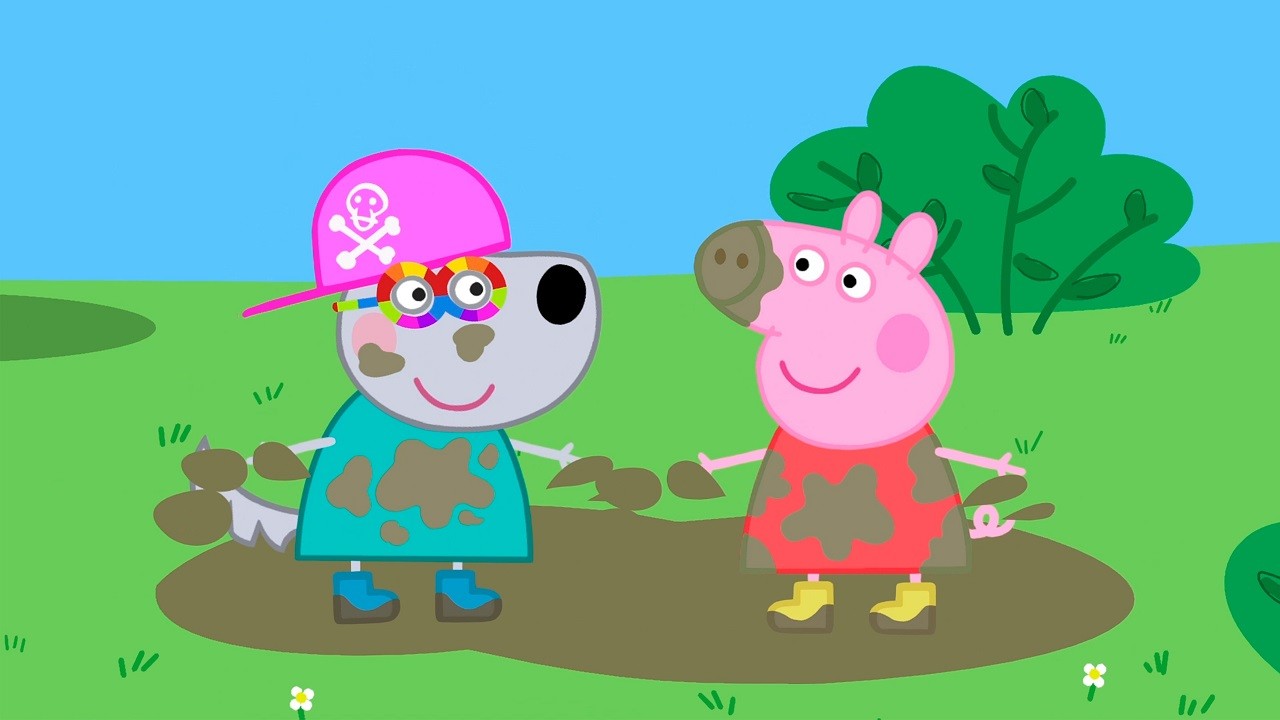 My Friend Peppa Pig is essentially an interactive episode of the TV show. It features the exact same art style you'll see in the show with those side-on 2D visuals complete throughout. It feels like an authentic version of the Peppa Pig world. While the visuals are identical to that of the show, the audio is slightly different. While some of the original voice cast return, there's a lot of soundalike talent here too. If I was to judge the performance, I'd say that they do a great job representing their relevant characters. That said, while I couldn't tell you who's not part of the original cast, my daughter could. She's not overly concerned with the voice differences but the first time we played it, it got a few furrowed brows from her.
Before you can get to playing with the titular character, you get to create your 'friend'. Using a decent character creation suite, you get to put together your animal pal. You can choose from a variety of animal types, clothing colours and optional glasses to make your character 'yours'. My daughters first creation was a black sheep with rainbow glasses. Her current friend is a dog with heart shaped glasses. Everything in this create-a-character is very self-explanatory and simple to use. Once you're finished picking your options here, it's off to meet Peppa.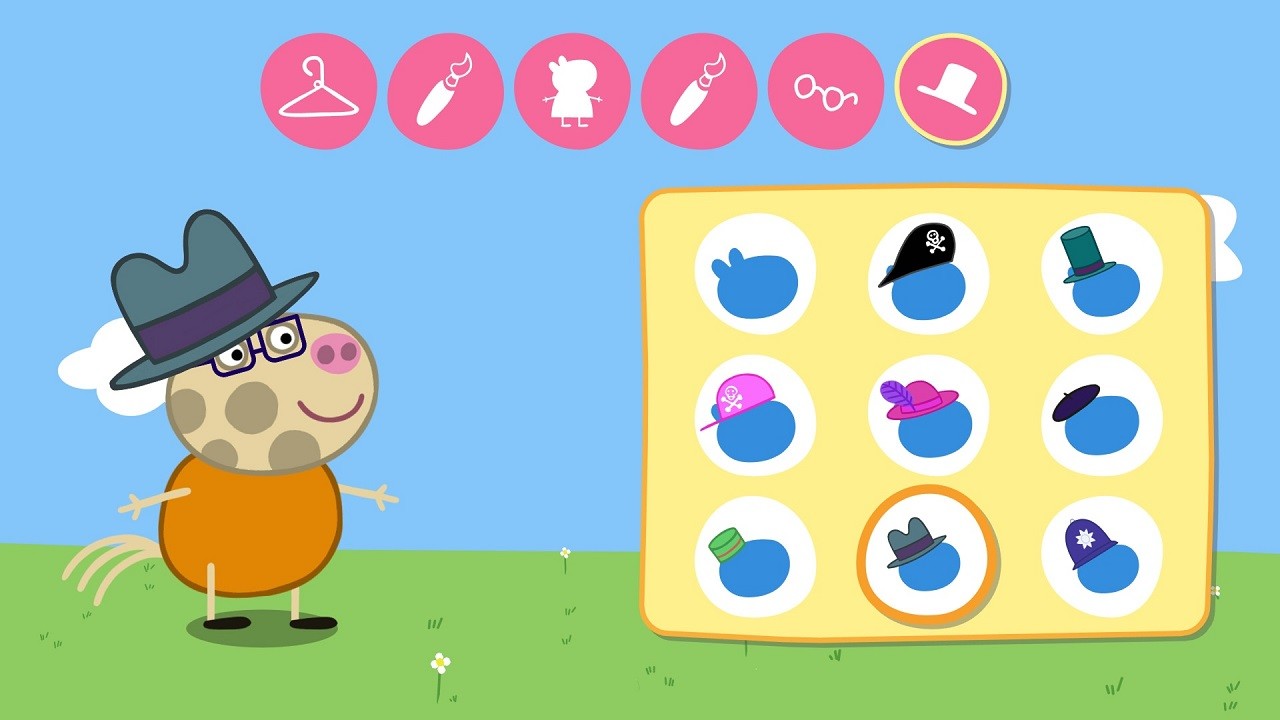 From there, My Friend Peppa Pig becomes a totally open experience. Your created friend pairs up with Peppa who acts as your guide to her town, school, family and friends. As the player created character though, you can go where ever you want. If you fancy exploring Peppa's house, you can do that. If you want to visit Granny and Grandpa pig, you can do that too. The school, the beach, windy castle, the forest, the snow-capped mountains and a lot more have all been replicated exactly how they appear in the TV show. You can walk through them in whatever order you see fit. Peppa will occasionally give you suggestions on where to go to next but you absolutely don't have to take her advice.
Peppa's suggestions in My Friend Peppa Pig are a way for the game to guide the player towards events and structured activities around her world. At Peppa's school, you can make drawings or play on the playground equipment. At the beach, you can search around in rock pools to pull out lost treasures. You can search for Daddy Pig's missing glasses or search for some missing chickens. Up the snow covered mountains, you can make a snowman or go skiing. In between locations, you can use a ski lift, ride a bike and even fly a hot air balloon. More often than not, you'll be bumping into Miss Rabbit as the gatekeeper to these activities. A lot of activities you might have seen represented in the show are replicated here. Yes, even jumping up and down in muddy puddles.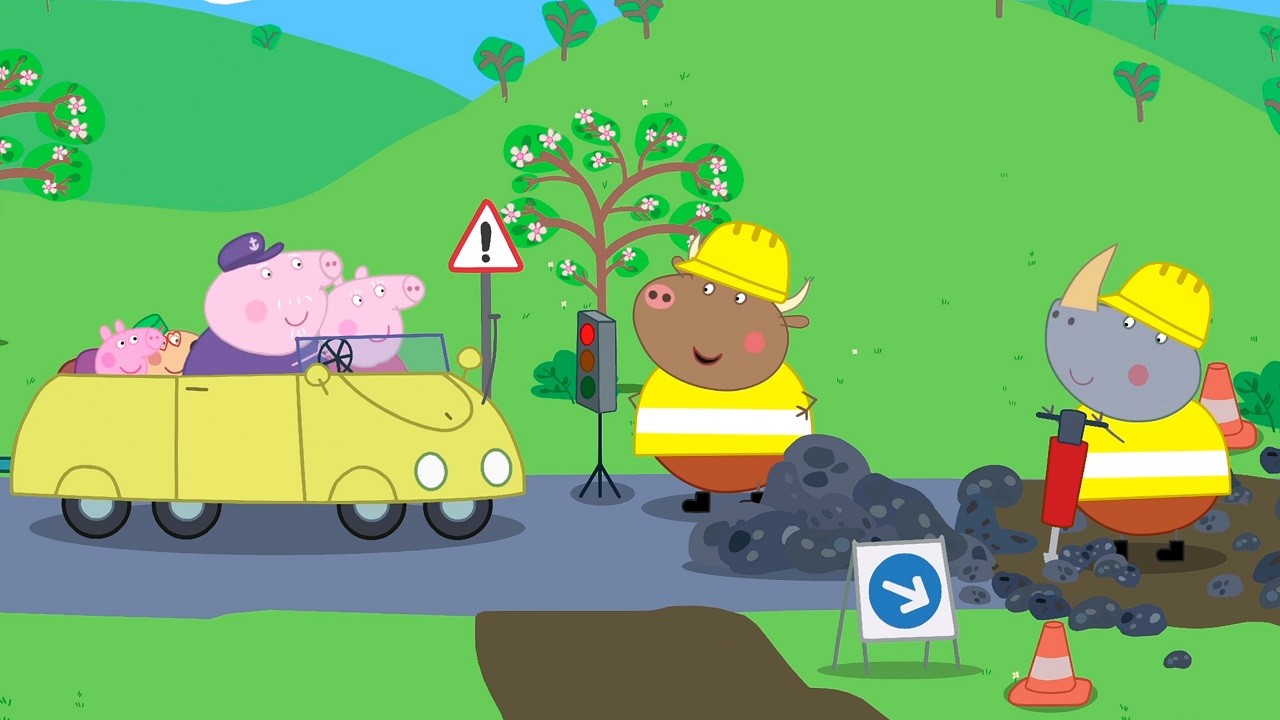 Where My Friend Peppa Pig excels compared to most games aimed at younger players is how easy it is to play. Your created friend for Peppa moves around with a push on the left thumb stick of the DualSense controller and every other interaction with the game is executed with the X button. The amount of interactivity is really impressive – almost everything you see you can mess around with, whether that's turning something on and off, making it move or using it. Because you're only moving through a 2D slice of the world, it's impossible to get snagged on the world or get lost too.
My two youngest kids – 4 and 6 years old – both enjoy My Friend Peppa Pig a lot. It's obvious when watching them play it that they both enjoy the freedom that this game gives them with a level of interactivity that most children's game lack. For fans of Peppa Pig, like both of my youngest are, it's also a real treat for them to interact with characters they've seen so many times on TV and to explore locations they see in the show. The fact that my 4 year old, who was 3 when she first started playing this game, can play this game without having to ask me for any input is incredible. This is quite literally the only game she has tried where she hasn't needed me to sit with her at all times. She likes the ways she can independently play this.
As good as My Friend Peppa Pig is, there's a few moments which feel like missed opportunities. There's a moment when Mr Bull and his crew are digging up the road and he does say his catchphrase "DIG UP THE ROAD". In total, there's only around an hour of content in this game too. While my youngest doesn't mind repeating a lot of this, the older kids don't want to go back once they've seen something once or twice.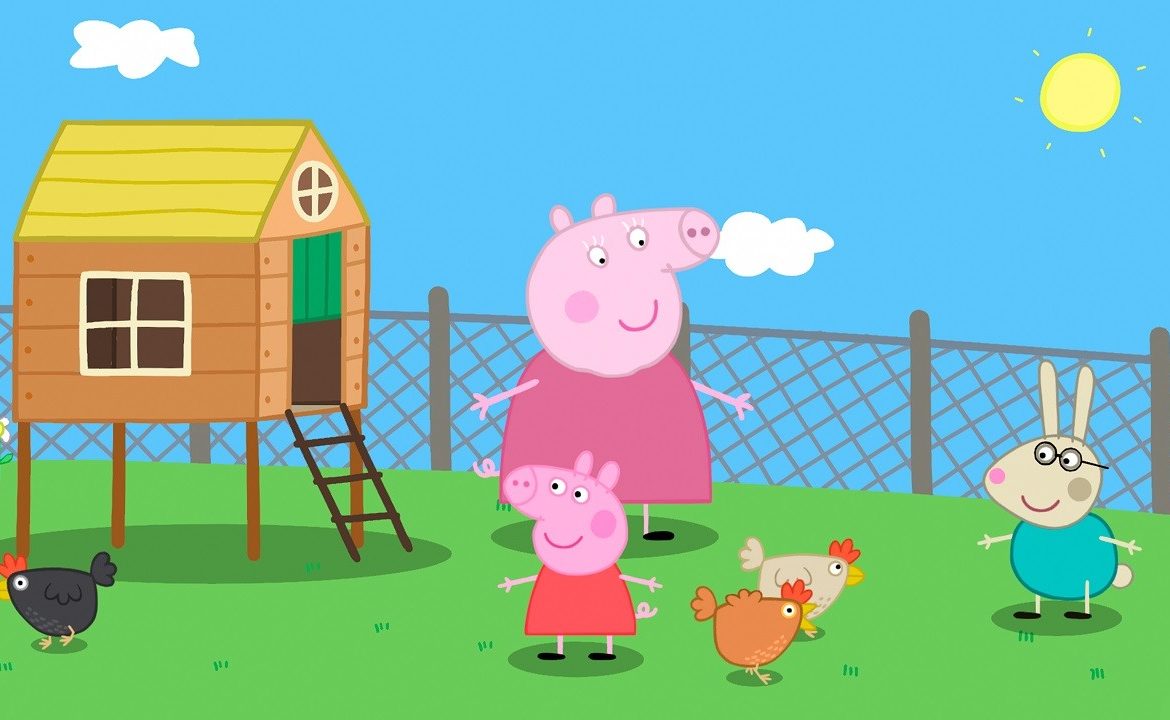 For parents, My Friend Peppa Pig also has one really impressive feature – a sleep timer. Set in the options menu, it's possible to limit play time on the game. Once that time runs out, Peppa and the player created character head back home, get into the bunk beds (for some reason, the player character takes George Pig's bed) and fall asleep. Now, this can be clicked through and you can begin playing again after a few seconds. Or, hear me out, you can use this as a convenient break to get your kids off the game. It's a brilliant feature that works for younger gamers who can relate to bed time being a time to stop and relax. Personally, I find this a nice, unique touch to help parents manage play time.
My own personal opinion about My Friend Peppa Pig doesn't really matter here of course. This game isn't developed for me. I'm 30+ years outside of the target demographic. It's for my daughter and my son, the big Peppa Pig fans. For the people who know the Bing Bong song, who know what type of animal Tiddles is and those who don't question why the pigs and sheep can talk but the ducks can't. I asked my daughter what score, out of 10, she would give this game. She told me she'd give it a 15. That's as high as she can count right now. Watching her play it, and the smiles and commentary she gives off as she does, you can see why.
---
A child friendly, deeply approachable title that's design specifically for the youngest of gamers, My Friend Peppa Pig is a triumph in tie-in game design. Like an interactive episode of the TV show, the little Peppa fans in your life will likely love this title because of its authenticity and ease of interactivity.

My Friend Peppa Pig is available now on PS5 (review edition), PS4, Xbox One, Xbox Series S|X, Stadia and PC.
Developer: Petoons Studio
Publisher: Outright Games
Disclaimer: In order to complete this review, we were provided with a promotional copy of the game. For our full review policy, please go here.
If you enjoyed this article or any more of our content, please consider our Patreon.
Make sure to follow Finger Guns on our social channels –Twitter, Facebook, Twitch, Spotify or Apple Podcasts – to keep up to date on our news, reviews and features.