Two Point Campus lands on all consoles. The management game where both studying and partying is integral. The Finger Guns Review.
Ahhh, Academics with a party problem? Sounds like every university student ever. Two Point Campus has landed on all platforms. The Finger Guns Review.
Management games have always been integrated within the gaming industry. The proof in the pudding comes from the very inspiration Two Point Campus has been built upon. The Theme Hospitals and the Rollercoaster Tycoons of the 90's come in waves each year with different varieties for us to take our hand at playing. I would be a sucker to not admit that playing 1997's Theme Hospital is one of my earliest video game memories. In my memory, I remember being pretty good at it, however the reality probably stood that I was a 6 year old, constantly adding GP surgeries to a hospital that was up in flames. Nevertheless, I fell in love with the management-simulation genre and I think I have Theme Hospital to thank.
The news of Two Point Hospital dropping in 2020 was the nostalgia injection I couldn't wait for, and I was not disappointed. The famous tropes of Theme Hospital was beautifully imbedded in this newer more modern remake. It was an absolute joy to play and re-experience, so imagine my blood pressure when the Two Point Campus teaser trailer dropped in 2021's Summer Game Fest, however you can check out the full one below.
If you have never played a management game in your life and these bright and busty trailers have landed on your lap taking your fancy, then listen up. Two Point Campus is a sequel to Two Point Hospital, a spiritual successor to that of Theme Hospital. It requires the player to manage a University Campus and all of its various elements down to how clean your toilets are. Manage budgets, build classrooms, hire and fire staff, and the extra management of leading the success of the students who attend your university. I initially was going to cater this review just to those who had jumped into Two Point before, or really for anyone with awareness of the management genre, but some of my gripes with this edition really are in support of those who may have never dived in. So if that's you, keep reading.
Class Is In Session
When you jump into the home screen of Two Point Campus. It's like a warm, familiar invitation from an old friend. It mimics the layout, colour palette and funky graphics from its older sibling. It almost feels like an expansion of the same game. Starting you off in Freshleigh Meadows, this countryside campus is the perfect starter size to get stuck into. You'll begin with some preset rooms to get an idea of your bearings. Each campus will have certain requirements before an academic year can begin. This may be extra classrooms or staffing requirements to get started with a new intake of pupils. When you've fulfilled your requirements any campus will start at 0 stars. Like its predecessor, it has goals in order to achieve a higher star ranking campus. This is the main pull of the game and you will have to aim to achieve these goals without going completely bankrupt and failing your students. In Two Point Hospital, the main aim was to make sure your patients were cured, and your hospital was running smoothly.
A well smoothed hospital included well trained staff, upgraded machines, short waiting times and of course cures! In Two Point Campus these specifications to success are very similar but feels much more inclusive and detailed. It has all the fun tropes of Two Point Hospital but just.. more fun. Fans of Theme Hospital knew what to expect, and hoped some favourites would still be included in remake and it was. We had the 'Bloaty Head' and the stern voiceover lady who scolds not only you as the player but the doctors for being in the wrong place.
Two Point Campus has no expectations like Hospital did, and the creativity is beyond what I think anyone could have anticipated for yet there are still some familiar favourites from Hospital that have been flavoured to the campus formula. The stern lady is still around, sarcastic as ever and one of the best features of the game. Her quips are extraordinarily written and make light of either a very successful or a very failing university. In times of complete chaos, a sarcastic comment is always welcome to make light of the panic that is ensuing.
Students will not undertake your typical University prospectus courses, instead they enroll in gastronomy, robotics, wizard school and spy school to name a few. One thing to really commend Two Point studios here is the level of detail that goes into the design you are visually capturing from the students undertaking their lessons. From massive pizza rotary's to in class dueling, you can almost watch a whole class take place from beginning to end. Not to mention the detail that goes into someone having first aid, or mulling around campus environment exploring entertainment. Additionally, the detail as a whole is fantastic, you are even able to explore the modules and lessons students will be undertaking as well as their personality traits, (staff too), and course and class descriptions for every degree offered.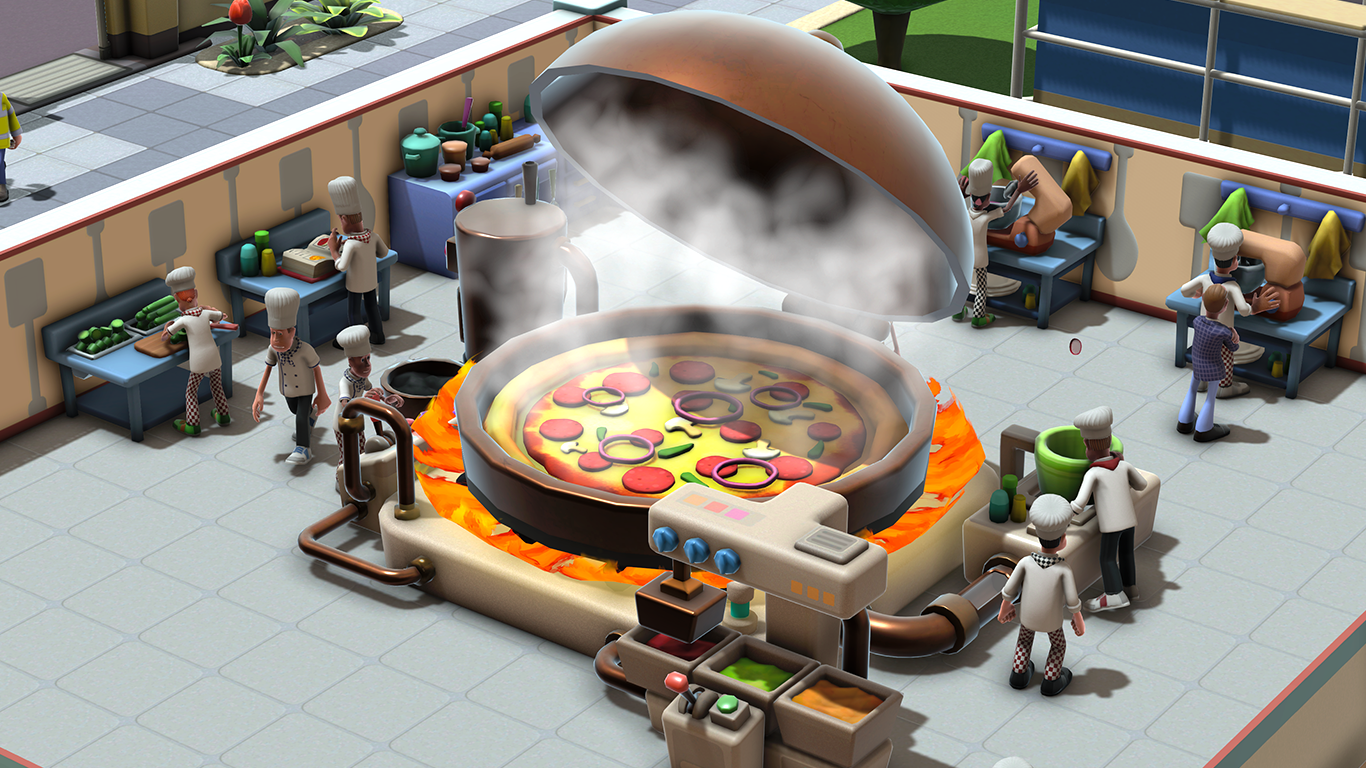 Schools Out For Summer
At the end of every academic year, the game gives you the opportunity to spend campus points to expand your courses or upgrade the current courses available. This will include more student intake, more campus requirements and more machinery to obtain and much more. As a player this seems like a no brainer at first, have all the courses, upgrade to the best right? Wrong. You will eventually learn that this a fine balancing act. More students means more tuition, great. More courses however means more upgrades will be needed, more classrooms for that particular course will need to be built and players only have so much money. The end of year also greets players with their successes in an award ceremony as well as highlighting if any students dropped out or you expelled any. Its a very nice touch to reflect back on the year and will show the overall pass rate of your students so you know if your campus needs a tweak.
In Two Point Hospital, the patients were the priority and players needed to balance and manage everything around the patients to make sure they got better in a quick and timely manner. As time marches on, more patients entered the hospital and more diagnoses were being discovered that needed cures. In Two Point Campus, the students are not sick (primarily) , but they do need to get better…. at studying. It is your job in Two Point Campus to make sure that students graduate with flying colours. Players will need to prioritise the needs of the students as well as their grades. Students grades can improve with a number of things, access to good library's, a nice space to sleep by building dormitory's and most importantly, parties. I do remember about 99.9999% of my University being about parties and Two Point Campus is no exception. Players will need to put on a show for students to maintain good grades and have an excellent study/life balance.
Building classrooms is something I have already mentioned, but players will need to consistently maintain a well built space. Levelling up classrooms through decoration, hygiene, and upgrades is important and takes time and money. Janitors will need to be hired and paid for the upkeep of equipment and the cleaning of the red plastic cup debris. Additionally to parties and library marathons, students can be offered extra tuition if their failing. This is something players will need to keep an eye on as it won't always happen automatically and can bring down the average grade of the campus if ignored. Player can hire and train teachers to specialise in subjects as well as specialise in area's that will help the mood of the students or aid in extra tutoring. Some staff members will need specific skills in order to complete certain tasks around campus. Medic Rooms and Pastoral departments will come into play a few establishments in and Staff need to be trained in this area.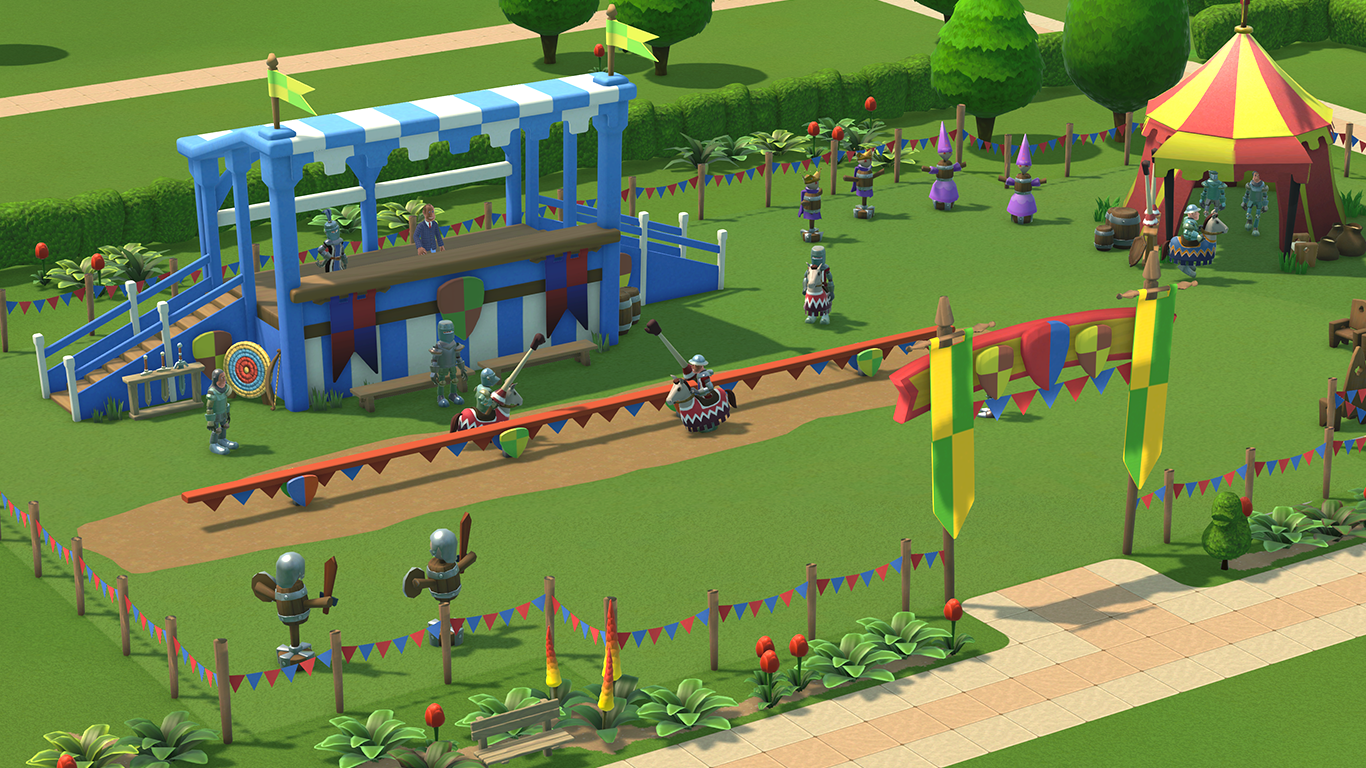 The Ruler That Broke The Students Back
For seasoned Two Point/Theme Hospital fans, players will know that this game isn't easy. The difficulty curve is steep and that is something that we were re-acquainted with in Two Point Hospital. It felt like Two Point Hospital wanted to replicate that same difficulty and challenge of theme hospital. It almost assumed you'd played and were expecting the steep curve. Don't get me wrong, this isn't a bad thing. I would have been thoroughly disappointed if Crash Bandicoot's 'Its About Time' was not reminiscent of the difficulty and fiddly slippery controls of its originals. It's got to be said that when playing Two Point Campus, it takes the same formula as Two Point Hospital in its stride but feels much more accessible to someone who may have never delved into the franchise…or so I thought. I would like to say this is absolutely the case for the first few campus's players come into contact with. Players will need to achieve 3 stars in order to 'complete the campus' but can move on at any point or continue to free play if they enjoy that particular campus.
One thing I thik is important to mention is that although it feels more accessible in difficulty and challenge, it still feels as if players should assume how to make their way around the management controls and whats on offer to review. There is almost little to no tutorial on this and even as a seasoned player, I had no idea there was an advice tab on your current campus until I took a humongous deep dive. In Two Point Hospital, it becomes integral to manage the finer details in the late game. You will need to manage staff and rooms to the finiest detail. Some hospitals will require you to work with very little money meaning that the management of staff may need to be funnelled into certain tasks. In that game, there were ways to check off what staff could do, and where they should be. For example, making your Psychiatrist (who is expensive to hire) only work in Psychiatry and not float around in another area because he happens to be dual-qualified, but losing him in psychiatry means you lose a department.
Initially, I wondered if this had been removed. It is never explained or highlighted that you can manage this type of detail, nor does it explain how important that will be to the success of your campus. It wasn't until I took a deep dive within all the tabs of the staff that I found out this could be done. I don't need my hand held by any means, and as a previous player, I knew it must be in the game, but for someone who's never played before? This could lead to someone consistently failing a fairly difficult level and not knowing these types of changes can be made and make all the difference.
It's something that can get out of hand quite quickly and you could go from being in the money for profit to suddenly being in the red and not knowing how to manage it as you can't buy anymore staff or build anything anymore, but a simple tweak of the deeper mechanics being explained would be prevented the fall altogether. This is also the same with certain goals. Eventually goals will be around perhaps student hygiene, there are tabs that can be overviewed to see where area's fall down inspections losing you thousands of pounds in reward.
Similarly, students will start to drop out and you can see why, it might be due to tiredness or not having fun. Some of these things are fairly easy to work out, i.e. if their bored – then put on more SU parties. However, a lot of complaints can be something menial like tiredness and I had no idea how to fix this. Dropout after Mark Zuckerburg dropout, I scoured every tab going to see how I can fix it, for it to be as easy as putting benches in between campuses. The same with toilets, who knew that students would hold their bladder if there is a toilet too far to walk too? It seems obvious when you write it, but you don't need a library in every campus building for students to do well, so why am I putting a toilet in every single one (even when they are mere centimetres away so they don't dropout?). It seemed a bit inconsistent and would be unrealistic to replicate every single room in every single building, nothing would ever be expanded on because you'd be too busy already putting in what you already had, and then you'd be bankrupt. I also had one instance where 10+ students dropped out complaining of temperature, however my goal for a two star campus was 75% temperature comfort, and my campus exceeded that with no hotspots so I was at a loss of what to do? In Two Point Hospital there were frequent advice conversations that would crop up by the CEO of the Two Point and that seems to be one thing missing here at Campus.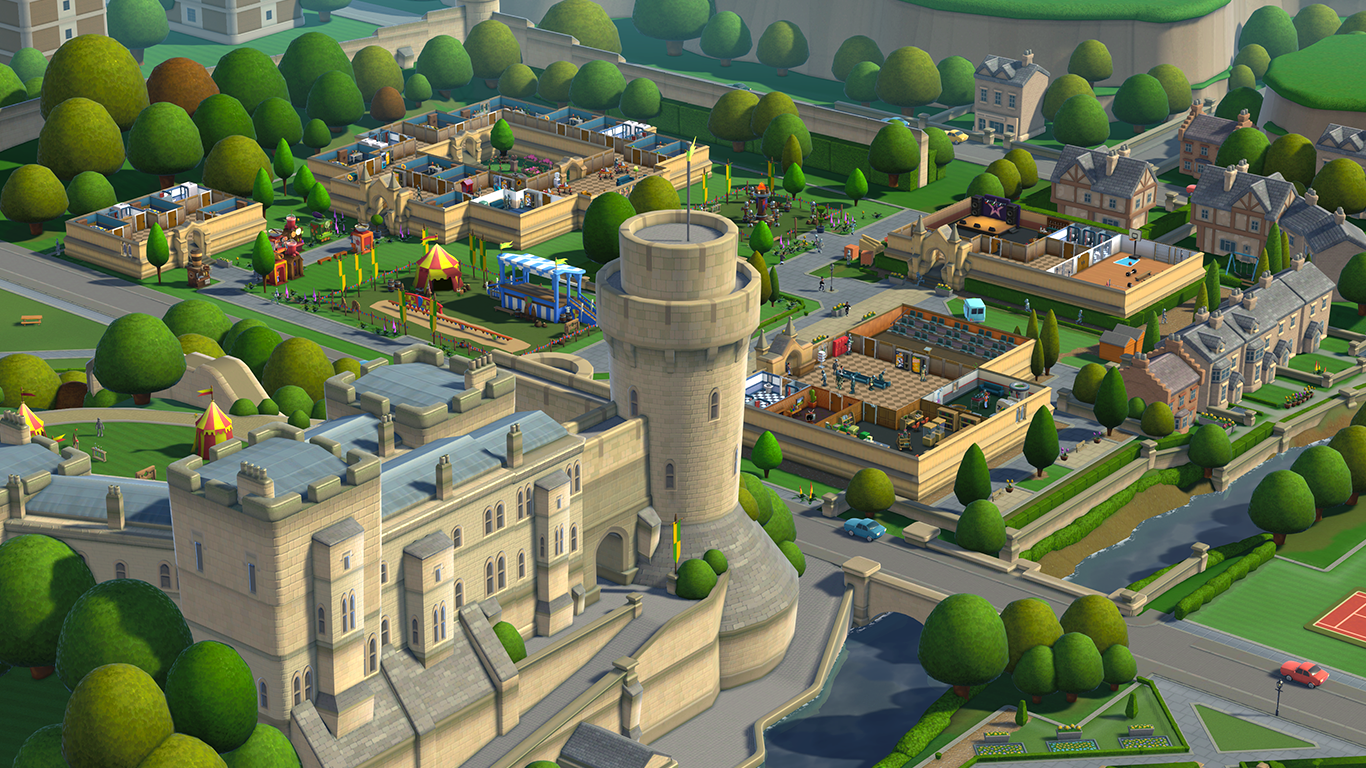 You're A Wizard Barry
Aside from that one complaint, I don't really have any other negatives about this game. There was an issue with the controls on the menu's – in which they would jump around. This has since been addressed by the team but I also don't think this is necessarily a Two-Point problem than more of something that is familiar with console management games in that they are just best suited to PC in control mechanics. However, saying that, Two Point probably has the best modus operandi to navigate this with ease on console compared to PC.
It would be neglectful to not explain just how fun this game is. Two Point Campus is essentially everything I expected and more. It has the beloved formula from Hospital with the creativity of a dozen minds to create so much fun in one place. I've already touched upon the design but the variety included not only within each course structure, but just the environment. You can truly make this a campus of your dreams. You as the player have complete autonomy for design (funds pending) both on the interior and exterior of the campus. From decoration to society clubs, to pool parties. Each room can be made yours, each campus garden can be designed by your inner Alan Titch marsh. Each campus is flavoured towards a certain course, and the trailer most certainly teased a Wizard Course, and I am pleased to tell you that it was an absolute joy to visit 'Spiffinmore'… the witching and wizarding school definitely not inspired upon a very famous magic school.
Two Point Campus also boasts a Sandbox mode allowing you to play any venue in a multitude of styles. If the challenge isn't your bag you can jump into creative mode with essentially unlimited money and pure creative control. If the challenge is your bag, Sandbox mode can accommodate that too. It's a whole game within the base game that can easily consume hours and hours of your time. In the blink of an eye the academic year goes by and a new set of challenges arise – both for better or worse. I dropped my bottom jaw when I had seen that I have spent 28 hours on Campus currently. I am honestly having a blast. It's arguably the best blueprint for the management genre and an easy recommendation. Don't get me wrong, the difficulty curve will eventually catch you up, but it is much less punishing than it's previous edition albeit frustrating at times but I can't wait to uncover what I've not yet discovered and continue the magic.
---
Two point Campus is an easy recommendation for anyone a fan of the management sim genre. Exceptional level of detail to design and a wonderous explosion of creativity within University Life. Like its predecessor Two Point Hospital, challenges will still be present throughout each individual campus, but these challenges are worth your time. Pick up your pencil case and your red plastic cups and enroll.

Two Point Campus is out now on PC, Nintendo Switch, Xbox One, Xbox Series S|X, PS4 and PS5 (review platform).
Developer: Two Point Studios
Publisher: Sega
Disclaimer: In order to complete this review, we were provided with a promotional copy of the game. For our full review policy, please go here.
If you enjoyed this article or any more of our content, please consider our Patreon.
Make sure to follow Finger Guns on our social channels –Twitter, Facebook, Twitch, Spotify or Apple Podcasts – to keep up to date on our news, reviews and features.