Slipstream's nostalgia fuelled wonder hits us right in them Out Run feels. The Finger Guns Review;
Slipstream's nostalgia fuelled wonder hits us right in them Out Run feels. The Finger Guns Review;
There's very little like a damn good old school racer. When you're a game industry fan of a certain age, there's every chance Out Run holds a special place in your heart in some form or another, whether it be the original arcade experience or the Mega Drive / Genesis version that I played all those years ago. The music, the visuals, the red car, it's all there tapped in the back of your brain ready to scratch those old school itches whenever you need a hit of Passing Breeze / Magical Sound Shower nostalgia. Hell, the former is my ringtone. 
So Slipstream, from Ansdor, a single developer from Brazil,is powered through these classic throwbacks, and though it has the strength to very much stand on its own, it's fairly clear where its inspiration lies.
Using a 'pseudo3D' engine, Slipstream's gorgeous visuals are its superpower, mixed with a healthy dose of synthwave aesthetics and a lo-fi soundtrack that evokes your 90's racing fantasies before Daytona USA came around and made everything all polygonal and stuff. It's an absolute dream to behold, and allows a heavy nostalgia hit to take over as you get to grips with the game's mechanics. An interesting addition is 'rewind', a typically modern mechanic which has been added to bridge the gap between retro and modern arcade racers, at least.
Drifting is your best friend in Slipstream and if you're not drifting you're driving forward. There's not a whole lot of variation in this particular style so don't expect depth in the  mechanics. This is most definitely not a simulator, and as you're tearing it through traffic to beat your opponents as you're drifting around the corners, the game will either grab you or lose you in these moments. There's very little else to it, so after a single race you'd have seen pretty much all there is to see in that regard.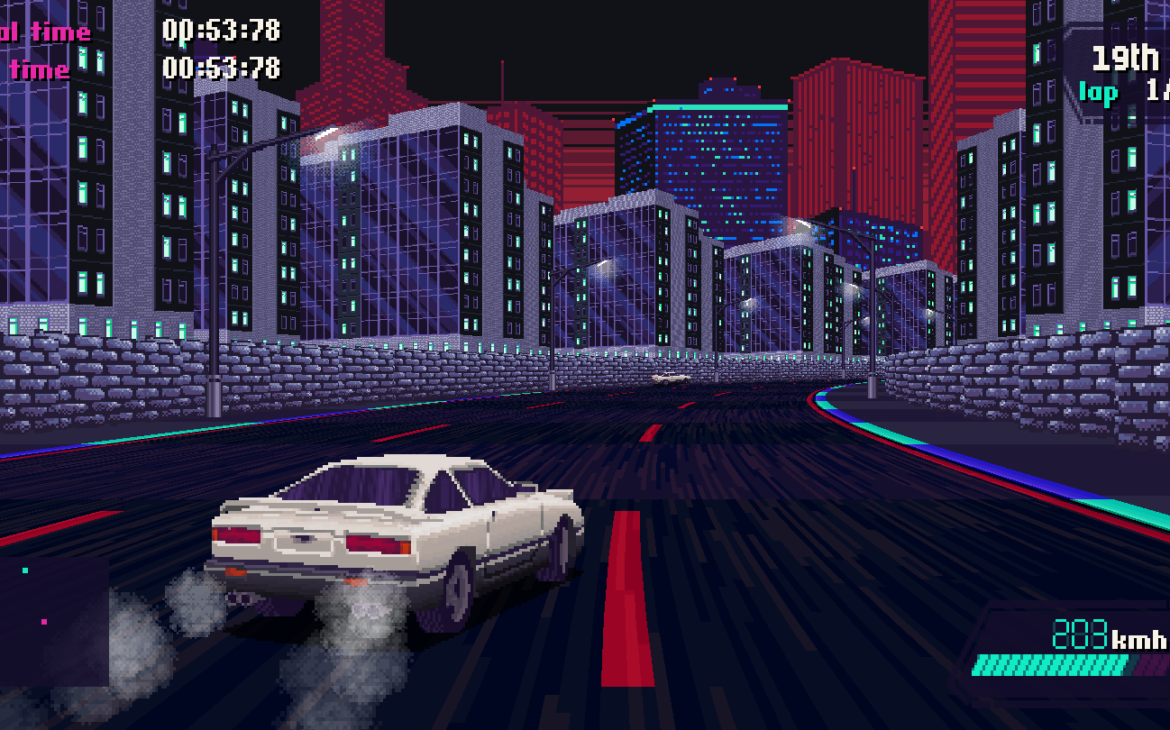 Fortunately Slipstream makes up for this with a nice variety of game options, including Grand Tour – with connected stages to tear through one after the other, Grand Prix, Single Race, Time Trial, Battle Royale – where if you're last at the end of the lap you get booted -,and my personal favourite, Cannonball, where you tear through connected stages with a single rival who you have to beat in each stage in order to be victorious. It's a hell of a lot of fun and well worth the admission fee, to be straight. I'd happily play this mode in any racing game moving forward.
There are five playable cars to choose from, each having separate upgrades and parameters to clear. When driving you don't really notice an awful lot of difference in each cars handling, and you can earn coins to get nice upgrades for each motor, so if you do want to customise you at least have that option, though I never really felt the need once I found a car I was particularly into (the Type23, if you're curious. Nothing particularly special but worked for me).
And offering a nice selection of 20 tracks, with various styles such as 'Chemical Plant', 'Emerald Hills', mountains, icy tracks and beach levels – again bringing out the OutRun vibes – there's plenty of options in regards to what aesthetic you want to check in this gorgeous visual style.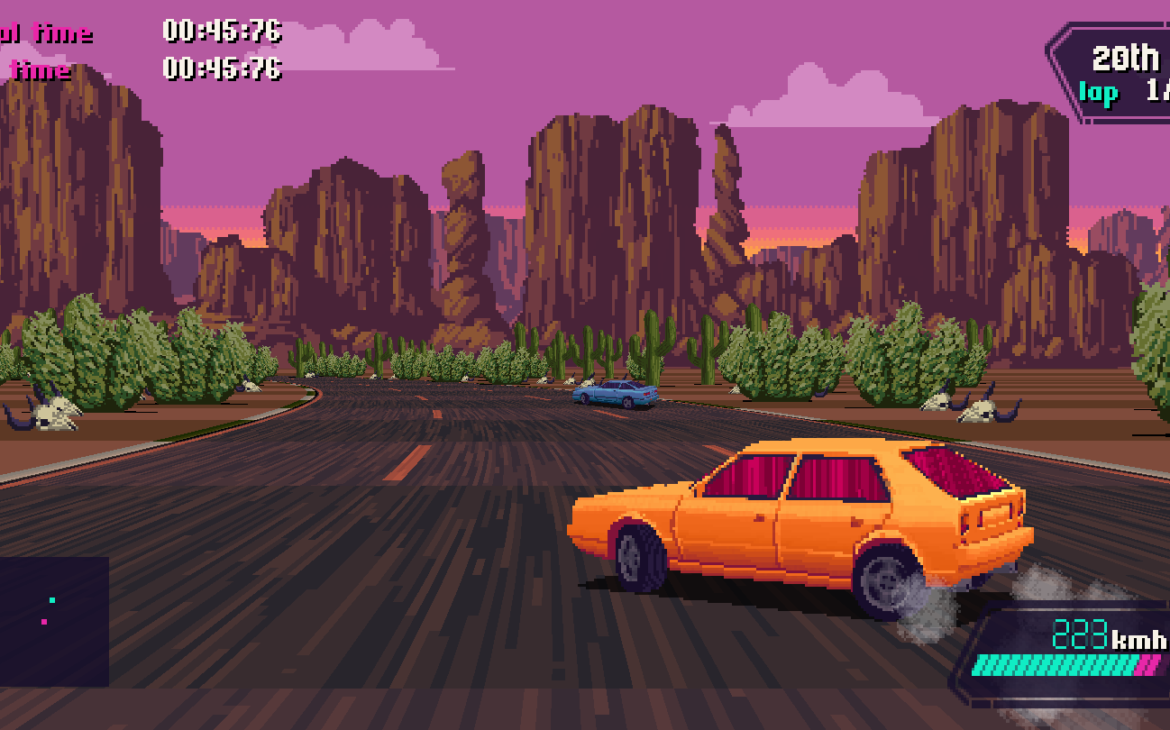 Slipstream is, well, a summer breeze of a game and well worth a look if you're after an arcade racer without the bells and whistles, but back to a simpler time with plenty of fun modes and leaderboards to keep you occupied.
Did I mention it's pretty? Cus damn it's pretty.
---
Echoing the wonder and joy of 90's arcade racers with a pumping soundtrack, Slipstream is well worth a look if you're after something full of nostalgia with modern blemishes that bridge the gap between the two eras. And boy it looks good. So, so good.

Slipstream is available now for PS4/PS5, Xbox One, Xbox Series S|X, PC via Steam (reviewed) and Switch.
Developer: Ansdor
Publisher: Ansdor
Disclaimer: In order to complete this review, we were provided with a promotional copy of the game. For our full review policy, please go here.
If you enjoyed this article or any more of our content, please consider our Patreon.
Make sure to follow Finger Guns on our social channels –Twitter, Facebook, Twitch, Spotify or Apple Podcasts – to keep up to date on our news, reviews and features.