Maybe Summer Game Fest wasn't the showcases, but the indie games we met along the way. Here's a collection to be excited about during July.
Summer Game Fest is long over, but the real Summer is still here and it might be too hot. This month's selection of indie games will be sure to keep you cool* and entertained throughout July – *cooling is not a guaranteed side effect of this list of hot indies.
Carve some time away from the big blockbusters that I'm sure we're all still chipping away at, or adding to the backlog, and enjoy some games that deserve your attention. Last month we covered Killer Frequency, Dordogne and Fall of Porcupine on last month's list and we had a great time, but without further ado here's more indie games to be excited about during July.
Dave the Diver by MintRocket – 27th June 2023
After extensive time in Early Access to make adjustments and polish, Dave the Diver is finally taking the plunge into 1.0 with our first indie game on this list. This deep-sea diving adventure RPG has barely reached the surface but has already had glowing previews already. You play as Dave in a single-player adventure as you explore the depths of Blue Hole by day and run a sushi restaurant at night. With a blend of brilliant 2D and 3D art, you'll uncover the mystery of Blue Hole, meet eclectic characters and discover over 200 sea creatures on your journey. No excursion is promised to be the same as the diving portion has some rogue-like elements and casual combat that'll be inviting for any skipper. Dave the Diver is out now on PC and Mac via Steam.
Crime O'Clock by Bad Seed – 30th June 2023
Can you hear that? That's the ticking of crime. Crime O'Clock sees you scouring ever-changing multi-era maps to solve crimes before you run out of time. You're a time detective, travelling across the continuum to stop the injustice that should have never happened. Explore five different ages in a point-and-click fashion by using your skills of deduction, and with the help of an AI named EVE. During your time, EVE will unlock new features that can help you piece the mysteries together in maps that change as you progress, unlocking new adventures. Crime O'Clock sports an excellent hand drawn art style that uses colour sparingly to really make it stand out. The game is out now on Nintendo Switch and PC & Mac via Steam.
Goodbye World by Yo Fujii & Isolation Studio- 30th June 2023
Goodbye World is a narrative adventure with platforming levels as you follow two characters through 13 chapters of their story. This has been out since last year on Steam, but it's now getting a console release. What instantly drew my attention to this was the lovely 2D pixel art style that has this almost CRT overlay on the game, reminiscent of games like Eastward. In the game we meet programmer Kanii and graphic artist Kumade, two friends that met at college. The pair have recently graduated and are trying to make a living make indie games with little success. The game looks to have a touching story that many in and around this space can definitely relate to, even if you're not making games. Goodbye World is out now on Xbox X|S & One, PS4 & 5, Nintendo Switch and PC via Steam.
Catch & Cook: Fishing Adventure by Campfire Studio -July 6th 2023
Catch & Cook: Fishing Adventure looks to be the antithesis of DREDGE. You'll be sailing on your boat across an archipelago in a similar fashion. However, the creepy crustaceans have been swapped out for a cookbook instead. You'll be exploring, fishing and creating recipes in what Campfire Studio promise to be an immersive experience. The game features a wonderfully vibrant world filled with colourful sea creatures to discover, in what looks to be an extremely laid back environment. Catch & Cook: Fishing Adventure will release on PC and Mac via Steam.
Gylt by Tequila Works & Parallel Circles – 6th July 2023
Originally a Stadia exclusive (RIP), Gylt is finally coming to other platforms. You'll be embarking on a surreal journey to face your worst fears and experience the emotional impact of your actions. In the game we meet Sally as she's chased away by bullies and dragged into an alternate and nightmarish version of her reality. After the mysterious disappearance of her little cousin Emily, life has not gone so well for Sally, and this trip down horrifying memory lane may just be the answers she's looking for. The game seamlessly blends puzzles, stealth and action as you explore a fictional old mining town in Maine. Gylt looks like an unnerving combo of Little Nightmares and Coraline and thankfully more people will now get to play this. Gylt releases on Xbox Series X|S & One, PS4 & 5 and PC via Steam.
Scarf by Uprising Studio – 6th July 2023
Scarf is described as an emotional and atmospheric journey on what it means to be a hero. With a mixture of 3D platforming and puzzles, you'll explore beautiful locations with the help of a dragon-shaped scarf. The game has been out for a couple of years on PC, but it's now coming to consoles. Scarf is a metaphorical slower-paced adventure as Uprising Studio wanted players to savour the moments you'll encounter on this allegorical tale. With adaptive orchestral music and a stunning art style, this looks to be a fantastically mediative platformer that'll chill you out. Scarf will release on Xbox Series X|S & One, PS4 & 5 and is already out on PC via Steam.
Oxenfree II: Lost Signals by Night School Studio – July 12th 2023
The long-awaited cycle to the critically acclaimed Oxenfree is actually out this month. Fans and even some of us here at Finger Guns have been in full anticipation for Oxenfree II: Lost Signals this year and for good reason. If you've not played the first one, don't worry, the sequel is a completely new adventure. You play as Riley who returns to their hometown Camena to investigate mysterious radio signals infesting the town, but the signals aren't the end. The game plays as a 2D adventure where every choice changes the course of the story. The first title in the series was praised for it's atmosphere, art style and story telling, and the sequel looks to just be a bigger and bolder entry. Oxenfree II: Lost Signals will release on PS4 & 5, Nintendo Switch, iOS & Android and PC via Steam.
My Friendly Neighborhood by John & Evan Szymanski – July 18th 2023
Developed by the two Szymanskis, My Friendly Neighborhood is a first-person survival horror adventure set in the studio of a once beloved kid's puppet show. You play as Handyman Gordon on a job to fix the antenna that has recently started to broadcast old episodes of My Friendly Neighborhood. During your travels you'll be solving puzzles in the vein of survival horror greats, fighting off felt foes, all with a grid based inventory system. The game promises solid scares over gore as well as non-linear survival horror gameplay. My Friendly Neighborhood will release on PC via Steam.
Viewfinder by Sad Owl Studio – July 18th 2023
I played the demo of Viewfinder on PS5 and was pleasantly surprised at the quick-to-pick-up ingenuity of it. The game is a first-person puzzler with the main mechanic being turning 2D photos into 3D spaces. You'll be lining up, rotating and placing photographs to create them into physical spaces. You've got to play it to believe it, as the mind-bending puzzles are so impressive to experience. Sad Owl Studio has promised an in-depth narrative if you're looking for it, but the game's focus is just the puzzles if that's all you're there for. The world is vibrant and mystifying, using different time periods of architecture and objects to create a world between worlds. Viewfinder will release on PS5 and PC via Steam.
LISA: Definitive Edition by Dingaling Productions – July 18th 2023
An indie classic 10 years in the making since the first chapter. LISA: Definitive Edition is releasing. The game is a side-scrolling RPG set in a post-apocalyptic wasteland. This version includes all the chapters, remastered HD graphics, updated UI, new quests, boss battles and much more. You're forced to make decisions that alter the game for good. Will you save and recruit a survivor at the cost of your health or potential loss of limb? You'll learn that being selfish and ruthless is the only way to survive. Funny, brutal and everything in between LISA: Definitive Edition will release on Xbox Series X|S & One, PS4 & 5, Nintendo Switch and PC via Steam.
Full Void by OutOfTheBit – July 18th 2023
Full Void is a 2D cinematic puzzle platformer with a dystopian future setting. You play as a young teenager as they destroy a rogue AI oppressing the world. Taking inspiration from old-school platformers like Prince of Persia and Another World; Full Void makes that classic feel modern, with a hand-drawn pixel art style creating an intense atmosphere. Hack robots to solve puzzles, soak in the environmental storytelling and fight the machine to save the world. Full Void will release on PC and Mac via Steam.
Let's! Revolution! by BUCK & Antfood July 19th 2023
Let's! Revolution! is a colourful roguelite puzzle game about stopping a tyrannical King who's ruining the world. The gameplay is a whacky mashup of Minesweeper, hide and seek and turn-based tactics, where you'll be chasing the King through the enchanting levels of Beebom. Let's! Revolution! is the debut title from award-winning animation studio BUCK. Their handmade animated and wonderfully illustrated style looks to be just as astonishing here. You'll choose to play as one of the six different heroes, all with their own playstyle and abilities. With a cast of quirky characters meet and 5 levels of NG+ to play through, the game looks to be a great and dynamic puzzle game. Let's! Revolution! will release on PC and Mac via Steam.
Unholy by Duality Games -July 20th 2023
Unholy is a first-person horror narrative puzzle game that sees you exploring two worlds to find your missing child. One world is a cold brutalist post-soviet Eastern European town, whilst the other is a creepy and twisted reality where a grotesque society is ruled by a relentless priest caste. Based on the works of artist Tomasz Strzałkowski, Unholy has a harrowing mix of exploration, puzzle solving and stealth. Everyone in the world wears a mask and you'll be creating your own to upgrade and get new abilities to try and survive the hellscape. Unholy will release on PS5, Xbox Series X|S and PC via Steam.
Lakeburg Legacies by Ishtar Games – July 20th 2023
Lakeburg Legacies sees you using love as your resource in this cosy town management sim. The core gameplay element is the social-based matchmaking you'll be doing to match couples that bring the best out of each other and in turn the town you build. Not everything is fuelled by love, however, as you'll need to balance production, trade and housing to create a thriving community. Lakeburg Legacies sports a delightful painterly art style, with warm and inviting colours as you play the town's matchmaker. The game will release on PC via Steam.
Brewpub Simulator by Star Drifters – July 21st 2023
Brewpub Simulator lets you see out your fantasy of quitting your day job, creating beers and selling them at your own brewery. The game will allow you to build your beer from the conception stage all the way to the sticker for it, and then sell it to your loyal patrons. Design your ideal pub in mind by customising all the furniture, wall decor and of course party games. Play minigames like darts, the arcade machine, pool and more related to your work to really become a master brewsmith. Brewpub Simulator will release on PC via Steam.
Mr. Run and Jump by Graphite Lab – July 25th 2023
Brimming with neon colour, full of precision platforming and face a formidable challenge. Mr. Run and Jump sees you trying to defeat the Void by collecting all the Powers Gems in the Realm of Colour, with the help of your trusty dog companion. The game looks to be a modern version of those extremely tough platformers that would take hours to beat one level, with a collection of enemies all with their own attack patterns and personality. Mr. Run and Jump will release on PS5 & 4, Xbox Series X|S, Nintendo Switch, PC and Mac via Steam.
PixelJunk Scrappers Deluxe by Q-Games – July 27th 2023
PixelJunk Scrappers Deluxe has you cleaning up the streets of Junktown as a team of robot garbage collectors. You can play solo or partake in 4 player co-op as you clean up a grimy city in a not-so-distant future. Q-Games have described this as a clean 'em up with a very similar view and gameplay of the classic beat 'em ups we know and love. With 5 distinct areas and over 25 stages to clean, you'll be able to customise your Garbage Truck with over 100 options to choose from. The art style takes inspiration from Japan with a cyberpunk pop-art flavour that's really eye catching. Will you be part of the clean up crew? PixelJunk Scrappers Deluxe will release on PS5 & 4, Nintendo Switch and PC via Steam.
Rightfully, Beary Arms by Daylight Basement Studio July 27th 2023
Rightfully, Beary Arms is a bullet hell roguelite dungeon crawler that is much more than collecting loot, dying and losing everything. You'll carefully choose enemy upgrades against your own and plan your dungeon crawl tactically, fighting against a unique crew of enemies and strategically preserving loot on death. It's easy to compare this game to Enter/Exit the Gungeon, but Rightfully, Beary Arms does look to transform the formula. Find a whole diverse arsenal of guns in the dungeons, upgrade them and every complete run rewards you with a loot drop of your choice, letting you decide where you want to improve. You can either play Rightfully, Beary Arms on Steam Early Access, but the 1.0 will launch later this month. The game will release on PC via Steam.
Double Dragon Gaiden: Rise of the Dragons by Secret Base Pte – July 27th 2023
The Double Dragon brothers are back with a modern return to the classic beat 'em up series. Now with roguelite elements to switch up the action every playthrough, you'll play with 2 of the 4 starter characters with an additional 9 more to collect. Each character has their own abilities and playstyles, experimenting with your line-up is key. The year is 199X and nuclear war has devastated New York City. Crime is at an all time high with everyone out for themselves. Billy and Jimmy Lee are tired of this life and want to run the gangs out of the city for good. Double Dragon Gaiden: Rise of the Dragons will release on Xbox Series X|S & One, PS4 & 5, Nintendo Switch and PC via Steam.
Venba by Visai Games 31st July 2023
Cook South Indian cuisine and learn the story of a family who migrated to Canada in the 1980s in a short, sweet and stylised cooking narrative game. From Idlis, Dosas and Biryanis, you'll discover delectable family recipes during the foodie puzzle games. Experience a story of family, love and loss during branching conversations in a linear story of culture and self-discovery. Venba seeks to warm your stomachs and your hearts in what looks to be something so beautifully crafted. The game will release on Xbox Series X|S & One, PS5 & 4, Nintendo Switch and PC via Steam.
---
What an extensive and eclectic list this month, as 2023 doesn't show any signs of slowing down with quality games. Have you got a favourite? If you have an indie game coming out in August or anything late this month I couldn't cover, please get in touch! We'll be excited to cover it in next month's article.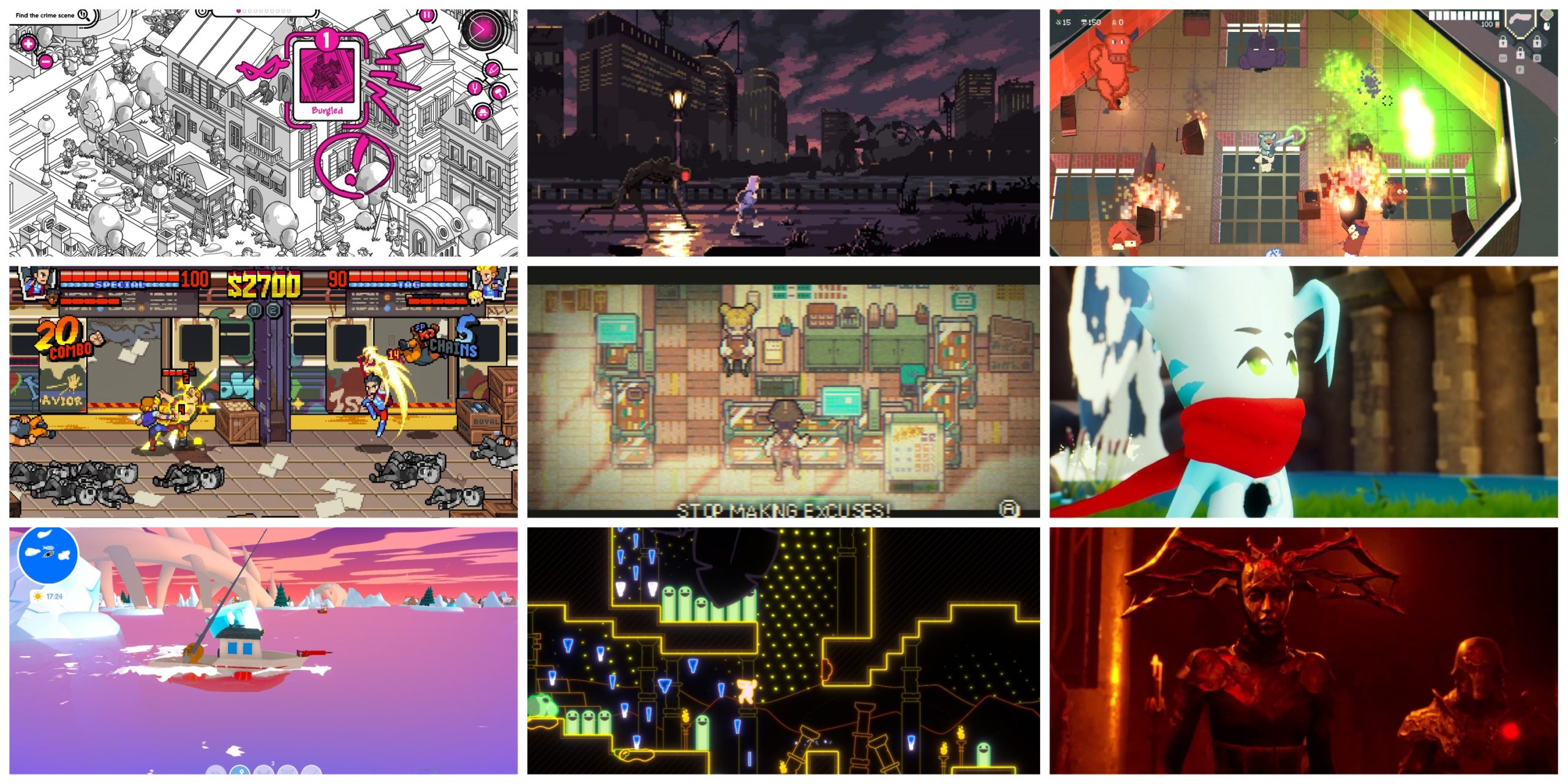 For more News on Indie Games and more click here
Make sure to follow Finger Guns on our social channels –Twitter, Facebook, Twitch, Spotify or Apple Podcasts – to keep up to date on our news, reviews and features.
If you enjoyed this article or any more of our content, please consider our Patreon.