Does Codemasters' first cross-gen effort respect its elders? Dirt 5 on Xbox One - The Finger Guns review.
Does Codemasters' first cross-gen effort respect its elders? Dirt 5 on Xbox One – The Finger Guns review.
A month after I reviewed art of rally and proclaimed it to be one of the best rally games ever, partly for its simple and minimalist approach, here I am reviewing Codemasters' latest entry into their long-running rally franchise, Dirt 5, and it's safe to say that it takes a very different approach…but is it equally successful?
Over the last couple of console generations, Codemasters have branched Dirt off onto two distinct paths. Dirt Rally has become the connoisseur's rally game, whereas Dirt has become the mainstream crowd pleaser. Dirt 5 continues that trend and, in many ways, feels like the culmination of a journey. It is, therefore, fitting that it comes at the dawn of a new console generation – one which promises to provide the tools to allow them to deliver their ultimate vision for the series.
Aesthetically, Dirt 5 sets its stall out from the jump. It's an incredibly vibrant UI with bright neon colours, graffiti-style fonts, flashy menu transitions and what I have come to refer to as "earworm rock", the kind of music that sounds like it has been designed by AI to get stuck in your brain within the first ten seconds. It all works pretty well, feeling looser and, therefore, a little less 'corporate fun' than something like the Forza Horizon series of games.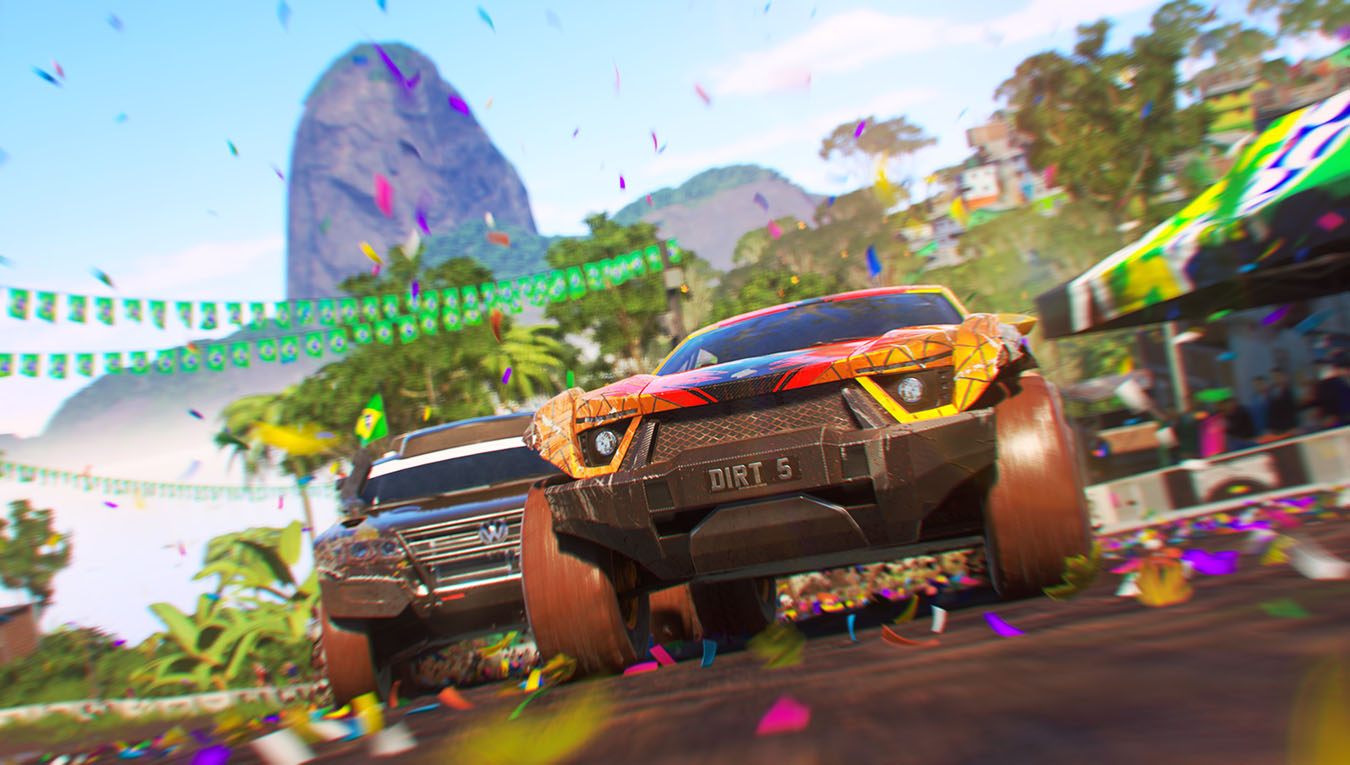 Of course, this is ultimately all periphery to the thing that actually matters in a driving game – namely the driving itself – and it's here that Dirt 5 truly shines. With a solid array of different race types to take part in, a range of weather types to contend with, and a large selection of vehicles to get behind the wheel of, every race has the potential to feel different from the one before and often does. This is all thanks to a terrific handling model, which ensures that vehicles have a satisfying heft to them, without ever feeling either sluggish or overly twitchy. This is, of course, incredibly important in a rally game, where drifting is king – drifting has always been my favourite mechanic in driving games, and Dirt 5 doesn't disappoint in that regard – there's little more satisfying than tapping the handbrake button and flicking the back end of your car around to perfectly navigate a muddy hairpin.
However, I do have one issue with the racing itself, and it's the AI of the competing drivers which can be maddeningly inconsistent at times. As an averagely-skilled player, I have been playing with the AI set to Medium, and there is a touch of Goldilocks Porridge Syndrome (trademark pending) at play. There are races where it is absolutely spot-on, and these races are the most fun, with multiple lead changes and the AI is constantly nipping at your heels. These represent the most thrilling moments in the game. Unfortunately, you also have races where you absolutely run away from the field at the first corner and don't see them again for the rest of the race, which can be a great occasional ego stroke for sure, but can also make some races pretty sterile affairs. Then, at the other end of the spectrum, you have races where getting caught up in the midfield through even just the first couple of corners – almost an inevitability, given the nature of the races – can ensure that you won't even sniff the top two for the remainder of the race.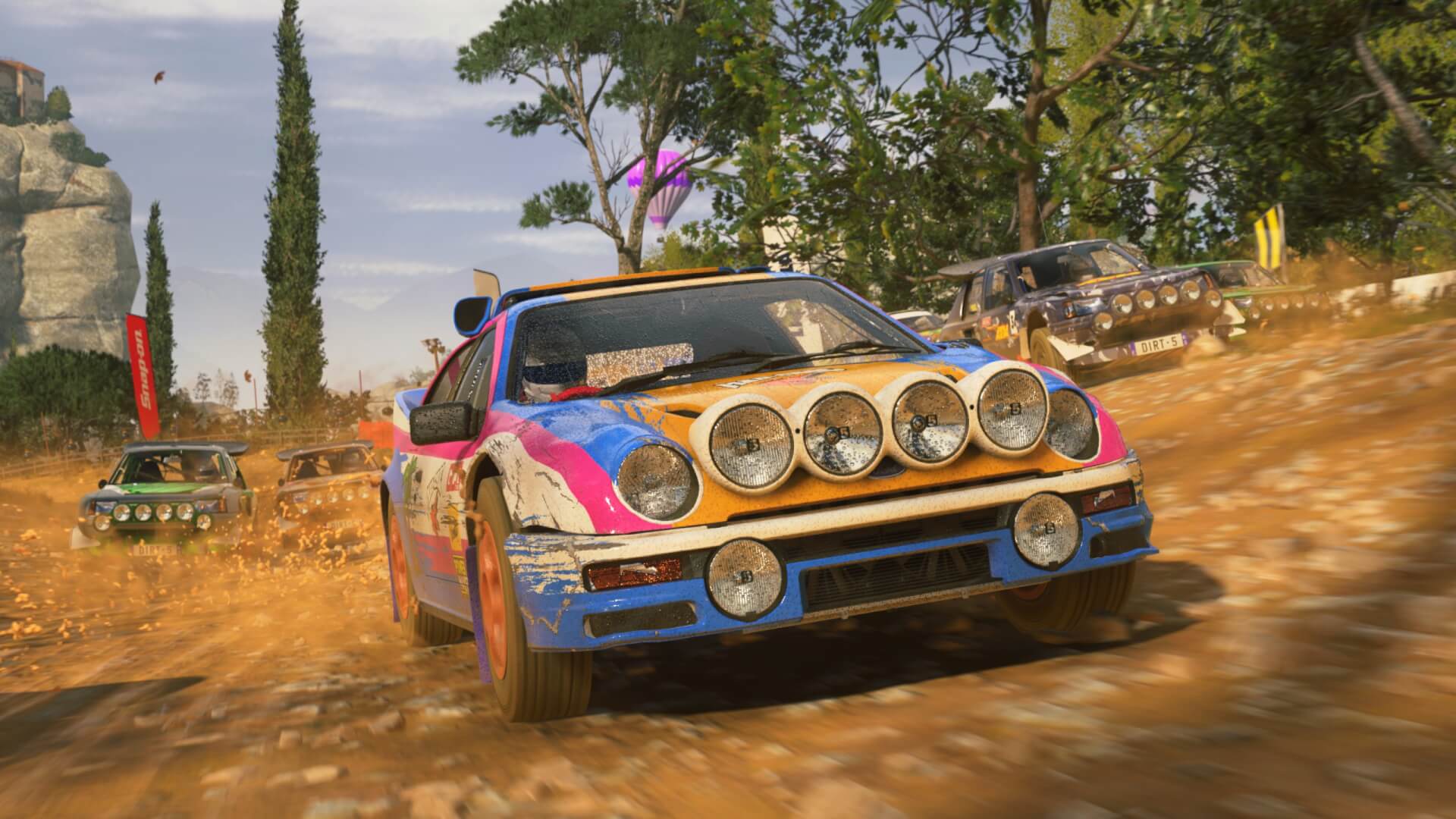 The only other issue I have encountered during races is of the technical variety. For the first ten seconds of some races, I found myself encountering some very heavy screen tearing across the top half of the screen, regardless of whether you're in the visual quality mode or the framerate mode. It can be incredibly jarring but, thankfully, rarely affects the racing.
From an overall technical standpoint, Dirt 5 does have the feel of a game designed for the new consoles, as the Xbox One X version can feel a little sketchy at times. For example, visual quality mode should be avoided for the most part on the current generation of consoles, as the increase in resolution just isn't worth the hit to framerate. That's not to say that the game is a mess though. Indeed, there have been some genuinely breathtaking graphical moments, due to an outstanding lighting model – be it sunrise in Greece or a lightning-heavy snowstorm in Manhattan, it can sometimes be difficult to keep your focus on the action you're involved in. It's not difficult to imagine Dirt 5 being one of the best-looking earliest entries on the next generation.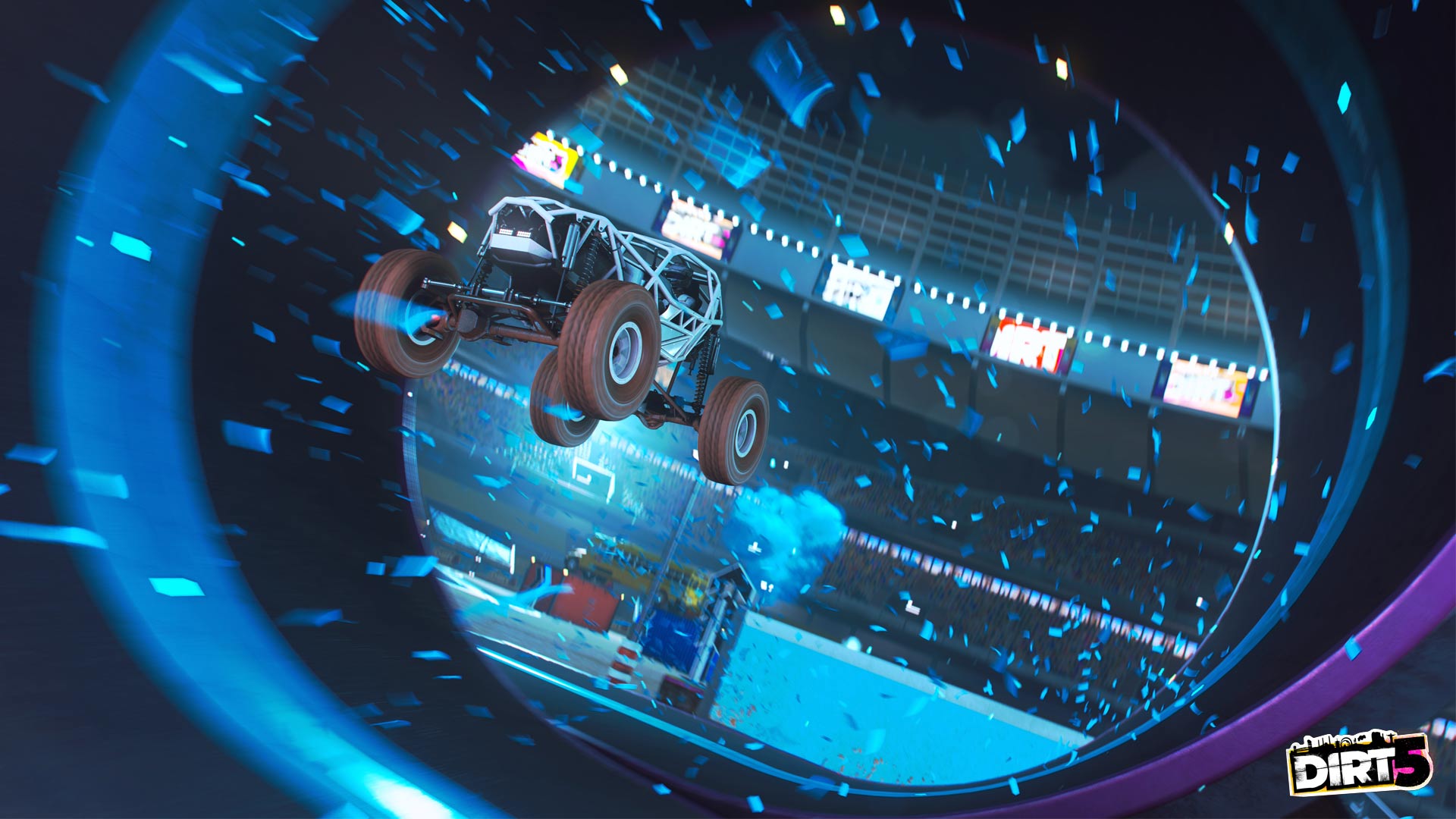 Much of what's available to play in terms of game modes is fairly standard fare with a solid career mode and online component. However, it's Playgrounds – Dirt's big new addition – that already feels like the mode that is going to sustain interest in the game over the coming months. Essentially a time trial race creator, there are already a number of user-built tracks and challenges on the servers and they're already terrific fun, often feeling like elaborate funfair rides. This bodes extremely well for the quality of the creations we'll see, once the game is properly out in the wild. It also reeks of the 'just one more go' potential that all of the best time trial game modes have, and I've already lost countless hours to trying to improve my times and move up those leaderboards.
---
Dirt 5 feels like a game designed for the new generation of consoles, but there's still plenty here for those not upgrading in the short-term. Whilst it has some technical issues and frustrating AI, the driving is as solid as ever, Playgrounds is a great new addition and there are some genuinely stunning moments to be experienced. It's one of the best rally games in recent memory and I can't wait to try it on a new platform.

Dirt 5 is launching on the Xbox One (review platform), PlayStation 4 and PC on November 6th 2020, for the Xbox Series X/S on the 10th of November 2020, for PlayStation 5 on November 19th 2020 and on Google Stadia in 2021.
Developer: Codemasters
Publisher: Codemasters
Disclaimer: In order to complete this review, we were provided with a promotional copy of the game. For our full review policy, please go here.
If you enjoyed this article or any more of our content, please consider our Patreon.
Make sure to follow Finger Guns on our social channels –Twitter, Facebook, Twitch, Spotify or Apple Podcasts – to keep up to date on our news, reviews and features.