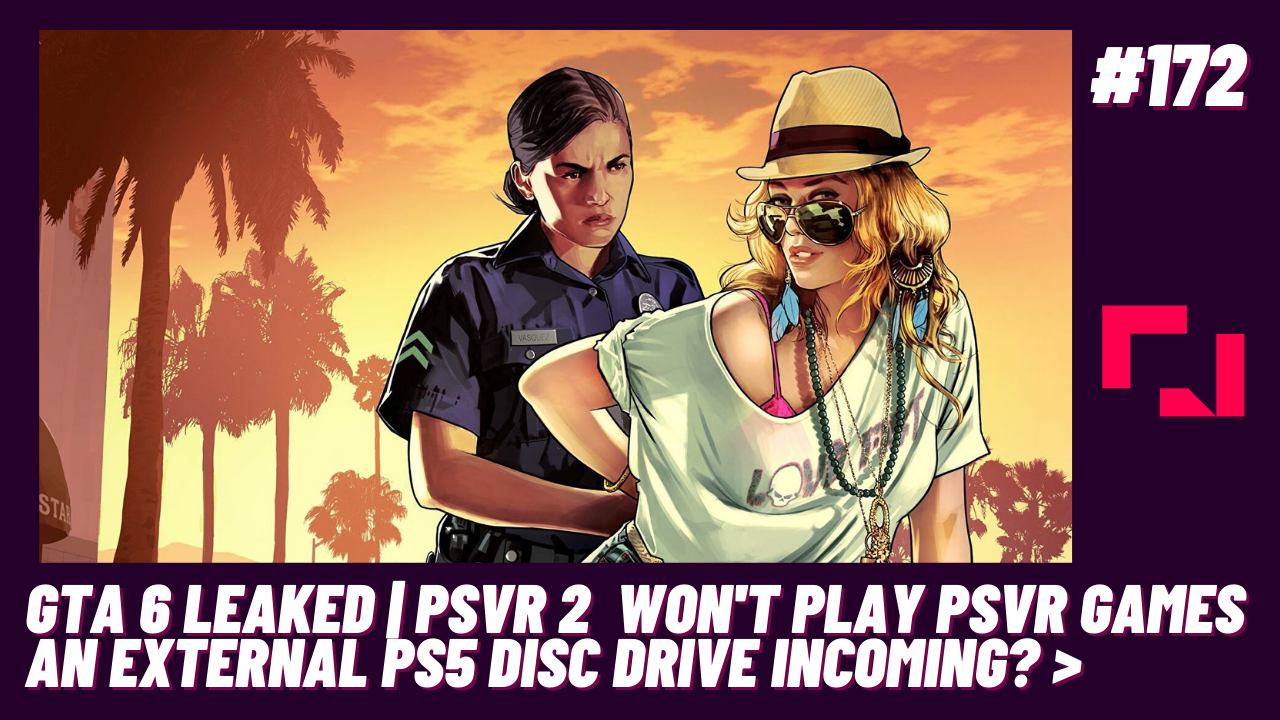 '.......Co-Op was at the door............'
This week on a packed Finger Guns Podcast Rossko sits himself back in the hosting seat with Sean, Greg, Kat, Miles and Josh to talk about the week's news and what on earth could we talk about. Well, there was a certain thing about Grand Theft Auto 6 that happened.
Yes, GTA 6 leaked across the internet this week and we have some thoughts. A lot of them not good. We try to dissect the timeline of this madness and work out where Rockstar Games go from here in dealing with this. It may not have huge implications after all, but it's not all that great, eh? We talk it out and see if the hype remains (spoiler; it does).
We also get into the PSVR 2 news and after a week of previews and reveals, the news that the new headset will be incompatible with PSVR 1 games. We're all a bit gutted about it and we discuss whether or not this impacts our excitement for the headset. Also, are Sony planning an external disc drive for future PS5 models? The smallest of rumours have landed and we talk the possibilities and how it would actually be a good thing. Maybe? We'll see.
In Game of the Week Rossko (and Kat, still blowing Rossko's mind to this day) talk the brand new Chromey season of Fortnite, Miles talks Sunday Gold, Kat finally gets to share her thoughts on Little Orpheus, Greg jumps back into Cyberpunk 2077, Josh has played a whole lot of Wo Long: Fallen Dynasty and Sean finally gets his hands on his hugely anticipated Return to Monkey Island. There were tears shed..
Enjoy the episode!
To download the MP3 of this episode, right-click here.
ALL THE PLACES WE ARE: https://linktr.ee/fingerguns
Donate to Sunflower of Peace to support humanitarian efforts in Ukraine: http://www.sunflowerofpeace.com
Theme Music – De Jongens Met de Zwarte Schoenen by RoccoW & xyce. | Edited and produced by Ross Keniston | Published by Acast.
Team: @FNGRGNS / Rossko – @RosskoKeniston / Paul – @ThePaulCollett / Greg – @GregatonBomb / Josh – @jshuathompson / Sean – @Omac_Brother / Toby – @toby_andersen / Kat – @RainbowDropx / Tom – @T_Woods93 | Facebook: FingerGunsUK / Twitch: twitch.tv/fingergunsdotnet / The Official Finger Guns Discord Discord: Join here!