You won't be Alone in the Dark as you'll have a star-studded cast to join you in your journey towards madness. We have release info and more:
Returning to the roots of survival horror, Alone in the Dark is back in the form of a reboot, and they've brought some friends with them. Actors David Harbour (Stranger Things, Black Widow) and Jodie Comer (Killing Eve, Free Guy) play the two protagonists, Edward Carnby and Emily Hartwood, respectively.
Both actors will be lending their voices, likenesses and acting prowess to bring the two playable protagonists to life. The two are both completely playable from start to finish, offering separate perspectives of the story. THQ's Spotlight for the game dives deeper into what to expect from the game, which you can watch below:
Set in the 1920's deep south, you'll be exploring Decerto Manor, a home for the mentally ill and the last known location of Emily Hartwood's uncle – Jeremy Hartwood. Emily receives a distressing letter from Jeremy that compels her to visit with the assistance of private investigator Edward Carnby. Solve puzzles, and scrape by using every resource when fighting malicious entities to get to the bottom of the haunting mystery of the Dark Man. Mikael Hedberg (SOMA, Amnesia) fuses psychological horror and the southern gothic genre to create an intoxicating yet maddening atmosphere.
Grace in the Dark Impressions and Release Details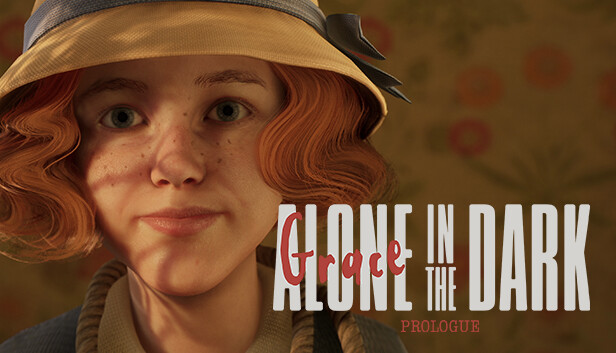 The Spotlight also revealed a playable prologue which can be enjoyed right now. I've played it and I've got to say, I am absolutely sold on what it's going for. You play as a child named Grace who's delivering Jeremy's letter that sparks the beginning of the game.
It's short but sweet and my biggest takeaway is the atmosphere they're going for. The 'doom jazz' music paired with the foley of a creepy mansion builds an unnerving uncertainty that whisks you away with your hand over your eyes. The prologue really keeps its cards close to its chest. You experience the shifts in dimensions and a possible enemy type but less is more when it gives you a great taste for the game.
But enough explaining, when can we get our hands on Alone in the Dark? The game will release on October 25th, 2023 on PlayStation 5, Xbox Series X|S and PC via Steam. Just in time to get spooked on Halloween.
[Source: Press Release]
---
For more News click here
Make sure to follow Finger Guns on our social channels –Twitter, Facebook, Twitch, Spotify or Apple Podcasts – to keep up to date on our news, reviews and features.
If you enjoyed this article or any more of our content, please consider our Patreon.