August is looking like the Summer Blockbuster season for indie games as we have a mammoth month ahead with this line-up for you to check out.
Like buses, August has arrived bringing along some of the biggest indie games all at once. Last month we managed to cover Dave the Diver, Viewfinder and Oxenfree II: Lost Signals amongst others from July's indie list, so be sure to have a look out for some from this list for news, features or reviews.
Whether it's RPGs, FPSs, Metroidvanias or strategy games you're looking for, this month really has them all. Summer's already seemingly over in the UK according to the weather, creating no better excuse to get acquainted with this line-up. Links to their Steam and Twitter – I'm never calling it anything but – are below the descriptions to wishlist. Here are 20 indie games to be excited about during August 2023.
The Banished Vault by Lunar Division – July 25th 2023
Survive the journey across the Auriga Vault in the intense strategy game that is The Banished Vault. You'll be exploring solar systems, harvesting resources and making game-changing decisions that'll permanently change your course. Trying to keep the last remaining exiles of a catastrophic disaster alive. The game has a wonderfully crafted hand-drawn art style with a board game style aesthetic. It looks to succinctly blend board and video games with dice and an instruction manual that dives deep into the rules, lore and reference guide. No run will ever be the same with procedurally generated map design that'll keep you on your toes in the gothic interstellar monastery. The Banished Vault is out now on PC via Steam.
The Master's Pupil by Pat Naoum – July 28th 2023
Explore the biography of legendary painter Claude Monet in the 2D puzzle adventure The Master's Pupil. You'll be traversing through Monet's eye as you persevere and overcome the disease that threatened his eyesight. Almost completely hand-painted over the span of several years and composed by Steven W Schouten, The Master's Pupil sees you helping complete Monet's masterpieces in a calm and relaxing environment. The Master's Pupil is out now on Nintendo Switch and PC via Steam.
Thronefall by GrizzlyGames – August 2nd 2023
Thronefall describes itself as a strategy game without the headache. The game has stripped away the classic strategy formula of its unnecessary complexities by combining some hack-and-slash mechanics. Build your kingdom during the day and fight through the night to keep it safe. Featuring a good-looking minimalist design across 4 levels with over 35+ unique perks and weapons; Thronefall promises 3-5 hours of core playtime with the ability to constantly beat your own high score and be on the leaderboard. Thronefall releases August 2nd 2023 on PC and Mac via Steam.
Ninja or Die: Shadow of the Sun by Nao Games – August 2nd 2023
An ultrafast, blistering roguelite set in Edo Japan. Ninja or Die's Japanese folklore story is met with a gameplay that consists of just one button. No running, no walking, just jumping. Die fast but respawn faster in brutal but exciting gameplay. With a vibrant pixel art style, and a mix of procedurally generated and handcrafted levels in various modes, Ninja or Die has chaotic and hellish boss battles that you'll need to pull off combos with your jump attacks to beat your score. Ninja or Die: Shadow of the Sun will release on Nintendo Switch and PC August 2nd 2023.
Sushi For Robots by Ludipe & Friends – August 3rd 2023
I saw Sushi For Robots on Twitter and instantly fell in love with the art style. The game, put as simply as possible by the Steam page is that you are serving robots sushi, but as quickly as you can. Designing how the conveyor belt operates and getting the right sushi to the picky robots is essential to progress. There's no real pressure however as it's all about experimenting and finding creative solutions to the levels. With a light-hearted narrative about a group of friends getting together every week for dinner, Sushi For Robots looks to be a perfect heart-warming puzzler. The game will release on PC via Steam.
A Guidebook of Babel by StarryStarry – August 3rd 2023
A story-driven adventure with the butterfly effect at the centre of it all. A Guidebook of Babel sees you onboard the titular Babel as you're journeying to the afterlife. Using your memories to charge the Giant Boiler and set sail to rewrite the past and invent a future. With a brilliant art style and an in-depth guidebook to help you piece together the parallel storytelling the way you want. With an extensive cast of characters, dramas and plotlines to get in the middle of as well as a plethora of quests and puzzles. A Guidebook of Babel really looks to be a novel experience and will release on Nintendo Switch, PC and Mac via Steam.
WrestleQuest by Mega Cat Studios – August 8th 2023
The main event we have all been waiting for (especially Ross), WrestleQuest is soon to make its way into the ring! Take on the hero's journey to become a pro wrestler in glorious pixel art fashion. A perfect one-two combo of RPG and wrestling combined with the help of icons like Randy 'Macho Man' Savage and more to aid you on your journey. Perfect moves that you choose, be a face or heel and be the best wrestler that there is in WrestleQuest. The game will release on Nintendo Switch, PlayStation 4|5, Xbox Series X|S, Xbox One and PC via Steam.
Stray Gods: The Roleplaying Musical by Summerfall Studios – August 10th 2023
An all-star cast from some of the biggest games, composed by Austin Wintory and developed by a team with a bunch of AAAs under their belt. Stray Gods: The Roleplaying Musical is seemingly godlike in not just name but by all the people behind it. The game is a modern take on Greek mythology where you play as Grace, who is guilty until proven innocent of murder. The game plays as a narrative adventure with branching paths and a range of songs to play through depending on your choices. Featuring an awesome graphic novel-like art style, there is really something for everyone, even if you're not into musicals. Stray Gods: The Roleplaying Musical will release on PlayStation 4|5, Xbox Series X|S, Xbox One, Nintendo Switch and PC, August 10th 2023.
Moving Out 2 by SMG Studios and Devm Games – August 15th 2023
The F.A.R.T Team at Smooth Moves are back at it with more physics-based belonging-busting antics with Moving Out 2. Back in Packmore to well… pack more but this time with online play with up to you and three other players. Explore new worlds thanks to interdimensional travel alongside new and old faces from the first game. Having played the first one last year with my partner, we had a lot of fun thanks to the accessibility features. Thankfully, they're back in the sequel so everyone can enjoy the wackiness that is Moving Out 2. The game will release on PlayStation 4|5, Xbox Series X|S, Xbox One, Nintendo Switch and PC via Steam, August 15th 2023.
En Garde! by Fireplace Games – August 16th 2023
Parry, riposte and lunge in swashbuckling adventure En Garde! Featuring a completely unique take with the swordplay mechanic, you'll be engaging in fast-paced fights as Adalia in her death-defying escapades. Fill out your panache meter with your sword skills and style to unlock new abilities. From marketplaces to dungeons, fight or befriend a flamboyant cast of characters with a wit sharp like a sword. Use your environment to your advantage during heated battles or take on the Arena mode that the game has in store, and above all else En Garde! The game will release on PC via Steam August 16th 2023.
Quasimorph by Magnum Scriptum – August 16th 2023
Assume the role of a hardened PMC fighter in a grungy pixel art turn-based RPG. Featuring a mix of rogue like elements and strategic thinking, Quasimorph is an extraction game with a twist. Far into the future, space has been privatised and it's up to you to uncover the truth of the unforgivable acts humanity has committed. Run your own private military company as you explore bases, secret labs and wreckages to earn reputation. This'll build out your company, creating a devastating crew for you to clone. Slaughter space demons and take control of the solar system in Quasimorph as it will release on PC via Steam on August 16th 2023.
The Cosmic Wheel Sisterhood by Deconstructeam – August 16th 2023
Craft your own Tarot deck, fight for your freedom and change the fate of the Cosmic Witch society in The Cosmic Wheel Sisterhood. You play as Fortuna, a fortune teller witch in exile on her asteroid home. The game promises a thought-provoking narrative as you rekindle old friendships and build new ones within the coven. Use your cards to dive deep into characters' past, present or future to reveal a complex web connecting everyone with the coven, leading to a political plot amongst the Cosmic Witch society. The Cosmic Wheel Sisterhood will release on Nintendo Switch and PC on August 16th 2023
Book of Hours by Weather Factory – August 17th 2023
Set in a world of hidden gods and secret histories in the 1930s, you choose what kind of librarian you want to be with a collection of grimoire and arcana. Book of Hours is described as a narrative RPG that sees you restoring a ruined library with your unique talents. During your 30-40hr gameplay time, you'll be able to study the nine wisdoms, and cultivate customers to influence their story whilst restoring and learning from the books of the occult, all with an opulent almost handcrafted art style. Book of Hours will release on PC via Steam August 17th 2023.
Bomb Rush Cyberfunk by Team Reptile – August 18th 2023
Bomb Rush Cyberfunk has felt like a long time coming and we're so excited that it's right around the corner. Initially starting as a spiritual successor to the cel-shaded hip-hop-infused Jet Set Radio, Bomb Rush Cyberfunk has seemingly honoured the legacy and then some. Skate, inline or BMX your way through 5 boroughs whilst battling rival crews in tagging, breakdancing and overall outstyling. The streets aren't all yours, however, as the police will be on your tail with a dynamic police presence depending on your amount of vandalism. Bomb Rush Cyberfunk will be hitting Nintendo Switch and PC via Steam August 18th 2023.
DepowerBall by Mega Power Games – August 21st 2023
Play in either local or online multiplayer, you'll have to be the first to feed the Dragon Queen and score points across three rounds. When a player wins a round, others can even the odds by taking away their powers, forcing them to adapt or fail. Think of arenas similar to Smash Bros. but with two different game modes across several levels. Players can choose from eight cute characters. DepowerBall will release on PC via Steam August 21st 2023.
Blasphemous 2 by The Game Kitchen – August 24th 2023
The time to repent is almost nigh. After The Game Kitchen's incredibly successful 2D soulslike Blasphemous released in 2019, there has been a fervour for more of the brutal metroidvania (I speak for myself at least). A bigger arsenal, more sadistic bosses and an incredible pixel art style to the backdrop of Spanish religious folklore. Blasphemous 2 looks to be a bigger and more dangerous journey. The game follows the events of the original's ending with the Wounds of Eventide DLC as you must stop the Miracle from essentially birthing a new miracle child in a completely new area for the Penitent One. Blasphemous 2 will release on PS5, Xbox Series X|S, Nintendo Switch and PC via Steam August 24th 2023.
Sea of Stars by Sabotage Studio – August 29th 2023
People that have tried out the demo have likened Sea of Stars to a modern-era Chrono Trigger, and I think that's about enough of a descriptor. The story follows a pair of heroes that both have the power of the sun and the moon to perform Eclipse Magic. This then leads the two on a hero's journey to defeat the nefarious alchemist The Fleshmancer as no one else has enough power to stop him. It's an isometric, pixel art RPG that has turn-based combat with some real-time elements making battles engaging. With the news that this will be on PS Plus Extra tier day one for PS4|5 is an absolute treat, but Sea of Stars will also be on PC via Steam, Nintendo Switch, Xbox One and Xbox Series X|S on August 29th 2023.
Goodbye Volcano High by KO_OP – August 29th 2023
Goodbye Volcano High is described as a cinematic narrative adventure that follows Guide Fang through their final year at high school. During the story, you'll be potentially mending relationships, breaking hearts in a branching narrative, all while the world is about to end. The game boasts an amazing hand-drawn art style and animation that looks and plays like a cartoon. If saying how you feel is too hard, you can also create the lyrics to the songs you play in the rhythm game sections. Goodbye Volcano High will release on PlayStation 4|5, PC and Mac via Steam.
Daymare 1994: Sandcastle by Invader Studios – August 29th 2023
Daymare and the development teams are back in the 90s in Daymare 1994: Sandcastle. After the success of the original survival horror with a nostalgic tinge, Sandcastle looks to be a prequel to the events of the first title. This time round you play as spy turned H.A.D.E.S member agent Dalila Reyes. Featuring classic puzzle-solving, deadly enemies and the promise of concentrated horror. With a bone-chilling soundtrack and gritty visuals, Daymare 1994: Sandcastle looks to fully embrace the 90s action horror genre. The game will release on PlayStation 4|5, Xbox Series X|S, Xbox One, Nintendo Switch and PC via Steam August 29th 2023.
OU by Room6 and G-Mode – August 31st 2023
Information on OU is vague, oxymoronic but overall intriguing. You play through the world of U-Chronia, a hazy world that lives in the memories of a hazy past. The world is described as a book where the pages are out of order. You play as OU who has no memory, assisted by an opossum named Zarry who helps in showing OU his journey. The pen-drawn world and the atmosphere really grabbed me to want to put this on the list of indie games. OU will release on Nintendo Switch and PC via Steam August 31st 2023.
---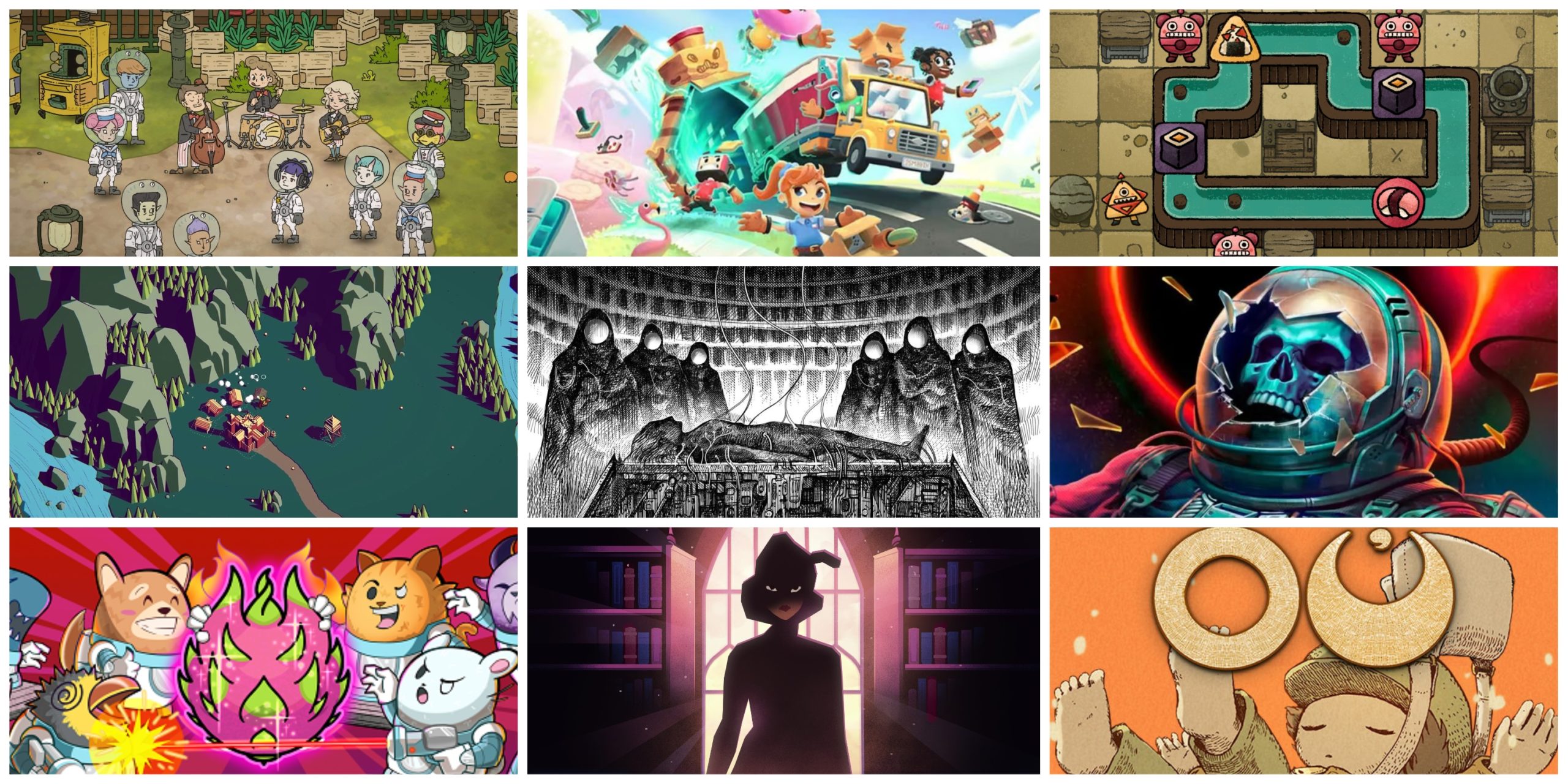 Exhaustive, diverse and some potential GOTY contenders in August's list of indie games. Which ones will you be checking out? As always you can check our socials or email us at hello@fingerguns.net to be featured in next month's list, we would love to hear from you. Until next month!
For more News on Indie Games and more click here
Make sure to follow Finger Guns on our social channels –Twitter, Facebook, Twitch, Spotify or Apple Podcasts – to keep up to date on our news, reviews and features.
If you enjoyed this article or any more of our content, please consider our Patreon.