4 feathered reptiles arrive to flesh out Jurassic World Evolution 2, are they worth the price of admission? The Finger Guns review:
Jurassic World Evolution 2 may be going for the world record number of DLC packs with the rate it's plowing through new expansions. It still has a way to go to catch that Train Simulator game, mind. Anyway, welcome back to episode #23,876 of Jurassic World Evolution 2 (JWE2 from now on) content. The fact you're here and still reading these reviews means a lot.
The latest expansion from Frontier Developments comes in the shape of the Feathered Species Pack, featuring – you guessed it – feathers. 4 new prehistoric reptiles are dug up from the tombs of history to be recreated in all their furry glory just for you. For context, I wasn't especially overjoyed with the last dinosaur-only expansion, the Late Cretaceous Pack, owing to its relatively high price and limited new content.
Sadly, Feathered Species Pack falls into the same disappointing bracket for identical reasons. But first, let's meet the dinos.
Showing Their Softer Side
Let's start with the most exciting lethal predator, the Yutyrannus or "Feathered Tyrant". They're a big carnivore that cost a decent chunk but will act as good upgrade on the Ceratosaurus for example. They're not wholly original in design, plus they're a bit more needy depending on bad traits. Oh, and it has brightly coloured horns, which is cool.
Next up are the two cuter additions – Jeholopterus and Sinosauropteryx. Both are tiny little critters, with the former being a bat-like flying creature with big eyes and adorable face, bit like Maurice from Madagascar. The latter is a fox-like reptile with a bushy tail and honestly they're so small they're impossible to pick out in an enclosure without zooming in to maximum. Both are easy-going, cheap varieties but won't be drawing in the masses.
Last in is the star of the show, the Deinocheirus. A fish-consuming, long-snouted feathered looking camel, they're an aesthetically interesting addition. They're about the same cost as the Yutyrannus, but draw in more attention and are less needy, making them a valuable inclusion to the roster.
Aside from the fact they have feathers, once again they're basically identical to other already available dinosaurs. Animations, behaviours and whatnot are all fundamentally the same, and it shows when alongside other dinos of the same model type. JWE2 continues its quest to be the most impressive prehistoric reptile video game museum, even if it'll cost you a pretty penny.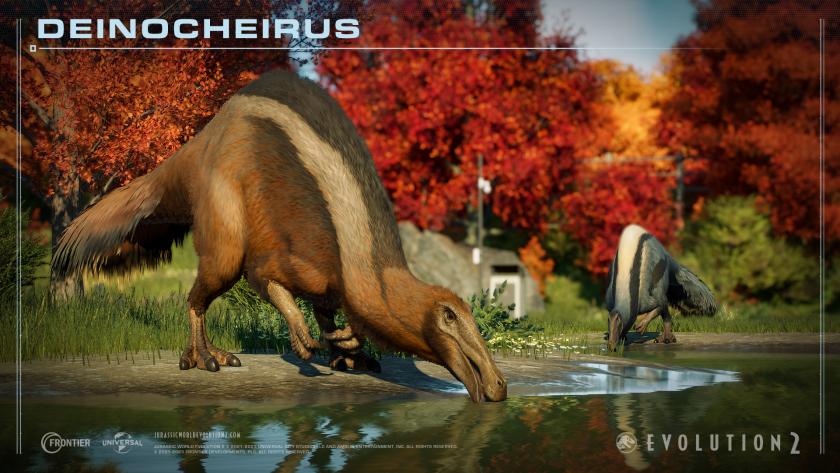 Updates To Extinction
Once again, the Feathered Species Pack is being released alongside Update 6, which is bringing another round of bug fixes as well as quality of life improvements. Remote viewing galleries allow you to place log or dome like structures inside the enclosures to improve visibility ratings, plus there's new zipline variants (which I'm sure Rossko will be very excited for).
Sandbox mode is being further expanded with 6 new levels and adjustable settings for feeders, income tax, capture frequency and decorations. It's not quite as chunky as previous updates, but that would presumably be a good thing given how long the game has been valiantly supported by the developers.
Which I think is where it's important to view DLCs like the Feathered Species Pack. For £6 it is expensive for effectively 4 more skins/slight alterations on already crafted dinosaur models, however the money is going into keeping the game alive with its expanding roster and making it a superbly polished, fantastic title.
Are the 4 new dinosaurs alone worth the price of admission to this park? Probably not. However, if you're such an avid fan that you're still following the DLCs, chances are you won't mind paying it to maintain the hard work Frontier Developments are putting into Jurassic World Evolution 2. If nothing else, they deserve plenty of plaudits for how well they've updated and improved the core package.
---
Another barebones dinosaur expansion which only brings 4 new variants of reptile, the Feathered Species Pack has a lot of furry cuteness but not a whole lot else to make it worth investing in. Thankfully, Frontier Developments continue to support the game with free updates which softens the blow and keeps Jurassic World Evolution 2 on track to be the greatest dinosaur museum ever.

Jurassic World Evolution 2: Feathered Species Pack is available now on PS5 (review platform), PS4, Xbox One, Xbox Series and PC.
Developer: Frontier Developments
Publisher: Frontier
Disclaimer: In order to complete this review, we were provided with a promotional copy of the game. For our full review policy, please go here.
If you enjoyed this article or any more of our content, please consider our Patreon.
Make sure to follow Finger Guns on our social channels –Twitter, Facebook, Twitch, Spotify or Apple Podcasts – to keep up to date on our news, reviews and features.