After more than a year on PS4, Battle Axe embarks on its next-gen PS5 journey this week.
Bitmap Bureau (XenoCrisis, Final Vendetta) and Henk Nieborg's arcade adventure game Battle Axe is headed to PS5 on November 18th, 2022. Via publisher Numskull Games, the homage to classic adventure games from the 80's & 90's is getting a digital release as well as a physical Special Edition on Sony's now-gen console.
Battle Axe originally released on Nintendo Switch, Xbox One, PlayStation 4 and Steam back in April 2021. The game was praised by critics for its high-quality pixel art visuals, retro inspired game mechanics, and music from the legendary VGM composer Manami Matsumae.
The PS5 version of Battle Axe features a number of tweaks and changes by developers Bitmap Bureau. These include:
New Casual Difficulty Mode (with unlimited continues.)
New Strafing mechanic which allows you to move while you use your ranged ability.
Improved CRT shader.
Other game re-balances.
These updates will also be coming to previous versions of the game in future patches.
Battle Axe PS5 Special Edition
For fans of Battle Axe, the physical special edition is certainly worth a look. It includes the Base Game, A soundtrack CD by Manami Matsumae and an exclusive game sleeve displaying the games lead villain Etheldred.
The physical release of Battle Axe – Special Edition will be available for PlayStation 5 priced at £39.99 / €49.99 / $44.95. European and worldwide players looking for the physical edition can order it now here. The physical edition will be arriving in the United States Canada in December – You can currently pre-order via Amazon, Best Buy, Gamestop, Target, Walmart and more.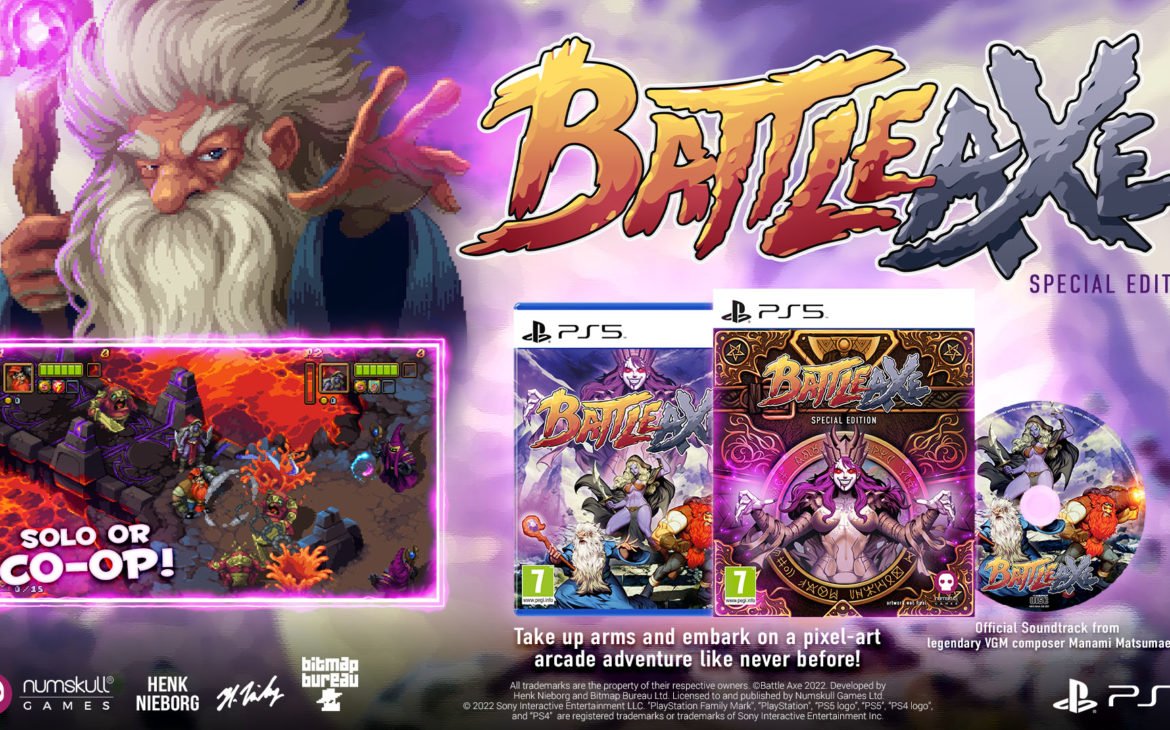 Source: Press Release