Harmonix are back to what they do best with Fuser. The Finger Guns Review;
Harmonix have always had my heart. From the dizzy heights of Amplitude to Guitar Hero and Rock Band, they've always been a developer I've kept up with, purely because I enjoy the music creation / simulator genre and more than anything, I've missed it. It feels like it's been a minute since I've sat in front of my computer and jammed out with friends whether it be with a plastic guitar in my hands or a set of drums before me. Being able to finally get my hands on their latest music genre title Fuser had those memories come rushing back, and the digital crowds cheering for me once again. If I could never be a guitar hero, perhaps now I can be the world's greatest DJ?
Harmonix being behind Fuser was enough to get me interested, and it's clear Dropmix has had a huge influence on proceedings. The games campaign has you play as a DJ recruited to entertain the masses with four individual decks that you can layer with music from your record crate, adding and taking away individual portions of a song – vocals, rhythm, bass, lead – and morphing into something completey unique. Each component is colour coded with your controller so, as I was playing on PS4, drums were pink to correspond to the square button, vocals were red for the circle and so on.
It's deceptively easy to begin mixing and make it sound like you know exactly what you're doing from the off, something the game is all too happy to confirm as you're mixing Bring Me to Life by Evanescence with Fatboy Slim's The Rockafella Skank and for some reason it just works. The mix will automatically adjust to the key and tempo of a component, so your focus is purely on the music and choosing whatever you think will work along with following individual objectives throughout to keep the crowd on your side.
And that's what makes Fuser stand out from classic rhythm/music games of the past. The feeling of having complete control over the music you're creating, rather than following a set order of a song you've chosen to play along to. The combinations are near enough endless, with tons of songs already available at purchase, with a bunch to unlock with the in-game currency you earn as you play through the campaign. Want to see what All Star by Smash Mouth sounds like embedded into Killing In The Name Of? Never Gonna Give You Up? Fuser is here to make your wildest musical mash-ups a stone cold reality and it's brilliant fun seeing the kind of DJ set you can probably only get away with in the confines of a video game.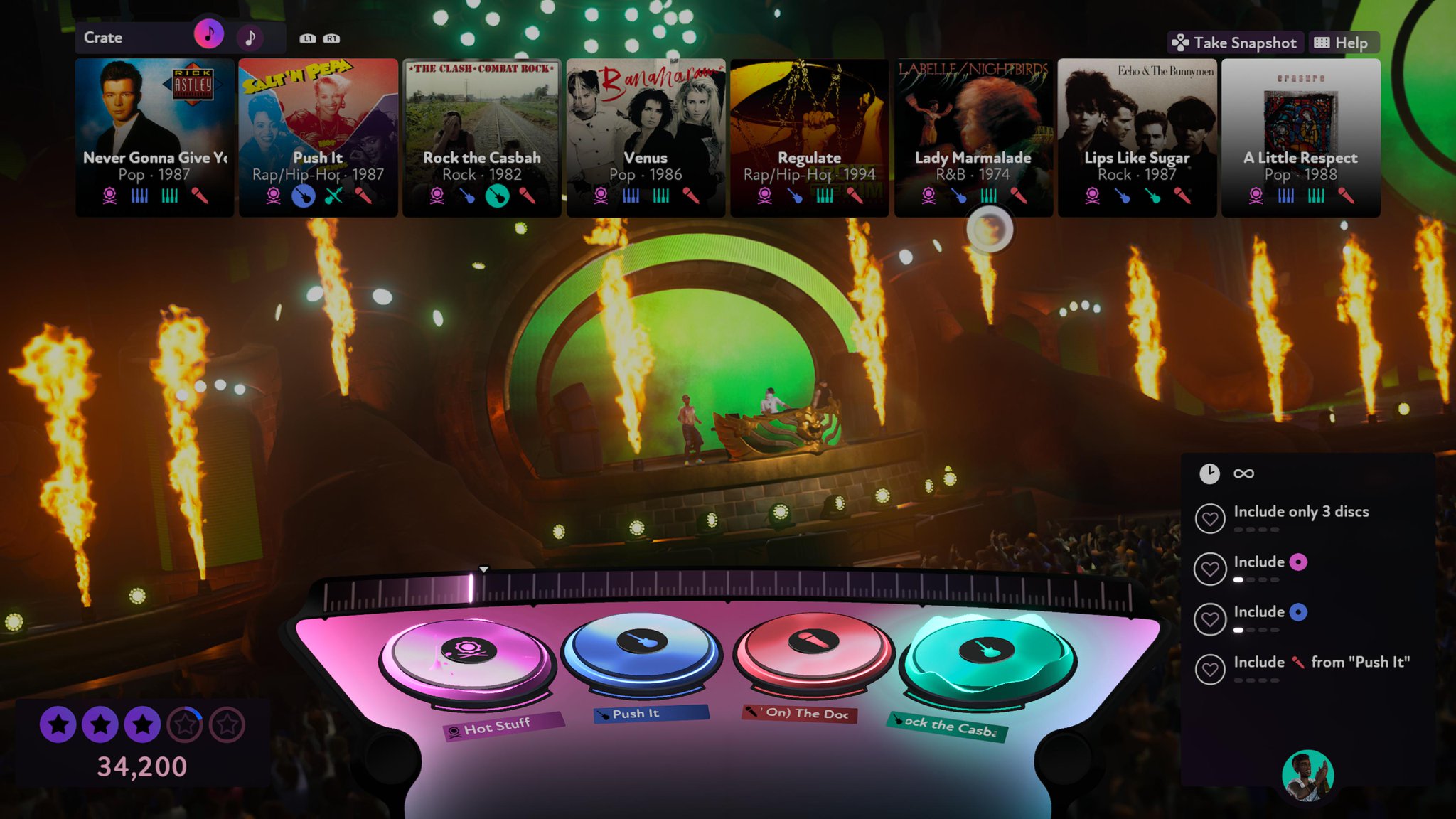 You've seemingly already made it pretty far, getting thrown into an early morning slot at an enormous festival for your first time out. The campaign is split into stages. Literally. Each stage features a different mentor that guides you through the varying ways you can manipulate the music to suit your sound and please your audience. Your score at the end of each set – rated out of 5 – is determined by how well you meet the objectives – such as ejecting two discs, playing a guitar hit at a certain moment etc – and keep up with the crowd requests, of which go from 'Play Temperature by Sean Paul' to 'add a vocal filter to The Weeknd's Bright Lights'. The difficulty is in keeping up with objectives and crowd requests whilst freshening up the music consistently and dropping new sections on the beat to keep the crowd buzzing and your score increasing. If the crowd's interest drops to its lowest point, then it's all over.
It's a real drag when it happens too because in your head you think it sounds about as good as you could ever possibly make it. The later stages where you unlock live effects and transitions. The mountainous cliche of 'easy to pick up, difficult to master' hasn't been more apt for a video game I've played since I first played Rocket League. The overarching feeling of sailing through your first couple of stages and then hitting the wall of 'jeez, I was just coasting' is real, and the depth Fuser offers in this regard is palpable. By the time I overcame these challenges I felt like I could get booked at any festival in real life, take my PS4 and a TV with me, plug it into giant speakers and give the audience the greatest night of their entire lives (if you're reading this, Creamfields or Tomorrowland organisers, I'm available).
Before your sets begin though, there's a surprising amount of prep that needs to take place. As you progress through the campaign or hit certain level caps you can unlock stage effects, projectors, crowd accessories, fireworks and light shows which you can tinker with to your heart's content. It's an interesting addition because throughout your set you're going to be so focused on your music choices and dropping them at the exact right time that the special effects going on around you seem superfluous, and it mostly is.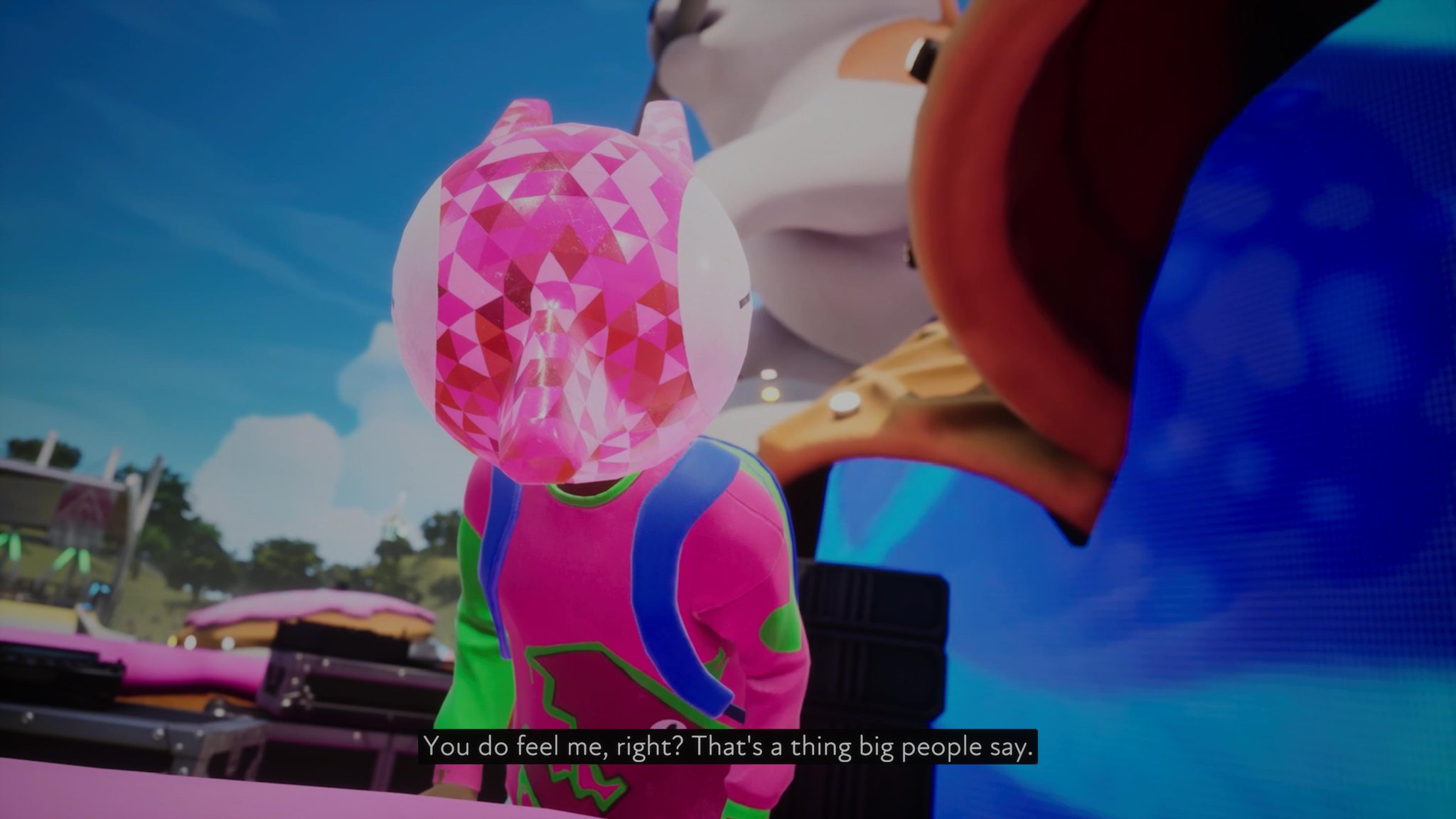 Your primary focus before the set begins is choosing the right music and this can form in a variety of different ways depending on the genre the crowd requires. In my playthrough I reached certain levels that wanted just rock music, or an 80's throwback show or just pure dance/RNB. Fuser adds a couple of songs to your digital crate to push you in the right direction in regards to what other songs you should be choosing. Sticking to a genre is a safe bet, though adding the odd wild card can yield some fun results. Messing with Regulate by Warren G and Can I Kick It? whilst the vocals of Otis Redding sang (Sittin' On) The Dock Of The Bay over it was a highlight that made me smile profusely, and the crowd loved it.

There's no harm in trying something different, though certain levels will require you to stick to a genre. The 80's/90's/2000's throwbacks was a fun level, and reminded me of songs that I had forgotten all about. Here Comes The Hotstepper is still an absolute unit of a track and I won't hear otherwise.
And the music on offer is a heady mix of genres and eras. From Megadeth to a-ha's Take On Me, Banarama to DMX and back again, Fuser offers a cacophony of possibilities when presented with your decks. The games additional Freestyle mode – by far Fuser's strongest asset – which allows you to simply mix whatever the hell you like for as long as you want, demonstrates the strength of the included tunes and those available to unlock. The games £100 VIP Edition adds an additional 25 DLC songs and the promise of full support ensures you'll never go without something new to entertain the masses with.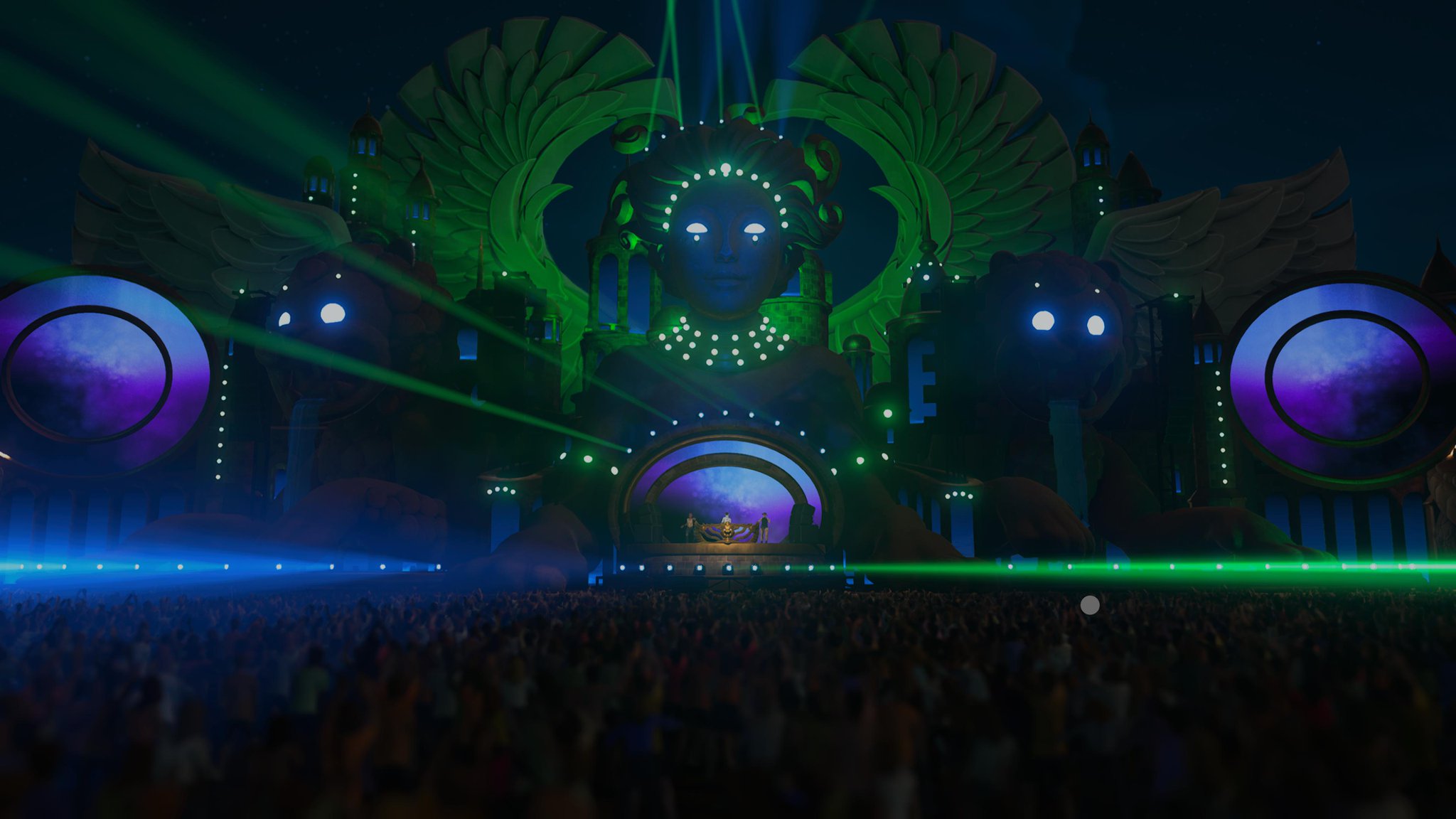 Freestyle mode also offers the option to record a portion of your mix and upload it to the Fuser servers for other players to view, like and 'snapshot' (essentially saving the loadout of songs you're using to mess with themselves). Here can also save the quick glimpse of your mix as an exported video and share them online which nets you a significant amount of XP each time you do it, so it's worth sharing your creations with the world if only to level up a little faster.
Fuser's multiplayer mode is also a delight, and one I was happy to jump into even if stagefright may have gotten the better of me a couple times. Here you're tasked with jamming with up to three other players, taking it in turn to control the mix and keep the energy flowing. As you watch another player you can throw up emojis and make requests of the player to aid your session. It's non-competitive and actually quite engaging when it's your turn, though it's a real shame it's only online. A local version of the multiplayer mode as you're passing the pad around you and three other friends would have been really cool. Ergo, it's not to be. Maybe in an update?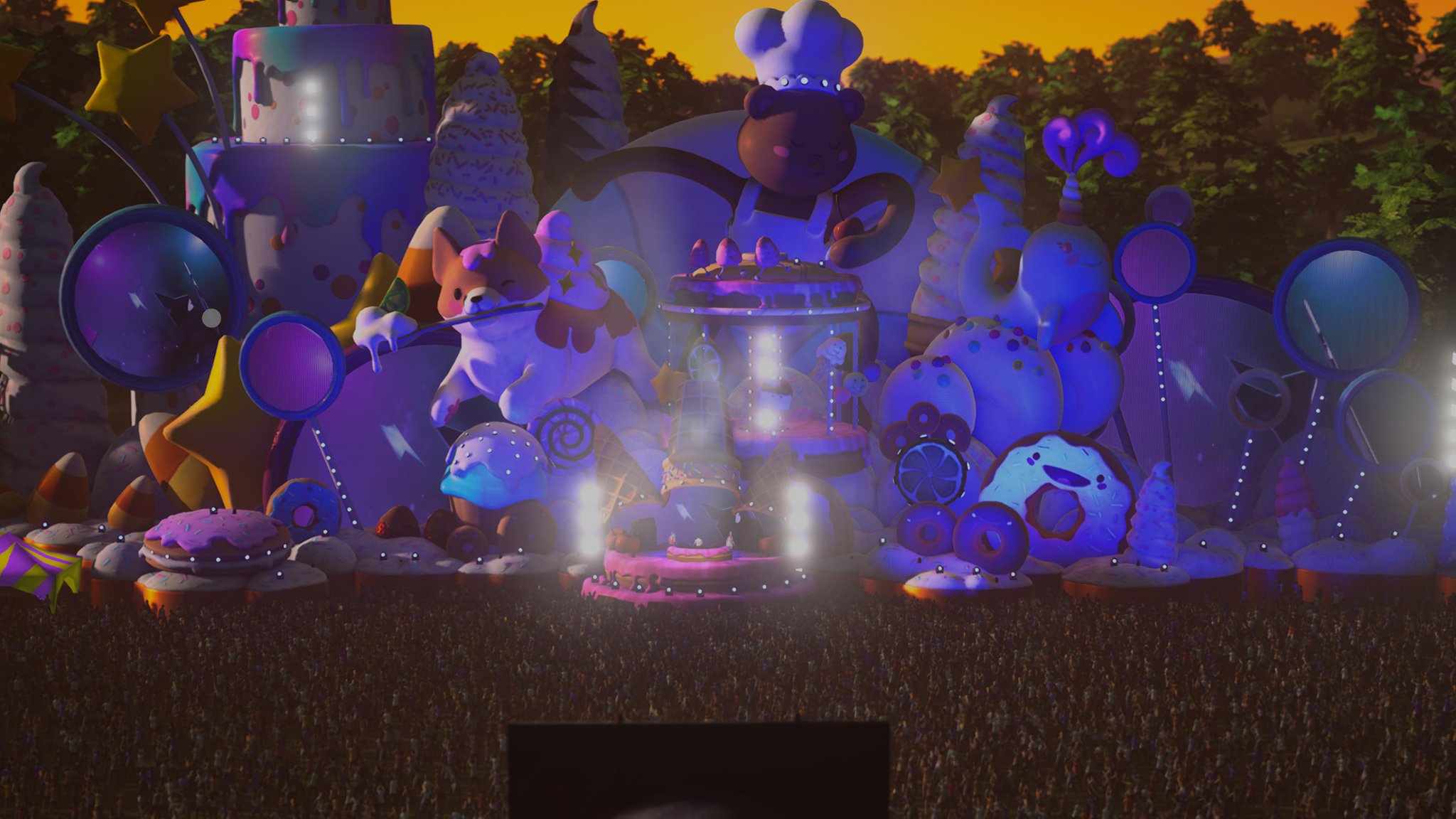 Then there's the Battle mode, which if you haven't guessed is the only competitive aspect of Fuser and a rather intense 1v1 contest. Imagine the Amp vs Amp battle in Scott Pilgrim vs The World to get an idea of what to expect here. As you tear through your digitally created DJ enemies you climb the 'battles ladder', unlocking exclusive cosmetics for your DJ. There's an encouraging amount of 'HEY, YOU GOT THIS!' from the game itself if you've already gone a fair distance in the campaign, so don't feel overly nervous if you've already nailed the basics, taking it up a notch by really testing how well you know the songs included in the game and more importantly, the drop timing.

It's fun to jump into if you're looking for a real competitive aspect of Fuser to test your skills, though I was happy to jump in a couple times and then found myself returning to Freestyle and continuing the campaign. I've never been hugely competitive in rhythm games, I just enjoy pretending I'm a rockstar. Or Deadmau5. Or both? Jump in for the cosmetics.
Talking of, there's an enormous variety of options you have at your disposal for your DJ. Perhaps too many? I can never make my mind up and when you unlock new gear at the end of every level you're going to want to keep tinkering. Being able to edit your DJ from their hats to their shoes and everything in between, there's few customisation options that can rival Fuser's exhaustive collection of custom options, and as you play through the game it only gets more expansive.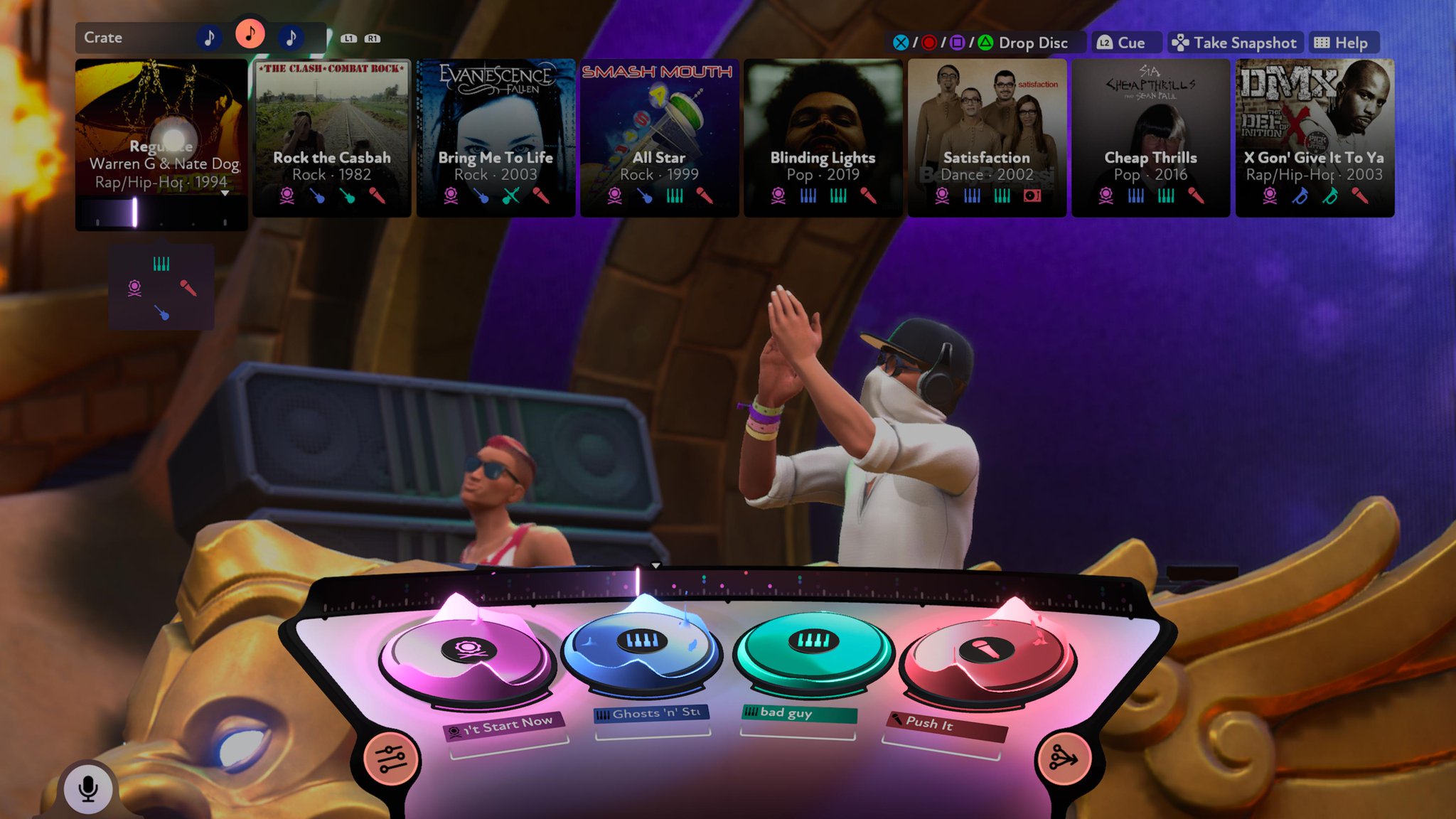 I'm thoroughly enjoying my time with Fuser, as I hoped I would. It's absolutely a game I'm going to keep going back to if only to discover what music they'll add and see how I can make them all sound better with the guitars from Jolene by Dolly Parton. How they ended up working with Hot In Herre I'll never know but dammit, it does. People cheered when I made it work with a glorious drop from the edges of space onto the mixing desk. Actual people that were outside listening to me play. Ok, I mean the crowd in the game that cheer damn near everything. That's not the point though. People were still cheering.
It's that sense of live music that brings Fuser to life. Remember festivals? Live shows? The power of the right power chord that shreds through your veins as you lose yourself in a symphony of music and colour and magic. In a year where we've been ordered to stay in our homes, only living vicariously through the music we listen to or the videos we watch, Fuser is an immediate reminder that music is a live medium at its finest, and the unexpected emotional surge I felt when looking out and seeing a crowd of people dancing to my tunes was a thrill.
---
An absolutely barnstorming return to the main stage for Harmonix, who have seemingly taken everything they've learned from eighteen years in the genre to create a fantastically creative, inventive and hands-stuck-to-the-controller levels of addictive rhythm video game, the kind of which has been sorely missed.

Fuser is available on November 10th on PS4 (reviewed on PS4 Pro), Xbox One, Switch and PC.

Developer: Harmonix
Publisher: NCSOFT
Disclaimer: In order to complete this review, we were provided with a promotional copy of the game. For our full review policy, please go here.
If you enjoyed this article or any more of our content, please consider our Patreon.
Make sure to follow Finger Guns on our social channels –Twitter, Facebook, Twitch, Spotify or Apple Podcasts – to keep up to date on our news, reviews and features.