A fresh take on the Royale offers a unique perspective without offering an awful lot else. The Finger Guns Review;
You have to wonder how much is left in the battle royale tank at this point. Spellbreak marks a decidedly alternative take on the machoism of Warzone, the camp arcadeness of Apex Legends, the OG basics of Player Unknown's Battlegrounds and the endless inventiveness of Fortnite. With nary a gun or a grenade in sight, instead opting for fantasy sage powers, Spellbreak mixes up the formula in a few different and interesting ways, and does enough to make it stand out amongst the monsters in the genre, it just needs a bit of a kick up the ass.
Naturally what sets Spellbreak apart is its unique take on Royale blueprint. At the beginning of each game you choose an elemental class to level up as you survive the closure of the map. Your classes are set as primary and secondary, with perks and bonuses applied as you level up. You're going to see 'level up' an awful lot in Spellbreak, as damn near every aspect of your defense and offense can be levelled up, giving you that itch to stick with your favourite loadouts to give them a bit of a kick when you land on the map. You'll also have access to a secondary class when picking up gauntlets, allowing players to create unique attacks by combining their elemental weaponry. It's an aspect of Spellbreak that feels entirely it's own and when cast correctly, can be devastating and brilliant.
Combining your elements is frankly endless in its possibilities. There are a vast number of ways you can mix up your attacks and it's spending time in the practice area to see what works best for you. Creating Dragonfire by combining a Fire Wall with poison is pretty awesome, and this is just one of the options. Try combining a lightning strike with a tornado. Go on. You won't regret it.
Be also on the lookout for runes, which enable your movement to be adjusted depending on which one you add to your wizardry arsenal. The runes will range from the likes of extra speed, flying, teleporting, invisibility. In a pinch, they're all hugely beneficial and you'll find yourself on the hunt for them across the map once you find one that suits your style.
It's another part of Spellbreak that feels particularly unique. You can play just the way you feel gives you the best chance of victory, which is something you can't particularly say about Fortnite or PUBG in particular. Royales as they've evolved have mixed up their formulas but the whole point of Royales is that when you land on the map, everyone is on a level playing field. It's only your knowledge and experience that will see you through above other players. All changes you can make to your character are cosmetic, you can't boost them in anyway. In Spellbreak it feels like for the first time you have control over just how good your character is, rather than how good you are, and it really makes a difference when you're in a mythical scrap for your life.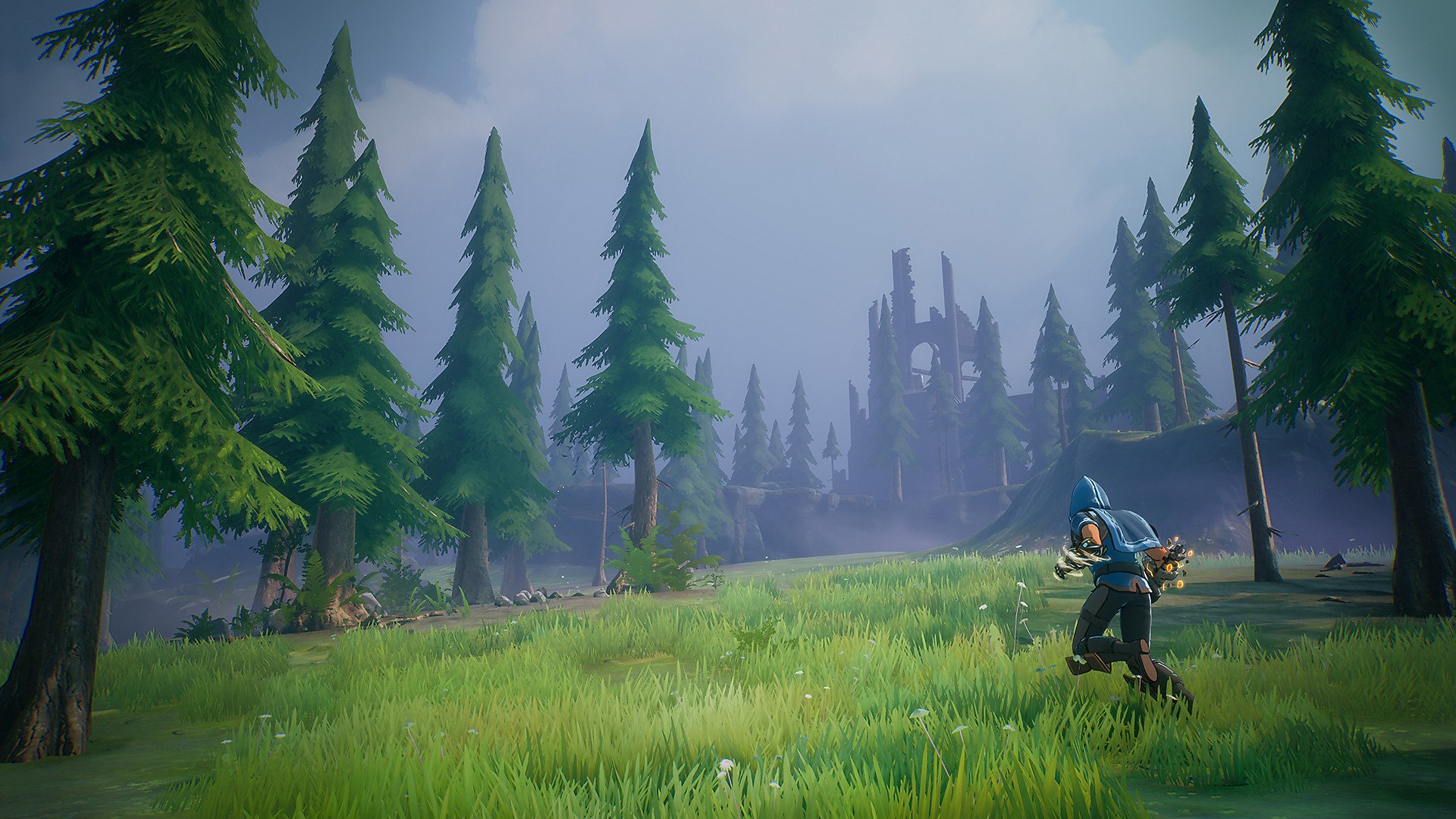 It doesn't skimp on the loot either. In nearly every ruin you can find on the map there will be a variety of chests (large, medium, small) which will shoot out health, gauntlents, runes and belts (which you need to apply a shield) and there's the typical colour spectrum of rarity which is common in the genre. Look out for the larger translucent spherical areas which work as Spellbreak's supply drops. It's here you'll find the best gear – unless you're lucky enough to find them in chests or laying on the floor after a mage has been 'exiled'.
Visually, there's not an awful lot to get excited about away from the elemental effects, that look straight out of an anime series and really bring to life the world of sages and mystical powers. I spent a good portion of my time with Spellbreak as a Pyromancer, making fire like I was a human-shaped dragon tearing it across the map and creating fire walls like an absolute boss felt almost cathartic and never seemed to get old, even if they rarely hit my opponent and were merely impressing me rather than actually benefiting to my survival or anyone else's defeat.
The characters are designed well and there's a hefty amount of different cosmetics to unlock as you progress through the game. The microtransaction aspect isn't all that bad and fairly standard for a Royale. There's no Battle Pass to speak of yet – one imagines they're waiting for the playercount to rise a little before implementing one – so everything you can buy is purely cosmetic or emotes and badges for your name banners. I managed to deck myself out as some kind of golden warrior prince early on and didn't look back, though at each daily drop there's a new cosmetic outfit that's just as interesting as the one before it. You can't argue they haven't supported this one and the fanbase must be delighted with the constant drop of new gear to try on, even if they come at a bit of a price.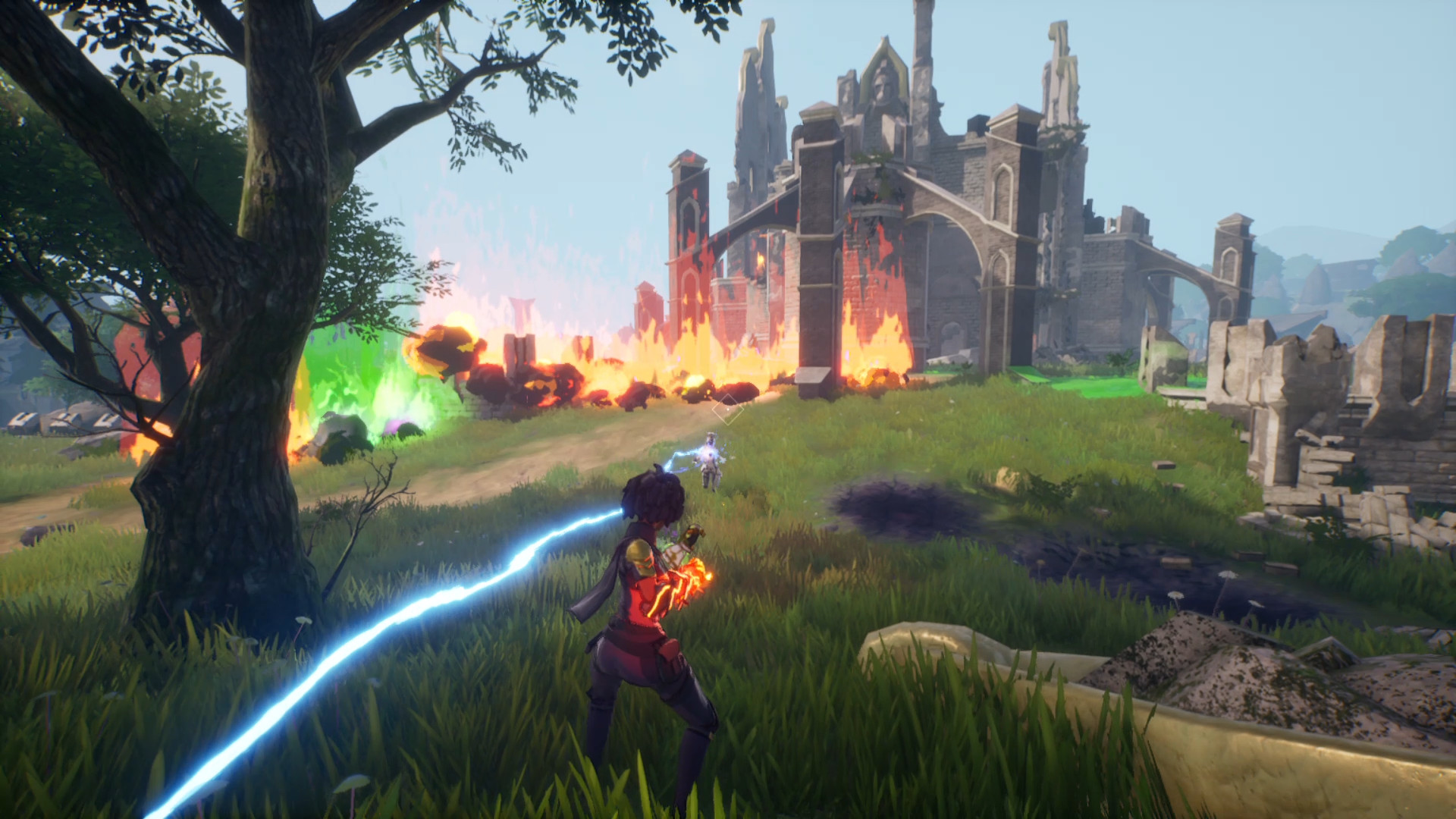 Spellbreak then does enough to make it stand out, but the jury's out if they're real longevity in a game that's in the first month of release brought in big numbers but there was a session over the weekend where it took around ten minutes to fill up a game with just over 40 players just this week, so there doesn't appear to be a huge amount of them sticking around.
And it's a shame really, because there's definitely something here that's worth celebrating and encouraging younger players in the family to jump into if you don't want them shooting submachine guns at each other elsewhere. It's bright and breezy with a terrific tutorial and a real sense of accomplishment when you finally get that victory. My first full game had me a little shook with how well other players had already taken to its unique mechanics and how difficult it can be. I quickly adjusted, and once I got my first win I knocked out another three on the trot. It's fun and frantic and mystical, exactly what it should be.
Landing as a free-to-play royale after a lengthy preview period, Spellbreak clearly has a small but passionate audience already behind it. In my playthroughs I've never once had a problem in finding a game – though at times they take a while, as mentioned above I've waited over ten minutes for a match to fill up – and those who know the game inside will tear you down without a moment's hesitation.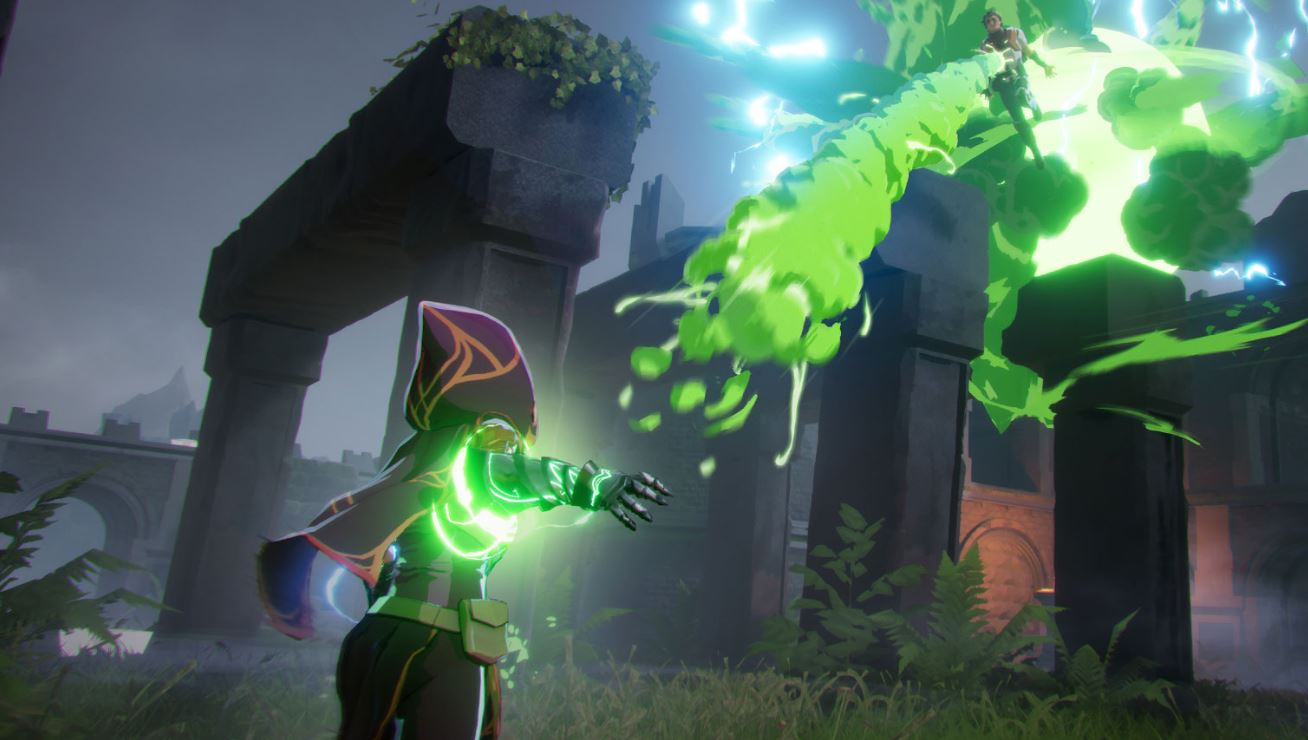 I'll be honest, this aspect of Spellbreak did surprise me somewhat. I never hear my gaming circles discuss the game, and although it's an FTP with a substantial levelling up system, the royale aficionados around me perhaps feel it's just a little too far away from what they enjoy about the genre.
Spellbreak does the basics perfectly well, and certainly adds to the Royale experience, it just feels a little basic right now. The less said about the map design the better, it really needs a shake-up and some memorable areas to really add to that 'where we landing, team' aspect of a Royale. Right now, it really doesn't matter where you land, it all looks pretty similar and a bit dull. I'm looking forward to seeing what Spellbreak looks like a year from now, hopefully there's a little more variety in the arenas, because everything else is pretty much nailed on.
It's a different beast to be sure, but it's pretty clear someone out there absolutely loves it to their bones and that's absolutely fine by me.
---
Spellbreak does more than enough to allow it to stand out in a stuffed genre and offers a terrific variety in its weapon options. There's absolutely something here if you're looking for a Royale without shotguns. Don't sleep on it.

Spellbreak is out now on PS4 (reviewed on PS4 Pro), Xbox One, PC and Nintendo Switch.
Developer: Proletariat Inc.
Publisher: Proletariat Inc.
Disclaimer: In order to complete this review, we were provided with a promotional copy of the game. For our full review policy, please go here.
If you enjoyed this article or any more of our content, please consider our Patreon.
Make sure to follow Finger Guns on our social channels –Twitter, Facebook, Twitch, Spotify or Apple Podcasts – to keep up to date on our news, reviews and features.