It's that time again! Here's a bunch of cool looking indie games that deserve to be on your radar during August 2021.
It's that time again. Here's a bunch of cool looking indie games that deserve to be on your radar during August 2021.
If you're looking for the creativity and diversity that indie games bring to this industry, look no further than the titles releasing in August 2021. From looping narratives starring Hollywood actors to golfing games set on a desolated Earth, first person psychological horror that explores memories to a creative cooking game, this next month is jam packed with indie games.
There's certainly something here for everyone so without further ado, let's explore the indie games that are launching in August 2021.
Grime by Clover Bite – August 2nd
The marriage between Soulslike combat and metroidvania exploration is a glorious one. Grime from Clover Bite and Akupara Games looks like an excellent combination of those elements. A fast and unforgiving action adventure RPG with an art style that fills me with foreboding, Grime is one of my favourite indie games on this list. There's an interesting concept in the narrative too; You'll be wielding living weapons in this game, torn from the monsters you defeat which are absorbed into the player character which will make you "become far more than you once were". Sold. Check out Grime when it launches on PC via EGS and Steam as well as on Google Stadia on August 2nd.
In Sound Mind by We Create Stuff – August 3rd
Some of you will get a pang of dread filled nostalgia when you read these next 3 words: Nightmare House 2. For those who don't know about NH2, it's one of the most iconic, creative and scary mods for Half-Life 2. Why is that important? Well the makers of NH2, We Create Stuff, are the developers of In Sound Mind, an imaginative first-person psychological horror made in collaboration with Modus Games and The Living Tombstone. It promises "frenetic puzzles, unique boss fights, and a journey within the inner workings of the one place you can't seem to escape—your own mind". Pack a spare pair of pants for August 3rd when In Sound Mind launches on Switch, PC via Steam, PS5 and Xbox Series consoles.
Button City by (Subli)minal – August 10th
August 2021 is the month when the 90's finally gets the nostalgia kicks it deserves from indie games. That kicks off with Button City, a colourful low poly narrative adventure game about friendship and community. The game revolves around a fox and its friends as they attempt to save their local arcade. In order to do so, you'll need to "explore a diorama world, play exciting arcade games, complete quirky quests and meet cute animal friends". In an irregular turn of events, we already have a review written for Button City in the back end of this website so I know why I needed to include it in this indie games list. You'll be able to see for yourself on August 10th when Button City launches on PlayStation, Xbox, Nintendo Switch and PC via Steam.
Black Book by Morteshka – August 10th
A blend of card based RPG and narrative adventure game, Black Book is a game that looks right up my alley. In this game you play as a young girl named Vasilisa who forsakes her destiny to become a witch in order to be with the one she loves. Of course, disaster strikes and her beloved dies in mysterious circumstances. Now Vasilisa is on the quest for a demonic artefact – the Black Book – which is said to be powerful enough to grant any wish to the one who uncovers all 7 of its seals. On her journey, the young witch will be facing off against all manner of dangers inspired by Slavic legends and mythological beings. From Morteshka and HypeTrain Digital, Black Book launches on PC via Steam, on PlayStation, Xbox and Switch on August 10th (or the 222nd day of 2021).
Recompile by Phigames – August 19th
I managed to get my hands on a demo of Recompile a few years ago at EGX (y'know, when in-person game events were still a thing) and it wasn't just one of my favourite indie games of the show. It was one my favourite games of the show – full stop. The concept and art style were the first aspects that drew me in. Giving computer programs a anthropomorphic aspect has always appealed to me and that's what we have here. In Recompile you play as a sentient virus, trying to escape deletion as you infiltrate the digital, virtual world of The Mainframe. Constructed like an action orientated metroidvania with platforming and puzzles too, it's a game that has a lot going for it. I'm certainly looking forward to getting my hands on the final version when it launches for Xbox, PlayStation and PC via Steam on August 19th.
12 Minutes by Luis Antonio – August 19th
A game that's inspired by the works of Alfred Hitchcock, Stanley Kubrick and David Fincher, and features vocal performances from James McAvoy, Daisy Ridley, and Willem Dafoe, 12 Minutes is an intriguing concept. A time loop thriller that sees the player explore the same 12 Minutes in search of a way to avoid tragedy, the title is one of the most promising indie games of 2021. From developer Luis Antonio and being published by Annapurna Interactive, 12 Minutes is landing on Xbox One, Xbox Series X | S & PC via Steam on August 19th.
Soup Pot by Chikon Club – August 2021
I might be working with old information here so I apologise if Soup Pot doesn't actually release in August 2021. The Steam page for this title currently says Q3 2021 so I'm running the gambit that it might actually release in September – but I'll taken any opportunity to talk about cooking indie games so you might see this in next month's list too. A Filipino co-worker turned me onto a cooking mini-game called "Putahe ng Ina Mo" last year. I had fun with that title but would have loved to see the concept go further. Thankfully, that's exactly what Chikon Club are doing with Soup Pot. Promising to be a creative cooking experience that lets the player learn and experiment with 100 receipts, the player gets to cook up gorgeous 3D models of food with the hopes of making a tasty dish. There's no fail state for this game and instead, you'll get supportive or sarcastic comments on the in-game social media platform, Cookbook. You can dig into Soup Pot when it (hopefully) launches in August 2021 for PC via Steam and Xbox platforms.
Golf Club: Wastelands by Demagog Studio – August 2021
Almost all human life is wiped out. The richest 1% have fled the planet and now reside on Mars. Earth is an inhabitable wasteland so the elite do what they do best – turn it into a golf course! In Golf Club Wastelands you play as one of 1% that managed to escape Earth's fate and are returning for one last tee off. As a concept, that's one hell of a hook. This title is much more than just a 2D golf title howver; Via radio transmissions, the environmental storytelling and narration from a mysterious spectator watching off in the distance, you'll unravel social commentary on what happened to the planet and the human race. You can take a swing with Golf Club: Wastelands when it launches on Xbox One, PS4, Nintendo Switch and PC via Steam and Epic Games Store this month.
Greak: Memories of Azur by Navigante – August 17th
To me, Greak: Memories of Azur looks like the lovechild of the Ori or Rayman games and the 1993 classic The Lost Vikings. In this 2D side scrolling adventure, you play as 3 siblings, each of which has their own unique skills and attributes. The aim is to guide the trio independently through an interconnected world, helping each other overcome obstacles, in order to escape an invading force called the Urlag. The game looks fantastic and if the game play can live up to the concept, Navigante and Team17 have a hit on their hands. If you have a Nintendo Switch, you can already get your hands on a demo for Greak: Memories of Azur. If not, the game will be launching onto Switch, PS5, Xbox Series X | S and PC via Steam on August 17th.
Road 96 by Digixart – August 16th
Digixart, originally started by Yoan and Anne-Laure Fanise (the former being a Ubisoft veteran having worked on the likes of Beyond Good & Evil and Valiant Hearts), are a studio building a reputation for creating games that are a little different. A great example of that is their previous title 11-11 Memories Untold, a game about World War I that explored a different perspective on the conflict. Their next title, Road 96, is once again demonstrating their penchant for innovation while retaining the political backdrop and emotional narratives the studio obviously likes to portray. In the most plane of terms, Road 96 is a procedural road trip game with a cast of characters that are attempting to cross the border out of the authoritative land of Petria. It certainly seems intriguing and we'll be able to experience this game on Nintendo Switch and PC via Steam on August 16th.
Mayhem Brawler by Hero Concept – August 19th
If the recent resurgence of side scrolling beat-'em-ups like Streets of Rage 4 or TMNT: Shredders Revenge has you itching to play a new one, Hero Concept might be able to help this August. Mayhem Brawler is an urban fantasy themed beat 'em up that aims to "brings back the 90s arcade vibe". Featuring 3 playable characters, each with their own move set, 30 enemy types including 12 bosses, local co-op multiplayer and a branching story with 3 endings, Mayhem Brawler certainly looks and sounds like a quality entry into the genre. We'll be able to give it a final verdict when it launches on PC via Steam, PS4, Xbox One and Nintendo Switch on August 19th.
The Ramp by Hyperparadise – August 3rd
While the big players in the industry scrap over the claim to Skateboarding gaming, there's a clear movement in the indie games scene to build less competitive, more experimental skating games. Skate City and to some degree OlliOlli World are taking a new tact on the genre – and then there's "The Ramp". Solo developer Paul Schnepf created this new skateboarding title "to scratch a very specific itch", something that just didn't exist right now. He wanted a minimal skateboarding experience without scores or collectables and challenges. Watch the above trailer and you'll find it hard to disagree with the zen nature to the play, flowing from one move to the next in small, self-contained levels (of which there are 4). Schnepf even goes as far as saying that it's "maybe not even a game, but rather a digital toy". If this appeals, The Ramp will be out on Steam on August 3rd.
Lawn Mowing Simulator by Skyhook Games – August 10th
I'm always amazed by how the indie games Simulator genre manages to make monotonous and irksome real world tasks a joy to complete. House Flipper turned tidying up a house into a pleasure. PowerWash Simulator makes blasting grime off of surfaces an almost therapeutic activity. Now, Lawn Mowing Simulator is taking my most hated household chore – no, seriously, I just want to slab over my back garden – and turning it into a game I'm excited to play. Maybe it's because it features an expansive roster of real-world licensed lawn mowers that put my 15 year old mower to shame. Maybe it's because it's a game set in idyllic locations around the Great British countryside rather than my Stoke-on-Trent Semi-detached that wouldn't look out of place in Mordor. Or maybe because there's a progression system in the game that allows you to build your business up and balance the books rather than it being an annoying job that triggers my hay fever every 2 weeks. Whatever it is, I'm certainly looking forward to getting all green thumbed when Lawn Mowing Simulator launches on PC via Steam and Xbox platforms on August 10th.
The Big Con by Mighty Yell – August 31st
The 90's were great. I'll defend that decade fervently. The pop culture and artistic styles of the 90's aren't appreciated anywhere near as much as those of the 80's but for those that miss The Fresh Prince of Bel-Air, AOL Instant Messenger, Eclipse jeans and NAFF NAFF jackets, The Big Con has you covered. In this 90's based coming-of-age adventure game, you play as Ali. She's "a curious and sarcastic high schooler" that has ditched band camp in order to take a trip across America in order to save her families video store. You'll be swindling, conning and pickpocketing marks in order to raise the funds to fend off the predatory loan sharks hassling your Mum. Will you pull of The Big Con or will you talk yourself into trouble? We'll find out when The Big Con launches on August 31st on PC via Steam and Xbox platforms.
Synth Riders by Kluge Interactive – August 10th
Synth Riders has been available for Oculus Quest and Rift platforms for a few years already. It was part of Forbes' Top 50 VR Games list and was in The Guardians Top 10 Fitness Apps list. I think it's safe to say we know that Synth Riders is a quality freestyle dance VR rhythm game. Now, finally, PSVR owners will be able to join in with the boogie fun when the game launches for the PS4 on August 10th.
Murder Mystery Machine by Blazing Griffin – August 25th
When Murder Mystery Machine was first announced by Blazing Griffin, it was something of a different beast. Along the way, the vision for the game became more focused. The developers switched out procedurally generated cases for a more focused narrative, aping TV dramas to form an 8 episode story that starts with the murder of a politician. In the game you play as fresh-faced rookie Cassandra Clarke and grizzled veteran as they investigate a complex, interconnected series of crimes. After a successful launch on iOS as part of the Apple Arcade sub, MMM is now headed to PC via Steam, Xbox, PlayStation and Nintendo Switch on August 25th.
Honourable Mention:
The Falconeer: Warrior Edition by Tomas Sala – August 5th
When the Falconeer originally launched, it was an Xbox and PC exclusive. That was the right call for this game and the 1 man development team Tomas Sala. Releasing on multiple console platforms at once can be a nightmare for 15 person studios, never mind single devs. Now though, the warbird is soaring onto PS4, PS5 and Nintendo Switch in the form of the Warrior Edition. This comes complete with the 'The Hunter' DLC, adding a new player class with a flyable Ormir dragon and a set of pyro pot guided rockets, and the new 'Edge of the World' DLC, containing 3 additional side quests and new boss encounters. This new DLC is likely to address many of the gripes we had when the game originally launched in our review so if you're a Nintendo or PlayStation owner and you've yet to play this game, this might be the best time to dive in.
---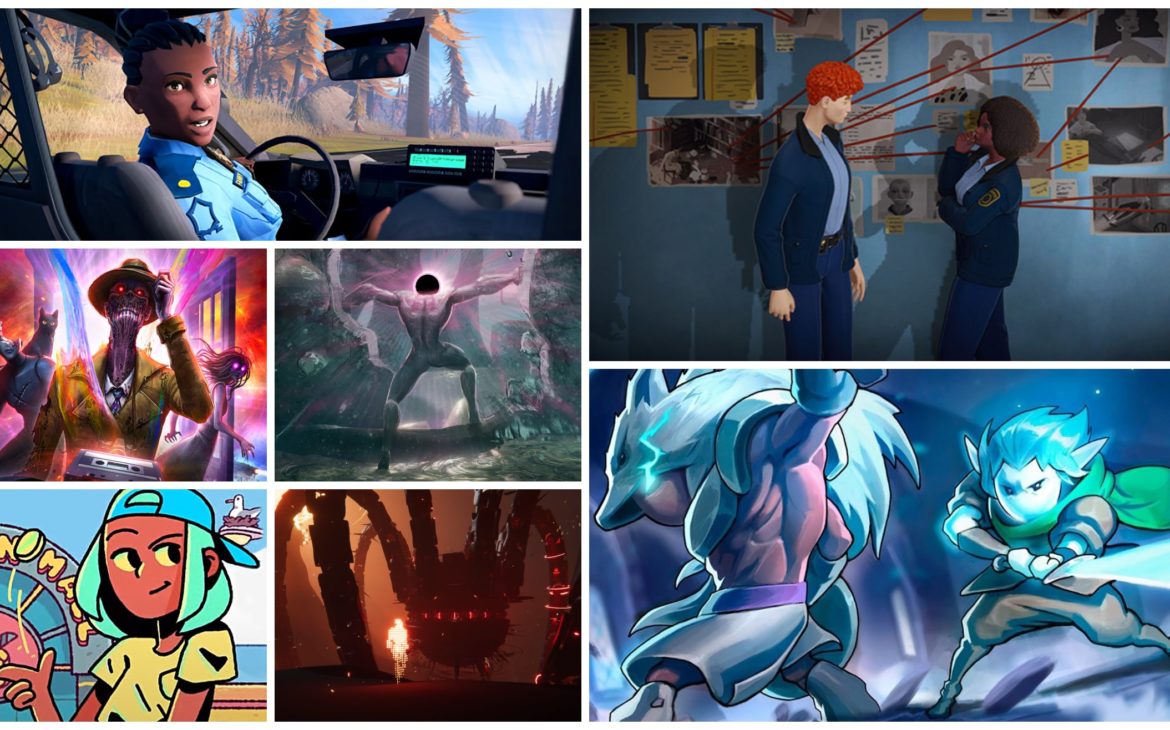 So there you have it – 16 (well, 17 really) indie games to look forward to in August 2021. Have we missed a game you're looking forward to this month? Is there a game you'd like to bring to our attention? Head to the comments section and drop us your thoughts.
If you enjoyed this indie games article or any more of our content, please consider our Patreon.
Make sure to follow Finger Guns on our social channels – Twitter, Facebook, Twitch, Spotify or Apple Podcasts – to keep up to date on our news, reviews and features.