Revelling in the creepy, kooky, mysterious and spooky, The Addams Family: Mansion Mayhem introduces family game night to iconic ooky family. The Finger Guns Preview.
It's almost inevitable at these preview events that something will go wrong. It's part and parcel of playing games that are still in development, especially when playing them remotely via online means. Unfortunately, my time with The Addams Family: Mansion Mayhem was when those technical issues hit. My internet shut off entirely for a few seconds and even when it was working correctly, I had fallen foul of an inopportune bug. Even working through these issue however, the creepy charm of the gothic Addams Family shone through in the Mansion Mayhem demo.
I had my worries about The Addams Family: Mansion Mayhem. It had already been confirmed that the vocal cast from the animated films wouldn't be lending their talents to this game. Back in the heydays of movie-tie-in games, this would usually be a sign that the game wouldn't be great. It was clear right from the second I started to play this game that any worries I had were unwarranted.
The Addams Family: Mansion Mayhem is a 1-4 player 3D platformer in which Wednesday, Pugsley, Gomez, and Morticia are jumping into spooky portals that have appeared around their house. With each player taking control of one of the cast, they head through different themed sections of the house which are based on aspects synonymous with the creepy and kooky family. The game begins in a kitchen area with cooking knives flying through the air and animate vegetables attacking you around every turn before venturing to the graveyard and an area based on the gothic meets Cossack music so intrinsically linked with the series.
The theme isn't the only aspect that changes as you pass through game either. Each zone of the game utilises a unique power that's based on the characteristics of the Addam's Family. In the kitchen zone, everyone will be able to make use of Gomez's swords. In the graveyard, you'll be using Morticia's spiders to web to swinging points like a grapple hook. Later you'll be using Pugsley's explosives to blow up enemies and the environment alike and Wednesday's squid as a ink firing jetpack. What's interesting about this game is that all 4 characters will get these abilities. Every character has the same capabilities and the powers aren't locked behind a particular character choice.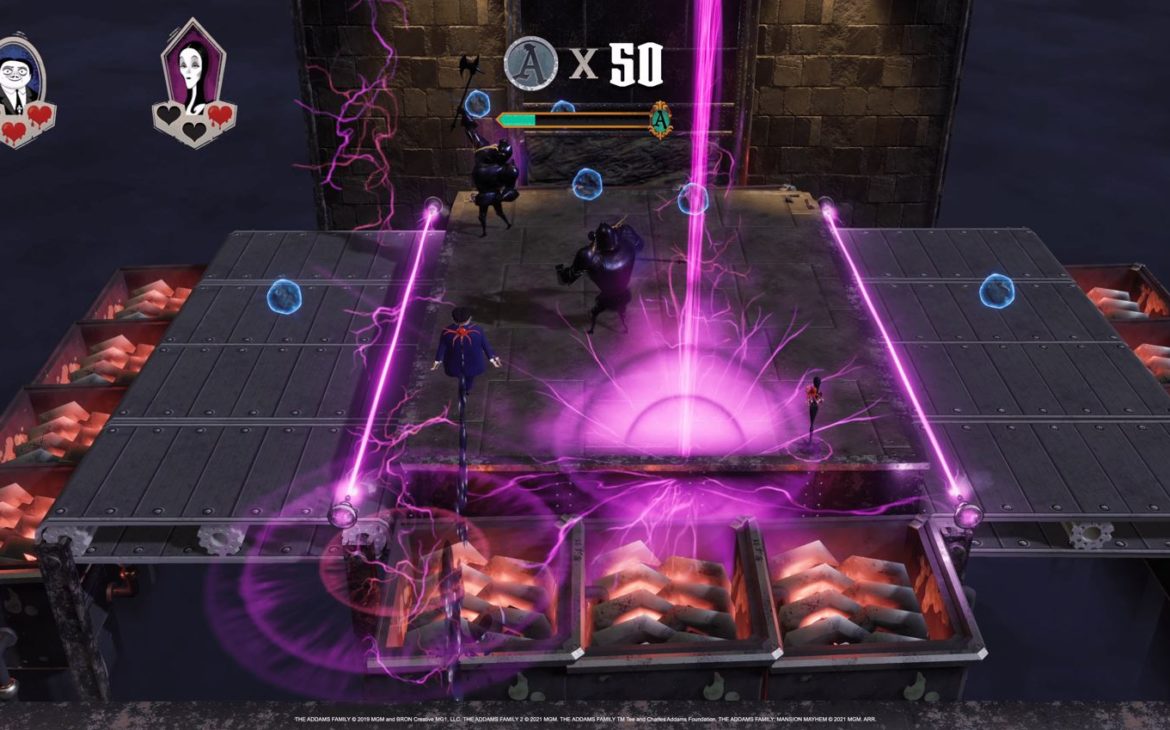 During my demo of The Addams Family: Mansion Mayhem, levels came in two different flavours, each of which had a different emphasis. During the normal levels, all 4 players work together to unlock family crests. These can be unlocked by rounding up a target number of collectables, finding them hidden in a level or by performing certain objectives. You'll want to get as many of these as possible as they limit progress through the game.
The other level type is minigames. Instead of collaborating here, you're competing against each other in a variety of themed events in order to top a leader board. In one event, the Addams Family were floating down a river of molten cheese or some other weird liquid on tiny rafts while collecting charms between obstacles. In another level in the graveyard, a platform moves down the centre of the screen, moving between charm covered locations you've got to climb and cross with the spider-grapple. These will likely make for nice diversions from the main gameplay and potentially could form the basis of a party game night once they're all unlocked.
It was the macabre and cheeky charm that developers PHL Collective have put into everything that really stood out during my preview time. On the surface, the plates in the kitchen area looked just like plates. On closer examination through, the patterning around the edging was shaped like barbed wire. Kitchen knives just popped up out of nowhere and more than once, I was taken aback by their sudden appearance. The biggest compliment I can pay Addams Family: Mansion Mayhem is that it feels like part of the Addams Family lore and carries its vibe.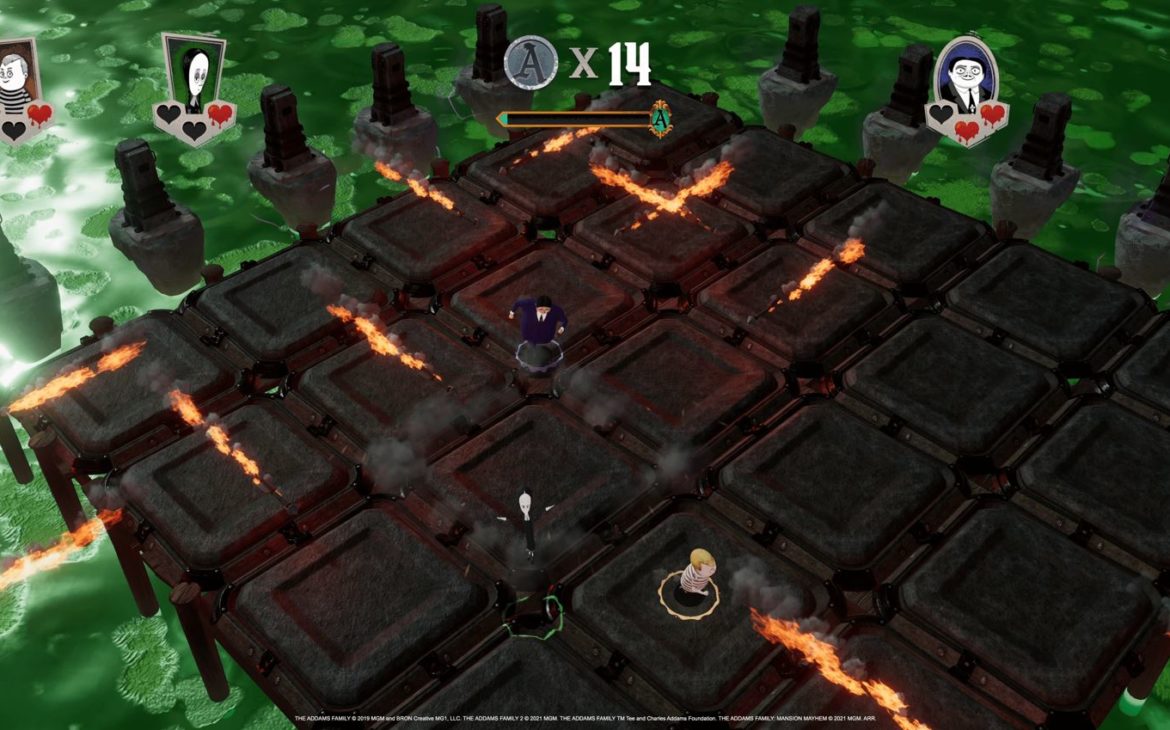 And the missing voice cast? It doesn't matter. The game has little sound bytes that sound like the excited grunts, groans and hollering from the characters. While it doesn't come near to replacing a vocal cast, it certainly helps give the Addams family their trademark kookiness.
I had less than half an hour with Addams Family: Mansion Mayhem and that included my technical issues. This left a lot of unanswered questions for me, like how the camera will work in co-op or whether this game is better played solo or with others. While those questions will remain unanswered until the game releases, my time with this game was enough time however to put most of the worries I had about this game to rest. The Addams family are really well regarded by 3 generations of my own family – my parents grew up on the 60's TV show, I've adored the 90's movies since I was a kid and now my own children like the series thanks to the animated films – and I could honestly see us all sitting down to play this together. If your family is like mine and enjoy the creepy, kooky, mysterious and spooky side of life, The Addams Family: Mansion Mayhem might be worth a look when it launches later this month.
The Addams Family: Mansion Mayhem is launching on PS4, Xbox One, Switch & PC on September 24th, 2021.
---
If you enjoyed this indie games article or any more of our content, please consider our Patreon.
Make sure to follow Finger Guns on our social channels – Twitter, Facebook, Twitch, Spotify or Apple Podcasts – to keep up to date on our news, reviews and features.