The strangely placid Bus Simulator 21 arrives on PS4. Is it worth investing in a bus pass for? The Finger Guns Review.
Tranquil, satisfying, cathartic, relaxing. Those are some of the words Finger Guns HQ told me I may probably feel playing Bus Simulator 21. Stressed, confused and a murderer is where I quickly found myself within the first 10 minutes as I had hit a pedestrian.
Bus Simulator 21 is exactly what it says it is. It simulates the player as the owner of its own bus company looking to expand in the city of Angel Shores and Seaside Valley.
Its important to note I have not played its predecessor Bus Simulator 18. Be that a positive or a negative, I was going in completely blind to this sequel.
All Aboard
To start, Bus Simulator 21 allows you to customise your bus driver. There are minimal options but the game allows you to choose hair colour, uniform, and general look. Weirdly, it does give you the option to wear heels. Whoever designed that has clearly never driven in heels because there would quickly be no bus to drive – but it's good for the aesthetic, I guess.
The game is set in Europe, so if you live in the UK this may feel like learning to drive all over again as driving is accurate to rules of road everywhere but for those of us in Blighty who drive on the left.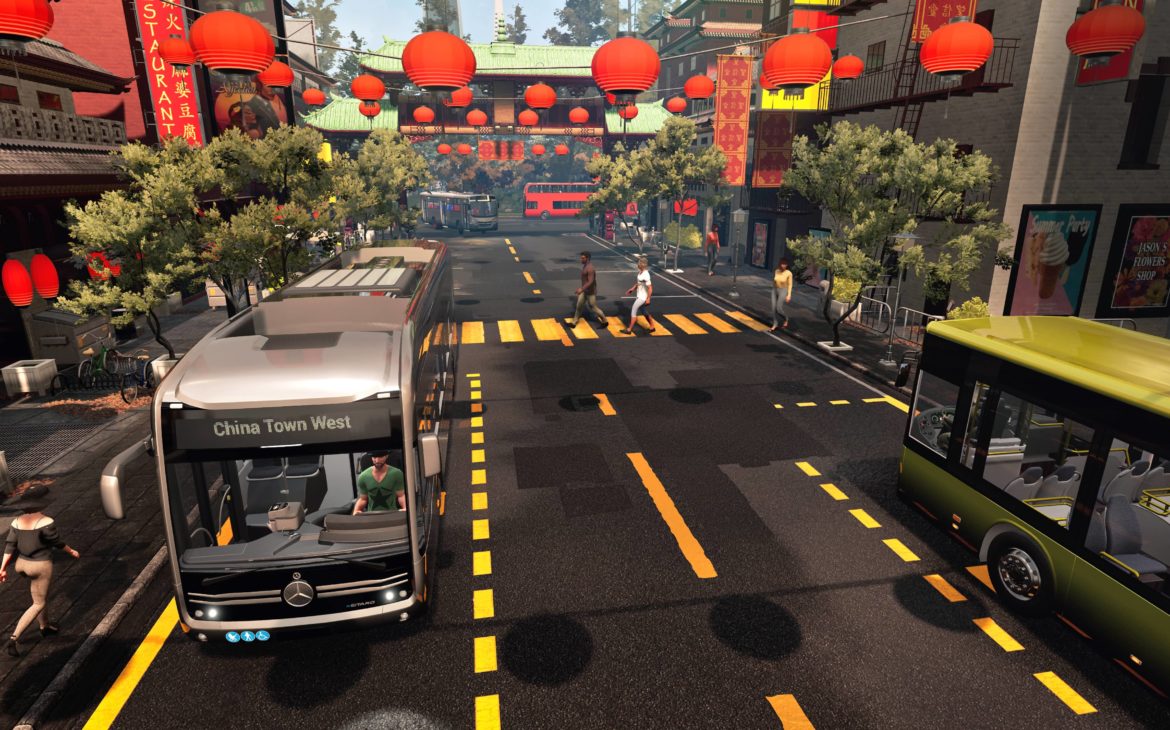 In the Driving Seat
Bus Simulator 21 leaves a lot to be desired in terms of a tutorial. It really just asks the player to drive around until they feel relaxed. The game allows both first person and third person perspective. The first person perspective can feel incredibly overwhelming when greeted with the dashboard as you are met with lots of different words above each gadget and widget. Even starting the engine can provide a 12 step guide to frustration. I was disappointed in the lack of hints and clues throughout, not only the tutorial mode, but when the game is asking to complete certain missions throughout your playthrough too.
Bus Simulator 21 aims for accuracy and achieves this. Although the UI appears quite clunky and overwhelming, with a lot of practice this will begin to feel more intuitive. The game allows for four different accuracy settings, that allows for you to be as 'in control' as you would like to be. However, even on the 'normal' setting, this can feel a lot to digest all at once.
In this game you can expect to do everything a bus does. You can lower your bus (called kneeling), lower ramps for customers who need accessibility and even sell tickets by selecting the correct ticket and providing the correct change. This is very satisfying to say the least.
Did I mention you can eventually customise your bus? You enter a garage where you will have the ability to unlock decorations, paints and internal seat designs. The bus' can run advertisements to be able to reign in more of that dollar dollar… or euro euro in this case. Rainbow Pride Bus? Heck yes, it is possible!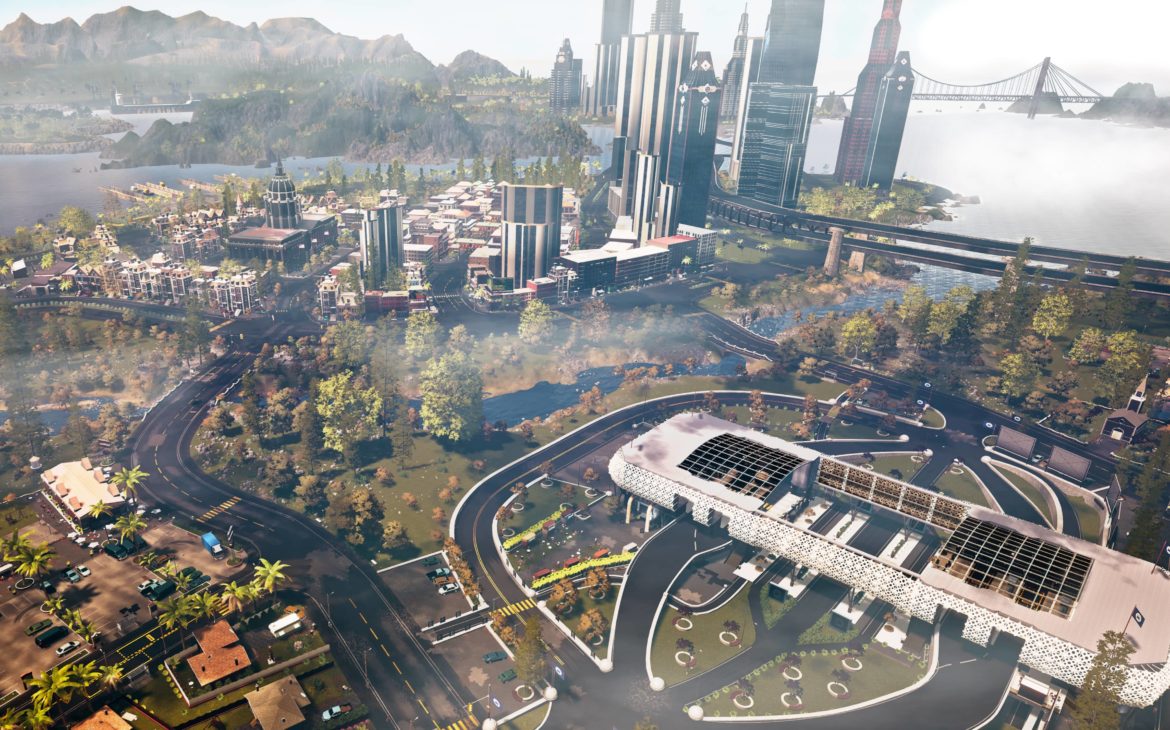 City Livin'
It may be a while before you get the hang of the game so that the buses are not damaged by pavements, signposts and telephone poles – but the City itself is beautiful, regardless of what you may be crashing into.
The journey you take, albeit hundreds of times, is one of vibrancy, colour and diversity. From bustling Chinatown to Seaside view, it's all really pretty. Some of the design you can see has been really focused on for realism such as the seawater which glistens during the day or night.
That's not to say everything is realistic in this game. Bus Simulators 21's main character can take a walk whenever they like, departing from the bus and seeing the sights up close and personal. I of course took the liberty of attempting to walk into people or cars, y'know, for the giggles. They just take you along for the ride a bit before passing through you, however.
Driving the Road to Nowhere
As previously mentioned, driving can be overwhelming and tedious to start with. The game hands missions to you to complete to get your driver level increased. This has many benefits such as earning more money, further access to new areas and fresh routes to take. Driving routes will also give you access to getting paid (the most important bit). As this allows you to expand your fleet to many shapes and sizes of bus. Bus Simulator 21 also includes many well known bus companies. For those interested, 30 different licenses are included. While this won't appeal to most people, I'm sure this will be a wholesome detail I am sure will not go unnoticed by the niche it is aiming at. Each bus drives a little differently and will come with accompanying spec for you to cast your eyes over.
The aim of the game is to achieve a 5 star route drive, and unlike the GTA games, this won't need to you ride the train tracks to rid of your 5 star police chase out. With every route, you are rated on positive and negative points of the driving. Aspects such as positioning, indicating before your stop, timing and hitting pedestrians (big no no if you were wondering which camp that went in) will effect the score. It feels like those times where you play GTA and follow all the road rules because the police just pulled up behind you.
My teammates at Finger Guns HQ were correct; eventually the game does lend itself to feeling cathartic. As a player, you eventually strive for perfection and wanting to do well. Between each bus stop there are timings that the bus will need to arrive by, as well as hitting all of those positive notes for the perfect drive. It felt as if muscle memory was starting to kick in and I found myself switching off and just enjoying the monotony. I found myself thinking about it when I was due to finish my 9-5, looking forward to journeying the roads. Potholes and obstacles can all be felt on the controller, and speeding tickets are a thing. Avoiding all of these and achieving a smooth ride can feel very rewarding.
Just when I thought I had a good handle on the driving, it appeared the game would invite an increase in sensitivity and suddenly turning would be increasingly different to how it drove for me before. This appeared to happen a few times but would quickly recalibrate. This was a weird occurrence and not ideal for a stress-free drive that the game usually provides.
Whilst driving the bus, there is plenty to do in the moment to moment play. At times the game will prompt events. This could be indicating a passenger has fallen asleep, or someone needing to get off urgently. Even comedic dialogue between customers will nudge you that someone may be up to no good and have dodged a ticket. Attending to these events will be in your favour, for it will give you a better pay day and increase your route star rate.
Running one's own bus fleet will require more than just driving around. The map allows and requires players to manage routes and destinations, as well as bus timetables. Routes are made from selecting stops and they will need to be balanced, and best done at the right peak times for that stop. This can get confusing to manage and there is little tutorial on how to do this. I ran into one mission where it asked me to do something it had never shown me. Considering players will need to upgrade bus stops and locations and complete mini tasks within certain stops on the map, it can get a little confusing. The map and all of its functions and route statistics can be a lot to digest, and an improved guide to navigate the map would have beneficial.
An advantage to the map is that this allows players to time warp. Buses are not 24 hour and some missions will require you to be ready day or night. This cancels out the need to aimlessly drive around waiting to start your mission which is helpful.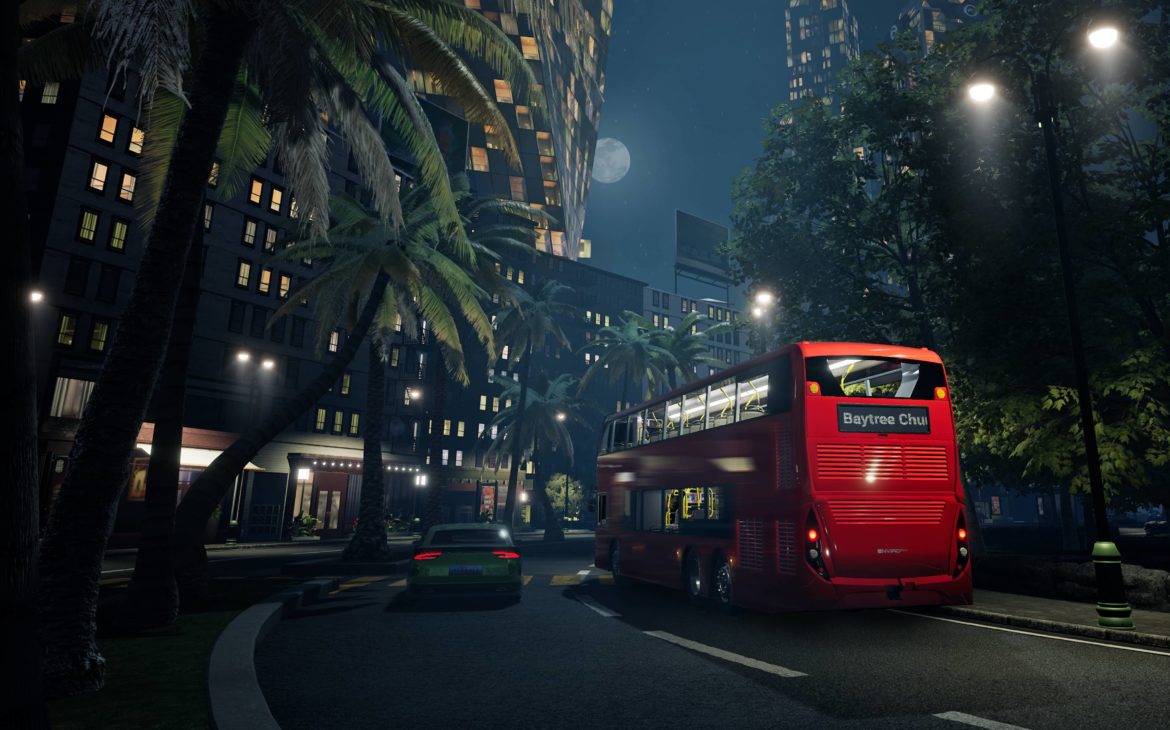 Final Thoughts For the Road
Bus Simulator 21 does accuracy well. The controls and mechanics of the game are thought through well and although some of the interface is overwhelming and can seem a bit janky and clunky to begin with, if stuck with, this can feel satisfying to champion. Bus simulator 21 certainly has some down sides, such as clipping through environmental objects, sensitivity shifting and minimal tutorials which could leave you stuck for some time. If you can shift into gear past this, the game will eventually become one where you can sit back and enjoy the ride whilst taking in the view.
I would recommend this game for anyone who wants a relaxing journey where skill can be developed but pressure isn't punishing. My recommendation to anyone on the fence would be to try it out, but to not put it down for at least the first few hours. I will certainly be continuing to play this post review when needing to take a backseat and relax.
---
Bus Simulator 21 allows you to experience the day in the life of a bus driver managing their own company. Create routes, receive pay days, scold ticket dodgers and be on time. The game comes with a clunky and overwhelming interface and little tutorial, but if you shift past this, Bus Simulator 21 could invite a satisfying ride.

Bus Simulator 21 is available now on PlayStation 4, Xbox One, PlayStation 5, Xbox Series X | S and PC via Steam.
Developer: Still Alive Studios
Publisher: Astragon
Disclaimer: In order to complete this review, we were provided with a promotional copy of the game. For our full review policy, please go here.
If you enjoyed this article or any more of our content, please consider our Patreon.
Make sure to follow Finger Guns on our social channels –Twitter, Facebook, Twitch, Spotify or Apple Podcasts – to keep up to date on our news, reviews and features.