Bursting with interactivity, My Friend Peppa Pig could be your child's next favourite game. The Finger Guns Preview.
The probability is that if you've arrived at this preview for My Friend Peppa Pig, you have a child who likes jumping up and down in muddy puddles, understands the reference if you say "Dinosaur rawr" and can sing the Bing Bong song. I was excited for this preview because I too have a daughter that's a huge fan of the animated show. An unreasonable percentage of the contents of her wardrobe has Peppa Pig branding on it, for example. My Friend Peppa Pig looks like the ideal game for fans of the game an my hands on time with the game certainly left me encouraged.
In My Friend Peppa Pig, you get to create a friend for Peppa to play with. There's a wide variety of customisation options here from animal type, clothing, skin colour and headwear so that the little ones can really get creative. I made a brown fox wearing a police helmet and some multi-coloured glasses that Elton John would be proud of.
Once you're happy with the character, you're directed by Miss Rabbit to Peppa's house where you get to meet the titular character. From here, the world of Peppa Pig opens up to you and you're free to explore it freely. Peppa will make suggestions about what to do but it was surprising how much freedom the game allows the player to have. Despite Peppa saying we should go and see what Daddy Pig is up to in the Kitchen, I instead went for a walk and ended up flying a hot air balloon to the snowy mountain slopes.
According to the developer from Petoons that talked me through the demo, there are some locations that have some prerequisites to access. The iconic Potato City is one of them. During my demo time, I didn't get that far but I did get to the forest, the snowy mountains, went for a bike ride and roamed around Peppa's house. Given enough time, I could have gone to the museum, the beach, Granny & Grandpa Pig's house, the school and more. Traversal was easy and really clear.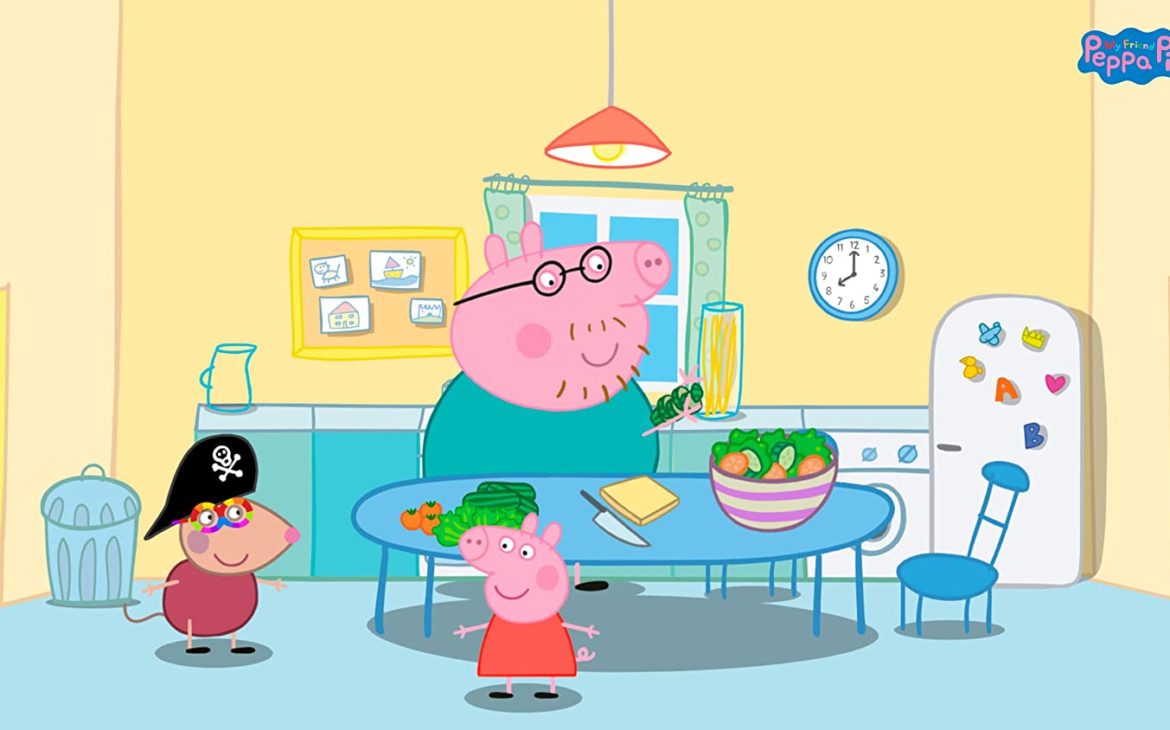 What was most impressive during my demo of My Friend Peppa Pig was the level of interactivity. Almost everything I walked past prompted a button press. For some of these items, it was simply to mess with them, like turning on the TV in Peppa's living room to see Mr Potato was on. Others offered much more variety; The toy box and dress up cupboard in Peppa and George's bedroom allowed my character to change into different costumes and pick up toys. I ended up dressed as a pirate and carrying a bus around with me.
It was also impressive how authentic this felt as a Peppa Pig product. I asked the Petoons team if the original voice cast had returned and they said that many of the team had but not all of them due to contractual agreements. I'll be honest, I couldn't tell which characters had been recast as new voice actors. Whoever the team had got in as replacements have done an excellent job of making this feel like an interactive episode of the show.
This was complemented by the art style and design. That trademark 2D art style from the TV show has been replicated exactly here. What's more, the developers have obviously spent time really digging into the thematic elements of Peppa. For example, when I was off on a bike ride, I went down a lovely sloped hill and back up another, like the TV characters have done so many times.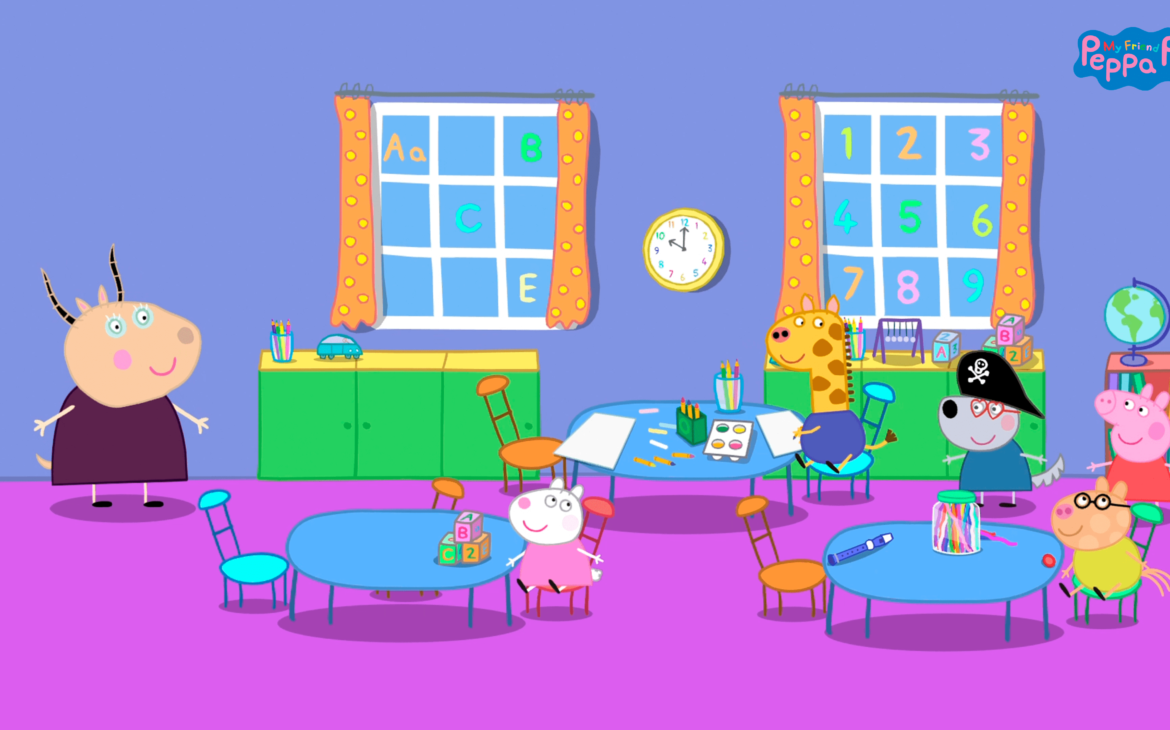 The demo ended with one of the most innovative elements of My Friend Peppa Pig – The sun set and my character & Peppa went to sleep in the bunk beds. The chap from Petoons explained that this was a setting which helped parents manage screen time. After a certain set time with the game, Peppa & her new friend will head to bed and the screen will focus on the view out of the window while they sleep. This gives parents a chance to get their little ones to take a break or makes for a natural jumping off point to turn the game off. As someone who often has a challenge getting their kids off their games, this came as a welcome surprise. If you want to allow the child to continue, you can do that with a button press.
While I was attending the Outright Games Unwrapped online showcase, my 3 year old daughter sat next to me for most of it. She had had a rough night's sleep and was miserably and a little weepy as kids tend to do when they're exhausted. While I couldn't coax her to take control of this demo , she sat and watched the My Friend Peppa Pig demonstration quietly and intently. I could see the appeal. It's an interactive episode of Peppa Pig in which to explore however you see fit, doing activities like finding Daddy Pig's glasses or building a snow man, with a character the player created. It's smartly designed to make the most of the Peppa licence while being very accessible and simple to use. There's a real chance that My Friend Peppa Pig could be your kids new favourite game and the "must have" game for the younger player during the holiday season, 2021.
My Friend Peppa Pig is launching on PS4, Xbox One, Switch & PC Digital on October 22, 2021.
---
If you enjoyed this indie games article or any more of our content, please consider our Patreon.
Make sure to follow Finger Guns on our social channels – Twitter, Facebook, Twitch, Spotify or Apple Podcasts – to keep up to date on our news, reviews and features.