Steam Next Fest has the demos, we have the choices. Follow our lead, play the games we tell you to.
Steam Next Fest is back and its bigger than ever, crammed with demos, developer commentaries, liveplays, streams and did I say demos? One issue with E3 in pandemic times, you can't play much of what you see, unlike when you are there on the show floor, ushered towards each developers booth, and allowed to play ten minutes of the biggest games. But guess what? With Steam Next Fest you can play to newest upcoming indie games right now. There are at least a hundred demos available until the 22nd June, so what are you waiting for? We've picked just 8 that have caught our eye.
They Always Run
As a bounty hunter, don't you find They Always Run? It's infuriating. You're just trying to make a living, same as anyone. Good name for a game though. Become Aidan in They Always Run, a 2D platformer where you play as a three-armed mutant who hunts the most dangerous bounties in the galaxy. Set for a 2021 release you can wishlist it and play the demo today. Did I mention you had three arms? Natural evolution from all these games with one bionic arm if you ask me. Makes you move like Spider-Man if Spider-Man had an extra appendage under a cowl and randomly shot people with it when they least expected.
Terra Nil
This one is right up my street. We get a lot of games about cleaning up corruption, or trying to protect the natural world. Well what about one where you can literally turn back time on humanity's rape of the planet, and create a verdant wilderness from the bleakest wasteland. That's Terra Nil, published by the bold folks at Devolver Digital. Subverting the builder genre, Terra Nil is about the restoration of a ravaged environment. Take a look at that trailer and tell me it doesn't make your heart sing to build rainforests rather than build cities. Play a demo and wishlist it now.
Tiny Thor
We all know the Norse god Thor wielder of Mjolnir hammers, and commander of thunder. Marvel taught us. But there must have been a time when Thor was just a boy, living with daddy Odin and brother Loki. That's the basics behind Tiny Thor, a retro 16-bit platformer where you can throw Mjolnir to your heart's content. Just look at it, it's like a wonderful Rayman with more hammers. Tiny Thor has a demo on Steam right now, and you can play it and wishlist from here.
Faerie Afterlight
Looking something like the larva of Hollow Knight (coz of the bugs, right?) and Gris (coz of the pastel colours and art, yeah?), Fairie Afterlight is a 2D adventure platformer, where you play as little Kimo and Wispy as they search for the missing shattered light, Lucentia. Kimo seems to be just arms and a head, but that may just be me. Seriously one game with an extra arm, and now one with no legs. In Faerie Afterlight you can make your enemies work for you, and use the environment to fight as you explore the vast and beautiful world of Lumina. You can wishlist and play the demo here.
Terracotta
Terracotta jumped out at me for a number of reasons. Not least of which is that it's a beautifully animated pixel-art action puzzle adventure set in Ancient China. With the power of Yin and Yang, you can skip between light and shadow worlds, one in which the 8000 Terracotta warriors are dormant statues, and the other where they live to protect a dark secret of a forgotten empire. What's interesting is that every single one of the 8000 warriors has a slightly different unique pixelart face, and the game uses Taoist principles and non-aggressive tactics throughout. No video for this one, but you can watch a trailer, and play a demo here.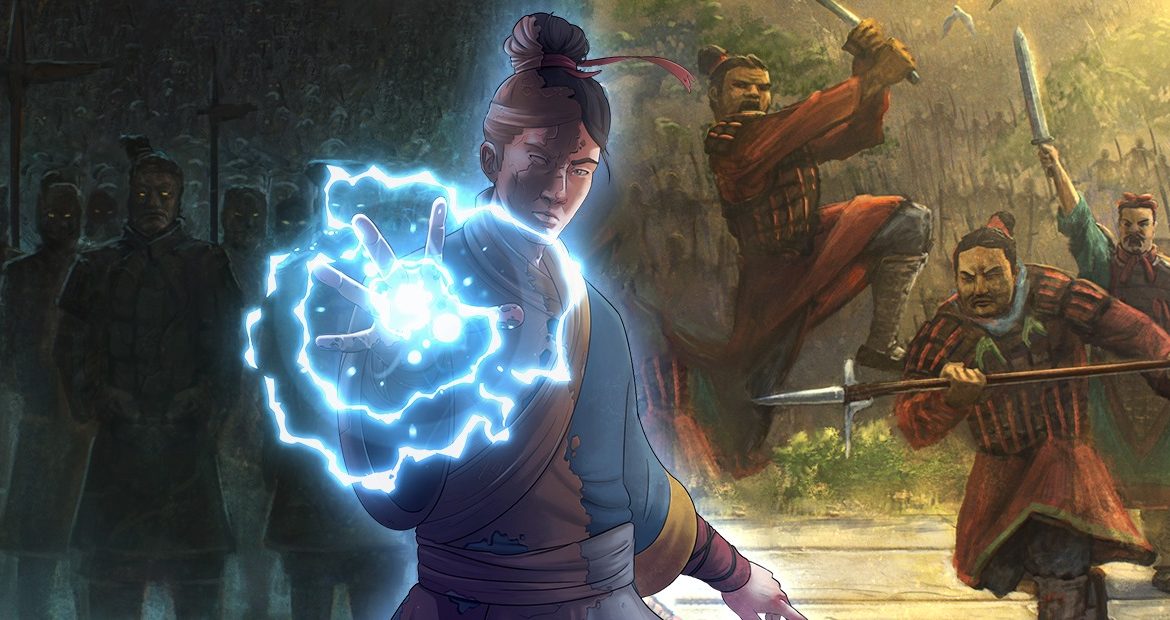 Starless
Alien Isolation as a 2D top down horror? Say no more. Starless is one of those one man developed games (like Axiom Verge) where your mind boggles at the idea that one person did all this. A survival horror Starless is set on a giant space ark teeming with dangerous alien monsters. Can you help the colonists through very dark stealth gameplay to escape or will you become a bloody victim? Play the demo and wishlist now.
Unsighted
Unsighted is a gorgeous pixelart top-down metroidvania, with some wonderful-looking hack-and-slash gameplay. Join a cast of quirky android characters who, after a long war with humans, are running out of Anima, the energy that gives all robots consciousness. You play as Alma, and you must explore the vast ruins of Arcadia to save your friends from becoming Unsighted. Set for a Autumn 2021 release, you can play the demo and wishlist here.
TopplePOP: Bungie Blockbusters
So, I'm renaming this, Totally Inaccurate Tetris (which I do realise has the abbreviation TIT). TopplePOP: Bungie Blockbusters is a crazy competitive puzzler, smashing together Bubble Bobble and Tetris and taking away most of the accuracy of either game. You play as an acrobatic animal on the end of a bungie rope, grabbing blocks of dozens of different sizes and shapes and throwing them down to make a connect-four of one colour. But the inaccuracy can really help too, as the blocks only have to be barely touching to score. Check out the demo and wishlist it now.