Try and find something scarier this Halloween than your gaming backlog with this list of indie games only increasing it below:
The spooky season is upon us, so what better way to spend it than digging into this curated list of indie games? Some of which could be perfect for a Halloween treat, or trick! September was a great month as Finger Guns covered the brollyant Gunbrella, the existentially astounding [I] Doesn't Exist and the oceanic and emotional Under the Waves, with many more highlights we didn't quite get to.
Much like September, October is absolutely full to the brim with potential indie gems. From deep-space RPGs, all the way to vampiric apocalypses, there's a wide range coming out to satiate the ravenous appetites of ghouls and gamers. Here are 20 indie games to be excited about during October 2023.
El Paso Elsewhere by Strange Scaffold – September 26th 2023
From the wild minds of Space Warlord Organ Trading Simulator and Sunshine Shuffle comes El Paso Elsewhere; A third person neo-noir Max Payne-inspired shooter that sees you hunting down vampires in a dingy motel that takes you through the depths of hell. Explore 50 reality-shifting levels of bullet-time shootouts as you take on werewolves, fallen angels and even your vampiric ex. You won't be delving deep alone though as you'll be turning grim monsters into giblets to a completely original hip-hop soundtrack. El Paso Elsewhere is out now on Xbox Series X|S, Xbox One and PC via Steam.
Faerie Afterlight by Clay Game Studio – September 28th 2023
Embark on a wonderful adventure inspired by Indonesian philosophy and folk art with Faerie Afterlight. The game plays as a 2D metroidvania as you take control of Kimo and Wispy on a journey to recover the Shards of Light. You'll be manipulating the terrain, solving puzzles and befriending the citizens of Lumina, taking on the abilities of titans. With a brilliant art style and a lush soundtrack to befit the glorious land you'll be exploring, Faerie Afterlight is a magical-looking metroidvania worth checking out. The game is out now on Nintendo Switch, PS4, Xbox One, PC and MAC via Steam.
Bilkins' Folly by Webbysoft – October 2nd 2023
Uncover a hidden family mystery as you play Percival "Percy" Bilkins' and his beloved dog Drayton. Set sail on a treasure hunting journey through unusual islands and caves to uncover valuable treasure, as you get closer to the Bilkins family secret that'll change his life. Boasting a wonderful and colourful pixel art style, Bilkins' Folly sees you building a crew for your ship and bonding with your dog that'll enhance their skills to help with your excursions. Talk to all the eclectic islanders who'll remember how you treat them, and customise your map to assist your hunt for treasure. Yes, of course you can pet the dog when Bilkins' Folly releases October 2nd 2023 on PlayStation 5 & 4, Nintendo Switch and PC via Steam.
Station to Station by Galaxy Grove – October 3rd 2023
Station to Station is a relaxing minimalist game about building railway connections. The game took a helping of inspiration from games like Dorfromantik, Terra Nil and Mini Metro to craft a lush title that you can do at your own pace, or play strategically for a high score. You start with a handful of rural structures in the world and as you connect your stations, you grow the environments that will create new challenges as you optimise your routes and solve conundrums. With beautiful vistas from the deserts to the mountains, the voxel art style compliments the laid-back approach of Station to Station. Station to Station releases on PC via Steam.
Long Gone Days by This I Dreamt October 10th 2023
Long Gone Days is a modern-day military RPG all about human connection during a world war. You play as Rourke on their first mission for the private military The Core. He carries out his orders perfectly but at the cost of learning the cruel intentions of The Core – resulting in the feeling of betrayal. Overcome language barriers, forge unlikely friendships and bring hope amidst conflict. Learn the civilian consequences and choose dialogue options to potentially boost morale. Everyone has distinct personality traits and motivations that you can accommodate to help you on the battlefield in curated and impactful battles. Long Gone Days releases on PlayStation 5, Xbox Series X|S, Nintendo Switch and PC via Steam.
Space Wreck by Pahris Entertainment – October 10th 2023
Space Wreck is a post-apocalyptic deep-space RPG with an extreme focus on role-playing. Featuring an extensive array of choices to problem-solve and combat 100% optional, you can beat the game your way. Smooth talker, sneaky hacker or a brawling bully, you can put your stats into anything during character creation for a different run every time, as your stat choices significantly alter your gameplay style. Inspired by old-school isometric RPGs, Space Wreck has a non-linear approach to its narrative as you can tackle the objectives in any order. Space Wreck releases on PC via Steam.
Bioid by Pagurus – October 11th 2023
The Space Library is in complete disarray and you have to clean up the mess in Bioid, a handrawn monochromatic point-and-click. The mystical books of the library are on the loose unleashing the beasts inside them and it's your job to go through the book portals and solve all the problems within. Travel through white labyrinths to meet beings of higher intelligence, fight the King of Thorns, learn the story of two separated prisoners, and discover the secrets of a clan of bestial avatars, watchers and collectors. Repair Owlkin's Cosmic Library in Bioid when it releases on PC via Steam.
Wizard with a Gun by Galvanic Games – October 17th 2023
Explore the unknown by yourself or with a co-op partner as you collect, craft and outfit your Wizard how you want in the action-packed roguelike Wizard with a Gun. Endure the open sandbox of the magical wilderness wrought with dangerous creatures and arcane mysteries as you survive and enhance. Biomes will change per run as they're randomly generated through the mystical powers of your tower. Combine resources, magical abilities and creativity in your tower building with your co-op partner, crafting new spell combinations and becoming formidable wizards. Wizard with a Gun releases on PlayStation 5, Xbox Series X|S, Nintendo Switch and PC via Steam.
Vlad Circus: Descend Into Madness by Indiesruption – October 17th 2023
Follow the tormented clown Oliver Mills as you delve into the dark truth of Vlad Circus: Descend Into Madness. Set in the 1920s, Oliver explores the forbidden mystery behind the burning down of the freak circus he was a part of, testing his sanity in the process. With a slow burn of puzzles, methodical action and light survival mechanics, Vlad Circus features a labyrinthian mansion across 50 areas you'll have to survive through. Featuring an evocative pixel art style and rich dialogue, Vlad Circus: Descend Into Madness looks to be a great time for Halloween. Vlad Circus: Descend Into Madness releases on PlayStation 5 & 4, Xbox Series X|S & One, Nintendo Switch and PC via Steam.
Hellboy: Web of Wyrd by Upstream Arcade – October 18th 2023
Looking like it was ripped straight from the comics, Hellboy: Web of Wyrd is an action brawler roguelike from the team behind West of Dead. With partnership from Hellboy creator Mike Mignola and Dark Horse Comics, Web of Wyrd is a completely original story for the demon agent of the B.P.R.D (Bureau for Paranormal Research and Defense). Discover the capabilities of The Butterfly House, a gateway to the terrifying yet fascinating dimension of The Wyrd as you fight the creatures within it. Learn the moves, dodge and parry attacks and learn enemy patterns to punch your foes into oblivion. Hellboy: Web of Wyrd releases on PlayStation 5 & 4, Xbox Series X|S & One, Nintendo Switch and PC via Steam.
Slender: The Arrival 10-Year Anniversary by Blue Isle Studios – 18th October 2023
One of the first viral horror games is back for its 10-year anniversary. Slender: The Arrival returns with completely overhauled visuals and a whole new level to explore. For the uninitiated, Slender: The Arrival is a first-person horror game where you must explore the open level to find the collectables that'll stop the omnipresent Slender Man. You're constantly stalked by the creepypasta monster for the whole duration and as you progress they'll stalk more aggressively, making for a tense and unsettling experience. Owners of the original will get the upgrade at no additional cost and PC players can switch between both versions. Slender Man: The Arrival 10-Year Anniversary Edition releases on PlayStation 5, Xbox Series X|S and PC via Steam.
World of Horror by Panstasz – 19th October 2023
Investigate the creepy mysteries going on in Shiokawa, Japan in 1-bit horror RPG World of Horror. Inspired by the works of Junji Ito and H.P. Lovecraft, the game uses the roguelite formula in an end-of-the-world setting as The Old Gods have reawakened invoking an apocalypse. With 5 unique characters and a bunch of mysteries to explore, your narrative choices impact the outcome of the multiple-ending game. Featuring turn-based combat and a haunting chiptune soundtrack, World of Horror's art is completely made in MS Paint, creating a wholly unique and terrifying experience. World of Horror releases on PlayStation 5 & 4, Nintendo Switch, PC and Mac via Steam.
The Gap by Label This – October 19th 2023
Dive deep into Joshua's psyche to find the cure for your family's sickness in The Gap. Due to a rare neurological disease, Joshua has to recover his memories by exploring parallel realities using déjà vu. Journey through the minimalist spaces in moments of joy or desperation, putting Joshua's emotions to the test to find a cure. The game plays from the first-person perspective with attention to its realistic environments on what appears to be an emotional journey. The Gap releases on PlayStation 5, Xbox Series X|S and PC via Steam.
Stray Souls by Jukai Studio – October 25th 2023
Inspired by the classics of the genre, Stray Souls is a third-person survival horror that forces you to seek the horrid family secret. Explore the haunted town of Aspen Falls as Daniel, who recently inherited the family house of his estranged Grandmother. Encounter gruesome creatures, epic bosses and cunning puzzles and discover the intimate history left behind. With combat akin to a soulslike and inspired by survival horror heavy hitters, Stray Souls looks to put a fresh spin on the modern horror genre. Stray Souls releases on PlayStation 5 & 4, Xbox Series X|S & One, Android and PC via Steam.
Bahnsen Knights by LCB Game Studio – October 26th 2023
Part of the Pixel Pulp series, Bahnsen Knights is a pixelated interactive visual novel with a great style. You play as Boulder, an agent going undercover to infiltrate a religious cult performing 'route exorcisms' as a string of religious storms rip across the country. After the disappearance of a long-time friend of the organisation Agent Culpra, ex-car salesman Toni is the main suspect as he preaches that Hell is actually above us. Decide everyone's fates and uncover the mystery in this pulpy 'Choose Your Own Adventure'. Bahnsen Knights releases on PlayStation 5 & 4, Xbox, Nintendo Switch and PC via Steam.
War Hospital by Brave Lamb Studio – October 26th 2023
Set during The Great War, you lead a medical corps in War Hospital. From the isometric perspective, the game plays as an RTS as you try to be the ray of hope in the face of adversity. The year is 1918, you play as Henry Mills, a retired British combat medic thrust back into the front line in a unique survival game. Think tactically and act morally in a new twist on the War genre as you save lives instead of taking them. With a big emphasis on historical accuracy, you'll be able to develop and use the innovative technology of WWI. War Hospital releases on PlayStation 5, Xbox Series X|S and PC via Steam.
Desolatium by SUPERLUMEN – October 27th 2023
Based on Lovecraftian mythos, Desolatium is a first-person point-and-click graphic adventure that sees you uncovering the madness that lurks. Play as four different characters all with their own paths that are affected by the choices you make. You awake in a strange room with no memory, only to discover that the horror stories you read are coming true as a string of murders have taken place. Featuring survival horror aspects alongside cunning puzzles to solve, the game looks to immerse you with 8D audio and photorealistic art direction. Desolatium releases on PlayStation 5 & 4, Xbox Series X|S, Xbox One, Nintendo Switch and PC via Steam.
Voltaire The Vegan Vampire by Digitality Games – October 31st 2023
Finally releasing out of Early Access, are you ready to rebel against your family legacy in the farming action roguelite Voltaire: The Vegan Vampire? During the day you'll be tending to your spooky farm and by night you'll be defending the crops from the evil at night. You play as Voltaire, the youngest son of Dracula, as your choice to be vegan angers your dad. Unlock devious abilities and discover a plethora of new plants to cultivate as you fight from an isometric perspective. Sporting a wonderful hand drawn art style and a wonderful blend of genres, Voltaire: The Vegan Vampire releases on PC via Steam.
Headbangers Rhythm Royale by Glee-Cheese Studio – October 31st 2023
The battle royale genre is done, oversaturated, completed… Wait, you're telling me you're a headbanging pigeon in a rhythm game to compete against others? Well coo-lour me absolutely ready to take on 29 other pigeons, to get my piece of the crumbs to customise my very own pigeon. Battle across 23 minigames with 4 rounds to gain the title of Master Headbanger in a new compelling entry in the Battle Royale genre. With complete cross-play across all platforms, you can peck pigeons no matter the place. Headbangers Rhythm Royale releases on PlayStation 5 & 4, Xbox Series X|S & One, Nintendo Switch and PC via Steam.
Jusant by Don't Nod – October 31st 2023
Jusant is a contemplative and meditative action-puzzler that sees you climbing the tallest tower. Your watery companion brings life to the climb as they affect the environments you interact with by bringing them to life. With a diverse set of biomes to explore, stamina to manage and climbing tools to master, the game lets you go at your own pace as you explore the breathtaking areas. Accompanied with an atmospheric soundtrack and a minimalist yet gorgeous art style, Jusant looks to be a serene experience. Jusant releases on PlayStation 5, Xbox Series X|S and PC via Steam.
There are some indie games for everyone this October and even some spooky titles to help set the mood for Halloween. Which one will you be picking up to get your scare on? As always you can contact us on our socials or email at hello@fingerguns.net if you want us to showcase your indie game for November. Until next month!
---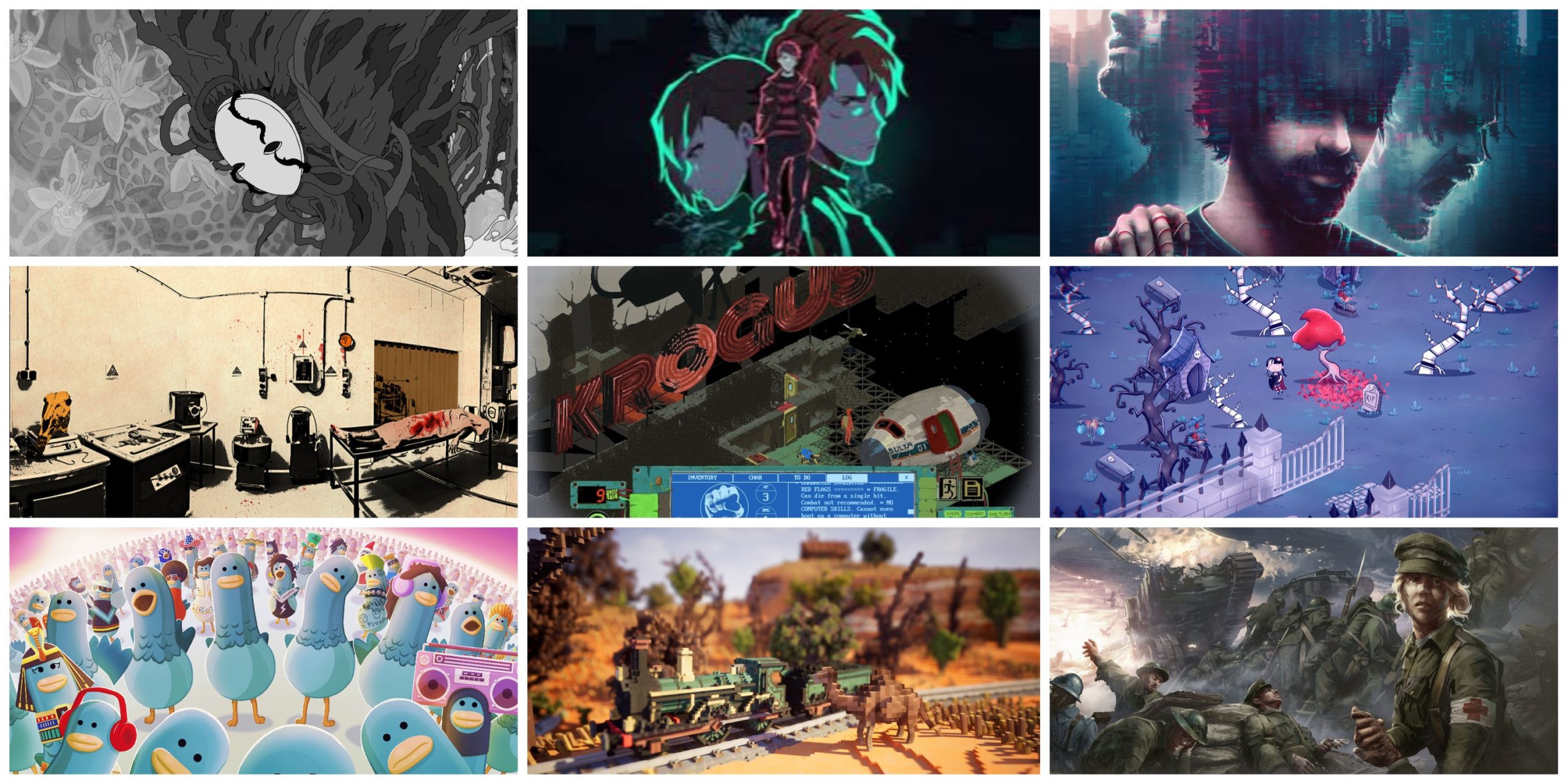 For more News on Indie Games and more click here
Make sure to follow Finger Guns on our social channels –Twitter, Facebook, Twitch, Spotify or Apple Podcasts – to keep up to date on our news, reviews and features.
If you enjoyed this article or any more of our content, please consider our Patreon.