We managed to grab some hands on time with the wholesome Dreamworks Spirit Lucky´s Big Adventure at OG Unwrapped.
We managed to grab some hands on time with the wholesome Dreamworks Spirit Lucky´s Big Adventure at OG Unwrapped. Here are our thoughts.
Even though I'm about 25 years outside of their target demographic, I'm unashamedly a fan of Outright Games. With the help of my five kids, I've reviewed many of their projects over the past few years and have (more often than not) been left suitably impressed. It wasn't so long ago that tie-ins for kids TV shows/movies were some of the most critically panned games on the market. A lot of companies thought name recognition alone would shift units and the quality of the games didn't particularly matter.
Outright Games have been almost singlehandedly changing that perception. This focus was evident at OG Unwrapped Spring 2021, a digital presentation I recently had the pleasure to attend. Here, the publisher outlined what they have in development for the rest of the year including Dreamworks Spirit Lucky´s Big Adventure, based on the popular Netflix animated series and launching alongside the new Spirit Untamed movie. After half an hour with this equestrian adventure, I'm convinced my kids will adore it.
It's immediately apparent that Lucky's Big Adventure isn't just a cash in on the Spirit name. As you might have come to expect from Outright Games titles, this appears to be a wholesome but fully featured open world adventure game. In the game you play as a young girl named Lucky and her partner horse Spirit. Upon finding a treasure map in her mothers belongings, Lucky teams up with her friends, Abigail and Pru, in order to track down the treasure. Along the way, Lucky will be learning more the adventures of her month and trying to foil horse bandits.
Half an hour isn't a long time in an open world game but in that time, Spirit Lucky's Big Adventure left a good impression. The art style and visuals, a little sharper than the animation of the Netflix show yet instantly recognisable, make for a welcoming world to roam around in. The music, full of melodic guitar chords, enhanced that feeling. The horse animation, something that so easy to get wrong, looked excellent. There's a day and night cycle that changes the colour pallet of the world as time passed by and the environment takes a new tone.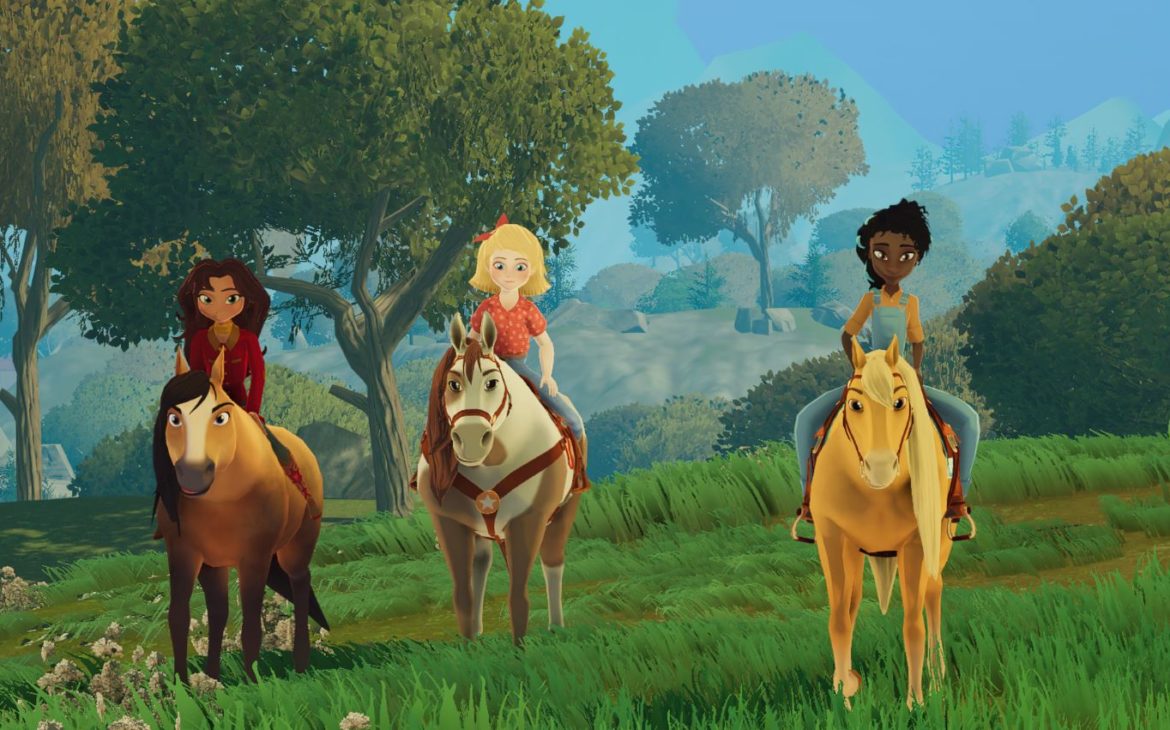 What became clear during that 30 minute play time is that Spirit Lucky's Big Adventure is going to be a very pure and wholesome game. Not that you need much incentive but you'll have to care for Spirit. When the horse sprints, it loses stamina. In order to restore it, you can either lead Spirit to a water trough or – this is the best part – give the horse a cuddle. No, seriously. Horse hugs.
My time with Spirit Lucky's Big Adventure also demonstrated that this will be an accessible game, even for those who're not familiar with video games. The button format of the controller and what they do is ever present on screen with intuitive symbols which changes depending on the environmental contexts. There's some early repetition too – heading back and forwards between a town – which I feel is there to get the player accustomed to the horse movement.
Within my half an hour with the game, I rode a horse, hugged a horse, raced a horse, jumped a horse over some fences, crossed a river with a horse, met some quirky characters, took some pictures with an in-game camera and stalked a horse rustler in a tailing mission that wasn't complete trash. Yeah, you read that correctly – there is a tailing mission that didn't just make me want to instantly quit the game. Sure, not all of this landed for me – like I said, I'm more than a few years outside of the target demographic – but I certainly could see my kids, especially my daughter, getting enthralled by it. My brief time with the game hinted at a decent narrative romp and a big wide world to explore.
Dreamworks Spirit Lucky´s Big Adventure is launching on June 1st 2021 on PC, Xbox One, Playstation 4 and Nintendo Switch. You can follow the development by following Outright Games on Twitter.